Ziemia okrzemkowa jest uznawanym minerałem ze względu na wiele właściwości zdrowotnych.
Istnieje rosnący zbiór badań dotyczących zalet ziemi okrzemkowej w przemyśle spożywczym. Pojawiły się również liczne relacje osób, które wychwalają jej korzyści zdrowotne. Ziemia okrzemkowa składa się głównie z amorficznego dwutlenku krzemu.
Czym jest ziemia okrzemkowa?
Spożywczy proszek z ziemi okrzemkowej jest bardzo chłonny i ma lekko chropowatą strukturę. Stanowi doskonały suplement diety, ponieważ składa się głównie z krzemionki, która jest głównym składnikiem mięśni ludzkich, więzadeł i chrząstek. Ten naturalny, osadowy minerał składa się ze szczątków żyjątek zamieszkujących oceany, jednokomórkowych glonów nazywanych okrzemkami. Żywe okrzemki wytwarzają krzemionkę i produkują węglan wapniowy. Ziemia okrzemkowa jest tym, co po nich pozostało po wiekach wkomponowania się w powierzchnię ziemi jako kredowe szczątki. Substancja ta nazywana jest diatomitem. Znajduje się pod powierzchnią ziemi jako gruby, biały, wypełniony krzemionką proszek.
Właściwości zdrowotne ziemi okrzemkowej
Krzemionka działa jako przeciwutleniacz poprzez zwalczanie uszkodzeń spowodowanych przez wolne rodniki. Jest rozkładana, aby stać się koloidalną formą w organizmie, odtruwając tym samym krew, ponieważ niesie ona ładunek elektryczny zdolny do przyłączenia się do szkodliwych toksyn i wolnych rodników. Cząsteczki krzemionki neutralizują ładunek elektryczny wolnych rodników i wydalają je z organizmu w normalnych procesach eliminacji. Krzemionka działa w celu wyeliminowania aluminium i innych metali ciężkich z organizmu. Jest to ważne, ponieważ pomaga zmniejszyć wchłanianie aluminium w przewodzie żołądkowo-jelitowym, umożliwiając tym samym skuteczniejsze wchłanianie cennych składników odżywczych. Niedobór krzemu w organizmie może z kolei spowodować:
Niską produkcję kolagenu
Nierównowagę mineralną
Zanik chrząstki stawowej
Nieprawidłowy wzrost
Deformacje czaszki
Odkształcenie kości
Ból stawów
Ziemia okrzemkowa jako dezodorant
Chociaż nasze podstawowe szlaki detoksykacji przechodzą przez wątrobę, nerki, okrężnicę i układ limfatyczny, nasza skóra i płuca również pomagają w oczyszczaniu organizmu. Nie powinniśmy blokować zdolności naszego ciała do pocenia się środkami antyperspiracyjnymi, ale możemy utrzymać świeżość przez neutralizowanie zapachu. Ziemia okrzemkowa świetnie się do tego nadaje. A ponieważ nie jest tak alkaliczna jak soda oczyszczona – powszechnie stosowana w domowych dezodorantach – często jest preferowana przez osoby, u których po aplikacji wystąpiły wysypki lub podrażnienie
Pasta do zębów z ziemi okrzemkowej
Dodaj niewielką ilość ziemi okrzemkowej do swojej pasty do zębów, aby uzyskać dodatkową moc głębokiego czyszczenia. Ponieważ ziemia okrzemkowa jest delikatnie ścierna, wystarczy tylko trochę, aby skutecznie usunąć przebarwienia. Powinna być używania raz na jakiś czas.
Peeling do twarzy i maseczki z ziemi okrzemkowej
Ziemia okrzemkowa dodana do oleju kokosowego lub miodu może być delikatnym peelingiem do twarzy i ciała. Oprócz głównego składnika, krzemionka, zawiera również minerały takie jak wapń, magnez, cynk, miedź, selen i fosfor. Ponieważ składniki mineralne mogą być wchłaniane przez skórę, jest to wspaniały sposób na uzupełnienie pielęgnacji skóry bogatej w składniki mineralne.
Przepis na peeling: Wymieszać około 1 łyżki stołowej ziemi okrzemkowej z wodą, mlekiem, sokiem z aloesu lub rozcieńczonym miodem, aby uzyskać gęstą pastę. Używając palców, delikatnie wmasuj mieszankę w skórę za pomocą delikatnych ruchów. Pozostaw ją na 1-2 minuty, następnie delikatnie usuń wilgotną ściereczką również wykonując okrężne ruchy. W tym ostatnim etapie złuszczana jest największa ilość martwego naskórka.
Ziemia okrzemkowa wzmacnia włosy
Krzemionka jest tak samo dobra dla włosów jak dla skóry. Stosowanie ziemi okrzemkowej w codziennej pielęgnacji włosów może pomóc w utrzymaniu ich w świetnej kondycji, dotyczy to również skóry głowy. Może również pomóc w usuwaniu uszkodzeń włosów, takich przesuszenie, łamliwość lub narażenie na działanie substancji chemicznych. Aby jej użyć, po prostu dodaj trochę ziemi okrzemkowej do swojego naturalnego szamponu lub odżywki. Możesz też zrobić maskę do włosów, łącząc ziemię okrzemkową z olejem kokosowym, rozprowadzając mieszankę na włosach i myjąc po godzinie.
Ziemia okrzemkowa wspomaga produkcję kolagenu
Kolagen jest naturalnie występującym białkiem występującym przede wszystkim w skórze i tkance łącznej ssaków. Jest to klej, który utrzymuje nasze ciało w całości. Kolagen składa się głównie z krzemionki i odpowiada za tworzenie około 35% zawartości białka w organizmie.
Krzemionka działa podobnie jak antyoksydanty występujące w żywności o wysokiej zawartości przeciwutleniaczy, ponieważ zachowuje swoje cechy jako stabilna cząstka, co pozwala jej zwalczać wolne rodniki. Rozpada się na postać koloidalną, która działa jak detoksykator krwi, ponieważ przenosi ładunek elektryczny, który wiąże się z wolnymi rodnikami i innymi szkodliwymi toksynami. Cząstki krzemionki mogą następnie neutralizować ładunek wolnych rodników i usuwać je z organizmu poprzez pot, mocz i kał, co spowalnia uszkodzenia oksydacyjne i działa przeciwstarzeniowo.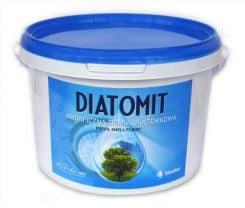 Ziemia okrzemkowa
Kliknij i sprawdź ceny!
Ziemia okrzemkowa wzmacnia kości
Witamina D i wapń są po niewystarczające do prawidłowego wzrostu i utrzymania gęstości kości. Organizm nie może użyć wapnia do budowy kości bez obecności krzemionki. Ostatnie badania pokazują, że aby zremineralizować i naprawić uszkodzone lub słabe kości, należy stosować suplementy krzemionkowe. Krzemionka może przyspieszyć gojenie się złamań i zminimalizować uszkodzenie w miejscu, w którym nastąpiło pęknięcie lub złamanie.
Ziemia okrzemkowa przeciwdziała chorobie Alzheimera
Naukowcy powiązali chorobę Alzheimera z gromadzeniem się aluminium w mózgu. Jedną z Ziemi okrzemkowej jest to, że krzemionka w niej zawarta zmniejsza nagromadzenie aluminium w organizmie. Dodatkowo wiąże metale ciężkie i pomaga je usuwać z organizmu przez mocz. To z kolei obniża stężenie tego minerału w wątrobie, kościach, mózgu i nerkach. Krzemionka może być niezwykle ważna w profilaktyce chorób neurologicznych takich jak choroba Alzcheimera.
Ziemia okrzemkowa odkwasza i wzmacnia odporność
Istnieją korzyści dla układu odpornościowego ze spożywania ziemi okrzemkowej. Krzemionka indukuje środowisko zasadowe, które neutralizuje kwasowość, a to z kolei wpływa na układ odpornościowy organizmu. Ponadto, dzięki zachowaniu integralności paznokci, skóry i przyspieszeniu procesu gojenia się ran, krzemionka pozwala skórze odgrywać najważniejszą rolę jako bariera dla patogenów.
Ziemia okrzemkowa zapobiega miażdżycy
Krzem zawarty w ziemi okrzemkowej zapobiega akumulacji płytek w tętnicach. W ten sposób zapobiega zatykaniu naczyń, a to z kolei zapobiega nadciśnieniu. Stwierdzono, że poziom krzemionki jest wyższy w sercach osób zdrowych a niższy o osób cierpiących na różne dolegliwości układu sercowo naczyniowego. Krzemionka zwiększa wykorzystanie wapnia, a tym samym zapobiega zwapnieniu lub nagromadzeniu wapnia w tętnicach. Ziemia okrzemkowa działa również w innych tkankach, szczególnie w okolicach naczyń krwionośnych. W ten sposób zapobiega się powstawaniu blaszki tętniczej spowodowanej zwapnieniem.