Zielony (młody) jęczmień to produkt, który z roku na rok cieszy się rosnącą popularnością zwłaszcza u osób, które cenią sobie zdrowy styl życia. Jakie właściwości skrywa ten niezwykły składnik i jakie zastosowanie może znaleźć w naszym codziennym życiu? Odpowiedzi na te i inne pytania znajdziesz w dalszej części artykułu.
Zielony jęczmień – charakterystyka i skład produktu
Młody jęczmień jest rośliną uzyskiwaną w procesie organicznej i wolnej od sztucznych nawozów uprawy. Za sprawą bogactwa zawartych w nim witamin i minerałów, młody jęczmień uchodzi obecnie za jeden z najpopularniejszych środków do naturalnej suplementacji organizmu. Jakie zatem substancje możemy znaleźć w jego składzie?
Skład zielonego jęczmienia
Niniejsza roślina stanowi niezrównane źródło witamin i minerałów, wśród których znaleźć możemy witaminy z grupy B oraz C, K i E. Ponadto, młody jęczmień wykazuje wysoką zawartość naturalnych barwników (w tym beta-karotenu i chlorofilu) oraz takich składników mineralnych jak: magnez, żelazo, cynk, fosfor, krzem i wapń.
Zielony jęczmień – właściwości zdrowotne
Młody jęczmień ze względu na swój niezwykły skład wykazuje szereg pro-zdrowotnych właściwości.
Za sprawą wysokiej zawartości substancji przeciwzapalnych i przeciwwirusowych, niniejsza roślina skutecznie wspiera nasz układ odpornościowy w walce ze szkodliwymi wirusami i bakteriami.
Dodatkowo, zielony jęczmień może wpłynąć na zmniejszenie dolegliwości bólowych związanych z problemami trawiennymi oraz chorobami stawów.
Niniejsza substancja zawiera również duże ilości wapnia, które zbawiennie wpływają na wzmocnienie kości, a tym samym zapobieżenie ich częstym złamaniom.
Ponadto, niniejsza substancja wspiera zachowanie odpowiedniej równowagi kwasowo-zasadowej w naszym organizmie i odpowiada za skuteczne jego odkwaszenie.
Młody jęczmień dzięki zawartości chlorofilu wspiera również metabolizm organizmu oraz skutecznie zmniejsza poziom złego cholesterolu we krwi.
Niniejszy suplement diety stanowi również doskonałe źródło witaminy B12, której uzupełnianie niezwykle ważne jest w przypadku osób przestrzegających zasad diety wegańskiej.
Regularnie spożywanie sproszkowanego soku zielonego jęczmienia przyczynia się do zmniejszenia odczuwanego napięcia.
Zielony jęczmień, dzięki zawartości w swoim składzie krzemu oraz cynku, wspiera kondycję naszej skóry, włosów i paznokci.
W świetle opinii niektórych dietetyków oraz promotorów zdrowego stylu życia, młody jęczmień może stanowić środek wspomagający leczenie cukrzycy, chorób serca, nadwagi i otyłości. Ponadto, roślina ta, ze względu na swoje silne działanie antyoksydacyjne, może odpowiedzialna być za zmniejszenie ryzyka wystąpienia choroby nowotworowej w przyszłości.
Zielony jęczmień a odchudzanie
Oprócz bogatej zawartości wymienionych wyżej witamin i minerałów, zielony jęczmień stanowi również wspaniałe źródło błonnika, który z kolei odpowiedzialny jest za wsparcie procesu odchudzania. Spożywanie niniejszego składnika wpływa bowiem na usprawnienie pracy naszych jelit oraz wywoływanie uczucia sytości, dzięki czemu rzadziej jesteśmy skłonni sięgać po słodkie przekąski między posiłkami. Dodatkowo, młody jęczmień stanowi doskonały środek leczniczy na zaparcia oraz inne dolegliwości trawienne.
Zielony jęczmień a trądzik
Za pośrednictwem swoich właściwości antyoksydacyjnych, niniejsza substancja pozytywnie wpływa na kondycje naszej skóry, zwalczający tym samym objawy licznych jej chorób (np. atopowego zapalenia skóry, egzemy, trądziku). Ponadto, zielony jęczmień może wpłynąć na odbudowę uszkodzonych struktur naszej skóry zapewniając jej młody i promienny wygląd.
Zielony jęczmień – zastosowanie
Młody jęczmień do tej pory znajdował swoje szerokie zastosowanie w produkcji piwa oraz whisky. Niemniej jednak, w obecnych czasach niniejsza substancja coraz częściej wykorzystywana jest jako środek skutecznie wspierający proces odchudzania. Ponadto, niniejszy składnik w swojej sproszkowanej formie sprawdza się jako doskonały dodatek do smacznych koktajli oraz soków owocowych.
Jak stosować zielony jęczmień?
Młody jęczmień dostępny jest w formie sproszkowanego soku, lub rozdrobnionej trawy jęczmiennej.
Proszek z soku zielonego jęczmienia – uzyskiwany jest poprzez wyciśnięcie z niego soków, które następnie podlegają procesem suszenia za pomocą odparowywania wody w niskiej temperaturze.
Proszek z rozdrobnionej trawy jęczmiennej – uzyskiwany jest natomiast poprzez suszenie liści w wysokiej temperaturze, która doprowadza do utraty większości składników odżywczych zawartych w niniejszym produkcie.
Jak przygotować pełnowartościowy sok z zielonego jęczmienia?
W celu przygotowania odżywczego napoju należy przygotować łyżeczkę sproszkowanego soku z jęczmienia oraz szklankę ochłodzonej wody lub soku z owoców. Wszystkie wymienione wyżej składniki należy dokładnie wymieszać w wysokiej szklance, a następnie odstawić na około 30 minut i wypić. Tak przygotowany koktajl możemy pić nawet 2 razy dziennie najlepiej przed spożywaniem posiłków.
Zielony jęczmień – przeciwwskazania i skutki uboczne
W przypadku nadmiernego spożycia niniejszej substancji może dojść do wystąpienia niepożądanych skutków ubocznych, wśród których możemy wyróżnić:
nieprawidłowości w funkcjonowaniu jelit;
zaburzenia czynności układu moczowego, w tym pracy nerek;
uszkodzenie wątroby;
bóle i zawroty głowy;
ogólne osłabienie organizmu i wymioty; oraz
nadmierną senność i znużenie.
Szczególną ostrożnością w spożywaniu niniejszego składnika powinny kierować się te osoby, które zmagają się z problemem alergii lub nietolerancji na gluten oraz z celiakią (chorobą trzewną charakteryzującą się nietolerancja frakcji białek w niektórych ziarnach, np. pszenicy, jęczmienia oraz żyta).
Zielony jęczmień – cena i dostępność
Wraz z rosnącą popularnością młodego jęczmienia, zwiększyła się również liczba jego producentów. W związku z tym na rynku możemy nabyć niniejszy produkt w różnych cenach. Za opakowanie sproszkowanego zielonego jęczmienia o wadze 100 gram zapłacimy około 50, 00 złotych. Nie każdy produkt pod nazwą "zielony jęczmień" zawiera jednak ten sam skład oraz wartości odżywcze. Dlatego też, niniejszy produkt powinniśmy kupować w sprawdzonych sklepach specjalizujących się w sprzedaży zdrowej żywności.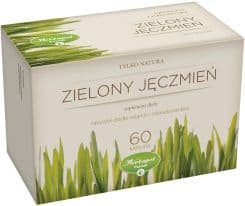 Zielony jęczmień
Kliknij i sprawdź ceny!
Zielony jęczmień w tabletkach, czy w proszku?
Zielony jęczmień możemy zakupić zarówno w postaci wygodnych pastylek, jak i proszku. Wśród niewątpliwych zalet niniejszego produktu w postaci tabletek, możemy wyróżnić:
możliwość kontroli stałej dawki niniejszego składnika;
łatwość i wygodę stosowania;
zwiększoną zawartość błonnika.
Natomiast wśród wad zielonego jęczmienia w postaci tabletek, wyróżniamy:
trudność w dostępności produktu o naprawdę wysokiej jakości;
stosunkowo wysoką cenę.
Wśród zalet zielonego jęczmienia dostępnego w formie sproszkowanego soku, możemy wyróżnić:
uniwersalność produktu (stosować go możemy zarówno w formie dodatku do soków, jak i jogurtów);
stosunkowo niska cena.
Do wad zielonego jęczmienia w niniejszej postaci możemy jednak zaliczyć:
jego specyficzny, gorzkawy smak;
trudność związaną z codziennym przygotowywaniem pełnowartościowych soków.
Młody jęczmień to doskonałe źródło niezbędny dla naszego zdrowia witamin i minerałów, dlatego też warto stosować go w swojej codziennej diecie. Pamiętajmy jednak, że spożywanie niniejszego składnika w nadmiernych ilościach, może doprowadzić do wywołania przykrych dla naszego organizmu konsekwencji.