Choroby układu krążenia to prawdziwa zmora dla nas, współczesnych ludzi. Określane często jako choroby cywilizacyjne (miażdżyca, choroba wieńcowa, zaburzenia pracy serca) stanowią prawdziwe zagrożenie dla tych, którzy z powodu wieku, stanu zdrowia, często także z własnego wyboru nie dbają o aktywny tryb życia. Niezależnie od powodów sprawą coraz ważniejszą okazuje się stałe monitorowanie pracy układu krążenia. Osoby cierpiące na przewlekłe schorzenia oraz te, które chcą kontrolować się profilaktycznie, by uniknąć wylewu czy zawału serca, mogą to robić samodzielnie dzięki coraz bardziej przyjaznym zwykłemu użytkownikowi aparatom do mierzenia ciśnienia.
Jaki powinien być dobry ciśnieniomierz?
Absolutną większość spośród ciśnieniomierzy wybieranych przez zwykłych użytkowników stanowią obecnie modele automatyczne, dzięki którym pomiaru dokonuje się samodzielnie, a czynności ograniczają się wyłącznie do założenia opaski na przedramię, wciśnięcia przycisku i odczytaniu wyników wyświetlających się cyfrowo na monitorze urządzenia. Pozostałą pracą zajmuje się aparat do mierzenia ciśnienia: samoczynnie pompuje mankiet (i opróżnia go z powietrza) i przetwarza mierzone wartości. Wiele modeli proponuje dodatkowe opcje, np. monitorowanie konkretnych zagrożeń układu krążenia (dajmy na to migotanie przedsionków), przechowywanie danych lub możliwość eksportu do komputerów. Jednakże podstawą przy wyborze wydają się prostsze parametry czy funkcje, przynoszące największe korzyści w intensywnej eksploatacji urządzenia oraz gwarantujące dokładność pomiaru. Przy porównaniu dziesięciu modeli często wskazywanych przez użytkowników na forach i w komentarzach w internecie wzięliśmy pod uwagę najważniejsze kryteria:
Mankiet. Od niego zależy najczęściej dokładność pomiaru. Obowiązuje zasada – im szerszy, tym lepszy, choć producenci różnicują modele w różnych rozmiarach, S, L lub XL. Duży margines pozwala na pewniejsze mocowanie i stabilność tej części ciśnieniomierza, która odpowiada za pomiar, a atutem jest górna granica (42 cm).
Pamięć. Ważna dla osób, które chcą znać pomiary w dłuższej perspektywie czasowej lub uśredniać je. Dobre urządzenie zadba, by podzielić pamięć pomiędzy większą ilość użytkowników.
Zasilanie. Część producentów ukrywa koszta dodając zasilacz jako opcję (należy go dokupić). Niewątpliwą korzyścią jest, gdy ciśnieniomierz posiada go w zestawie.
Gwarancja. Pośrednio wskazuje na trwałość urządzenia, a wahania są tu dość duże: od 2 do 5 lat
Dodatki. Każdy producent chce nas przekonać wyróżniając dodatkowe opcje, np. funkcje głosu czy badanie wybranych dysfunkcji. Ważne, miłe, ale to jednak tylko dodatki
Cena. Kto z nas nie chciałby kupić znakomitej jakości w najlepszej cenie? Do rankingu przyjęliśmy najniższą cenę wśród identycznych modeli na portalu ceneo.pl
RANKING
1. Diagnostic PRO AFIB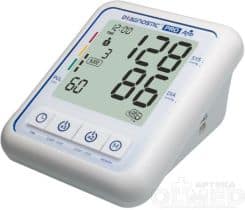 Największa pamięć spośród kompaktowych modeli, 2 razy po 120 odczytów, solidny mankiet i zasilanie w komplecie. Przy takich osiągach i kilku innowacjach podanych jako dodatkowy atut zastanawia dość krótka gwarancja (2 lata). No ale dodatki są ciekawe: Technologia DuoAfib – urządzenie wykonuje automatycznie dwa pomiary, gwarantując bardzo dokładny wynik i komfort podczas użycia. Do tego urządzenie wykrywa migotanie przedsionków. Cena 117 PLN to prawdziwy przebój.
2. Microlife BP A3L-PC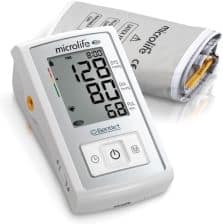 Również znakomita opcja. Mankiet w rozmiarach 22 – 42 cm, pamięć 2 razy po 99 odczytów i przede wszystkim zdecydowanie najdłuższa, bo aż pięcioletnia gwarancja dają bardzo solidną podstawę, do której należy dodać opcje dodatkowe: stabilizacja mankietu i program wykrywający ruchy ramienia w czasie badania. Przy cenie 152 PLN to bardzo mocna oferta.
3. OMRON M6 Comfort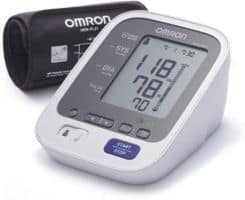 Sądząc po komentarzach najpopularniejsza marka – i rzeczywiście nieźle się prezentuje, to jednak najdroższy model spośród wszystkich ocenianych (285 PLN). Może jednak jakość warta ceny? Nic, czego nie miałyby poprzednie modele. Wykrywanie arytmii, stabilizacja i uśredniony pomiar, pamięć 2 razy po 100, duży mankiet, solidna gwarancja (3 lata). Czołówka wśród ofert, ale przydałaby się większa promocja.
4. OMRON M3
Jeden z najpopularniejszych ciśnieniomierzy na rynku. Od jakiegoś czasu z szerokim mankietem i pamięcią 2 razy po 60 pomiarów. Bardzo podobny do następnego urządzenia i tylko nieznacznie od niego droższy (179 PLN), dlatego przed nim w rankingu, co potwierdza duża liczba zadowolonych użytkowników.
5. TensoVal Duo Control II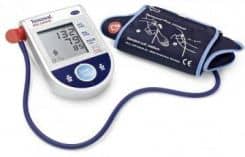 Od najlepszych modeli odstaje przede wszystkim pamięcią (2 razy po 60 pomiarów). Brak zasilacza w zestawie ma rekompensować wyjątkowo niskie zużycie baterii. Dodatki nie oferują niczego poza tym, o czym już czytaliśmy w ofertach poprzedników. Gwarancja – 3 lata, cena – 169 PLN.
6. Kardio-Test KTA K6 Komfort (znany także jako Hi-Tech Medical)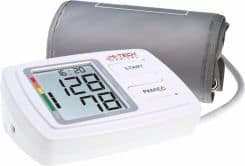 Przy niskiej cenie wszystkie opcje wydają się na swoim miejscu. Ten model pamięcią nie odstaje od poprzednika, ale maksymalny rozmiar mankietu to już 36 cm. Zasilacz to już kwestia osobnego wydatku. Posiada za to funkcję głosowego odczytu wyników oraz stabilizacji pomiarów. Dwa lata gwarancji, cena 119 PLN.
7. Tech-Med. TMA 7000M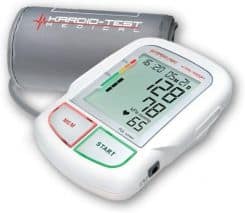 Dobry wybór dla osoby starszej lub/i słabowidzącej – gwarantuje to duży i czytelny wyświetlacz. Może być rozpatrywany jako urządzenie spersonalizowane, bowiem jego pamięć to 60 pojedynczych odczytów. Dosyć solidny i dokładny, z dwuletnią gwarancją i rozsądną ceną 109 PLN.
8. Kardio-Test KTA 868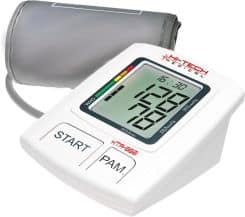 Wybitnie niskobudżetowa inwestycja (69 PLN), zawiera jedynie podstawowe funkcje i pamięć 60 odczytów dla jednej osoby. Bez zasilacza, z wąskim mankietem,ale sądząc po przychylnych wpisach zadowolonych użytkowników, to zadowalająca opcja dla wszystkich, który dysponują niewielkimi środkami. Z dwuletnią gwarancją.
9. Simple Sanity 1116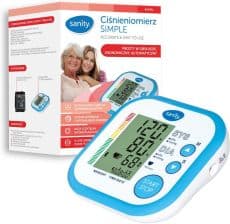 Uproszczona wersja ciśnieniomierza w podobnej cenie (72 PLN) i z podobną zawartością oferty jak poprzednia propozycja. Producent chwali się zmniejszoną wagą (ale i tak chyba ciśnieniomierze do najcięższych nie należą) oraz, co może być jakąś opcją, rozmiarami. Jak wskazuje nazwa, dość proste urządzenie, ale warto odnotować, że dostaniemy na nie aż trzy lata gwarancji, czyli więcej, niż na modele z wyższej półki cenowej.
10. Beurer BM44
Jak na markę, która widnieje w katalogach wielkich marketów, oferta raczej rozczarowująca. Przy cenie 119 PLN podstawowe funkcje, wąski mankiet (który, uwaga, w szerszej wersji można dokupić w osobnej ofercie), brak zasilacza i, co gorsza, brak opcji zapamiętywania pomiarów. Idealna oferta dla tych, którym ciśnienie skacze raz do roku. Za to gwarancja na trzy lata.