Czesanie włosów to dla wielu kobiet bardzo bolesna i trudna czynność. Wszystko zależy w głównej mierze od długości oraz rodzaju włosów – niektóre włosy mają tendencję do kołtunienia się i skręcania, dlatego też o wiele trudniej jest je prawidłowo i bezboleśnie rozczesać.
Dlaczego warto zainwestować w szczotkę do włosów?
Dlatego też dobrze dobrana szczotka oraz odpowiednia pielęgnacja włosów jest kluczem do sukcesu. Wybierając odpowiednią szczotkę warto jest zwrócić uwagę na jej wielkość oraz ułożenie igieł oraz ich długość, a także materiał z którego szczotka jest wykonana. Rozczesywanie włosów szczotką ułatwi stosowanie odżywek nawilżających włosy i ułatwiających rozczesywanie, a także regularne czesanie włosów, szczególnie po ich umyciu. Dzięki tym zasadom można w głównej mierze wyeliminować problem rozczesywania włosów.
Na rynku dostępnych jest wiele szczotek do włosów. Są one wykonane z różnych materiałów – tworzywa sztucznego, plastiku czy drewna. Mowa tutaj zarówno o rączce, jak i o poszczególnych igłach w szczotce (nazywanych również ząbkami). Posiadają odmienne ułożenie ząbków, a także ich rozstaw – dzięki temu mogą być skierowane do różnych typów włosów, począwszy od cienkich i prostych, aż do burze kręconych loków. Popularne są szczotki, których część do czesania włosów wykonana jest z materiałów, które z założenia mają pomóc w lepszym rozczesywaniu włosów – od lat bardzo popularne są między innymi chociażby szczotki wykonane z włosia dzika.
Tangle teezer – historia powstania szczotki
Tangle teezer to bardzo popularna w ostatnich latach szczotka do włosów, która zdobyła uznanie kobiet oraz mężczyzn o problematycznych włosach na całym świecie, również na terenie Polski. Mało kto orientuje się, że początek "kariery" szczotki Tangle teezer nie był, aż tak łatwy i szybki. Szczotka ta została zaprojektowana przez angielskiego fryzjera – wymyślił ją Shaun Pulfrey.
Po chwili od opracowania projektu szczotki postanowił on przedstawić w telewizji publicznej swój pomysł i w ten sposób pozyskać inwestorów do wypuszczenia szczotki na rynek. Niestety prezentowany przez angielskiego fryzjera pomysł nie przypadł do gustu zarówno jurorom programu w którym występował, jak i samym sponsorom. Shaun Pulfrey nie uzyskał dofinansowania na otwarcie sprzedaży szczotki Tangle teezer – jednak po kilku latach samodzielnie wypuścił oraz wypromował szczotkę na rynku. Szczotka ta szybko zdobyła uznanie konsumentów i wbrew początkowym oczekiwaniom zaczęła przynosić bardzo duże dochody. Obecnie szacuje się, że jest to jedna z najbardziej rozpoznawalnych szczotek oraz marek na całym świecie. Charakterystyczny kształt szczotki oraz jej nazwa bardzo szybko zapada w pamięć, nawet tym osobom, które do tej pory nie miały okazji jej użytkować.
Tangle teezer – idealna szczotka do włosów?
Twórcy szczotki Tangle teezer zależało przede wszystkim na dopasowaniu szczotki do problemów i wymagań kobiet na całym świecie. Starał się więc stworzyć szczotkę, która radzi sobie z najbardziej powszechnym problemem – rozczesywaniem włosów, które mają tendencję do plątania się i kołtunienia. Według twórcy, szczotka Tangle teezer przeznaczona jest praktycznie dla każdego – zarówno dla kobiet, jak i dla mężczyzn. Sprawdza się wśród osób o krótkich i długich włosach, cienkich oraz gęstych, a także prostych czy kręconych (szczotka jest bardzo delikatna, dlatego też nie powoduje rozprostowywania się skrętów). Można czesać nią zarówno mokre włosy tuż po umyciu, jak również stosować szczotkę do typowego rozczesywania włosów w ciągu dnia.
Zaletą szczotki Tangle teezer jest fakt, że zamiast typowego dla wielu szczotek włosia czy gęsto ułożonych ząbków, Tangle teezer posiada elastyczne i gładkie ząbki, które ześlizgują się wzdłuż włosa i tym samym ułatwiają jego rozczesywanie, jednocześnie nie naruszając struktury i ciągłości włosa. Gładkie i wysokiej jakości tworzywo sztuczne z którego została wykonana szczotka i jej ząbki sprawiają, że włos nie jest ciągnięty i nie plącze się w szczotce – podczas czesania nie zostają wyrwane włosy, jak to ma często miejsce w standardowych szczotkach do włosów. Dodatkowo rozmieszczone na całej powierzchni szczotki ząbki o różnorodnej długości dodatkowo pobudzają skórę głowy i wzmacniają cebulki włosa, ponieważ podczas czesania wykonywany jest również delikatny masaż głowy.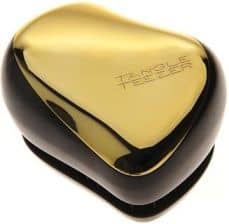 Tangle teezer
Kliknij i sprawdź ceny!
Zalety, zalety, zalety
Kolejnym walorem szczotki Tangle teezer jest jej niewielki oraz charakterystyczny rozmiar. Szczotka idealnie sprawdzi się zarówno do użytku domowego, jak również do noszenia w małej kobiecej torebce. Jej wygląd sprawia, że w odróżnieniu do standardowych szczotek prezentuje się świetnie, wyglądem przypominając modny gadżet.
Charakterystyczną cechą szczotek Tangle teezer są soczyste i neonowe kolory w których występuje – brakuje tutaj smutnych i ponurych barw (brązów, szarości, ecru) dominują kolorowe i przyciągające wzrok barwy, choć można znaleźć również szczotki Tangle teezer utrzymane w klasycznej i eleganckiej czerni. Choć wielkość szczotki Tangle teezer dla większości osób jest jej zaletą, dla niektórych ta względnie mała szczotka często wypada z dłoni podczas użytkowania, co jest niewątpliwie uznawane za minimalną wadę. Rozwiązaniem jednak tego problemu jest zakup odpowiedniego modelu szczotki – na rynku dostępne są oprócz klasycznych szczotek, również te, które posiadają rączkę bądź są odrobinę większe.
Szczotka Tangle teezer należy do szczotek ze średniej półki cenowej. Poszczególne modele kosztują mniej więcej od 20 do 70 zł, w zależności od punktu sprzedaży. Szczotki Tangle teezer często jednak można kupić w korzystnych promocjach (na terenie drogerii bądź profesjonalnych sklepów fryzjerskich), dlatego biorąc pod uwagę fakt, że jest to produkt najczęściej nawet na kilka lat, zakup jest bardzo opłacalny.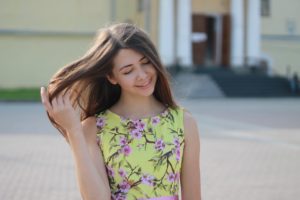 Rodzaje szczotek do włosów Tangle teezer
Tangle teezer nie jest określaniem jednej szczotki, ponieważ szczotka ta obecnie występuje w kilku odsłonach, które nieco się od siebie różnią. Przyjęło się jednak, że powszechnie wszystkie te szczotki określa się jedną nazwą, bez podziału na poszczególne serie.
Na polskim rynku można znaleźć między innymi takie szczotki marki Tangle teezer jak:
Tangle teezer The Orginal – pierwsza i najbardziej popularna wersja szczotki Tangle teezer,
Tangle teezer Salon Elite – ulepszona wersja podstawowej szczotki Tangle teezer, kształt szczotki przypomina banana, dzięki czemu jeszcze lepiej rozczesuje włosy i dociera do całej powierzchni głowy,
Tangle teezer Aqua Splash – jak sama nazwa wskazuje, szczotka ta przeznaczona jest specjalnie do czesania włosów mokrych (sprawdzi się zarówno pod prysznicem, jak i na basenie),
Tangle teezer Compact Styler – kompaktowa wersja szczotki Tangle teezer, jej zaletą jest specjalna nakładka, która chroni szczotkę w torebce bądź podczas podróży,
Tangle teezer Thick & Curly – ten model przeznaczony jest do włosów gęstych i kręconych, idealnie sprawdza się również do włosów lekko falowanych;
Tangle teezer Flower Pot – szczotka stworzona z myślą o małych dziewczynkach, jest nieco mniejsza i bardziej dopasowana do małych rączek;
Tangle teezer Blow Styling – szczotka ta przeznaczona jest do modelowania włosów podczas suszenia, jej zaletą jest długą rączka.