Suszone pomidory to smakowita przekąska, która może nie wygląda tak okazale, jak świeże pomidory, jednak z uwagi na bardzo dużą zawartość likopenu warto włączyć ją do codziennego menu.
Mieszkańcy Włoch wykorzystują suszone pomidory na potęgę, poddając je procesowi suszenia w pełnym słońcu, dzięki czemu mogą delektować się ich niepowtarzalnym smakiem. Jaki jednak wartości odżywcze mają suszone pomidory, dlaczego warto je spożywać i czy można przygotować je w domowym zaciszu?
Najlepsze źródło likopenu
Pomidory to bardzo dobre źródło likopenu, jednak aby nasz organizm otrzymał jak największe ilości tej substancji, produkt bazowy musi zostać poddany obróbce termicznej, ponieważ likopen uwalnia się właśnie podczas kontaktu z wysoką temperaturą. W przypadku witamin i minerałów obróbka termiczna powoduje znaczący spadek ich ilości, natomiast jeśli chodzi o likopen, to wygląda to zupełnie inaczej.
Pomidory suszone zawierają bardzo duże ilości likopenu, ponieważ poddaje się je procesowi suszenia (we Włoszech w pełnym słońcu). Czym jednak jest wspomniany likopen? To bardzo silny przeciwutleniacz, który wykazuje właściwości antynowotworowe oraz przeciw-starzeniowe. Z pomidorami związana jest pewna ciekawostka, ponieważ praktycznie wszyscy z nas określają je mianem warzyw, jednak z botanicznego punktu widzenia pomidory to tak naprawdę owoce. Dlaczego zatem powszechnie nazywane są warzywami? Głównie ze względu na to, iż nie wykorzystujemy ich do przygotowywania słodkich deserów a raczek wytrawnych potraw (makaronów, zup, sosów, sałatek).
Właściwości suszonych pomidorów
Wszystkie dostępne na rynku warzywa i owoce tracą ponad połowę swoich wartości odżywczych podczas gotowania, smażenia, czy też pieczenia, jednak w przypadku pomidorów działa to w odwrotnym kierunku. Dzięki działaniu wysokiej temperatury w pomidorach zaczyna wytwarzać się likopen, który za sprawą obróbki termicznej staje się bardzo dobrze przyswajalny.
Jeśli chodzi o suszone pomidory, to wykazują one szereg niezwykle cennych dla naszego organizmu właściwości leczniczych. Pomagają obniżyć zbyt wysoki poziom złego cholesterolu we krwi, dzięki czemu obniżają ryzyko wystąpienia w przyszłości miażdżycy oraz chorób układu krwionośnego.
Z kolei z uwagi na fakt, iż w większości można zakupić je w zalewie z oliwy, to zapewniają lepsze przyswajanie cennych dla naszego zdrowia witamin, które rozpuszczają się w tłuszczach. Bardzo cennym składnikiem suszonych pomidorów jest również beta-karoten, który ochrania nasz narząd wzroku przed rozwojem niebezpiecznych chorób oczu, a także nadaje skórze zdrowego kolorytu.
Wartości odżywcze suszonych pomidorów
Suszone pomidory to średnio-kaloryczny produkt, ponieważ w 100 g można znaleźć około 260 kcal (nie licząc oczywiście zalewy).
Takie pomidory stanowią bardzo dobre źródło białka, a także błonnika, dlatego też od czasu do czasu mogą po nie sięgać osoby walczące z nadmiarem kilogramów (mogą je spożyć, jednak bez oliwnej zalewy, która jest dosyć kaloryczna). Wśród pozostałych substancji odżywczych można również wymienić witaminy A, C, E, K, z grupy B, potas, wapń, magnez, żelazo, cynk, fosfor oraz sód.
Niezdrowa sól w suszonych pomidorach
Nie od dziś wiadomo, iż nadmiar soli nie wpływa zbyt korzystnie na stan naszego zdrowia, ponieważ może doprowadzić do wielu bardzo niebezpiecznych chorób takich jak miażdżyca, otyłość, czy też nadciśnienie.
Niestety w celu usunięcia z pomidorów nadmiaru wody, producenci bardzo często obsypują je solą, a biorąc pod uwagę fakt, iż w codziennej naszej diecie sól obecna jest na każdym kroku (znajduje się obecnie w każdym produkcie spożywczym), to podczas przygotowywania potraw z suszonych pomidorów nie należy ich dodatkowo dosalać.
Świetnym pomysłem może być również przygotowanie suszonych pomidorów w domowym zaciszu, mając pewność, iż nie będą one zawierać zbyt dużych ilości soli oraz innych niepotrzebnych substancji.
Sklepowe i domowe pomidory suszone
Obecnie w każdym sklepie można bez problemu zakupić gotowe suszone pomidory, jednak w kilku wersjach. Najpopularniejsze są oczywiście te w zalewie oliwnej, jednak wielu producentów oferuje suszone pomidory zapakowane w specjalne saszetki, które pozbawione są oliwy.
Niestety cena za taki rarytas może zwalić z nóg, co jest oczywiście związane z całym procesem przygotowania suszonych pomidorów. Zamiast jednak kupować słoiczek takich pomidorów w sklepie, lepiej przygotować je w sezonie w domowym zaciszu. Biorąc pod uwagę fakt, iż ceny pomidorów w okresie jesiennym wynoszą około 2-3 zł za kilogram, to koszt wytworzenia własnych suszonych pomidorów jest dosyć niski.
Jak przygotować domowe suszone pomidory?
W pierwszej kolejności należy oczywiście zakupić pomidory, wybierając przede wszystkim te odmiany, które są dosyć mięsiste, nie mają zbyt dużej komory nasiennej, a także nie są zbyt duże, gdyż znacznie szybciej wyschną.
Świetnie w tym przypadku sprawdzą się pomidory podłużne nazywane również paprykowymi. Gdy pomidory zostaną już zakupione, należy je bardzo dokładnie umyć, osuszyć oraz przekroić wzdłuż. Tak przygotowany produkt należy w następnym kroku ułożyć dosyć ciasno na blaszce (skórką do dołu), posypując niewielką ilością soli oraz skrapiając oliwą. Do nagrzanego do 80 stopni Celsjusza piekarnika należy włożyć blachę z pomidorami, susząc je przez około 6 godzin (termoobieg), przy uchylonych drzwiczkach, aby para mogła swobodnie uchodzić na zewnątrz piekarnika.
Tak wysuszone pomidory należy następnie przełożyć do słoika, zalewając oliwą z oliwek i gotowe. Podczas słonecznej pogody pomidory można również wysuszyć na słońcu, rozkładając ich połówki w przewiewnym miejscu na pergaminie. Jak długo trzeba jednak czekać na ich całkowite ususzenie? Wszystko oczywiście zależy od temperatury, jednak w przypadku 30 stopni Celsjusza na zewnątrz trwa zazwyczaj około 4 dni.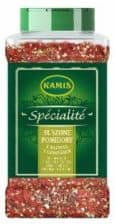 Suszone pomidory
Kliknij i sprawdź ceny!
Zastosowanie suszonych pomidorów
Suszone pomidory sprawdzają się idealnie jako dodatek do zup, sałatek oraz sosów. Można je podawać zarówno z makaronem (idealnie nadają się do spaghetti), jak i ryżem. Pomidory odsączone z oliwnej zalewy można podawać w formie przystawki, jednak nadają się równie dobrze jako dodatek do farszów, zapiekanek, czy też różnego rodzaju dań mięsnych.
Świetnym pomysłem może być również podawanie ich z innymi warzywami, potrawami rybnymi oraz słonymi serami. Na śniadanie i kolację można także przygotować przepyszną pastę, która powstaje w zaledwie kilka minut.
Pasta z suszonych pomidorów
Składniki:
1 słoik suszonych pomidorów,
kilka sztuk czarnych oliwek,
1/3 szklanki namoczonych nasion słonecznika,
1 łyżeczka kaparów,
1 pęczek bazylii,
2 małe ząbki czosnku,
1 łyżka soku z cytryny,
odrobina soli i pieprzu do smaku
Sposób przygotowania:
Do blendera należy wrzucić wszystkie składniki (wraz z pomidorową zalewą, aby pasta miała odpowiednią konsystencję), miksując je na gęstą pastę. Jeśli nie będzie miała ona odpowiedniego smaku, można dodać do niej ulubione przyprawy. Tak przygotowaną pastę należy przełożyć do pojemniczka, wykorzystując ją następnie jako dodatek do kanapek.