Zdrowie jest najważniejszym elementem naszego życia. To właśnie ono daje nam chęci do działania, pozwala na codzienne wstawanie z łóżka i energiczne działania. Dbając o zdrowie musimy zwracać uwagę na takie parametry jak waga, ciśnienie, właściwa praca nerek czy wątroby, a nawet zaopatrzenie organizmu w poszczególne witaminy czy minerały. Wszystkie te dane możemy zdobyć dzięki odpowiednim badaniom.
Czym jest ciśnienie krwi?
Ciśnienie krwi określa siłę z jaką krew napiera na ściany zarówno tętnic w czasie skurczu serca jak i jego rozkurczu. Z ciśnieniem związana jest także wartość pulsu, czyli  liczba uderzeń serca w ciągu minuty.
Od czego zależy prawidłowe ciśnienie krwi i puls?
Dla lekarzy jak i pacjentów istotne jest, aby parametry dotyczące ciśnienia krwi były prawidłowe. Oczywiście dla każdego człowieka wartość ta będzie inna, gdyż jest uzależniona ona od takich czynników jak:
wiek pacjenta,
stan zdrowia,
aktywność fizyczna,
stan psychiczny,
spożywane używki czy
nawet pory dnia i nocy.
W przypadku dorosłych przyjęta norma dla ciśnienia skurczowego jest 120, a dla ciśnienia rozkurczowego normą jest 80. Natomiast w przypadku dzieci normy są ustalane zgodnie z tzw. siatkami centylowymi, które biorą pod uwagę wiek, płeć, wysokość ciała.
Jakie powinno być prawidłowe ciśnienie krwi?
Według ekspertów prawidłowe ciśnienie krwi powinno znajdować się pomiędzy wartościami 120 na 80 a 135 na 85 mm HG. Alarmujące jest natomiast ciśnienie o parametrach 140 na 90. Przyjmuje się, że osiąganie wartości powyżej oznacza już nadciśnienie, które wymaga leczenia. Nadciśnienie może być przyczyną takich schorzeń jak zawały serca, udary mózgu.
Kiedy stwierdza się nadciśnienie u pacjenta?
Do stwierdzenia nadciśnienia u pacjenta nie wystarczy tylko jeden pomiar. Do podwyższenia ciśnienia u człowieka przyczyniają się emocje, dlatego też do pomiaru należy przystąpić bez nerwów i większych emocji. Do stwierdzenia nadciśnienia konieczne jest wykonanie kilkunastu pomiarów w różnych porach dnia lub badania za pomocą specjalnego aparatu(podobnego do holtera).
Do czego przyczynia się podwyższone ciśnienie krwi?
W każdym wieku warto zadbać o prawidłowe wartości ciśnienia krwi, gdyż nadciśnienie może prowadzić do niepokojących zmian w obrębie układu krążenia. Obecny dostęp do aparatów pomiarowych(czyli ciśnieniomierzy) pozwala na wykonywanie badań w domu. Jest to znaczne ułatwienie przede wszystkim dla grup z większego ryzyka zachorowania na nadciśnienie.
Jak wykonywać pomiar ciśnienia w domu?
Pomiar ciśnienia w domu należy dokonywać przy jednoczesnym przestrzeganiu kilku zasad. Przede wszystkim pomiar powinien być wykonany po  5 minutach odpoczynku, a przeciągu poprzedzających pomiar 30 minut nie powinno się pić kawy czy palić papierosów. Pomiar najlepiej jest dokonywać aparatem z mankietem  naramiennym(mankiet zakładany na wysokości serca). Dla celów diagnostycznych pomiar powinien być wykonywany każdego dnia rano i wieczorem prze co najmniej 7 dni z rzędu. Wyniki pomiarów powinny być zapisywane w dzienniczku samokontroli.  Aparaty używane do samodzielnego pomiaru ciśnienia w domu muszą być całkowicie automatyczne.
Kiedy zachodzi konieczność użycia specjalistycznego sprzętu do pomiaru ciśnienia?
W szczególnie skomplikowanych przypadkach lekarz może zalecić skorzystanie z tzw. holtera ciśnieniowego, czyli (ABPM). Jest to urządzenie, którym pomiar ciśnienia dokonuje się przez całą dobę. Do prawidłowego pomiaru również konieczne jest:
wykonywanie pomiaru po 15-30 minutach odpoczynku,
wykonanie pomiaru na obydwu rękach( w przypadku różnicy większej niż 10 mm Hg mankiet jest zakładany na rękę niedominującą, a przy różnicy mniejszej niż 10 mm HG na rękę o wyższym ciśnieniu),
dobranie właściwego mankietu,
wskazanie odstępu między pomiarami,
wypełniane dzienniczka aktywności.
Jakie zasady obowiązują przy pomiarze ciśnienia krwi?
Wpływ na decyzję lekarza co do dalszego leczenia pacjenta mają także zasady dotyczące wykonywania pomiarów. W trakcie próby zdiagnozowania pacjenta poprzez pomiary wykonywane w domu, musi on:
powstrzymać się od picia kawy i palenia tytoniu co najmniej 30 minut przed pomiarem,
odpoczywać przed pomiarem w pozycji siedzącej z podpartymi plecami,
wykonywać dwa pomiary w odstępie 1-2 minut,
używać standardowy mankiet( o szerokości 12-13 cm i długości 35 cm),
nie zakładać ciasnej odzieży na rękę, gdzie będzie dokonywany pomiar,
zakładać mankiet na wysokości serca.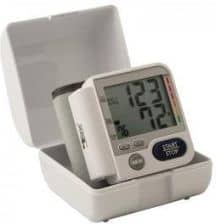 Aparat do mierzenia ciśnienia krwi
Kliknij i sprawdź ceny!
Kiedy jest diagnozowane nadciśnienie tętnicze krwi?
Lekarz diagnozuje nadciśnienie krwi, gdy wartość pomiarów ciśnienia krwi jest wysokie( na poziomie 140/90 mmHg). W przypadku gdy wyniki pomiarów nie będą prawidłowe lekarz może zdiagnozować niedociśnienie lub nadciśnienie.
Jakie istnieją przyczyny niedociśnienia?
Niedociśnienie to stan, gdy nasze ciśnienie ma wartość poniżej 100/60 mmHg. Wśród najczęściej wymienianych przyczyn niedociśnienia znajdują się takie stany jak:
stosowanie pewnych leków,
ciąża,
niedoczynność tarczycy,
stan zapalny,
krwotok,
kłopoty z zastawkami,
bradykardia.
Jakie są objawy niedociśnienia?
Niedociśnienie także stanowi pewne zagrożenia, gdyż objawami mogą być:
osłabienie,
zawroty głowy,
brak wystarczającej ilości tlenu we krwi(prowadzi to do uszkodzeń serca i mózgu).
Jak walczyć z niedociśnieniem?
Osoby cierpiące na niedociśnienie powinny spać z nogami ułożonymi wyżej niż reszta ciała. Ponadto osoby takie powinny unikać gorących kąpieli i korzystania z sauny. natomiast w przypadku nasilonych dolegliwości można zastosować środki zawierające kofeinę. W przypadku złego samopoczucia zalecane jest wypicie dwóch szklanek wody duszkiem, co podniesie ciśnienie mniej więcej o 20 mmHg.
Jak objawia się nadciśnienie?
Brak prawidłowego ciśnienia może dawać takie objawy jak:
częste bóle głowy,
zaburzenia widzenia.
Niestety w większości przypadków przyczyna nadciśnienia nie jest znana. Jednakże na ryzyko zachorowania narażone są osoby, które:
są powyżej 60. roku życia,
palą papierosy,
nadużywają alkoholu,
prowadzą siedzący i nerwowy tryb życia,
przyjmują pewne leki jak np. sterydy,
jedzą tłusto i nadużywają soli.
Jak dbać o prawidłowe ciśnienie?
Bez względu na to czy cierpimy na nadciśnienie czy niedociśnienie należy dbać o prawidłowe wartości ciśnienia. O prawidłowe ciśnienie zadbamy pilnując prawidłowej wagi, rezygnując z palenia papierosów, nie pracując powyżej 40 godzin tygodniowo, relaksując się w wolnym czasie, zwiększając aktywność fizyczną(wystarczą spacery po 30 minut co najmniej 4-5 razy w tygodniu).
Jak zdiagnozować nieprawidłowe ciśnienie?
Przypilnowanie prawidłowych wartości wymaga wielokrotnych pomiarów ciśnienia wykonywane z użyciem uciskowego mankietu gumowego. Przy diagnozie konieczne jest również zbadanie poziomu sodu, potasu, cholesterolu i lipidów, RTG klatki piersiowej i EKG. Z nadciśnieniem związane są też powikłania, gdyż nieleczone nadciśnienie może doprowadzić do miażdżycy, zawału lub udaru mózgu.
Jak powrócić do prawidłowych wartości ciśnienia?
Osoba, której wartości ciśnienia odbiegają od normy powinna unikać nadmiaru soli, zwiększyć aktywność fizyczną, a ostatecznie brać leki obniżające ciśnienie. Prawidłowy wynik to wartość w przedziale 120/80-135/85 mmHg. W przypadku pojawienia się wyższego wyniku niż 140/90 mmHg warto wprowadzić profilaktykę prowadzącą do unormowania ciśnienia. W takim wypadku należy zastosować metody farmakologiczne lub bardziej naturalne.
Do metod farmakologicznych należą leki obniżające ciśnienie. Tymczasem naturalne sposoby wymagają pewnego wysiłku i samozaparcia ze strony zagrożonej osoby. Pierwszym zaleceniem mającym doprowadzić do prawidłowego ciśnienia jest obniżenie masy ciała. W tym celu należy połączyć wysiłek fizyczny(zalecany osobom ze zbyt wysokim jak i zbyt niskim ciśnieniem) ze zrównoważoną dietą.
Kolejnym zaleceniem jest ograniczenie spożycia soli(czyli nie więcej niż 6 gram soli kuchennej każdego dnia). Do innych zaleceń zalicza się ograniczenie używek takich jak alkohol i papierosy. Warto wprowadzić do diety więcej owoców i warzyw. Warto uświadomić sobie, że każde dodatkowe kilogramy to wzrost ciśnienia.