1 września, czyli moment rozpoczęcia się szkoły to dla wielu pierwszoklasistów bardzo duży stres. Dzieci, które mają rozpocząć naukę szkolną nie wiedzą czego się spodziewać i jak wygląda "ta cała szkoła". A przecież proces oswojenia się z nieznanym i dobre wejście w obowiązek szkolny i rytm nauki jest bardzo ważne – od tego zależeć może motywacja i stosunek do szkoły dziecka podczas całej szkolnej kariery.
Dlatego też bardzo ważne jest odpowiednie przygotowanie dziecka na ten dzień – rodzice czy opiekunowie powinni zrobić wszystko co w ich mocy, aby jak najlepiej przygotować dziecko początek roku szkolnego i tym samym pomóc mu zminimalizować odczuwany lęk, stres czy niepokój. Można tego dokonać na wiele sposobów, które są polecane przez nauczycieli, pedagogów czy psychologów -ważne jednak, aby w doborze poszczególnych metod kierować się przede wszystkim rodzicielską intuicją i znajomością swojego dziecka oraz tego, czego w danym momencie ono potrzebuje. Początek roku szkolnego nie musi być wcale straszny – wiele zależy od nastawienia, które jest prawdziwym kluczem do sukcesu.
Jak przygotować dziecko na początek roku szkolnego?
Przygotowań do szkoły, szczególnie tych, które obejmują raczej kwestie psychiczne nie warto zostawiać na ostatni moment. Już w zerówce czy nawet w przedszkolu warto jest jak najwięcej opowiadać dziecku o szkole – nie warto jej idealizować, można wskazywać także na gorsze aspekty szkoły (np. tłum, głośne przerwy). Nie powinno się jednak pod żadnym pozorem straszyć dziecka szkołą – zarówno jej specyfiką, jak również czekającymi na dziecko nowymi obowiązkami, które są związane z nauką czy koniecznością odrabiania lekcji. Strach nie jest dobrą emocją i może ukształtować w dziecku negatywny stosunek do obowiązku szkolnego, co z kolei będzie potęgować jego niechęć oraz strach jeśli chodzi o początek roku szkolnego.
O szkole nie należy się wypowiadać także w sposób lekceważący. Takie zachowanie wpływa przede wszystkim niekorzystnie na motywację dziecka oraz może także skutkować podobnym zachowaniem i podejściem u dziecka – lekceważenie obowiązków już na samym początku szkolnej kariery nie wróży zbyt dobrze.
Porady dla rodziców pierwszoklasistów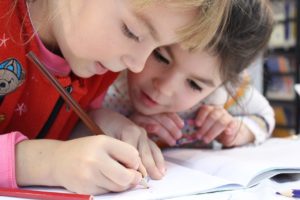 Jak zatem przedstawiać początek roku szkolnego i szkołę w swoich rozmowach z dzieckiem? Przede wszystkim należy wzmacniać w dziecku aktywną postawę poznawczą – opowiadać o tym, jak ciekawe są lekcje i jak wiele można się na nich nauczyć.
Warto jest opowiadać (oprócz tego, że zajęcia polegają na siedzeniu w ławce przez 45 minut i przyswajaniu wiedzy z podręcznika), że lekcje to także czas wielu eksperymentów, doświadczeń oraz wycieczek, które mają na celu poszerzenie wiedzy dziecka oraz zdobycie nowych umiejętności. Rodzic w rozmowie z dzieckiem powinien podkreślać, jak różne są szkolne zajęcia. To nie są jedynie żmudna nauka czytania, pisania i matematyki, ale również bardzo ciekawe zajęcia plastyczne, lekcje muzyki, wychowanie fizyczne na których pojawiają się między innymi gry zespołowe czy akrobatyka. Prezentowanie różnorodności zajęć daje dziecku świadomość, że z pewnością w szkole znajdą się takie zajęcia, które mu się spodobają. Warto jest podkreślać, że nie zawsze wszystkie lekcje będą ciekawe dla danego dziecka, ale w kontekście ogólnej wiedzy na temat świata są one bardzo ważne i dlatego też, warto podejść do nich z zaciekawieniem.
Świetnym pomysłem na oswojenie lęku przed szkołą jest to, żeby rodzic podzielił się swoimi wspomnieniami na temat placówki z dzieciństwa. Może pokazać dziecku zdjęcia czy szkolne pamiętniki – świadomość, że każdy przechodził przez to samo jest dla dziecka bardzo motywująca i pozwala pokonać lęk oraz strach. Takie działania pokażą dodatkowo, że początek roku szkolnego to nic strasznego.
Dni otwarte szkoły – dlaczego warto z nich skorzystać?
Praktycznie każda szkoła organizuje obecnie tak zwane dni otwarte. Są to takie dni, kiedy możliwe jest wejście do szkoły każdego i poznanie jej tajemnic oraz walorów. Podczas dni otwartych w wielu szkołach organizowane są prezentacje i prelekcje, mające na celu zapoznanie odbiorców z ofertą szkoły (kołami zainteresowań, zajęciami pozalekcyjnymi organizowanymi przez placówkę) oraz przedstawienie kadry pedagogicznej. Dni otwarte to świetna okazja do zapoznania się ze szkołą i oswojenie lęku, zanim nadejdzie początek roku szkolnego. Dziecko podczas dni otwartych ma okazję do zapoznania się ze specyfiką szkoły.
Poznać jej rozkład, niektórych nauczycieli, a także dowiedzieć się wielu cennych informacji na temat szkolnych zajęć. Pozna również klimat szkolnych przerw i być może niektórych kolegów, którzy podobnie jak ono przyszli poznać swój przyszły budynek szkolny. Jeśli dziecko nie ma możliwości odwiedzenia szkoły w dzień otwarty warto jest się przejść do szkoły podczas typowego dnia i obejrzeć choć trochę budynek wewnątrz. Dobrym rozwiązaniem jest także wizyta wakacyjną porą, choć niestety wtedy dziecko nie ma możliwości zaznajomienia się z typowym szkolnym dniem. Zresztą i tak szkoła bez uczniów nie wygląda do końca tak jak początek roku szkolnego – jest cicho i większość sal jest z oczywistych przyczyn pozamykana. Wakacje to także okres wzmożonych remontów w większości placówek.
Szkolna wyprawka
Początek roku szkolnego to także moment na przygotowanie wyprawki szkolnej. Zazwyczaj ten aspekt jest bardzo chętnie podejmowany przez dzieci, ze względu na to, że zakupy przyborów szkolnych są z reguły pasjonujące i bardzo ciekawe. Warto jest zwrócić uwagę na wybór poszczególnych przyrządów szkolnych, ponieważ powinny być one dobrej jakości.
Nie warto od razu kupować wszystkiego (np. kilku zestawów plasteliny), a na bieżąco dokupować odpowiednie akcesoria. Warto od razu dokupić kilka pudełek bądź segregatorów, tak żeby od samego początku uczyć dziecko porządku oraz odkładania rzeczy na swoje miejsce – takie akcesoria pomagają w organizacji. Do zapisywania ważnych kwestii doskonale sprawdzi się tablica korkowa – można na niej przyczepiać karteczki z informacjami na temat obowiązków szkolnych czy sprawdzianów.
Bardzo ważnym elementem zakupów jest wybór odpowiedniego plecaka szkolnego. Powinien on być dopasowany do dziecka pod względem wielkości oraz posiadać usztywniane plecy i szerokie szelki, które chronią kręgosłup i zapobiegają przeciążeniu.
Pokój dla ucznia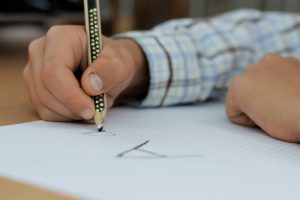 Organizując pokój młodego ucznia bądź kącik do nauki warto jest przede wszystkim oddzielić go w jakiś sposób od zabawek dziecka, tak żeby nie czuło się rozpraszane i nie odciągało uwagi od swoich obowiązków.
Krzesło oraz biurko powinno być dostosowane pod względem wysokości do dziecka oraz umożliwiać utrzymanie prawidłowej postawy podczas odrabiania lekcji czy nauki. Warto jest również zwrócić uwagę na prawidłowe ustawienie biurka i optymalne oświetlenie – najlepiej jest, jeśli biurko oświetla w dzień światło słoneczne, a lampka służy jedynie wieczorem. Jeśli nie ma takiej możliwości bardzo ważną inwestycją jest zakup odpowiedniej lampy, która zapewni dobre światło.
Jest to bardzo ważne dla ochrony oczu oraz minimalizowania uczucia zmęczenia. Nad biurkiem dobrze jest powiesić jakąś półką, która umożliwi ustawienie na niej książek i zeszytów. Początek roku to konwent w którym dziecko dostaje dużo nowych informacji – warto je zapisać i powiesić w widocznym miejscu.