Korzyści zdrowotne związane z pietruszką obejmują kontrolowanie raka, cukrzycy i reumatoidalnego zapalenia stawów, a także pomagają zapobiegać osteoporozie. Ponadto działa ona jako środek przeciwbólowy o właściwościach przeciwzapalnych. Zapewnia także ulgę w problemach żołądkowo-jelitowych, takich jak niestrawność, skurcze żołądka, wzdęcia i nudności, pomagając jednocześnie wzmocnić układ odpornościowy.
Wartości odżywcze pietruszki
Składniki odżywcze znajdujące się w pietruszce obejmują witaminę A, K, C i E, tiaminę, ryboflawinę, niacynę, witaminę B6, witaminę B12, kwas pantotenowy, cholinę, folany, wapń, żelazo, magnez, mangan, fosfor, potas, cynk i miedź. Jest także bogatym źródłem lotnych związków, takich jak mirystycyna, limonen, eugenol i alfa-thujene. Jej liście zawierają chlorofil, węglowodany, tłuszcze i białko.
Korzyści zdrowotne z pietruszki
Pietruszka, ma wiele składników odżywczych, które zapewniają korzyści zdrowotne. Pietruszka jest jedna najbardziej niskokalorycznych roślin 100 g świeżych liści ma tylko 36 kalorii. Ponadto liście nie zawierają cholesterolu i tłuszczu, ale są bogate w przeciwutleniacze, witaminy, minerały i błonnik pokarmowy. Ogólnie rzecz biorąc, pietruszka pomaga w kontrolowaniu poziomu cholesterolu we krwi i może zapewniać ochronę przed nowotworami dzięki zawartości wolnych rodników.
Inne korzyści spożywania pietruszki obejmują:
Pietruszka jest szczególnie skuteczna w leczeniu reumatoidalnemu zapaleniu stawów. Związki takie jak witamina C i beta-karoten znajdujące się w roślinie mają właściwości przeciwzapalne, które pomagają w zwalczaniu zapalenia stawów. Uważa się, że regularne jej spożywanie przyspiesza proces usuwania kwasu moczowego, co jest związane z objawami zapalenia stawów.
Olejek eteryczny, eugenol, obecny w roślinie, znajduje zastosowanie terapeutyczne w stomatologii jako miejscowy środek znieczulający i antyseptyczny dla chorób zębów i dziąseł. Stwierdzono także, że eugenol obniża poziom cukru we krwi u chorych na cukrzycę.
Pietruszka jest bogata w polifenolowe flawonoidowe przeciwutleniacze, w tym apiinę, apigeninę, crisoeriol i luteolinę, które zostały ocenione jako jedno ze źródeł roślinnych o wysokiej aktywności przeciwutleniającej.
Pietruszka jest dobrym źródłem minerałów, takich jak potas, wapń, mangan, żelazo i magnez. 100 g świeżej pietruszki dostarcza 12% dziennego zapotrzebowania na potas. Potas jest głównym składnikiem płynów komórkowych, który pomaga kontrolować akcję serca i ciśnienie krwi Żelazo jest z kolei niezbędne do produkcji hemoglobiny, która jest kluczowym składnikiem przenoszącym tlen wewnątrz krwinek czerwonych.
Świeże liście pietruszki są również bogate w wiele niezbędnych witamin, takich jak kwas pantotenowy (witamina B-5), ryboflawina (witamina B-2), niacyna (witamina B-3), pirydoksyna (witamina B-6) i tiamina (witamina B- 1). Witaminy te odgrywają istotną rolę w metabolizmie węglowodanów, tłuszczów i białek, działając jako koenzymy w organizmie człowieka.
Jest to być może najbogatsze roślinne źródło witaminy K. Odkryto, że witamina K ma potencjalną rolę w zdrowiu kości. Ma również ustaloną rolę w leczeniu pacjentów z chorobą Alzheimera poprzez ograniczanie uszkodzeń neuronów w ich mózgu.
Pietruszka wspomaga trawienie i detoksykuje. Pietruszka może pobudzić apetyt i poprawić procesy trawienne. Jest pełna enzymów, które pomagają w prawidłowym rozkładzie żywności podczas trawienia. Jest także bogata w różnorodne witaminy, minerały i inne składniki odżywcze, które są korzystne dla wchłaniania i prawidłowego wykorzystania spożywanych pokarmów. Związki znajdujące się w pietruszce oczyszczają nerki, wątrobę i pęcherz. Roślina jest również naturalnym środkiem moczopędnym, który może pomóc w złagodzeniu zatrzymywania wody i przeciwdziałać wzdęciom.
Luteina flawonoidowa występująca w pietruszce ma działanie chemoprewentywne (przeciwnowotworowe), zmniejszając działanie rakotwórczych związków zwanych aminami heterocyklicznymi i wielopierścieniowych węglowodorów aromatycznych występujących w żywności takiej jak gotowane mięso. Badania wykazały również, że luteolina ma działanie antyproliferacyjne przeciwko nowotworom narządów takich jak, takim jak rak prostaty, tarczycy i piersi.
Chlorofil zawarty w tym zielonym pożywieniu może również pomóc w dezaktywacji szkodliwych czynników rakotwórczych.
 Pietruszka dla urody
Pietruszka jest bogata w witaminę C, która jest potrzebna do produkcji kolagenu, i utrzymania promiennej cery. Bardzo wysoki poziom witaminy K może również poprawić elastyczność i wygląd skóry, jak również przyspieszyć gojenie się ran, a także zmniejszyć zaczerwienienia.
Beta-karoten w pietruszce przekształcany jest w organizmie w witaminę A która odgrywa ważną rolę w procesach regenerujących skóry (sucha skóra jest częstym objawem łagodnego niedoboru witaminy A) lub działać jako silny przeciwutleniacz w celu ochrony komórek skóry przed uszkodzeniem przez wolne rodniki.  Jedzenie pietruszki to świetny sposób na wzbogacenie diety o dodatkowe minerały. Pietruszka zawiera wysokie poziomy wapnia, potasu, manganu i żelaza, a zawartość miedzi i cynku, co jest szczególnie istotne dla utrzymania zdrowej skóry i łagodzenia niedoskonałości.
Pietruszka zapobiega trądzikowi
Spożywanie pietruszki w regularnych posiłkach może pomóc zrównoważyć nadmierne wydzielanie sebum w tłustej lub zapalnej skórze, a lotne oleje zawarte w pietruszce mogą również mieć działanie antybakteryjne. Wysoka zawartość witaminy C zapewnia ochronę antyoksydacyjną komórek skóry. Wiadomo również, że witamina C przyspiesza gojenie się skóry, dzięki czemu skraca się czas usuwania przebarwień.
Cynk znajdujący się w pietruszce jest minerałem dobrze znanym ze swojego korzystnego wpływy na proces leczenia trądziku.  Cynk bierze bowiem udział w zwalczaniu stanu zapalnego, gojeniu ran i utrzymaniu i regeneracji komórek skóry.  Olejki lotne w pietruszce, w szczególności eugenol, mają właściwości antybakteryjne i przeciwgrzybiczne i mogą pomóc w dezynfekcji porów za pomocą toniku z pietruszki, zwalczaniu infekcji i zapobieganiu trądzikowi.
Zdrowe i lśniące włosy dzięki pietruszce
Pietruszka była tradycyjnie stosowana jako środek wzmacniający włosy. Stosując napar z pietruszki możemy bezpośrednio stymulować skórę głowy co z kolei przyspiesza wzrost włosów. Uważa się również, że pomaga ona w utrzymaniu i koloru włosów (być może ze względu na zawartość miedzi) i zachowaniu połysku zarówno dzięki stosowaniu płukanek, piciu herbaty z pietruszki bądź spożywania świeżo zerwanej natki pietruszki.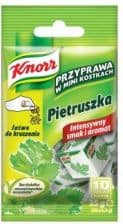 Przyprawy z pietruszką
Kliknij i sprawdź ceny!
Pozyskiwanie i przechowywanie pietruszki
Świeża i suszona pietruszka może być dostępna na rynku przez cały rok. Jednak podobnie jak w przypadku innych suszonych ziół, kupując suszoną natkę pietruszki, należy kupić taką, która została wyprodukowana metodami ekologicznymi, ponieważ daje to poczucie pewności, że Nie zawiera szkodliwych chemikaliów w postaci pestycydów.
Świeżą pietruszkę należy przechowywać w lodówce zapakowaną w pudełeczko owiniętą w lekko zwilżony papierowy ręcznik. Suszone liście mogą być przechowywane przez kilka miesięcy w szczelnie zamkniętym szklanym pojemniku w ciemnym i suchym miejscu.