Piersi z kurczaka to obecnie najchętniej kupowany rodzaj mięsa, za którym przepadają nie tylko dorośli, ale również dzieci. Można z nich przygotować wiele przepysznych potraw, pamiętając jednak o tym, aby nie spożywać mięsa z kurczaka każdego dnia, a raczej co 3-4 dni. Piersi z kurczaka to wprawdzie bardzo dobre źródło pełnowartościowego białka oraz licznych składników odżywczych, jednak coraz częściej słyszy się o tym, że hodowane na sprzedaż kurczaki karmione są niezbyt zdrową paszą, a oprócz tego przetrzymuje się je w bardzo wąskich klatkach bez dostępu do światła słonecznego. Czy piersi z kurczaka są zatem zdrowe? Czy piersi z kurczaka zagrodowego są lepsze w smaku i zdrowsze? Jakie ciekawe dania można wyczarować z piersi z kurczaka?
Wartości odżywcze piersi z kurczaka
Piersi z kurczaka to najsmaczniejsza część tego ptaka, ponieważ jest ona praktycznie pozbawiona niezdrowego tłuszczu. W mięsie tym można znaleźć wiele cennych dla naszego zdrowia substancji odżywczych takich jak białko, witaminy A, C, D, E, K, z grupy B, a także potas, sód, fosfor, miedź, mangan, selen, magnez oraz żelazo. Mięso z kurczaka zawiera bardzo duże ilości pełnowartościowego białka, a do tego jest lekkostrawne, dlatego też po piersi z kurczaka powinny sięgać w szczególności wszystkie te osoby, które mają bardzo delikatny przewód pokarmowy (w szczególności starsze osoby, ale również dzieci, jednak w niezbyt dużych ilościach).
Czy piersi z kurczaka są zdrowe?
W ostatnim czasie wiele słyszy się na temat tego, że dostępne w sklepach piersi z kurczaka, podobnie zresztą jak pozostałe części zwierzęcia, nafaszerowane są antybiotykami oraz hormonami wzrostu, jednak czy faktycznie tak jest? Zgodnie z prawem podczas hodowli kurcząt nie można faszerować ich hormonami, które przyspieszają ich wzrost, natomiast jeśli chodzi o antybiotyki, to mogą one być stosowane tylko i wyłącznie w wyjątkowych sytuacjach. Warto przy tym podkreślić fakt, iż kurczaki, które otrzymały antybiotyki, przed ubojem przechodzą specjalny okres karencji, dzięki któremu pozostałości antybiotyków zostają usunięte z organizmu zwierzęcia. Wśród dzieci, które spożywają bardzo duże ilości mięsa z kurczaka (głównie piersi), można zaobserwować przedwczesny proces dojrzewania, dlatego też pomimo tego, iż mięso kurczaka powinno być wolne od hormonów, to lepiej nie podawać go w zbyt dużych ilościach małym dzieciom. Za stosowanie niedozwolonych substancji grożą wprawdzie bardzo wysokie kary finansowe, jednak przebadanie każdego kurczaka hodowanego na fermach to niezwykle żmudny proces.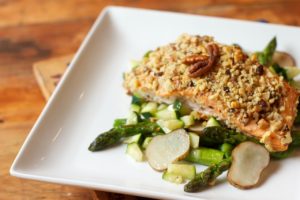 Piersi z kurczaka z certyfikatami
Niestety sięgając po piersi kurczaka dostępne w supermarketach (zwłaszcza po te sprzedawane na wagę w promocyjnych cenach), nie mamy pewności, że mięso to pozbawione jest całkowicie hormonów, dlatego też decydując się na zakup kurczaka, warto wybierać mięso, które zostało oznaczone specjalnymi certyfikatami. Takie certyfikaty potwierdzają, że kurczaki spożywały pozbawioną niedozwolonych substancji paszę, a ich mięso było pakowane oraz transportowane w odpowiednich warunkach. Najlepsze piersi kurczaka pochodzą z ekologicznych upraw (tzw. kurczaki bio), jednak coraz większa liczba osób zaczyna również sięgać po piersi kurczaka zagrodowego. Taki kurczak hodowany jest zdecydowanie dłużej niż kurczak przemysłowy, a oprócz tego szczepi się go przeciwko często występującym chorobom, przez co nie jest konieczne podawanie mu żadnych antybiotyków. Podczas zakupu takiego kurczaka należy jednak liczyć się z nieco wyższą ceną, jednak w trosce o własne zdrowie warto zapłacić nieco więcej.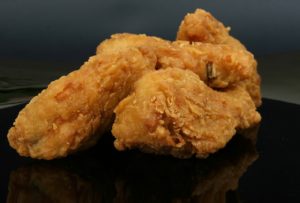 Przepis na kotlety z piersi kurczaka w kukurydzianej panierce
Składniki:
2 świeże filety z kurczaka,
1 jajko,
garść płatków kukurydzianych,
odrobina soli, pieprzu i oleju rzepakowego
Sposób przygotowania:
Filety z kurczaka przekroić wzdłuż na dwie mniejsze części, rozbijając go ewentualnie, ale tylko w najgrubszych częściach. Mięso należy następnie przyprawić odrobiną soli i pieprzu, obtaczając w roztrzepanym jajku oraz drobno pokruszonych płatkach kukurydzianych. Tak przygotowane kotlety należy smażyć na niewielkiej ilości oleju rzepakowego do momentu, aż panierka się zarumieni, a mięso będzie miękkie.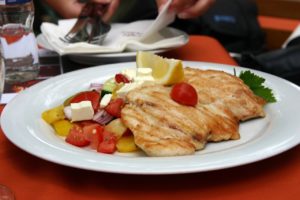 Piersi kurczaka z oliwkami i mozzarellą w sosie pomidorowym
Składniki:
0,5 kg piersi z kurczaka,
2 małe ząbki czosnku,
po 1 łyżeczce oregano i ostrej papryki,
50 g mozzarelli w wiórkach,
200 ml przecieru pomidorowego,
po 1/3 szklanki pomidorków koktajlowych i czarnych oliwek,
1/2 łyżeczki cukru,
odrobina soli i pieprzu do smaku,
2 łyżki oleju rzepakowego,
garść świeżej bazylii
Sposób przygotowania:
Filety z kurczaka opłukać pod bieżącą wodą i osuszyć, natrzeć przeciśniętym przez praskę czosnkiem i oliwą, po czym doprawić pieprzem, solą, oregano oraz papryką/ Tak przygotowane mięso należy pozostawić do zamarynowania na co najmniej 30 minut. Na patelni rozgrzać odrobinę oliwy, obsmażając na niej następnie przez około 4 minuty z każdej strony zamarynowane wcześniej piersi z kurczaka. Po upływie wyznaczonego czasu do kurczaka należy dodać przecier pomidorowy oraz odrobinę cukru i soli, smażąc całość przez około 5 minut. Mięso następnie przewrócić na drugą stronę, posypując serem oraz przekrojonymi na pół pomidorkami koktajlowymi, oraz oliwkami. Danie gotować jeszcze przez 6 minut, po czym piersi z kurczaka można wyłożyć na talerz, posypując je posiekanymi listkami bazylii.
Przepis na piersi z kurczaka w sosie kurkowym
Składniki:
0,5 kg piersi z kurczaka,
1 łyżka masła klarowanego lub oleju rzepakowego,
odrobina soli i pieprzu do smaku,
200 g świeżych kurek,
3 łyżki białego wina,
100 ml bulionu,
1 łyżka octu winnego,
120 ml śmietany 30%,
garść posiekanej natki pietruszki
Sposób przygotowania:
Kurki bardzo dobrze opłukać pod bieżącą wodą i osuszyć. Piersi z kurczaka doprawić odrobiną soli i pieprzu, smażąc je następnie na rozgrzanej patelni po około 3 minuty z każdej strony. Tak przygotowane piersi należy przełożyć następnie do wysmarowanego olejem naczynia żaroodpornego, piekąc je przez około 15 minut w piekarniku nastawionym na 190 stopni Celsjusza. Na patelni, na której smażone były piersi z kurczaka, należy przygotować sos kurkowy, smażąc grzyby na dosyć dużym ogniu przez około 2 minuty, doprawiając je odrobiną soli i pieprzu. Po tym czasie należy przełożyć je na talerz, wlewając na patelnię wino i ocet. Mieszankę należy doprowadzić do zagotowania, wlewając następnie bulion i gotując przez kilka minut, aż sos się nieco zredukuje. W następnym kroku na patelnię należy dorzucić kurki oraz śmietanę, doprowadzając do zagotowania mieszanki. Gotowy sos należy w razie potrzeby doprawić, posypując go posiekaną natką pietruszki. Przygotowane wcześniej piersi z kurczaka należy wyłożyć na talerz, polewając je ciepłym sosem kurkowym.