Owsianka – pełnowartościowa, zdrowa, bogata w błonnik, witaminy i sole mineralne
Owsiankę na śniadanie zjada się od zawsze. Nie ma drugiego takiego dania, które miałoby taką aurę zdrowej żywności jak płatki owsiane. Istnieją dowody na to, że owies uprawiano w naszej części Europy jeszcze w epoce brązu, a w średniowieczu owsianka stanowiła podstawę żywienia mieszkańców naszego kontynentu. Owsianka do doskonałe źródło witamin i soli mineralnych, a przede wszystkim siły do ciężkiej czy wymagającej pracy.
Rodzaje płatków owsianych
Na naszym rynku dostępne są 3 rodzaje płatków owsianych:
płatki zwykłe: produkuje się je poprzez zgniecenie całego ziarna, które wcześniej zostało obłuszczone i nawilżone, ten rodzaj płatków jest najmniej ze wszystkich przetworzonym produktem
płatki górskie: w trakcie procesu produkcji płatków zwykłych dodatkowo rozdrabnia się pokrajane i obłuszczone ziarna i poddaje parowaniu , w wyniku obróbki zmniejsza się  zawartość odżywcza produktu, przede wszystkim zmniejsza się zawartość soli mineralnych
płatki błyskawiczne: występują jako błyskawiczne zwykłe i błyskawiczne górskie; błyskawiczny sposób przygotowania ma gwarantować wcześniejszy proces hydratacji ziarna, wskutek tego procesu płatki rozluźniają swoją strukturę i łatwiej chłoną wodę w trakcie gotowania
Właściwości odżywcze owsianki
Wszystkie 3 rodzaje płatków nie różnią się zasadniczo pomiędzy sobą co do składników odżywczych: białka, węglowodanów, tłuszczu. Każde 100 g produktu zawiera:
378 kcal
63 g węglowodanów
2 g cukru
7 g tłuszczu
12 g białka, jednak jest to białko niepełnowartościowe
Ze względu na tzw. zdrowe żywienie, do przygotowania owsianki najlepiej użyć płatków zwykłych lub górskich, ponieważ ich skład jest najbardziej zbliżony do pierwotnego składu samego surowca. Obróbka termiczna nie spowodowała u nich drastycznego ubytku składników mineralnych. Jednak osobom o wrażliwym układzie pokarmowym zaleca się stosowanie płatków błyskawicznych ponieważ są lekkostrawne.
Jak ugotować smaczną owsiankę?
Owsianka na śniadanie – tak, ale… Ma mdły smak, długo się gotuje, trzeba pilnować by się nie przypaliła. I tak i nie. Wszystkim wadom owsianki bardzo łatwo zaradzić. Wystarczy przygotować się do tak serwowanego śniadania, a potem już kontynuować starania. Najpierw należy zacząć od zakupu niedużego garnuszka z wygodną rączką i koniecznie z grubym dnem lub teflonem, tak by owsianka nie przywierała w trakcie gotowania.
Płatki górskie powinny gotować się ok. 30 minut. Błyskawiczne krócej, ale jak wyżej zostało powiedziane, lepszy wyborem będą zwykłe lub górskie. Jeżeli o poranku dysponuje się taką ilością czasu, nie stanowi to problemu, ale gdy na śniadanie nie ma go zbyt wiele, warto skupić się na kilku sztuczkach, które ułatwią sam proces termiczny. Wystarczy wieczorem odmierzoną ilość płatków zalać wodą, zimną lub gorącą. Skróci to czas gotowania co najmniej o połowę.
Gotowanie płatków najlepiej zacząć od kolejnej porcji wody w proporcjach 1 szklanka namoczonych płatków: 1 i 1/2 szklanki wody. Jeżeli płatki nie zostały wcześniej namoczone, warto zastosować proporcje 1:2. Płatki w trakcie gotowania powoli wchłaniają wodę, ale nie przypalają się. W tym czasie można przygotowywać się do pracy i od czasu do czasu przemieszać zawartość. Na koniec dolać mleka krowiego czy roślinnego i chwilę jeszcze pogotować. Wszystko razem nie powinno trwać dłużej niż 15 minut.
Smakowite dodatki do owsianki
Owsianka to produkt idealny, ponieważ samemu decyduje się o tym, jaki będzie ona miała końcowy smak, a mdły smak bazowy za każdym razem zamienia się w świeży aromat. Do owsianki warto dodać kilka składników o charakterze stricte odżywczym:
łyżeczkę siemienia lnianego
łyżeczkę ostropestu plamistego
łyżeczkę imbiru w proszku
łyżeczkę cynamonu

Owsianka ekologiczna
Kliknij i sprawdź ceny!
Kolejną sztuczką ułatwiającą nawet codzienne gotowanie owsianki jest przygotowanie pojemnika z mieszanką różnych smacznych dodatków do owsianki, można zmieszać:
pestki słonecznika, warto jest uprażyć na patelni hurtowo, choćby po to, by pogłębić smak i pozbyć się ewentualnych grzybów
pestki dyni, mogą być uprażone
ziarno sezamowe
płatki kokosowe
migdały
orzechy
Nie powinno się do tych suchych składników dodawać suszonych owoców, ich miejsce jest w odrębnym pojemniku. Do owsianki można jeszcze dodać:
rodzynki
suszoną żurawinę
suszone śliwki
inne owoce suszone, ale w niewielkich ilościach
Suche dodatki można wsypać do gotującej się jeszcze owsianki, ale owoce wystarczy dodać zaraz po zdjęciu garnka z gazu. Wtedy też można dodać na wierzch owsianki:
banana
jabłko
avocado
truskawki
inne sezonowe owoce
Tak przygotowana owsianka przestaje być problemem, a staje się niezwykle odżywczym, pełnowartościowym śniadaniem. Gdy raz skompletuje się poszczególne pojemniki z dodatkami, wystarczy uzupełniać je nawet po jednym składniku.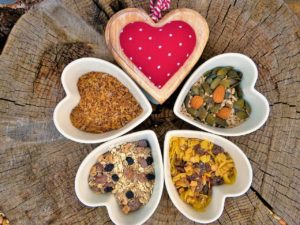 Płatki owsiane – źródło błonnika
Owies zawiera najwięcej błonnika ze wszystkich odmian zbóż, a przede wszystkim jego frakcję rozpuszczalną. 1/3 masy pełnego ziarna owsa to błonnik, a jego z kolei 1/5 część to błonnik rozpuszczalny w wodzie. To prawie idealne proporcje, ponieważ błonnik w takich ilościach wywiera największy wpływ na obniżanie poziomu cholesterolu w organizmie. Proces ten pomaga w zwalczaniu i zapobieganiu wielu chorobom.
Błonnik rozpuszczalny znajdujący się w ziarnach owsa to głównie beta-glukan, czyli węglowodan złożony, który posiadł zdolność łączenia w przewodzie pokarmowym lepkich elementów opornych na działanie enzymów trawiennych. Beta – glukan pokrywa śluzówkę przewodu pokarmowego i zamienia się w płynny opatrunek łagodzący dolegliwości. Jednocześnie wykazuje właściwości probiotyczne stanowiąc pożywkę dla bakterii. Węglowodan ten potrafi spowolnić w organizmie proces przyswajania cukru, dlatego jej tak doceniany jako substancja zapobiegająca otyłości a przede wszystkim cukrzycy. Wiąże też kwasy tłuszczowe oraz niepożądane substancje toksyczne i stymuluje ich wydalanie z organizmu, zapobiegając w ten sposób namnażaniu się komórek m. in. nowotworowych.
Druga frakcja – nierozpuszczalna, zawarta w owsiance, ma ogromny wpływ na perystaltykę jelit poprawiając pracę całego układu wydalania. Jednocześnie wiążąc nadmiar kwasu solnego znajdującego się w żołądku pomaga w leczeniu dolegliwości żołądkowych: nadkwasoty i zgagi. Posiada też niebagatelną zdolność wywoływania uczucia sytości, co doceniają wszystkie osoby odchudzające się, zwłaszcza wtedy, gdy udaje im się powoli zmniejszać kaloryczność i wielkość posiłków.
Właściwości odżywcze owsianki są nie do przecenienia. To doskonały posiłek na początek dni pozwalający na intensywną nawet pracę jeszcze wiele godzin po śniadaniu. Warto rozważyć, jeżeli nie codziennie to przynajmniej 2-3 razy w tygodniu taki posiłek dla wszystkich domowników.