Owczarek niemiecki – wszystko co musisz wiedzieć o tej rasie, charakter, wychowanie, tresura, cena, rodowód
W Stanach Zjednoczonych najpopularniejszą rasą psa jest labrador. W Polsce również popularna jest ta rasa, ale według danych Związku Kynologicznego jest dopiero 3. najpopularniejszą rasą psów. Kto wygrywa ranking? Owczarek niemiecki krótkowłosy. Warto wspomnieć, że owczarki niemieckiego długowłose w tym samym rankingu plasują się dopiero na 7. miejscu. Nie zmienia to jednak faktu, że owczarki niemieckie są w Polsce uwielbiane, podziwiane i najchętniej kupowane nie tylko do domu, ale też do mieszkań. Dlaczego to akurat owczarki niemieckie są tak popularne?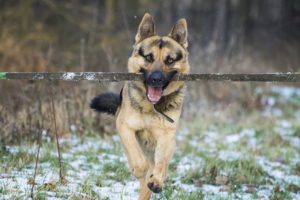 Kilka słów o powstaniu rasy
Owczarki niemieckie zyskały największy rozgłos i uznanie jako psy wierne, przywiązane i inteligentne, które ze względu na te cechy służą w policji czy służbach ratowniczych. Jednak bardzo często tresuje się je jako psy broniące domu czy też mające być przyjacielem rodziny. Okazuje się, że owczarki niemieckie są dość młodą rasą. W 1899 roku założono stowarzyszanie owczarków niemieckich i rozpoczęto hodowlę psów o bardzo wysokich walorach użytkowych. Rasa ta powstała na bazie wyselekcjonowanych ras psów pasterskich.
Za osobę odpowiedzialną za stworzenie rasy owczarka niemieckiego uznaje się kapitana Maxa von Stephanitza. Służył on w Kolegium Weterynaryjnym w Berlinie, gdzie nabył wiedzę potrzebną do hodowli psów. Od roku 1890 pracował on nad ulepszeniem niemieckich psów pasterskich. Głównym założeniem kapitana von Stephanitza było stworzenie rasy psa doskonałego do wypasania owiec, a zarazem inteligentnego, łatwego w tresurze oraz wytrzymałego, który także mógłby być psem obronnym.
I w ten sposób w 1899 roku rozpoczęła się hodowla owczarków niemieckich, które znamy dzisiaj, choć obecne psy nie są aż tak muskularne jak ich przodkowie oraz niestety w wyniku wielu zmian stały się bardziej chorowite i podatne na dysplazję stawów biodrowych. Od 2011 roku FCE ustaliło podział na owczarki niemieckie krótkowłose oraz długowłose. Tych dwóch rodzajów nie można obecnie krzyżować.
Charakterystyka owczarka niemieckiego
Wiele osób wybiera owczarka niemieckiego za psa do domu ze względu na wygląd. Są to psy dość duże, ale nie gigantyczne. Już po łapach szczenięcia widać czy pies będzie duży. Jeśli ma grube, silne, dobrze umięśnione łapy to można przewidzieć, że pies będzie większy.
Psy osiągają wysokość w kłębie do 65 centymetrów, przy czym suki są kilka centymetrów niższe. Dorosłe owczarki ważą od 30 do 45 kilogramów w zależności od wzrostu. Psy krótkowłose mają gęstą i twardą sierść, a długowłose długą, miękką i sypką sierść. Najczęściej można spotkać owczarki niemieckie o sierści tzw. podpalanej i płowej z czarną sierścią na grzbiecie, ogonie i głowie, a coraz jaśniejszą aż do białej na brzuchu i łapach. Jednak można spotkać się też z psami z sierścią tylko w kolorze czarnym.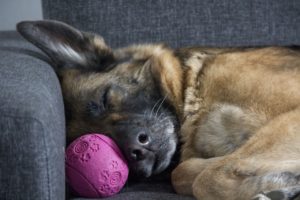 Charakter i usposobienie
Owczarki niemieckie to niezwykle inteligentne psy, ale wymagają szkolenia. Ze względu na bardzo silny charakter psa trzeba być konsekwentnym, ponieważ psy te są bardzo odważne, pewne siebie, ale też uległe dla właściciela. Dlatego potrzebują jednego domownika, który będzie ich "panem". Co ciekawe zwykle owczarek niemiecki sam wybiera sobie pana. Najczęściej jest to osoba o równie silnym charakterze i dominującej roli w rodzinie, ale nie oznacza to, że nie będą posłuszne wobec innych domowników. Owczarki to psy grzeczne, które są bardzo wierne i oddane nie tylko właścicielowi, ale całej rodzinie. Ponieważ są to psy bardzo towarzyskie i aktywne lubią się bawić. Psy tej rasy dobrze akceptują inne domowe zwierzęta, ale wobec samców innych psich ras mogą wykazywać chęć dominacji.
Ponadto psy te źle znoszą samotność. Nie można ich zostawiać samym sobie. Nawet jeśli psy na co dzień mają mieszkać w budzie muszą spędzać czas z właścicielem i rodziną. Wobec obcych są bardzo nieufne, dlatego też są dobrym stróżami w domu. Warto jednak wiedzieć, że mimo iż z natury są to psy odważne to w dni takie jak Sylwester psy mogą wykazywać bojaźń z powodu huku wystrzałów sztucznych ogni. Dlatego w takie dni należy psa szczególnie obserwować i jeśli to konieczne nawet podać tabletki na uspokojenie kupione u weterynarza. Ze względu na bardzo dobry słuch psy tej rasy niestety mogą źle znosić huk czy wystrzały, które towarzyszą fajerwerkom.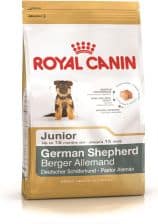 Akcesoria i karmy dla owczarków
Kliknij i sprawdź ceny!
Dla kogo ta rasa?
Mimo, że owczarki niemieckie są bardzo popularne nie każda osoba powinna kupować szczeniaka tej rasy. Przede wszystkim owczarek niemiecki potrzebuje właściciela, który jest konsekwentny i nawet po szkoleniu będzie pracował z psem. Ponadto jest to pies, który potrzebuje towarzystwa, więc jeśli nie mamy czasu i oczekujemy, że pies zajmie się sobą to niestety nie jest to dobra rasa.
Ponieważ owczarki są gabarytowo dość duże nie będą się dobrze czuły w małych mieszkaniach typu kawalerka. A do tego są dość hałaśliwe, zwłaszcza jak zaczną szczekać, więc jeśli mamy wrażliwych sąsiadów od razu można mieć pewność, że będą problemy. Kolejna wada owczarka to linienie sierści – głównie problematyczne są owczarku długowłose u których martwą sierść dosłownie można wyciągać z nowego futra. Do tego jeśli mamy już psa, zwłaszcza samca owczarek może go nie zaakceptować.
A teraz przejdźmy do zalet tej rasy, ponieważ ich jest zdecydowanie więcej. Wśród głównych zalet posiadania owczarka niemieckiego wyróżnia się:
duże przywiązanie do właściciela i jego rodziny,
inteligencję i podatność na tresurę,
aktywność – pies chętnie uprawia sporty z właścicielem,
doskonały stróż i obrońca – posesji jak i ludzi,
podporządkowanie się właścicielowi,
lubi dzieci,
łatwy w pielęgnacji i żywieniu.
Oczywiście wiele z tych zalet wymaga pracy właściciela nad tresurą psa i nauką. Ale ponieważ psy te bardzo szybko się uczą i są z natury inteligentne bardzo łatwo przyswajają sobie pożądane przez właściciela zachowania.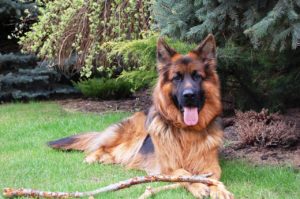 Pielęgnacja i żywienie owczarka niemieckiego
Okazuje się, że owczarki niemieckie to jedne z tańszych w utrzymaniu psów. Sierść tych psów oczyszcza się w miarę samodzielnie, dlatego psa kąpie się w miarę potrzeby, ale zwykle 1-2 razy do roku. Co prawda futro owczarków długowłosych może się plątać, więc trzeba takiego psa czesać nawet co dwa dni, ale zajmuje to zwykle kilka minut. Jeśli pies jest psem wychodzącym jego pazury same się wycierają i skracają, ale co jakiś czas warto sprawdzić czy nie są zbyt długie lub podwinięte i obciąć je w razie potrzeby. Ze względu na duże uszy trzeba też sprawdzać wnętrze i co jakiś czas usuwać nadmiar woskowiny.
Jeśli chodzi o odżywianie to bez problemu można kupić specjalne suche karmy skomponowane pod rasę owczarka niemieckiego i jego zapotrzebowanie. Można też gotować posiłki w domu, ale ważne jest, aby były one zrobione z produktów nie powodujące gazów czy wzdęć, ponieważ psy te są na to szczególnie narażone. Ważne jest jednak, aby podawać dwa zbilansowane posiłki w ciągu dnia i zostawić psu miskę suchej karmy na wszelki wypadek. Owczarki niemieckie piją też bardzo dużo wody, więc zawsze muszą mieć do niej dostęp. Zatem można powiedzieć, że pielęgnacja i żywienie nie są skomplikowane i jest to kolejna zaleta posiada psa tej rasy.