To warto wiedzieć o osobowości borderline
Osoby z BPD mają problemy z opanowywaniem myśli, emocji i obrazu siebie. Mogą być impulsywni i lekkomyślni, a często mają niestabilne relacje z innymi ludźmi.
Większość przypadków BPD rozpoczyna się we wczesnych stadiach dorosłości. Wydaje się, że są one gorsze w wieku dojrzałym, ale objawy mogą się nasilać wraz z wiekiem.
Eksperci nie wiedzą, co powoduje BPD. Uważa się, że rolę odgrywają genetyka, czynniki środowiskowe i nieprawidłowości funkcjonowania mózgu.
BPD jest często leczona psychoterapią, w niektórych przypadkach wspomagana lekami.
Nie ma lekarstwa na BPD, ale objawy mogą z czasem łagodnieć.
 Czym jest zaburzenie osobowości typu borderline?
Zaburzenie osobowości typu borderline, to inna nazwa choroby psychicznej – osobowości chwiejnej emocjonalnej, w angielskim skrócie BPD, a więc borderline personality disorder. Choroba ta rozwija się w okresie dojrzewania lub wczesnej dorosłości. Charakteryzuje się ona niestabilnością emocjonalną, impulsywnym zachowaniem, zniekształconym obrazem siebie i niestabilnymi związkami międzyludzkimi.
 Co powoduje BPD?
Naukowcy wciąż próbują poznać dokładną przyczynę BPD. Na tego typu zaburzenie ma wpływ wiele czynników, począwszy od genów, skończywszy na środowiskowych bodźcach.
Genetyka
Wykonywane badania potwierdziły, że istnieją pewne predyspozycje genetyczne do dziedziczenia skłonności do tego typu zaburzenia psychicznego.
Czynniki środowiskowe
Dorastanie w środowisku niestabilnym, agresywnym lub zaniedbanym może zwiększyć ryzyko rozwoju BPD. Oznacza to, że dzieci wychowywane w patologicznych warunkach są bardziej narażone na rozwój choroby, niż dzieci pochodzące z zamożnych i opiekuńczych rodzin.
Nieprawidłowości związane z serotoniną
Serotonina to hormon, który pomaga regulować nastrój emocjonalny człowieka. Nieprawidłowości w wytwarzaniu serotoniny mogą powodować podatność na BPD.
Kto jest zagrożony BPD?
Dotychczasowe badania, analizy i rozmowy z pacjentami cierpiącymi na BPD, pomagają ocenić oraz określić, które osoby są zagrożone na powstanie zaburzenia. Zalicza się do nich m.in.:
Osoby, które posiadają w rodzinie pacjentów leczących się na BPD – obciążenie genetyczne,
Osoby, które w dzieciństwie czuły się niestabilnie emocjonalnie, nadwrażliwe i nie odczuwały bliskości swoich rodziców,
Osoby, których rodzice byli impulsywni i nerwowi,
Osoby, które były ofiarami przemocy psychicznej.
Objawy i rozpoznanie BPD
Według literatury diagnostyczno-statystycznej, dotyczącej zaburzeń psychicznych następujące kryteria są oznakami BPD:
Poczucie rozpaczliwego starania się unikania rzeczywistych lub wymyślonych zaniechań,
Przeświadczenie o braku poczucia własnej wartości, niestabilności swojego wizerunku, zmiennej tożsamości,
Posiadanie wzoru niestabilnych związków damsko-męskich. Takie wartości jak: idealizacja czy dewaluacja są nagminnie wdrażane w relacjach,
Zbyt częste działanie impulsywne, polegające na popadanie w skrajność lub autodestrukcja. Dobrym przykładem jest wydawanie zbyt dużej ilości pieniędzy bądź nadużywanie substancji psychoaktywnej.
Posiadanie skłonności do myśli samobójczych lub samookalaczającego zachowania.
Zbyt częste wahania nastroju, trwające od kilku godzin, nawet do kilku dni.
Odczucie pustki i samotności.
Trudności z kontrolowaniem gniewu lub bycie złym bez jakiegokolwiek powodu. Osoba może cały czas się złościć, często pokazywać swój gniew lub często toczyć fizyczne walki.
Poczucie paranoi związane ze stresem bądź poważna dysocjacja. Dysocjacja występuje wtedy, gdy człowiek uświadamia sobie, że jego umysł jest oderwany emocji lub ciała.
Spełnienie minimum pięciu ww. warunków klasyfikuje pacjenta do BPD. Taka diagnoza powoduje, skierowanie chorego do specjalisty zajmującego się zdrowiem psychicznym, który rozpocznie wskazane leczenie terapeutyczne.
Jak leczy się BPD?
Specjalista ds. Zdrowia psychicznego, a więc psycholog lub psychiatra, może zalecić jeden lub więcej sposobów leczenia BPD, w tym psychoterapię, leczenia ambulatoryjne lub hospitalizacja.
Psychoterapia
Psychoterapia jest główną metodą leczenia BPD. Specjalista w zakresie zdrowia psychicznego może polecić jeden z następujących typów: kognitywna terapia behawioralna (CBT), dialektyczna terapia behawioralna (DBT) i terapia skoncentrowana na schemacie.
CBT pomaga zidentyfikować i zmienić niezdrowe przekonania, zachowania i niedokładne wyobrażenia o sobie lub innych. Uczy zdrowych sposobów reagowania, gdy pacjent czuje się zły, niepewny, niespokojny lub posiada myśli samobójcze.
DBT uczy, jak rozpoznawać, być świadomym i akceptować swoje przekonania i zachowania. Uczy również zdrowych reakcji na różnego typu sytuacje.
Terapia skoncentrowana na schemacie pomaga w bardziej pozytywnym postrzeganiu siebie i świata. Ponadto, pomaga budować relacje międzyludzkie.
Leki
Wszelkiego typu lekarstwa nie leczą samego schorzenia, lecz łagodzą tylko jego objawy.  Zazwyczaj dochodzi do przepisania następujących środków:
Leków przeciwdepresyjnych,
Leków przecipsychotycznych,
Leków przeciwlękowych.
Hospitalizacja
Jeśli objawy są ciężkie, lekarz może zalecić tymczasowe pozostanie w szpitalu w celu leczenia. Pacjent może również zostać hospitalizowany w kierunku zachowań samobójczych, myśli samobójczych lub myślenia o wyrządzeniu krzywdy sobie lub innym.
Terapia alternatywna
Kwasy tłuszczowe omega-3 mogą łagodzić objawy depresji i agresji u osób z BPD. Potrzeba więcej badań, aby potwierdzić korzyści płynące z kwasów tłuszczowych omega-3, jednak działają one pozytywnie na produkcje serotoniny.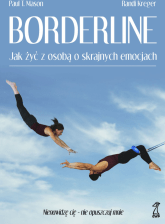 Dowiedz się więcej o bordeline
Kliknij i sprawdź ceny!
Jakie są możliwe powikłania związane z zaburzeniem?
BPD może zwiększać ryzyko innych zaburzeń, takich jak:
Depresja,
zaburzenia lękowe,
zaburzenia odżywiania,
choroba afektywna dwubiegunowa,
nadużywanie substancji,
Objawy BPD mogą również zwiększać ryzyko:
problemów z pracą,
problemów z relacjami rodzinnymi,
samookaleczenia,
samobójstw,
w wypadków samochodowych,
wdawanie się w fizyczne walki.
Aby życie z osobowością borderline przebiegało, jak na te okoliczności, spokojnie, należy przestrzegać planu leczenia zalecanego przez specjalistę psychiatrę. Dobrze dobrane leczenie może  zmniejszyć nasilenie objawów i pomóc w prowadzeniu bezpiecznego i satysfakcjonującego życia.