Oregano jest najlepiej znane w swojej suszonej postaci i szeroko stosowane jako przyprawa. Liście oregano są częścią rośliny zielnej, która jest również używana jako tradycyjny lek ziołowy. Stosowane są również w celach ochronnych przed szkodnikami, muchami i komarami poprzez jego silny aromat. Chociaż oregano można stosować w postaci świeżej i suszonej. To bardziej uznane są liście suszone ze względu na silniejszy smak i aromat niż świeże liście oregano. Oregano zawiera miedzy innymi żelazo, witaminę E, witaminę C, miedź, magnez, wapń, witaminę B6, niacynę, tiaminę i ryboflawinę.
Właściwości odżywcze oregano
Od wieków oregano było stosowane jako lek ziołowy ze względu na jego wartości odżywcze, które są korzystne dla zdrowia i maja zastosowanie w leczeniu wielu schorzeń od leczenia chorób przewlekłych po utrzymanie zdrowej skóry. Liście oregano zawierają dużą ilość białka, sodu, potasu, żelaza, wapnia, magnezu, witaminę a, B6, C oraz K.  Podobnie jak inne zioła, oregano ma wyjątkowy i przyjemny aromat. Dzieje się tak, ponieważ oregano zawiera związki chemiczne, takie jak tymol, limonen, pinen, ocimen a także kariofylen.
Oregano pomaga zwalczać infekcje
Badania naukowe wykazały, że oregano może skutecznie chronić organizm ludzki przed wieloma rodzajami wirusów. Przeciwutleniacze obecne w oregano odgrywają dużą rolę w zapobieganiu infekcjom wirusowym, które wywierają szkodliwy wpływ na organizm. Olejek z oregano to niezwykle silny naturalny antybiotyk.  Wiele osób używa świeżego i wysuszonego oregano oraz olejku eterycznego aby przezwyciężyć takie stany, jak nadmierny wzrost bakterii jelitowych i grzybów candida.
Oregano bogate w przeciwutleniacze
Duża liczba badań wykazała, że oregano i jego olej z oregano stanowią bogate źródło przeciwutleniaczy. Antyoksydanty to związki, które zwalczają uszkodzenia spowodowane przez wolne rodniki w organizmie. Powszechnie wiadomo, że wolne rodniki mogą prowadzić do znacznych szkód. Ponieważ olejek eteryczny jest szczególnie bogaty w karwakrol i tymol, dwa przeciwutleniacze, które zapobiegają uszkodzeniom komórek przez wolne rodniki, zaleca się jego stosowanie wraz z pożywną dietą. Dzięki tej obfitej dawce przeciwutleniaczy możesz uzyskać niesamowite korzyści zdrowotne, które pomagają twojemu ciału w płynnym funkcjonowaniu.
Oregano w leczeniu chorób dziąseł
Oregano ma również silne właściwości antyseptyczne, które eliminują toksyny z naszego systemu. Właśnie dlatego oregano stosuje się w tworzeniu wielu leków ziołowych w leczeniu przeziębienia. Dodanie kilku kropli oleju z oregano do wody delikatnie łagodzi ból gardła. Używaj tego środka przez co najmniej pięć dni, aby złagodzić ciężkie objawy przeziębienia. Niektórzy spożywają suszone oregano w celu przygotowania herbaty ziołowej. Możesz ja pić dwa lub trzy razy dziennie.
Oregano łagodzi skurcze menstruacyjne
Niewiele kobiet wie, że oregano jest doskonałym składnikiem łagodzenia skurczów menstruacyjnych. Ponieważ służy jako skuteczny środek przeciwbólowy; istnieje wiele przypadków, w których oregano skutecznie zmniejszyło natężenie bólu i dyskomfort podczas menstruacji. Możesz przeżuwać świeże liście oregano trzy razy dziennie, aby zwalczyć bolesne skurcze lub spożywać je w postaci herbaty, aby pomóc w radzeniu sobie z niewygodnymi objawami, które są powszechne wśród dużego odsetka kobiet. Ponadto oregano reguluje cykl menstruacyjny i łagodzi negatywne skutki menopauzy. Istnieje również kilka badań, które pozwalają sądzić, że regularne stosowanie oregano zapobiega przedwczesnej menopauzie.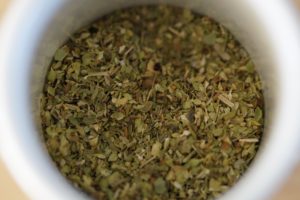 Oregano w walce z chorobami nowotworowymi
Wiele obecnych w oregano przeciwutleniaczy pomaga zwalczać nie tylko infekcje i wirusy, ale również poważne choroby, takie jak nowotwory. Istnieje wiele próbnych badań, które wykazały pozytywne działanie oregano i jego składników, w zapobieganiu tworzenia się komórek rakowych. W jednym z takich badań komórki ludzkiego raka okrężnicy potraktowano ekstraktem oregano. Wyniki wykazały, że zapobiegał on wzrostowi komórek nowotworowych, a także przyczyniał się do ich śmierci.
Oregano łagodzi stany zapalne
Zapalenie odnosi się do normalnej odpowiedzi immunologicznej w przypadku urazu lub choroby. Jednak przewlekły stan zapalny odgrywa ważną rolę w rozwoju wielu chorób autoimmunologicznych, a także cukrzycy. Carvacrol obecny w oregano posiada właściwości przeciwzapalne i przyczynia się do zmniejszenia obrzęku.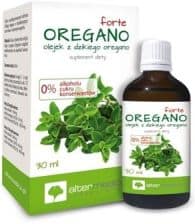 Olejek z dzikiego oregano
Kliknij i sprawdź ceny!
Oregano zabija pasożyty jelitowe
Pasożyty jelitowe to niechciani mieszkańcy przewodu żołądkowo-jelitowego. Mogą powodować znaczny dyskomfort i zwiększać ryzyko zachorowania na poważne choroby. Naturalnym sposobem na wyeliminowanie pasożytów jelitowych jest użycie wysuszonego oregano lub oleju oregano. Udowodniono, że tymol i karwakrol niszczą pasożyty jelitowe, nie powodując żadnych skutków ubocznych.
Oregano działa przeciw bakteryjnie
Oregano jest także znane ze względu na swoje naturalne właściwości antybakteryjne. Badania naukowe wykazały, że olej oregano blokuje wzrost niektórych bakterii pochodzących ze szczepów wywołujących infekcje. Testy laboratoryjne i eksperymenty wyraźnie wykazały, że jest skuteczny przeciwko kilkudziesięciu gatunkom bakterii.
Oregano wspomaga pracę układu sercowo naczyniowego
Przeciwutleniacze obecne w oregano naprawiają uszkodzone naczynia krwionośne i zapobiegają stresowi oksydacyjnemu. Wykazano również wiele pozytywnych efektów w leczeniu wielu chorób serca. Ponieważ oregano jest bogatym źródłem kwasów tłuszczowych omega-3, znacznie zmniejsza stan zapalny, a także zmniejsza ryzyko powikłań po chorobach układu krążenia. Zioło to jest także niesamowitym źródłem potasu, który jest ważną częścią komórek i płynów ustrojowych. Pomaga również spowolnić zbyt szybkie tętno i reguluje poziom ciśnienia krwi.
Inne lecznicze zastosowania oregano
Istnieje kilka innych zastosowań tego zioła, o których powinniśmy wiedzieć i należą do nich:
Oregano można stosować jako pomoc trawienną, ponieważ pobudza wydzielanie śliny.
Może ukoić użądlenia pszczół i komarów.
Oregano jest także skutecznym środkiem przeciwbólowym.
Silne działanie przeciwwirusowe i antybakteryjne oregano może pomóc w niszczeniu organizmów, które przyczyniają się do infekcji skóry.
Może wzmocnić układ odpornościowy
Pomaga to zwiększyć elastyczność stawów i mięśni
Poprawia zdrowie układu oddechowego.
Olej Oregano stosowany miejscowo może pomóc w leczeniu infekcji skóry, swędzącej skóry i podrażnionych dziąseł
Wysoka zawartość tymolu i karwakrolu w oregano może pomóc uspokoić rozstrój żołądka i wspomóc trawienie. Zmieszaj 2 do 3 kropli oleju na szklankę soku lub wody, aby szybko wyleczyć lekką niestrawność.
Olej z oregano może pomóc w leczeniu zatok i zapalenia płuc.Wystarczy wymieszać 2 lub 3 krople oleju z sokiem i pić codziennie, można zauważyć poprawę w ciągu 3-5 dni.
Olejek z oregano działa również stymulująco, wiatropędnie i i działa napotnie podczas gorączki.
Podawany w postaci ciepłego naparu oregano łagodzi skurcze mięśni, kolki lub bóle spazmatyczne w jamie brzusznej.
Wysuszone liście można również aplikować w torebkach jako ciepłe okłady na bolesne artretyczne obrzęki i inne stany, w tym na reumatyzm.