Liczba lekarstw i antybiotyków rośnie z roku na rok. Firmy farmaceutyczne prześcigają się w tworzeniu coraz to nowych produktów, które mają być remedium na wszystkie nasze problemy. Niestety popularność antybiotykoterapii coraz częściej zwraca się przeciwko nam.  Antybiotyki zamiast nam pomagać, niszczą naszą naturalną florę bakteryjną, sprawiając że jesteśmy jeszcze bardziej podatni na różne choroby. Leki dostępne bez recepty tylko napędzają dochody wielkim koncernów farmaceutycznych i pozbawiają nas pieniędzy i resztek zdrowia. W takim świecie przyszło nam żyć. Nie jesteśmy jednak całkiem bezradni. W czasach, w których liczba osób chorych wzrasta w zastraszającym tempie, powinniśmy wrócić do korzeni, powiedzieć "NIE" ogłupianiu nas reklamami i na własną rękę zdobyć wiedzę, co nam pomaga, a co szkodzi. Czas zainteresować się naturalnymi sposobami na zdrowie, bardziej przyglądać się temu co kupujemy i usunąć chemię z swojego otoczenia. Nie proponuję radykalnych zmian w postaci wyrzucania wszystkiego bez naturalnego składu. Proponuję przyjrzeć się temu co kupujemy i systematycznie wymieniać sztuczne i szkodzące nam produkty na te o naturalnym składzie i udowodnionej szkodliwości. Najważniejsze to robić to z rozsądkiem, ale i z konsekwencją, czyli raz i na zawsze.
Jednym z takich naszych naturalnych pomocników może być olejek z drzewa herbacianego. W jaki sposób może on nam pomóc w codziennym życiu i gnębiących nas problemach ? Zapraszam do lektury !
Pochodzenie olejku z drzewa herbacianego
Olejek z drzewa herbacianego to naturalny antyseptyk i środek dezynfekujący pomagający zwalczać bakterie, wirusy i grzyby. Jest na tyle wszechstronny, że jest w stanie zastąpić nie jeden pełen chemii preparat, który używamy do czyszczenia w domu. W sklepie często możemy natrafić na olejki z angielską nazwą olejku – Tea tree oil. Olejek ten jest pozyskiwany z drzewa rosnącego w Australii i Nowej Zelandii. Drzewo herbaciane rośnie najczęściej na dziko w bagnistych miejscach, ale jest też w wyżej wymienionych rejonach uprawiany. Do Europy olejek z drzewa herbacianego został przywieziony w 1927 roku. Nazwa olejku wzięła się stąd, że w czasach podróży kapitana Cooka, piersi kolonizatorzy Australii używali liści z tego drzewa do sporządzania leczniczej herbaty. Taki napój pozwalał marynarzom chronić się przed szkorbutem. Nie byli to jednak pierwsi ludzie, którzy poznali lecznice właściwości liści z drzewa herbacianego. Od niemalże tysiąca lat liście z drzewa  herbacianego wykorzystywane były do dezynfekcji ran i leczenia oparzeń.
Zastosowanie olejku z drzewa herbacianego
Do tej pory odkryto już ponad 100 różnych składników drzewa herbacianego, ale swoje lecznicze właściwości olejek zawdzięcza przede wszystkim dwóm z nich. Jest to:
Terpinen-4-ol – przydatny przy chorobach skóry,
Cyneol – przydatny w chorobach przeziębieniowych.
Zastosowanie w kosmetyce:
walka z trądzikiem – normalizuje pracę gruczołów łojowych; najlepsze efekty daje nałożenie olejku punktowo bez rozcieńczania na skórę,
pielęgnacja skóry głowy – niweluje swędzenie i zapobiega przetłuszczaniu się włosów, pomaga w walce z wszawicą,
pielęgnacja stóp, m.in: likwiduje nieprzyjemny zapach przy nadmiernej potliwości stóp,
walka z chorobami skóry takimi jak: grzybica, opryszczka, półpasiec, zajady – można nałożyć bezpośrednio na skórę.
Zastosowanie dla zdrowia:
leczenie przeziębień i infekcji: zatkany nos, kaszel, zapalenie zatok – inhalacje,
zwalcza nieświeży oddech, kamień nazębny, infekcje jamy ustnej,
wspieranie walki organizmu z patogenami i wzmacnianie odporności (mało osób ma świadomość, że miód Manuka powstaje właśnie z nektaru z drzewa herbacianego).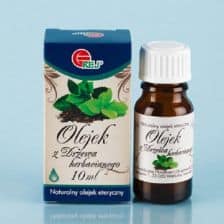 Olejek z drzewa herbacianego
Kliknij tutaj i sprawdź ceny!
Zastosowanie zamiast środków chemicznych:
jako płyn do mycia powierzchni: blatów, mebli, szafek, kafelek. Kilka kropel olejku herbacianego dodanych do spryskiwacza z wodą usunie bakterie i naturalnie zdezynfekuje mytą powierzchnię;
płyn do mycia naczyń z olejkiem z drzewa herbacianego pomoże w zneutralizowaniu zapachów i zdezynfekuje myte naczynia;
użyty do mycia lodówki zapobiega rozwojowi pleśni i rozwojowi szkodliwych mikroorganizmów;
przeciwko powstawaniu pleśni na ścianach – w przeciwieństwie do agresywnych środków grzybobójczych jest to całkowicie bezpieczna i skuteczna metoda pozbywania się pleśni na ścianach;
do usuwania roztoczy w praniu – do dozownika proszku należy dodać kilkanaście kropel olejku i trochę wody;
do usuwania roztoczy w odkurzaczu;
do oczyszczania powietrza, np. gdy ktoś w domu choruje – należy wlać olejek z drzewa herbacianego do kominka zapachowego;
na odstraszenie komarów i po ukąszeniu przez owady – zmniejsza swędzenie, zapobiega powstawaniu opuchlizny i ułatwia gojenie ran;
do pielęgnacji uszu kotów i psów – zapewnimy w ten sposób higienę uszu naszych zwierząt.
Gdzie kupić i jaki olejek z drzewa herbacianego stosować ?
Określenia "naturalny" lub "100%" niestety nie gwarantują jakości olejku z drzewa herbacianego. Kupując olejek powinniśmy zwrócić uwagę na to czy produkt ten posiada na opakowaniu swoją botaniczną nazwę (Malaleuca alternifolia), opis metody pozyskiwania (destylacja parą wodną), mieć butelkę z ciemnego szkła. Olejek też nie może być rozcieńczany lub utrwalany, nie powinien mieć w swoim składzie innych olejów ani substancji zapachowych. Najlepiej też stosować olejki posiadające atesty i nadające się do zastosowania w lecznictwie. Olejek z drzewa herbacianego można zakupić w aptece, sklepie internetowym lub w sklepie ze zdrową żywnością.