Czarnuszka siewna jest rośliną, która pochodzi z rodziny jaskrowatych. Znana była już w Starożytnym Egipcie, ze względu na swoje właściwości zdrowotne i pielęgnacyjne. Można ją bez problemu znaleźć na południu Europy, ale uprawia się ją również w Polsce. Jej nasiona pozwalają na wytworzenie oleju, mającego niesamowite działanie. Często dodawana jest (w postaci nasionek) do różnego rodzaju potraw jako przyprawa o korzennym smaku. Największą popularnością cieszy się jednak olej z czarnuszki.
W jaki sposób działa czarnuszka?
Ze względu na swoje wyjątkowe własności, czarnuszka stosowana była już w szesnastym wieku przed naszą erą. Na początku traktowano ją jedynie jako roślinę o ciekawych walorach smakowych, ale później odkryto jej lecznicze właściwości. Średniowieczni mnisi dbali o to, by znajdowała się ona w przyklasztornych ogródkach. Czarnuszka ma następujące działanie:
przeciwbakteryjne,
przeciwzapalne,
moczopędne,
poprawiające przemianę materii i funkcjonowanie układu pokarmowego,
rozkurczające,
regulujące problemy z miesiączką,
przeciwgrzybicze,
wzmacniające odporność.
Oprócz tego, produkty zawierające czarnuszkę, świetnie sprawdzają się w leczeniu cery trądzikowej, atopowego zapalenia skóry oraz w pielęgnacji włosów.
Co wchodzi w skład oleju z czarnuszki?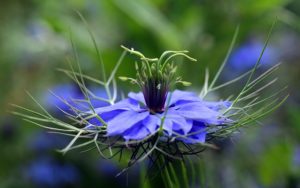 Olej z czarnuszki zawiera mnóstwo substancji odżywczych. W jego składzie znajdują się, między innymi, nienasycone kwasy tłuszczowe, czyli kwasy omega-6 (kwas linolowy), omega- 9 (kwas oleinowy) oraz omega- 3 (kwas alfa- linolenowy). Zawiera również witaminę E, będącą bardzo skutecznym antyoksydantem. Poza tym, posiada w swoim składzie także beta- karoten, przeciwutleniacze i biotynę. Głównym składnikiem oleju, wytwarzanego z nasion czarnuszki, jest tymochinon, czyli substancja o własnościach przeciwzapalnych oraz przeciwbólowych. Olej z czarnuszki zawiera też fosfolipidy, fitosterole, flawonoidy oraz alkaloidy. Jest źródłem wapnia, żelaza, potasu, magnezu, cynku i selenu.
Jak można stosować olej z czarnuszki?
Ze względu na niesamowite właściwości zdrowotne i pielęgnacyjne, olej z czarnuszki stosowany jest w kosmetyce oraz w lecznictwie. Oto przykłady jego zastosowania:
Zwalczanie dolegliwości, związanych z alergią– w związku z tym, że tymochinon blokuje wytwarzanie histaminy (czyli białka powodującego reakcje alergiczne), olej z czarnuszki zwiększa tolerancję organizmu na wszelkie alergeny. Dzięki niemu, zmniejsza się częstotliwość i natężenie objawów, spowodowanych różnego rodzaju uczuleniem. Olej można spożywać doustnie, przyjmując łyżeczkę trzy razy w ciągu dnia. Warto również stosować go zamiast maści antyhistaminowych i smarować miejsca na skórze, gdzie pojawiły się wykwity, spowodowane alergią.
Ochrona przed promieniowaniem– olejek z czarnuszki pomaga w ochronie przed szkodliwym promieniowaniem UV, ma więc działanie przeciwstarzeniowe- ogranicza powstawanie zmarszczek, spowodowanych promieniowaniem słonecznym. Poza tym, chroni przed złymi skutkami radioterapii, stosowanej w leczeniu chorób nowotworowych.
Pielęgnacja włosów– czarnuszka świetnie sprawdza się jako środek leczący nadmierne wypadanie włosów. Ze względu na właściwości przeciwbakteryjne, przeciwgrzybicze i przeciwzapalne, pomaga w pozbyciu się uciążliwego łupieżu i stanów zapalnych skóry głowy. Dodatkowo, znacząco wzmacnia, wygładza, nabłyszcza i nawilża włosy. Warto nałożyć łyżkę oleju z czarnuszki na włosy i skórę głowy przed myciem, by cieszyć się zdrowymi cebulkami i piękną fryzurą.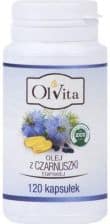 Olej z czarnuszki w kapsułkach
Kliknij TUTAJ!
Pomoc w dolegliwościach ze strony układu pokarmowego– warto stosować kurację olejem z czarnuszki, w celu pozbycia się problemów z nieregularnym wypróżnianiem się, biegunką, wymiotami oraz nadmierną ilością gazów, wywołujących wzdęcia.
Zwalczanie wrzodów– naukowcy udowodnili, że olej z czarnuszki zwiększa ilość mucyny w żołądku (a konkretniej w jego błonie śluzowej). Przeciwstawia się bakterii Helicobakter Pylori, która powoduje chorobę wrzodową. Ma skuteczne działanie w łagodzeniu refluksu żołądkowo- przełykowego.
Leczenie atopowego zapalenia skóry– w związku z tym, że olej z czarnuszki ma niesamowite właściwości nawilżające i odżywiające skórę, to stosowany jest w zwalczaniu atopowego zapalenia skóry. Wynika to z bardzo wysokiej zawartości nienasyconych kwasów tłuszczowych, które wygładzają i koją skórę. Warto wcierać olejek z czarnuszki w miejsca, gdzie ciało jest bardzo przesuszone. Działanie będzie podobne do tego, jakie dają przepisywane przez dermatologa maści sterydowe, ale unikniemy przykrych skutków ubocznych, spowodowanych ich stosowaniem.
Poprawa funkcjonowania układu odpornościowego– czarnuszka znakomicie wspiera prawidłowe działanie układu immunologicznego. Zwiększa ilość limfocytów i makrofagów. Jest polecana na przełomie zimy i wiosny oraz w okresie jesienno- zimowym, gdy najbardziej narażeni jesteśmy na wszelkiego rodzaju przeziębienia i choroby układu oddechowego.
Pozbywanie się komórek nowotworowych– ze względu na zawartość tymochinonu, olej z czarnuszki pomaga w hamowaniu rozwoju komórek nowotworowych. Niekiedy przyczynia się również do całkowitego pozbycia się komórek, które doprowadziły do wyniszczającej choroby. Wynika to z bardzo silnego działania antyutleniającego. Poza tym, czarnuszka przeciwdziała powstawaniu nowych komórek nowotworowych.
Skuteczne leczenie astmy– stosowanie oleju z czarnuszki pomaga w pozbyciu się astmy. Dzięki niej, zwiększa się wydolność płuc i można przyjmować znacznie mniejszą ilość środków farmaceutycznych, przeznaczonych do leczenia osób cierpiących z powodu astmy.
Wsparcie w zwalczaniu stanów lękowych i depresji– czarnuszka pomaga w zredukowaniu poziomu szkodliwego stresu. Skutecznie poprawia samopoczucie i przeciwdziała wszelkim stanom lękowym. Ma potwierdzone naukowo działanie uspokajające, które przyczynia się do pozytywnego wpływu podczas terapii, mającej na celu wyleczenie depresji.
Nawilżanie i leczenie zmian skórnych– olej z czarnuszki jest szczególnie polecany osobom, mającym problem z cerą. Łagodnie pomaga w pozbyciu się trądziku i zaskórników. Poprawia koloryt cery i redukuje objawy zmęczenia. Może być z powodzeniem stosowany zamiast serum, nakładanego po demakijażu. Warto regularnie go używać, by zniwelować przetłuszczanie się skóry.