Marka Clean King to renomowany niemiecki producent wielofunkcyjnych odkurzaczy piorących. Na polskim rynku rozprowadzaniem urządzeń zajmuje się firma Clavam. Ta wieloletnia spółka ma niemałe doświadczenie w sprzedaży sprzętów gospodarstwa domowego. Odkurzacz wielofunkcyjny Clean King jest jednym z kilku elementów znajdujących się w specjalnej ofercie marki Clavam. Czy chciałbyś dowiedzieć się więcej na jej temat? Jeśli tak, to trafiłeś w najlepsze miejsce. Motywem do stworzenia niniejszego artykuły była przemiła rozmowa z panem Markiem Pikulą. Jest on wieloletnim pracownikiem i przedstawicielem marki Clavam. Pan Marek Pikuła bardzo chętnie podzielił się z nami szczegółami dotyczącymi produktów oferowanych przez markę Clavam oraz swoimi spostrzeżeniami związanymi ze sprzedażą pokazową. Zapraszamy do lektury!
Walka ze stereotypami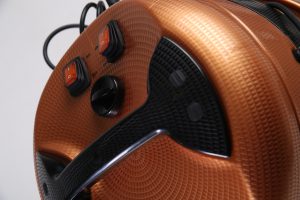 Zanim przeszliśmy do analizy specyfikacji odkurzaczy Clean King, zapytaliśmy pana Marka o kilka szczegółów związanych z taktyką sprzedaży marki Clavam.
– Nasza firma prowadzi sprzedaż pokazową. Rozwiązanie to ma wiele zalet. Nasi przedstawiciele są w stanie poznać klientów osobiście, co pozwala na dokładne przedstawienie możliwości oferowanych produktów. Poza tym wchodząc w bezpośrednią interakcję z kupującym stwarza się mu okazję do znalezienia odpowiedzi na swoje pytania oraz rozwianie ewentualnych wątpliwości.
Rozmawiając z panem Markiem nie omieszkaliśmy poprosić o komentarz w kwestii złej sławy ciągnącej się za wszelkiego rodzaju spotkaniami sprzedażowymi.
– Rzeczywiście, od czasu do czasu słyszymy różne zarzuty. Są to fałszywe obiegowe opinie, które z czasem przerodziły się w oszczerstwa, aż w końcu zasłużyły na miano stereotypów. Na szczęście naszej firmie udaje się skutecznie walczyć z falą negatywizmu. W kontaktach zawodowych zawsze kierujemy się powszechnie przyjętymi zasadami i normami postępowania. Dzięki temu zasługujemy na miano ludzi pracowitych, uczciwych i godnych zaufania. Poza tym wszystkie sprzedawane przez nas produkty objęte są gwarancją. Jeśli więc produkt okaże się wadliwy lub zepsuje się w początkowej fazie użytkowania, można skorzystać ze zwrotu pieniędzy lub wymiany sprzętu na nowy. Firma Clavam to porządna spółka, która uważa dobro swoich klientów za wartość nadrzędną.
Odkurzacz Clean King – centralny punkt w ofercie Clavam
Dobry odkurzacz to podstawa wyposażenia gospodarstwa domowego. Nic więc dziwnego, że rynek sprzętów AGD jest przepełniony ofertami tego typu urządzeń. Rozmowa z panem Markiem Pikulą pozwoliła nam jednak spojrzeń na tę kwestię z szerszego punktu widzenia. Co nasz gość powiedział na temat zalet wielofunkcyjnego odkurzacza Clean King?
– Główną zaletą prezentowanego urządzenia jest jego wielozadaniowość. Zastąpi ono odkurzacz, mopa, nawilżacz, czy też odświeżacz powietrza. Poza tym odkurzacz Clean King świetnie sprawi się w czyszczeniu obić mebli oraz tapicerek samochodowych. Posiadanie tak wielofunkcyjnego sprzętu skutecznie pomaga w zachowaniu wysokiego poziomu czystości we własnych czterech ścianach.
Poprosiliśmy pana Marka Pikulę z Clavam, aby przybliżył nam każdą z funkcji odkurzacza Clean King.
– Główny tryb pracy prezentowanego urządzenia to rzecz jasna klasyczne odkurzanie. Czynność ta jest z natury prosta, niemniej jednak systemy zastosowane w Clean Kingze dodatkowo ją ułatwiają. Dzięki dużej sile ssania oraz prostej obsłudze odkurzanie staje się szybkie i przyjemne.
Kolejna funkcja omówiona przez pana Marka to czyszczenie śliskich podłóg.
– Odkurzacz Clean King świetnie sprawia się w myciu wszelkiego rodzaju podłóg śliskich. Mam na myśli zarówno te wykonane z paneli drewnianych, jak i parkietów, płytek, tworzyw sztucznych oraz wszelkich innych materiałów. Wielofunkcyjny odkurzacz Clean King został wyposażony w kilka pojemników, z których każdy posiada konkretne zadanie. W przypadku mycia na morko pracują dwa z nich. Jeden przechowuje czystą wodę oraz detergent, podczas gdy drugi gromadzi brudne i zużyte płyny. Co więcej, pęd powietrza skierowany na mytą powierzchnię znacznie przyspiesza proces suszenia. Mycie z pomocą Clean Kinga jest bardzo dokładne – urządzenie usuwa nawet zabrudzenia zalegające w fugach, czy też twarde naloty i przebarwienia.
Następnie pan Marek Pikula podzielił się z nami kilkoma praktycznymi informacjami związanymi z praniem dywanów i wykładzin.
– Pranie dywanów i wykładzin to znacznie trudniejsze zadanie, niemniej jednak nowoczesna technologia Clean Kinga sprawdza się bez zarzutu i w tym przypadku. Urządzenie czyści wszelkie rodzaje dywanów – od wełnianych, poprzez akrylowe, aż po wiskozowe i bawełniane. Odkurzacz wielofunkcyjny Clean King najpierw wciąga śmiecie, a następnie pierze powierzchnię z użyciem wody. W efekcie dywany są świeże i pachnące, a dzięki dodatkowej funkcji osuszania – niemalże natychmiast gotowe do użytkowania.
Clean King świetnie sprawdza si ę także w przypadku prania tapicerek meblowych i samochodowych. Co na ten temat ma do powiedzenia nasz ekspert?
– Dzięki funkcjom oferowanym przez wielofunkcyjny odkurzacz Clean King odnowisz fotele, kanapy, a także wszystkie inne tapicerowane meble znajdujące się w Twoich czterech ścianach. Wszystko jest możliwe dzięki dołączonej do zestawu szczotce do mycia. Odkurzacz Clean King jest wyposażony również w szczelinową końcówkę, która pozwala na dotarcie do najgłębszych zakamarków.
Okazuje się, że odkurzacz Clean King radzi sobie równie dobrze z mokrymi plamami.
– Mokre plamy na tekstyliach to prawdziwa zmora każdej pani domu. Sok rozlany na jasnym dywanie, ślady po obiedzie – przykłady można byłoby mnożyć. Na szczęście Clean King świetnie radzi sobie z wszelkiego rodzaju mokrymi plamami. Wciąga on zawartość do pojemnika przeznaczonego na odpady, po czym myje zabrudzoną powierzchnię.
To jednak nie wszystko! Słyszeliśmy, że urządzenia wielofunkcyjnego Clean King można użyć także w celu odświeżenia pościeli. Co na to pan Marek Pikula?
– Dzięki systemowi piorącemu oraz zastosowaniu odpowiedniej końcówki, odkurzaczem Clean King można posłużyć się także w celu odświeżenia pościeli oraz innych tekstyliów znajdujących się w sypialni.
Kończąc swoją wypowiedź na temat odkurzaczy Clean King pan Marek dodał kilka ciekawych informacji.
– Prezentowane urządzenie sprzedawane jest z trzyletnią gwarancją. Stanowi to bardzo duży bufor bezpieczeństwa dla każdego, kto decyduje się na jego zakup. Poza tym warto pamiętać, że marka Clavam nie jest jego producentem. Uczestniczymy w dystrybucji różnych sprzętów gospodarstwa domowego w ścisłej współpracy z firmami, które wypuszczają je na rynek.
Na co uważać?
Pan Marek Pikula z Clavam nie pozostawił nas bez kilku słów przestrogi. Na rynku nie brakuje oszustów i naciągaczy, którzy nie przebierają w środkach, aby zarobić na ludzkiej nieuwadze.
– Wiele negatywnych opinii na temat sprzedaży pokazowej powstało na kanwie działań oszustów. W historii naszej firmy niejednokrotnie zdarzało się, iż ktoś podszywał się pod markę Clavam, by zmamić niczego nieświadomych klientów swoimi mistycznymi ofertami. Posługując się kłamstwami i sprytem osobom takim udało się sporo zarobić,niszcząc jednocześnie dobre imię naszej firmy. Aby nie paść ofiarą oszustwa, należy unikać spotkań zorganizowane przez fałszywych sprzedawców. Wystarczy odrobina spostrzegawczości, aby dostrzec ich nachalne i nieprofesjonalne podejście do klienta. Produkty sprzedawane przez oszustów z reguły są podróbkami, mimo że do złudzenia przypominają one oryginały.
Na koniec naszej miłej rozmowy pan Marek Pikuła zachęcił nas wszystkich do przyjrzenia się pozostałym elementom oferty marki Clavam.
– Działamy w ścisłej współpracy nie tylko z firmą Clean King. Obecnie zajmujemy się także sprzedażą garnków marki Venice oraz mat masujących Casada. Obydwa te produkty to akcesoria z najwyższej półki, które zbierają bardzo pozytywne opinie od swoich użytkowników. Serdecznie zapraszam wszystkich Was na najbliższy pokaz Clavam, który odbędzie się w przyszłości w Waszej okolicy. Pięknie dziękuję za uwagę oraz przemiłą rozmowę!
My również jesteśmy wdzięczni panu Markowi za możliwość przyjemnej i wartościowej wymiany zdań. Chętnie spotkamy się ponownie, kiedy tylko nadarzy się ku temu stosowna okazja!