Nagietek lekarski jest jednoroczną rośliną należącą do rodziny astrowatych. Lokalne nazwy brzmią: paznokietki, pazurki bądź miesięcznica. Pierwotne miejsce występowania naturalnego nie jest w 100% znane, jednak przyjmuje się, że są to śródziemnomorskie i region Iranu.
Roślina ta jest bardzo często uprawiana, może niekiedy zdziczeć.
Nagietek jest rośliną zielną, łodyga jest wzniesiona i bogato ugałęziona. Pokryta charakterystycznymi gruczołowatymi włoskami co sprawia, że może być nieco lepka w dotyku. Może osiągnąć maksymalną wysokość 50 cm. Liście są skrętoległe i gładko osadzone, a korzeń palowy oraz bardzo mocno rozgałęziony. Najbardziej popularne i rozpoznawane są kwiaty nagietka. Występuje zebrane w koszyczkach, cechują się żółtą lub pomarańczową barwą.
W roślinie najdziemy olejki eteryczne, śluz, gorczyce, kwasy organiczne, żywice, karoteny i garbniki. Przełamane łodygi lub roztarte kwiaty wykazują charakterystyczny, łatwo rozpoznawalny zapach.
Uprawa
Nagietek lekarski jest rośliną jednoroczną. Uprawa należy do bardzo łatwych, dlatego polecana jest nawet początkującym osobom.
Nagietek preferuje stanowiska ciepłe i słoneczne, to właśnie wówczas najobficiej kwitnie. Z powodzeniem można go sadzić na wystawie południowej. Roślina nie ma specjalnych wymagań co do gleby. Może rozwijać się nawet na glebach lekkich i ubogich w substancje odżywcze. Ph ziemi ma szeroki zakres.
Nasiona nagietka wysiewa się wiosną wprost do gruntu. Warto je siać w odstępach tygodniowych, najlepiej od kwietnia do czerwca. Rzędy powinny zachowywać odstęp 30-40 cm. Pierwsze siewki ukazują się zazwyczaj po około tygodniu. Na początku uprawy ważne jest regularne odchwaszczanie i spulchnianie gleby. Od późnej wiosny można zastosować nawóz z fosforem, podlewanie ma miejsce wyłącznie w okresach suszy.
Warto pamiętać, że roślina jest podatna na ślimaki, przy podejrzeniu ryzyka ich wystąpienia warto zastosować środki ostrożności.
Po kwitnieniu można ściąć roślinkę na wysokość około 10 cm, istnieje wówczas szansa, że zakwitnie ona ponownie.
Właściwości lecznicze rośliny
Nagietek ma właściwości przeciwzapalne, ściągające, przeciwwirusowe i przeciwbakteryjne. Od dawna był stosowany do leczenia małych ran i podrażnień, ponieważ skutecznie stymuluje układ immunologiczny organizmu. Dzięki temu może pomóc przy zapaleniu spojówek, trądziku, grzybicy czy wysypce i innych infekcjach skóry. Wykorzystuje się go także do leczenia odleżyn i odmrożeń.
Napary z nagietka pomagają zlikwidować siniaki, łagodzą objawy poparzeń, odżywiają spierzchniętą skórę, a nawet łagodzą ukąszenia owadów. Inne zastosowania obejmują:
leczenie wrzodów żołądka i dwunastnicy
leczenie choroby pęcherzyka żółciowego
minimalizowanie bólów, zwłaszcza menstruacyjnych, dzięki działaniu rozkurczowym
regulację cyklu menstruacyjnego
wspomaganie w okresie klimakterium
obniżanie zbyt wysokiego ciśnienia krwi
obniżanie tętna
wiążąc toksyczne związki wykazuje działanie antynowotworowe
wspomaganie w okresie po operacjach jelit i żołądka oraz po usunięciu raka
pomoc w leczeniu żylaków i hemoroidów
Nagietek posiada silne działanie uspokajające, dlatego w okresie dużego stresu warto pić filiżankę naparu z kwiatów. Wpływa to pomyślnie również na lepszy i dłuższy sen oraz pomaga w leczeniu nerwic.
Zastosowanie kosmetyczne
Napary i kosmetyki z nagietka stosowane są do leczenia rozstępów oraz blizn, ponieważ stymulują produkcję kolagenu.
Innym, znacznie bardziej znanym zastosowaniem jest wykorzystywanie ekstraktu z nagietka przy produkcji kremów przeznaczonych do skóry suchej i wrażliwej oraz zrogowaciałej czy łuszczącej się. Dlatego można go spotkać w wielu balsamach do ciała, a także kremach do stóp i rąk. Smarowanie paznokci oraz ich okolic naparem nagietkowym lub olejkiem cy oliwką z dodatkiem tej rośliny wpłynie na poprawę wyglądu i stanu struktur.
Okłady wykonywane na oczy pomogą w likwidacji opuchnięć po nieprzespanych nocach.
Napar z nagietka
Wykonanie: sporą łyżkę suszonych kwiatów z nagietka należy zalać szklanką wrzątku, a następnie odstawić na 20 minut. Po upływie tego czasu całość odcedza się przez gazę bądź sitko i stosuje.
Zastosowanie: napar można pić 3 razy dziennie godzinę przed posiłkiem. W użytku zewnętrznym stosuje się go do przemywania twarzy (w postaci toniku) i wykonywania okładów (np. na oczy bądź siniaki). Płukanie włosów naparem z nagietka sprawi, że będą one błyszczące, zregenerowane i wzmocnione. Na skórę głowy taki napar działa przeciwłupieżowo i łagodząco.
Peeling z płatków owsianych oraz nagietka
Wykonanie: garść płatków owsianych i taką samą ilość suszonego nagietka należy mielić, aby otrzymać gruby peeling. Kolejnym krokiem jest dodanie łyżki oliwy i łyżki miodu. Całość dokładnie wymieszać i stosować na oczyszczoną, wilgotną skórę.
Zastosowanie: Peeling przede wszystkim oczyszcza skórę. Dodatkowo łagodzi podrażnienia, działa przeciwzapalnie, koi i wygładza. Jest szczególnie polecany osobom z cerą trądzikową, ponieważ zmniejsza objawy dolegliwości i przywraca skórze zdrowy wygląd.
Oliwka nagietkowa
Wykonanie: garść świeżych płatków kwiatów umieścić w słoju tak, aby zajmowały 1/3 jego objętości. Pozostałą objętość słoika dopełnić oliwą, a jeszcze korzystniej – olejkiem. Poleca się zwłaszcza arganowy lub migdałowy. Miksturę należy odstawić na 2 tygodnie w ciepłe i słoneczne miejsce codziennie mieszając. Po upływie 2 tygodni całość odcedzić przez sitko lub gazę i stosować.
Zastosowanie: Oliwka wykorzystywana jest głównie przy masażu i automasażu. Świetnie wpływa na łuszczącą się skórę oraz rozstępy. mniejsza również widoczność blizn. Z powodzeniem można ją wcierać w zniszczone końcówki włosów, dzięki czemu ulegną one regeneracji. Oliwka ma działanie przeciwzapalne i antybakteryjne, jest zdrowa, można więc ją stosować nawet do pielęgnacji niemowląt.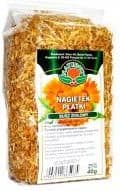 Nagietek
Kliknij i sprawdź ceny!
Zastosowanie w kuchni
Zastosowanie nagietka w kuchni nie jest rozpowszechnione, roślinę częściej łączy się z medycyną, ziołolecznictwem i kosmetologią. Mało kto jednak wie, że świeże płatki kwiatów mają ciekawy, lekko pikantny smak. Można je dodać do oliwy z oliwek i macerować w ciepłym, słonecznym miejscu. Tak powstałą miksturą można skrapiać potrawy (m.in. mięsa).
Płatki kwiatów dodane do gotującego się ryżu nadadzą mu ładnego koloru, można je również stosować jako dodatek do sałatek – również tych owocowych.
Nagietkiem można przyprawiać masło, omlety, jogurty, miękkie sery i niektóre ciasta. Dodaje się go do sosów i zup, a niektórzy wykonują na jego bazie wino czy nalewki.
Przeciwwskazania
Wszelkie produkty z wyciągiem z nagietka powinny być przeciwwskazanie dla osób z alergią na rośliny rodziny astrowatych.