Wiosna to okres roku, w którym przyroda budzi się do życia. Niestety oprócz kolorowych motyli i miododajnych pszczółek, w okolicach zamieszkanych przez ludzi pojawia się wiele szkodliwych owadów. Wśród nich najczęściej spotykamy wszędobylskie mrówki. Ich inwazje potrafią być intensywne, uciążliwe i bardzo trudne do zakończenia. Wiosna to okres migracji dla wielu gatunków zwierząt, w tym także dla mrówek. Szukając dogodnego miejsca na założenie gniazda z reguły wybierają one najkrótszą drogę przejścia w konkretne miejsce. Z tego powodu podczas pierwszych ciepłych miesięcy tak często goszczą one w naszych piwnicach, klatkach schodowych, a nawet domach.
Każdy kto zmagał się z tym uciążliwym problemem wie, że zabijanie pojedynczych mrówek nic nie da. Królowa monitoruje wielkość stada i w razie potrzeby składa większe ilości larw. Co więc można zrobić, aby skutecznie zakończyć inwazję mrówek? Zapraszamy do lektury!
Gatunki mrówek spotykane w naszych domach
Jakie gatunki mrówek odwiedzają osiedla ludzkie? Z reguły są to osobniki z poniższej listy:
faraonki (spotyka się jej najczęściej, bardzo lubią osiedlać się w drewnianych elementach, takich jak schody oraz podłogi)
gmachówki
hurtnice
mrówki darniowe
rudnice
amazonki
Bez względu na gatunek mrówek z jakimi masz do czynienia, sposoby walki z nimi są na ogół takie same.
W jaki sposób zlikwidować mrówki?
Inwazja mrówek to wyjątkowo uciążliwy problem. Owady pojawiają się w ogromnych liczbach, przechodząc przez nasze mieszkania oraz żerując na produktach żywnościowych. W jaki sposób można się ich pozbyć?
Istnieją trzy taktyki walki z mrówkami:
zamknięcie mrówkom drogi wejścia
domowe sposoby
środki chemiczne
Poniżej poddaliśmy analizie każdy z trzech powyższych sposobów na likwidację mrówek.
Zamknięcie mrówkom drogi wejścia
Mrówki z reguły nie wchodzą do domów oraz mieszkań, aby założyć w nich swoje kolonie. Budynki zamieszkane przez ludzi po prostu stoją na drodze owadów, które nie chcą ich omijać, lecz wolą przejść przez ich środek. Z tego powodu najlogiczniejszym wyjściem z problemu jest zamknięcie mrówkom otworu, przez który przedostają się do naszego domu. W przypadku nowych i zadbanych budynków, które są stosunkowo szczelne, bardzo często jest to wystarczający sposób na przezwyciężenie problemu. Niestety, stare i podniszczone domy mają mnóstwo otworów i szczelin. W tym przypadku, nawet gdyby udało się zlokalizować i zatkać główne wejście mrówek, owady prawdopodobnie obejdą naszą blokadę w inny sposób. Jeśli zamknięcie otworu używanego przez naszych gości nie zadziała, należy użyć przeciwko nim nieco cięższej artylerii.
Domowe sposoby na walkę z mrówkami
Domowe sposoby na walkę z mrówkami rzecz jasna nie są tak skuteczne jak użycie środków chemicznych. Jeśli jednak inwazja mrówek Cię zaskoczyła, a Ty akurat nie masz pod ręką żadnych specjalistycznych preparatów, możesz skorzystać z metod tradycyjnych. Poniżej znajdziesz kilka sprawdzonych domowych sposobów na mrówki:
Miód. Mrówki bardzo lubią słodkie produkty spożywcze. Niczym wprawny myśliwy, możesz wykorzystać niewybredne gusta swojej 'zwierzyny'. Rozłóż na podłodze długie rolki papieru kuchennego, a następnie posmaruj je warstwą miodu. Mrówki rzucą się do zbiorów, po czym zaczną masowo przyklejać się do pułapki.
Mieszanka proszku do pieczenia z cukrem. Na trasach gęsto uczęszczanych przez mrówki można rozsypać mieszankę cukru oraz proszku do pieczenia. Taka słodka mikstura na pierwszy rzut oka może wydawać się całkiem niewinna, choć w rzeczywistości jest ona zabójcza dla drobnych owadów. Po zjedzeniu mieszanka pęcznieje zabijając mrówki. Metoda ta jest nieco niehumanitarna, niemniej jednak jej skuteczność przyćmiewa wszystkie ewentualne zarzuty.
Świeże liście pomidora. Mrówki nienawidzą zapachu świeżych liści pomidora. Można rozsypać je w na podłodze, co z pewnością zdezorientuje i odstraszy mrówki.
Ocet. Ocet to kolejna substancja, której nie znoszą mrówki. Niestety, smarowanie nim podłogi lub mebli powodowałoby cierpienie także naszych, ludzkich zmysłów. Z tego względu metoda ta stosowana jest bardzo rzadko.
Cynamon. Cynamon to związek, który nie jest lubiany przez mrówki. Może on je odstraszyć i zdezorientować, niemniej jednak nie okazuje się on skuteczny w absolutnym zwalczaniu problemu.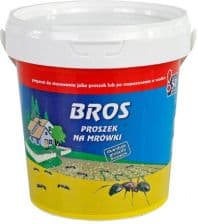 Proszek na mrówki
Kliknij i sprawdź ceny!
Chemiczne środki do walki z mrówkami
Chemiczne środki skierowane przeciwko mrówkom to najskuteczniejszy środek, którego można użyć w przypadku masowych inwazji. Oto najważniejsze z nich:
Proszek Expel. Można używać go zarówno w środku, jak i na zewnątrz. Stosuje się go w postaci proszku (należy rozsypać cienką warstwę na ścieżce wędrówek owadów) bądź roztworu wodnego (100g proszku na 5 l wody, przy 1 l na 1m2).
Faracid. Jest to środek w postaci sprayu. Jego nazwa może mylnie wskazywać, iż jest on przeznaczony jedynie do zwalczania mrówek faraona. Niemniej jednak można stosować go w walce ze wszystkimi gatunkami omawianych szkodników. Faracid działa z opóźnieniem, efekt widoczny jest po 12 godzinach. Środek można stosować zarówno w środku, jak i na zewnątrz.
Faratox B. Środek ten można zakupić w sklepach ogrodniczych. Preparat znajduje się z reguły dwóch pojemnikach, które należy umieścić w miejscach najbardziej uczęszczanych przez mrówki. Wędrujące owady wyjadają środek, co następnie doprowadza je do śmierci. Ponadto przenoszą one trujące substancje do gniazda, wskutek czego padają również osobniki, które nie miały bezpośredniego kontaktu z Faratoxem B.
Raid w sprayu. Jest to kolejny skuteczny i łatwo dostępny preparat do zwalczania mrówek oraz innych insektów. Nie powoduje on ich śmierci, gdyż z reguły owad nie przyjmuje wystarczająco dużej dawki trującej substancji. Sprawia on jednak, że mrówki omijają wypryskane powierzchnie. Co więcej Raid w sprayu przyjemnie pachnie, dzięki czemu można użyć go w dużej ilości za jednym zamachem.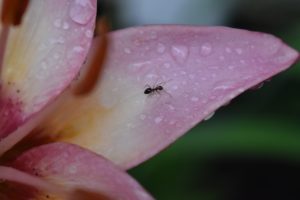 Działania prewencyjne
Jeśli chcemy zapobiec inwazji mrówek w przyszłości, należy podjąć odpowiednie działania prewencyjne. W tym celu należy uszczelnić wszelkie otwory, którymi teoretycznie mogłyby one dostać się do naszego mieszkania. Najbardziej newralgicznymi punktami są okolice okien i drzwi, niemniej jednak zdarza się, że mrówki wykorzystują szczeliny w dużo mniej oczywistych miejscach.
Poza tym warto zwrócić uwagę na sposób przechowywania żywności. Jeżeli Twoje mieszkanie ma tendencję do goszczenia mrówek, postaraj się, by wszystkie produkty żywnościowe były w miarę szczelnie zamknięte.
Podsumowanie
Pierwszą rzeczą, którą należy zrobić w przypadku inwazji mrówek, jest znalezienie szczeliny, którą przedostają się one do wnętrza mieszkania. Jeśli po zablokowaniu wejścia problem zostanie rozwiązany, możesz cieszyć się z sukcesu. Jeśli jednak mimo kilku prób mrówki znajdują sobie nowe szczeliny, należy wytoczyć im wojnę opartą o nieco cięższą artylerię. Wówczas warto skorzystać ze specjalistycznych środków chemicznych. Ponadto cały proces walki z mrówkami można wzbogacić o sprawdzone domowe metody. Powodzenia!