Wszyscy doskonale wiemy jak ważne jest pierwsze wrażenie. Nie da się go naprawić, cofnąć czasu, aby zrobić to jeszcze raz, ale tym razem dobrze. Na pierwsze wrażenie, jakie zrobimy na osobach, które spotykamy, ma wpływ wiele czynników. Sposób mówienia, mimika, mowa ciała… to jedne z nich. Nie da się jednak polemizować z faktem, że głównym czynnikiem wpływającym na wyrobienie sobie pierwszego wrażenia o nas ma nasz wygląd. Nawet z daleka jesteśmy już w stanie dokonać pewnej oceny o danych osobach. Wówczas oceniamy najczęściej właśnie różne elementy wyglądu tejże osoby. Przy bliższym kontakcie z daną osobą na pierwsze wrażenie ma wpływ więcej czynników, ale także w tej sytuacji wygląd pełni rolę pierwszoplanową.
Jednym z elementów mówiących sporo o naszej osobie mają dłonie. Są one w stanie zdradzić nasz wiek, pracę jaką wykonywaliśmy, nasz stan majątkowy. Szczególnie u kobiet wygląd ich dłoni ma niebagatelne znaczenie, gdyż to właśnie kobiety mają w naszej kulturze i w naszych czasach szerokie możliwości dbania i zdobienia swoich dłoni. Schludnie wyglądający manicure to podstawa. Jednak nie wszystkie Panie chcą i mogą korzystać z usług profesjonalnej manicurzystki. Nie wszystkim też podobają się pomalowane paznokcie, a niektóre z Pań ze względów zdrowotnych wręcz bronią się przed malowaniem paznokci. W takim przypadku z pomocą przychodzi manicure japoński.
Manicure japoński – na czym polega ?
Chcąc uzyskać ładne paznokcie nie musimy wcale ich malować. Wrażenie zadbanych i odżywionych paznokci może zapewnić nam manicure japoński. Cała sztuka polega na tym, aby wcierać w płytkę paznokcia pastę z witaminami i minerałami, a następnie nanieść na nią specjalny puder. Pasta wcierana w paznokcie zapewnia im wyjątkowy blask różowej perły. Dzieje się tak dlatego, że pasta ta zawiera krzemionkę z Morza Japońskiego, pyłek pszczeli, keratynę, witaminy A i E.
Manicure japoński – skąd wziął się ten pomysł ?
Pierwsze wzmianki o tym zabiegu pojawiły się już 400 lat temu i pochodzą z Kraju Kwitnącej Wiśni, czyli z Japonii. Prekursorkami w stosowaniu manicure japońskiego były arystokratki, które chciały nadać swoim paznokciom niepowtarzalnego blasku. Z kolei firmą, która rozpowszechniła ten zabieg na rynku światowym, była firma P.Shine, stąd też zamiennie używa się nazwy manicure p.shine. Oznacza on manicure błyszczący. Ta metoda dbania o paznokcie została mocno rozreklamowana przez wiele gwiazd Hollywood. Jednakże w Polsce możemy cieszyć się z dobrodziejstw tego zabiegu dopiero od 2008 roku. Obecnie manicure japoński możemy spotkać jako stałą ofertę wielu salonów kosmetycznych
Jak wykonać manicure japoński ?
Rozpoczynając przygodę z manicure japońskim musimy najpierw zmatowić płytkę paznokcia. Robimy to używając w tym celu specjalnego pilniczka. Ma to na celu odsłonięcie kanalików prowadzących w głąb paznokcia. Zakazane przy tym etapie są wszelkie pilniki  metalowe oraz wycinanie skórek. Następnie nanosi się pastę i puder. Istotą manicure japońskiego jest umiejętne wcieranie, dzięki któremu pasta i puder wnikną w głąb paznokcia. Zabieg ten trwa około 30 minut. Można go wykonać w profesjonalnym salonie kosmetycznym, ale również w zaciszu własnego domu. Efekty widać już po pierwszym wykonaniu takiego manicure, ale do pełnych efektów zaleca się wykonanie go kilkukrotnie w ciągu trzech tygodni.
Zestaw do manicure japońskiego dostępny jest w wielu sklepach internetowych, ale należy pamiętać, aby nie kupować go z niesprawdzonych źródeł. Produkty do wykonania manicure japońskiego powinny być w pełni naturalne, gdyż w przeciwnym wypadku możemy narobić sobie więcej szkody niż pożytku. Nie należy również sugerować się ceną, tylko rzetelnie sprawdzić źródło pochodzenia kosmetyków do manicure japońskiego. Najlepszym rozwiązaniem jest skorzystanie z oferty sklepów, w których zakupów dokonują profesjonalne salony kosmetyczne. Tylko wtedy mamy pewność, że produkt, który zakupiliśmy jest w 100 procentach naturalny i oryginalny.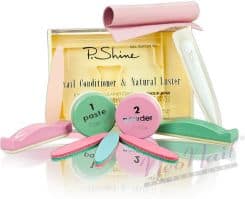 Zestaw do manicure japońskiego
Kliknij tutaj i sprawdź ceny!
Niezbędniki do zabiegu manicure japońskiego
Do wykonania manicure japońskiego nie jest potrzebnych wiele narzędzi. Nie da się go wykonać jednak nie posiadając następujących produktów:
dwustronny pilnik do skracania i matowienia paznokci przed wykonaniem zabiegu,
plastikowa szpatułka do nakładania pasty oraz pudru,
szpatułka do odpychania skórek przed wykonaniem zabiegu,
pasta p.shine, która wciera się w płytkę paznokcia,
puder p.shine, którym kończymy cały zabieg.
Manicure japoński – dla kogo ?
Zabieg ten stosuje się na wyjątkowo zniszczonej płytce. Paznokcie takie charakteryzują się kruchością i łamliwością i mają skłonności do rozdwajania się. Jest to na tyle bezpieczna metoda dbania o paznokcie, że nadaje się również do dbania o paznokcie dzieci. Manicure ten nie nadaje żadnego koloru paznokciom, więc z powodzeniem mogą go stosować również Panowie. Wykonując manicure japoński nie powinno się jednocześnie stosować manicure hybrydowego, gdyż płytka paznokcia jest zbyt mocno natłuszczona.