Choć jest to pies o wspaniałej urodzie i jedwabistej szacie, nie jest to luksusowy kanapowiec, jak mogłoby się wydawać. Posiada on niezwykle figlarne spojrzenie i bardzo przebiegłą minkę. Jest to pies, który odznacza się bogatą osobowością. Zazwyczaj spokojny, przylepny, wrażliwy i bardzo inteligentny. Ma wspaniały charakter, stał się jednym z najlepszych psich przyjaciół i powierników człowieka. Lubi przebywać w bliskim kontakcie z ludźmi. Jest bardzo oddany i kochający, szuka ciągłego kontaktu ze swoim właścicielem. Bardzo trudno znosi samotność i wszelkie rozłąki. Ma wrodzoną łagodność, potrafi być czuły, grzeczny i zabawny. Zawsze ma doskonały humor i jest radosny. Bardzo szybko potrafi zrozumieć, co się od niego oczekuje, to dobry obserwator i łatwo wszystko zapamiętuje. Zazwyczaj to rozważny i spokojny pies, więc w łatwy sposób uczy się posłuszeństwa i cierpliwości. To doskonały pies do towarzystwa, można go bez trudu wychować.
Wszystkie maltańczyki czarne posiadają sympatyczne i serdeczne usposobienie. Mają one w sobie wiele energii, uwielbiają ciągły ruch. Spojrzenie maltańczyka cechuje wyrozumiałość i łagodność. Psy te zyskały wśród ludzi wiele wielbicieli, mało kto może oprzeć się ich wrodzonemu urokowi. Maltańczyk potrafi być powściągliwy, nie czuje potrzeby nadrabiania swoich niewielkich rozmiarów nerwowością, jak w przypadku szczeniaków. Podchodzi do życia w sposób filozoficzny, często rozmyśla, jednak ciężko jest zgadnąć o czym.\
Rozłąka z właścicielem
Psy te bardzo ciężko znoszą wszelkie rozłąki od swojego właściciela. Nie powinny być pozostawione na dłużej w samotności, ponieważ czują, że są członkami rodziny, a być może nawet więcej. Maltańczyk zdaje sobie sprawę, iż nie raz zwraca na siebie całą uwagę rodziny, i w każdym przypadku znajdzie kogoś do zabawy. To pies niewielkich rozmiarów, dlatego właściciel może zabrać go właściwie w większość miejsc. Chce spędzać jak najwięcej czasu z członkami jego rodziny. Stanie się smutny, jeśli nie weźmiemy go na wspólny spacer. Często tęskni za właścicielem.
Poczucie bliskości maltańczyka
To niezwykle wrażliwy pies, dążący do częstej bliskości fizycznej ze swoim właścicielem. Nie będzie on cały czas chciał leżeć w nogach swojego pana. Uwielbia siedzieć na kolanach swojego właściciela. Nie chce chodzić na samotne spacery po ogrodzie, gdy w tym samym czasie jego właściciel siedzi w domu. Nie znosi nawet krótkich rozłąk.
Pies a dziecko
Dzieci uwielbiają maltańczyki, zwłaszcza za ich radość życia i wiele energii. Jednak nie nadaje się on do zabaw sportowych czy wyścigów z innymi psami. Woli za to być głaskany i przytulany. Nie jest to również odpowiedni pies do pilnowania domu, nie nadaje się on na psa użytkowego, jednak poprzez szczekanie da nam znać, gdy ktoś obcy zjawi się pod naszymi drzwiami.
Hodowla
W jaki sposób odpowiednio pielęgnować maltańczyka? Psy, które chcemy przyprowadzać na wystawy, powinny chodzić w papilotkach, używa się do nich pasków bibułki albo kawałków tkaniny z jedwabiu. Przed zawinięciem włosa w papilot, należy go natłuścić przy pomocy lanoliny. Siatkowy kombinezon, skutecznie ochroni papiloty przed rozplątaniem czy zerwaniem przez czworonoga. Właściciele psów, którzy nie chcą ich wystawiać na pokazy, mogą strzyc psa o wiele krócej, co ułatwi codzienną pielęgnację włosia. Jednak należy pamiętać, o regularnym czesaniu sierści, gdyż odrastające włosy bardzo szybko mogą się kołtunić. Włos maltańczyka należy pielęgnować tak samo jak każdego psa z włosem zamiast sierścią, np jak u shih tzu.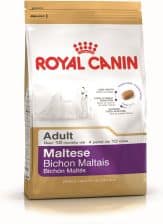 Karma specjalistyczna dla maltańczyka
Kliknij i sprawdź ceny!
Czesanie maltańczyka czarnego:
aby nie dopuścić do skołtunienia czy sfilcowania włosia, należy codziennie czesać psa
przed przystąpieniem do czesania, sierść należy spryskać małą ilością specjalnej odżywki rozcieńczonej z wodą, pomaga to w ochronie sierści przed połamaniem
pasemka sierści powinny być czesane od brzucha do łap
po zakończeniu czesania, włosie zabezpieczamy preparatem z lanoliną, aby sierść się nie kołtuniła
do włosów na pyszczku używamy w miarę gęstego grzebienia
wydzielinę z okolic oczu należy usunąć specjalnym płynem
należy także czyścić regularnie miejsca intymne
Kąpiel maltańczyka
maltańczyka czarnego nie trzeba kąpać tak często jak białego, wystarczy raz na 3-4 miesięce
szampon powinien być specjalny dla psów o długiej sierści
przed rozpoczęciem kąpieli, należy dokładnie wyczesać psa
szampon trzeba dobrze spłukać, aby na skórze psa nie powstały podrażnienia czy łupież
po zakończonej kąpieli, na włosie nakładamy balsamy regenerujące, przeciwko łamaniu i kołtunieniu się sierści
psa na koniec należy zawinąć w ręcznik i trzymać go, dopóki nie wchłonie wody, sierść można wysuszyć suszarką do włosów jednak niską temperaturą i słabym podmuchem o ile pies się nie boi
Dodatkowa pielęgnacja:
co jakiś czas, należy usuwać psu kamień nazębny w tym celu należy udać się do weterynarza. Psy małych ras miewają problemy z dużą ilością kamienia, a ten może doprowadzić do innych poważnych schorzeń.
wyskubywanie włosów z uszu psa
skracanie zbyt długich pazurków
Maltańczyki czarne-cena
Maltańczyki czarne mogą kosztować w przedziale 1200-3000 złotych. Cena zależy od danej hodowli, oraz od tego czy pies posiada rodowód.