Lipa to jedno z najciekawszych, powszechnie występujących drzew. Drewno lipy wykorzystywane jest to wielu różnych celów, między innymi do wykonywania rzeźb w drewnie czy też produkcji butów. Jeszcze kilka wieków temu uznawano lipę za święte drzewo, które miało chronić przed gniewem bogów, dlatego budowano w jej pobliżu kapliczki czy organizowano spotkania towarzyskie. Jednak najbardziej jest znana ze swoich właściwości spożywczych i leczniczych. Miód lipowy jest jednym z najbardziej popularnych miodów, a herbatka z lipy znana jest w każdym domu. Co jeszcze warto wiedzieć o tym niezwykłym drzewie?
Lipa – charakterystyka rośliny
Lipa jest długowiecznym drzewem liściastym. Pospolicie można ją spotkać na półkuli północnej, zwłaszcza w strefie o klimacie umiarkowanym i na nizinach. W Europie występują pospolicie dwa rodzaje lipy:
lipa drobnolistna – Tilia corda Mill.
lipa szerokolistna – Tilia platyphollos Scop.
Lipa może tworzyć większe skupiska, ale najczęściej sadzi się ją w parkach, przy drogach czy nawet w ogrodach jako drzewo ozdobne. W Polsce bardzo często można spotkać aleje lipowe, które przebiegają wzdłuż starszych dróg lub prowadzą do małych miasteczek i wsi. Niestety przy ruchliwych drogach prowadzona jest wycinka lub przycinka lip w celu zwiększenia bezpieczeństwa, ponieważ lipa może osiągać nawet 35 metrów wysokości.
W odpowiednich warunkach drzewo to może żyć i kilkaset lat. W Polsce najstarszy okaz lipy drobnolistnej można spotkać w Cielętnikach, Starsze okazy lipy można rozpoznać nie tylko po grubym pniu, ale też spękaniach i ciemnoszarej albo brunatnej korze. Z kolei młode lipy mają gładką, zielonkawą korę. Cechą charakterystyczną tej rośliny jest też wypuszczanie gałęzi dopiero od połowy wysokości. Wśród liści pojawiają się też jasnożółte kwiaty o miodowym zapachu. Dlatego też lipę oblatują pszczoły, które z kwiatów zbierają nektar, który potem zmienia się w miód lipowy.
Działanie lecznicze
Silne właściwości lecznicze wykazuje kwiatostan lipy. Kwiaty zrywa się wraz z szypułką i przykwiatem. Z powodzeniem można robić to samodzielne, aczkolwiek ważne jest, aby zbierać kwiaty w suche i ciepłe dni oraz z drzew oddalonych od szos czy miejsc opylania roślin środkami chwastobójczymi i innymi chemicznymi nawozami.
W kwiatostanie lipy można znaleźć między innymi: witaminę C i PP, sole mineralne, kwasy organiczne, olejki eteryczne, pektyny, fitosterole, terpeny, garbniki i flawonoidy. Dlatego tak szeroko wykorzystuje się kwiaty lipy w lecznictwie.
Najbardziej znane jest podawanie naparu z kwiatu lipy podczas przeziębienia czy grypy, ponieważ ma on silne działalności napotne, ale też poprawia oddychanie przez skórę. Oprócz spożywania naparu można też się w nim kąpać. Taka kąpiel nie tylko działa napotnie, ale też wspomaga odprężenie, a nawet zregeneruje naskórek czy pomoże na skurcze.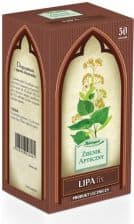 Lipa ma także właściwości przeciwzapalne, więc może wspomóc zdrowienie z infekcji wirusowej. Ponadto działa osłaniająco, pobudza wydzielanie soku żołądkowego, śluzu oraz uspokaja. Ma też działanie wykrztuśne. Wszystko to sprawia, że może ukoić gardło i złagodzić kaszel, a jednocześnie wspomóc wykrztuszanie zalegającej wydzieliny. Napar z lipy może też chronić błonę śluzową w przewodzie pokarmowym. Ponieważ lipa ma też działanie odkażające bardzo często stosuje się ją jako antyseptyk. Można naparem przemywać rany czy nawet problemy trądzikowe, ponieważ nie tylko odkazi te miejsca, ale też zadziała przeciw zakaźnie. Co ciekawe okłady z naparu z lipy można robić też na oczy. Szczególnie polecane są przy zapaleniu spojówek i powiek, ale z sukcesem likwidują też obrzęk i cienie pod oczami.
Z kolei olejek eteryczny najczęściej używany jest do uspokajania skołatanych nerwów. Poleca się go dla dzieci, które mają przejściowe stany napięcia nerwowego na przykład stresujący egzamin w szkole oraz osobom starszym, ponieważ ma naprawdę łagodne działanie. Warto też wiedzieć, że węgiel uzyskiwany z drewna lipowego świetnie znajduje zastosowanie w leczeniu zatruć pokarmowych, biegunek czy niestrawności, ponieważ absorbuje toksyny, które nas zatruły.
Zastosowanie lipy w kosmetykach
Bardzo często można też znaleźć kwiaty lipy jako składnik kosmetyków pielęgnacyjnych. Oprócz właściwości odkażających i przeciwzapalnych napar z lipy ma także właściwość łagodzenia podrażnień. To wszystko sprawia, że często używany jest w pielęgnacji cery tłustej i mieszanej ze skłonnością do wyprysków lub po prostu trądzikowej. Lipa może też zmniejszać łojotok co prowadzi do zmniejszenia się łoju w porach i nie zatykania ich, a z drugiej strony hamuje też złuszczanie się naskórka, co również wpływa na nie gromadzenie się nieczystości na powierzchni skóry. Wyciąg z lipy stosuje się też w maseczkach oczyszczających i domykających pory.
Ogólnie napar z lipy sprawia, że cera staje się bardziej elastyczna, a więc jest często stosowany również w pielęgnacji przeciwstarzeniowej. Bardzo często wyciąg z kwiatów lipy można znaleźć też w szamponach i odżywkach do włosów. Zwłaszcza do włosów suchych, łamliwych i podrażnionej skóry głowy. Lipa bardzo dobrze odżywia włosy, nawilża je i pozostawia oczyszczone, a jednocześnie łagodzi podrażnienia skalpu. Wśród kosmetyków do pielęgnacji całego ciała można kupić też balsamy z lipą, ponieważ uelastycznia i nawilża skórę.
Gdzie kupić kosmetyki z wyciągiem z kwiatów lipy? W sklepach ziołowych, aptekach i sklepach z kosmetykami naturalnymi. W większości produkty z lipą to produkty naturalne lub nawet organiczne. Dlatego też można powiedzieć, że są one zdrowsze niż kosmetyki na bazie sztucznie uzyskiwanych substancji z dodatkiem jedynie ekstraktu roślinnego. Sam kwiat lipy czy też herbatki i napary również można kupić w aptekach lub sklepach zielarskich. Albo zebrać samemu, jeśli tylko mamy taką możliwość.
Domowe przepisy na wykorzystanie lipy
Omówiony wcześniej napar z lipy nie jest trudny do zrobienia samemu. Wystarczy mieć kwiaty lipy i wrzątek. Łyżkę stołową kwiatów parzy się w szklance wrzątku przez 10 minut, a potem przecedza. Taki napar nadaje się do picia lub można z niego robić okłady czy stosować jako tonik do przemywania skóry. Można też zrobić sobie mieszankę leczniczą na przeziębienie. Jednak tutaj oprócz kwiatów lipy potrzebne będą też kwiaty czarnego bzu i kłącza perzu. Miesza się je razem i wybiera jedną łyżkę mieszanki do szklanki, po czym zalewa wrzącą wodą i pozostawia na 10 minut pod przykryciem. Taki napar można stosować przed snem zapobiegawczo lub w przeziębieniu jako środek napotny.
Z kwiatów lipy mona też przyrządzić kąpiel. Potrzebne do tego będą: kwiaty lipy 50 g, kłącza tataraku 30 g, kwiaty lawendy 20 g i kwiaty wrzosu. Zioła zalewa się 2 litrami wrzącej wody i gotuje na małym ogniu przez pół godziny. Po czym wlewa do wanny napełnionej do 1/3 wysokości. Po 15-20 minutach kąpieli warto od razu położyć się do łóżka i zrelaksować lub pójść spać. Taka kąpiel nie tylko regeneruje skórę i działa odprężająco, ale przede wszystkim działa przeciwskurczowo, co może być zbawienne dla osób cierpiących na nocne skurcze.