Kot syberyjski – historia, wygląd, charakter, zdrowie (ludzi), żywienie/pielęgnacja
Miłośnicy zwierząt chcieliby mieć je blisko siebie w każdym momencie swego życia. Najlepiej takich o różnym gatunku i rasie, a także w dużej ilości. Nie ważne czy są one rasowe czy określane przez niektórych jako "dzikie". Jeśli zaś o dzikich mowa, warto się na chwilę zatrzymać i dowiedzieć się paru rzeczy o kocie syberyjskim. Ten zwierzak bowiem, w swej ojczyźnie przez ładnych kilkadziesiąt lat był uważany za zwykłego pospolitego dachowca. Niezwykłe, nieprawdaż?
Kot syberyjski – historia
W powstaniu tej rasy, udział brała wyłącznie natura. Oznacza to, że człowiek nie ingerował w to w żaden sposób. W Rosji kot syberyjski jest znany już od kilkuset lat. W tym czasie służył jako typowy kot – chronił dom i stodoły przed myszami, szczurami itp.. Niestety prowadzenie hodowli tych zwierząt czy urządzenie pokazów nie mogło mieć miejsca. W głównej mierze odpowiedzialna za to była panująca ówcześnie polityka. Ponadto spotykało się go na każdym kroku. Oprócz terenów tamtejszego Związku Radzieckiego, niektórzy osobnicy tej rasy byli spotykani w krajach takich jak Polska, Niemcy czy nawet USA. Dopiero nowy ustrój państwa otworzył drogę kotom syberyjskim do rozprzestrzenienia swego piękna i uroku na resztę świata. Oficjalnie, rasa została zarejestrowana w roku 1991. Sześć lat później, TICA – Międzynarodowe Stowarzyszenie Hodowców Kotów, przyznało tym zwierzętom miano pełnoprawnej rasy. Rok później zrobiła to także FIFe – Międzynarodowa Federacja Felinologiczna.
Polska
W roku 1989, po raz pierwszy w Polsce pojawił się kot syberyjski. Było to w czasie, gdy rasa nie została jeszcze oficjalnie uznana. Nosił on imię Bajra Rołas, a przywiozła go do kraju Sztykiel Jolanta. To ona, za sprawą tego zwierzęcia postanowiła założyć pierwszą w Polsce hodowlę syberyjskich kotów.
Stany Zjednoczone
Do USA pierwszy kot syberyjski przyjechał rok później niż do Polski czyli w roku 1990. Co ciekawsze, dokumenty medyczne, które do nich dołączono były tak naprawdę certyfikatami zdrowia dla ptaków z notatką, że dotyczą one kotów.
Wygląd
Koty syberyjskie zazwyczaj są dość duże. Ich średnia masa to około 8 kilogramów. W przypadku samców, może ona być nawet o 2 kilogramy większa, a u samic o 2 mniejsza. Ich ciało jest dość umięśnione, a do tego masywne. Do tego kark jest mocny, a klatka piersiowa szeroka. Według FIFE, kot syberyjski charakteryzuje się innymi cechami wyglądu, podług których zalicza się go do jednej z dwóch kategorii.
Ogólne cechy wyglądu
Głowa – jest delikatnie zaokrąglona, ale tak samo jak reszta ciała, masywna. Bardziej dłuższa aniżeli szeroka. Czoło tworzy lekki łuk i jest szerokie. Kości policzkowe (jarzmowe) wysoko położone i rozwinięte. Broda lekko cofnięta. Patrząc z profilu widzi się, że linia prowadząca od nosa do podbródka tworzy zakrzywienie.
Uszy – szerokie, ale średniej wielkości. U nasady są otwarte, zaś na końcach zaokrąglone kończące się pędzelkami. Chylą się ku przodowi, a w stosunku do głowy, są szeroko rozstawione.
Oczy – Duże, trochę owalne i wydają się być skośne. Znajdują się w miarę daleko od siebie. Dopuszcza się wszelkie kolory oczu, ale najlepiej jeśli będą zielone.
Ciało – przede wszystkim proporcjonalne, a kości mocne.
Nogi – średniej długości i mocne. Wlicza się w to także same łapki. Pomiędzy poduszkami rosną kępki włosów.
Ogon – długi, gruby, okrągły na końcu. Chociaż jest puszysty, sierść nie "wisi".
Futro – średniej długości, ale gęste. Nie przylega. Na wierzchu, sierść jest wodoodporna. Głaszcząc kota, czuje się lekką twardość. Futro zależne od pory roku. Na zimę rozwija się dość pokaźna grzywa, ogon i tylna część ciała.
Wadą w wyglądzie kotów syberyjskich określa się, gdy ich ciało jest niewielkie i delikatnie zbudowane. Do tego głowa jest wąska, okrągła a z profilu prosta. Uszy nie mogą być za duże, a tym bardziej znajdować się zbyt wysoko na głowie, a same oczy nie mogą być okrągłe. Źle jeśli sierść w dotyku jest miękka, jest jej mało i przylega płasko do ciała.
Umaszczenie
Każdy kolor futra jest akceptowalny. Wyjątek stanowi colorpoint czyli kolor typowy dla rasy syjamskiej. Na dodatek w 2009 roku wprowadzono nowy kolor zwany Neva Masquarade.
Podług kolorów, na wystawach, koty syberyjskie umieszcza się w oddzielnych grupach:
I – czarny/jednolity niebieski.

II – czarny/połączenie niebieskiego z białym.

III – czarny/tabby niebieski lub złocisty niebieski.

IV – czarny/złocisty niebieski lub złocisty niebieski z białym.

V – rudy/kremowy/szylkretowy (połączenie różnych kolorów łatek) jednolity, tabby, złocisty.

VI – rudy/kremowy/szylkretowy z dodatkiem białego.

VII – czarny/niebieski/rudy/kremowy/szylkretowy dymny lub srebrzysty.

VIII – taki jak grupa VII, ale z dodatkiem białego.

IX – biały.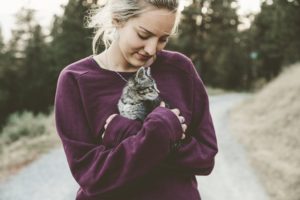 Charakter
Kot syberyjski, chociaż udomowiony, nadal jest lekko dziki. Samodzielny i łatwo go wychować, chociaż nie można zmuszać go do robienia czegokolwiek, zwłaszcza jeśli mu się to nie podoba. Będąc małym kotem trzeba poświęcić mu dużo czasu i uwagi. Odważny, pewny siebie, nie boi się wyzwań. Łatwo dostosowuje się do każdej sytuacji, lecz i od tej reguły zdarzają się wyjątki. Kot syberyjski jest kotem leśnym czyli lubi wysokość i wspinanie się. Do tego lubi dużo się ruszać, ale na szczęście bez niszczenia wszystkiego wokół. Ciekawski, czynnie uczestniczy w życiu rodzinnym. Dla dzieci będzie dobrym przyjacielem. Przywiązuje się do właściciela i okazuje mu uczucia. Zostawanie samemu sprawia mu przykrość. Nic nie stoi na przeszkodzie wychodzenia z nim na spacery czy na kontakt z innymi kotami/psami. Co ciekawsze, kot syberyjski może wydawać więcej dźwięków niż same miauczenie. Potrafi dodatkowo szczebiotać czy ćwierkać.
Zdrowie
Kot syberyjski jest naturalną rasą powstałą w dość trudnych i specyficznych warunkach. Chodzi tu zarówno o panujący klimat jak i środowisko. Można uznać, że to dzięki temu charakteryzuje się on niezwykłym zdrowiem i odpornością. Wśród chorób, do jakich mają predyspozycje wlicza się jedynie kardiomiopatię przerostową, która może powstać ze względów genetycznych albo po przebytym zapaleniu mięśnia sercowego. Niestety, przeciętny wiek kota syberyjskiego to 12 lat. Jeśli będzie on regularnie badany i zadbany, może być przeżyć dłużej. Ponadto nie trzeba się zbytnio martwić rozwojem kota w jego początkowych latach życia. Rośnie od dość długo w porównaniu do innych ras, a całkowita dojrzałość fizyczna jest uzyskiwana dopiero gdy zwierzak kończy około 3 lata.
Zdrowie ludzi
W ślinie tych kotów nie ma aż tyle białka odpowiedzialnego za alergie na koty u ludzi. Dzięki temu, na takie osoby działa on z mniejszą mocą.
Żywienie
Chociaż zwierzęta te nie są wybredne, trzeba dbać, aby ich dieta była zbilansowana, a podawana karma o dobrej jakości. Możliwe jest wykorzystanie diety BARF, ale tylko jeśli posiada się na jej temat wymaganą wiedzę. Przy samodzielnym komponowaniu pożywienia, trzeba dodać potrzebne witaminy i suplementy.
Pielęgnacja
Futro nie ma predyspozycji do ciągłego kołtunienia się, o ile co kilka dni kot syberyjski będzie czesany. W momentach linienia, czyli przy zmianie futra z zimowego na letnie i odwrotnie, szczotkowanie wykonuje się częściej. Kąpiele są akceptowalne, ale niezbyt często.