Kot perski – charakter, pielęgnacja, charakter, wychowanie, karma i sposoby na udomowienie
Kot perski jest uznawany za jedną z najstarszych ras. Cechuje się długim włosiem, dużymi i okrągłymi oczami oraz pełnymi policzkami. Zazwyczaj koty perskie są spokojne i przyjazne, więc uznaje się je za kocich towarzyszy dla każdego. Jednakże koty te są też bardzo dostojne i majestatyczne, a więc można spodziewać się po nich też posiadania "charakterku". Jak koty te przywędrowały aż z Iranu do Polski? Co warto wiedzieć o ich zachowaniu, wychowaniu i pielęgnacji?
Skąd pochodzi kot perski?
Jak nazwa wskazuje ta kocia rasa pochodzi ze wschodu, a obecnie terytorium Iranu. Znana jest już od czasów wypraw krzyżowych. Od XVII wieku pojawiała się też na salonach we Włoszech, Francji i Anglii. Choć pierwsze wzmianki o kotach długowłosych pojawiają się już od XVI wieku. Dlatego koty perskie uchodzą za jedną z najstarszych znanych ras kotów domowych.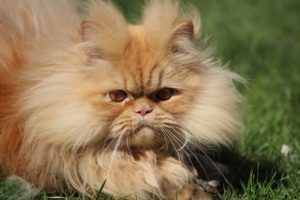 Uznaje się, że koty perskie są blisko spokrewnione z kotami egzotycznymi. Niestety z biegiem lat rasa ta ulegała zmianom. Kota perskiego po raz pierwszy na wystawie kotów rasowych pokazano w 1871 roku i był to kot smukły, z długim nosem, przypominający tureckie angory. Obecnie uznawany za kota perskiego przedstawiciel tej rasy cechuje się krępą budową, wystającymi policzkami, ale płaskim nosem. Dopiero w 2007 roku uznana wzorzec rasy, który nie będzie podległa już zmianom. Obecne persy jest to wynik czystej XIX. wiecznej hodowli brytyjskiej. Do utworzenia obecnych kotów perskich posłużyły koty angorskie. Selektywna hodowla, łączenie ras pokrewnych i długie lata badań doprowadziły kota perskiego do obecnego wyglądu.
Charakterystyczny wygląd persa
Ogólnie koty perskie uchodzą za koty średniej wielkości. Samce ważą nawet 6 kilogramów przy czym samice nie więcej niż 3-4 kilogramy. Przez masywną budowę wydawać się jednak może, że są to koty o wiele cięższe. Bardzo charakterystyczna u persów jest krótka, ale masywna szyja i duża głowa z okrągłym czołem, które przechodzi w grzbiet nosa. Dla persów znakiem rozpoznawczym są tez wypukłe i pełne policzki. Koty tej rasy mają też bardzo mocną, silną i prostą szczękę.
Bardzo ciekawe u persów są także oczy, ponieważ ich kolor odpowiada odmianie barwnej, jednak u każdego kota są one wielkie, okrągłe i szeroko rozstawione. Uszy kota perskiego są nisko osadzone, ale szeroko rozstawione przez co mogą wydawać się niewielkie. Pod brodą koty te mają tak zwaną kryzę, czyli gęsto i bardzo długą sierść. Sylwetka kota perskiego jest masywna i zbita, ponieważ ma on dobrze umięśniony grzbiet i szeroką klatkę piersiową. Można wręcz powiedzieć, że zarys sylwetki kota perskiego przypomina kwadrat. Także łapy są dość krótkie acz masywne i w przestrzeni między palcami wyrasta długie i gęste futro. Ogon kota perskiego też jest bardzo puszysty, ale w porównaniu do innych kotów dość krótki. Co ciekawe występuje około 150 odmian barwnych kotów perskich, ale wszystkie one zaliczane są do kotów długowłosych.

Karma dla kotów perskich
Kliknij i sprawdź ceny!
Kot z charakterem
Koty perskie opisywane są zwykle jako delikatne, spokojne, łagodne i uczuciowe koty. Ta rasa kota cechuje się zdolnością do łatwej adaptacji w otoczeniu co jest niezwykle ważne dla osób, które kupują lub przygarniają takiego kota, a już mają inne zwierzę domowe czy też małe dzieci, które mogą chcieć non stop bawić się z kotem. Wybór tej rasy będzie najlepszy także z tego względu, że koty perskie nie zachowują się głośno, wręcz nie miauczą czy nie mruczą bez wyraźnego powodu, lubią się bawić, ale nie lubią skakać czy się wspinać, a więc nie zdemolują mieszkania z nudów pod nieobecność właścicieli co się zdarza dość często przy innych rasach kotów.
Persy uznaje się za urocze, puchate domowe kotki idealne dla każdego. Mogą sprawiać wrażenie kluchowatych, ale wbrew pozorom są to koty bardzo inteligentne. Po prostu większość przedstawicieli tej rasy wybiera spokojne i leniwe życie, choć jako młode kotki bywają niezwykłymi psotnikami. Koty perskie uznaje się za niezwykle zrównoważone i bardzo rzadko pojawia się u nich zachowanie agresywne. Co nie oznacza, że każdy kot jest taki sam, ponieważ niestety zdarzają się sytuacje, gdzie kot perski jest agresorem nie tylko do innych zwierząt, ale wręcz do ludzi. Jest to tak zwane osobnicze uwarunkowanie i pojawia się rzadko, ale ze względu na budowę szczęki kot perski może bardzo mocno ugryźć, jeśli poczuje się zagrożony.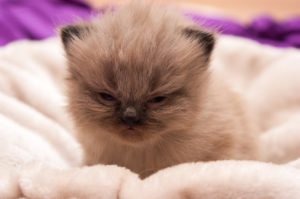 Dlatego tak ważne jest, aby kota sobie wychować. Musi on czuć się doceniany i przyjaźnie traktowany. Persy zwykle są cichymi towarzyszami, które nie lubią spędzać aktywnie czasu, ale z drugiej strony kochają być w centrum zainteresowania. Bardzo szybko też przywiązują się do swoich właścicieli. O kota perskiego trzeba dbać nie tylko psychicznie, ale też fizycznie, ponieważ mimo, iż koty te mają długie i puchate futro to nie chroni ich ono przed zimnem czy wilgocią. A do tego koty perskie dość często chorują.
Pielęgnacja persa
Niestety koty perskie wymagają troskliwej i regularnej pielęgnacji. Długie futro może ładne wyglądać, ale może też być zgrozą dla kota i jego właściciela. Odpowiednia pielęgnacja kota długowłosego to podstawa, aby nie tylko wyglądał on ładnie, ale też był zdrowy. Trzeba od razu zaznaczyć, że pielęgnacja kota domowe będzie wyglądała inaczej niż kota, którego przygotowuje się na wystawy. Wybierając kota jako domowego towarzysza wybiera się też lżejsze metody pielęgnacji, które zabierają mniej czasu. Przygotowanie kota perskiego do wystawy jest żmudne i trudne zarówno dla właściciela jak i dla kota.
Najważniejsze w pielęgnacji persa jest wprowadzenie sobie nawyku czesania kota co najmniej dwa razy dziennie. Niektórym kotom może się to nie podobać, dlatego tak ważne jest przyzwyczajenie kota od małego do szczotki i samego procesu czesania futra, ponieważ aby dobrze je rozczesać potrzeba nawet 15 minut. Niektóre koty perskie mają futro bardziej podatne na plątanie i filcowanie niż inne, dlatego wedle swojego rozeznania można kota czesać częściej lub rzadziej. Natomiast bardzo ważna jest szczotka czy grzebień, których użyjemy do czesania, ponieważ nie mogą one szarpać czy wręcz wyrywać włosów.
Kolejny istotny zabieg pielęgnacyjny to kąpiel. Co prawda mówi się, że koty nie lubią wody i nie znoszą kąpieli, ale w wypadku persów jest inaczej. Większość kotów tej rasy dobrze znosi kąpiele. Jednak tak jak w przypadku czesania i do kąpieli kota trzeba przyzwyczaić już od małego kociątka, aby kot wiedział, że nie mamy zamiaru zrobić mu krzywdy, a sama kąpiel będzie przyjemna. Do kąpieli używa się pudrów i lotionów oczyszczających, które trzeba kupić w sklepie zoologicznym. Nie wolno używać zwyczajnych szamponów przeznaczonych dla ludzi czy nawet dziecięcych, ponieważ nie chodzi tu o uniknięcie podrażnień skóry u kota, ale po prostu kocia sierść jest definitywnie inna niż ludzkie włosy i potrzebuje innych środków oczyszczających. Kąpać kota można raz w miesiącu, ale umyć łapy można częściej, jeśli tylko zachodzi taka potrzeba.
W wypadku kotów perskich trzeba też dbać o oczy i nos. Ze względu na budowę może u nich występować niedrożność kanalików nosowo-łzowych. Dlatego często trzeba je oczyszczać samemu specjalnymi środkami. Bardzo istotne jest też to, aby persów nie przekarmiać. Mimo, że mają być masywne z wyglądu nie oznacza to, że mogą jeść ile chcą, ponieważ i wśród tych kotów często występuje problem otyłości.