Kaczka to prawdziwy rarytas wśród mięs, jednak z uwagi na dosyć dużą zawartość tłuszczu nie powinna ona gościć na naszych stołach zbyt często. W dawnych czasach kaczka stanowiła nieodłączny element codziennej diety mieszkańców wiejskich terenów, ponieważ zajmowali się oni hodowlą tego ptaka, jednak z czasem mięso z kaczki stało się luksusowym produktem serwowanym wyłącznie na wielkich ucztach. Obecnie kaczkę podaje się pod różnymi postaciami w wielu restauracjach, jednak w okresie świątecznym można coraz częściej spotkać ją na naszych stołach. Co jednak warto wiedzieć o kaczym mięsie, jakie zawiera wartości odżywcze i w jaki sposób można je wykorzystać w kuchni?
Hodowla kaczek
Kaczka to ptak, który hodowany jest na wielu fermach, podobnie zresztą jak gęsi oraz kurczaki, które z Polski eksportowane są na zachód. Kaczki hodowane w naszym kraju karmione są przede wszystkim ziemniakami, otrębami, ziarnem oraz śrutą zbożową. Wśród najpopularniejszych ras, które najczęściej trafiają na nasze stoły, można wymienić w szczególności kaczkę Pekin oraz kaczkę Barbarie.
Wartości odżywcze kaczego mięsa
Mięso kaczki w odróżnieniu od mięsa kurczaka zawiera znacznie większe ilości kalorii, ponieważ w 100 g produktu można znaleźć nawet 240 kcal. Największą popularnością w świecie kulinarnym cieszą się kacze piersi, które wraz ze skórą są dosyć kaloryczne (pierś bez skóry zawiera ok. 140 kcal), jednak to właśnie wytapiająca się w trakcie obróbki termicznej skóra nadaje kaczce wyjątkowego smaku. W kaczym mięsie można znaleźć bardzo duże ilości pełnowartościowego białka, a także znaczną ilość niezdrowego tłuszczu, dlatego też ptak ten zaliczany jest do grona ciężkostrawnych pokarmów. Jeśli chodzi natomiast o cenne dla naszego zdrowia składniki odżywcze, to w kaczym mięsie można znaleźć witaminy A, E, z grupy B, PP, a także takie minerały jak mangan, żelazo, magnez, sód, miedź, fosfor, potas, wapń oraz cynk.
Zastosowanie kaczki w kuchni
Kacze mięso znalazło bardzo szerokie zastosowanie w kuchni, ponieważ można przygotowywać je na wiele przeróżnych sposobów. Dosyć popularnym obecnie daniem jest tradycyjna kaczka pieczona w jabłkach, jednak coraz większa liczba z nas sięga również po nowoczesne przepisy, przygotowując np. carpaccio z piersi kaczki, czy też orientalny rosół z kaczki. Kaczki idealnie nadają się do faszerowania i w takiej postaci lądują na naszych świątecznych stołach. bardzo smaczne i coraz częściej przygotowywane są również piersi kacze, które przez kilka minut należy smażyć na patelni skórą do dołu. Dzięki temu cały tłuszcz ulegnie wytopieniu, a kaczka zyska zupełnie odmiennego smaku i aromatu. Jeśli chodzi o dodatki do kaczki, to z mięsem tego ptaka idealnie komponuje się zasmażana kapusta, ziemniaki, jabłka, a także różnego rodzaju sosy przygotowywane na bazie owoców (maliny, rabarbar). Można ją podawać z czerwonym winem, a także przygotowywać z niej azjatyckie przysmaki zarówno na słodko, jak i na słono. Kaczkę można obecnie zakupić niemal w każdym supermarkecie, najczęściej w całości, jednak w sklepowych lodówkach coraz częściej zaczynają pojawiać się również zarówno kacze udka, jak i piersi. Kaczkę kupioną w całości można z powodzeniem podzielić na mniejsze części, umieszczając je następnie w zamrażarce.
Kaczka pieczona z jabłkami
Składniki:
2 kg kaczki (w całości),
3 ząbki czosnku,
4 małe jabłka,
700 g ziemniaków,
2 łyżki majeranku,
pieprz i sól do smaku
Sposób przygotowania:
Kaczkę dokładnie umyć, natrzeć przeciśniętym przez praskę czosnkiem, solą, pieprzem oraz majerankiem, przekładając następnie do naczynia żaroodpornego i odstawiając na całą noc w chłodne miejsce. Jabłka obrać, pokroić w ćwiartki i nafaszerować nimi kaczkę. Tak przygotowaną kaczkę należy wstawić do piekarnika nastawionego na temperaturę 200 stopni Celsjusza na 1,5 godziny, polewając kaczkę raz na jakiś czas wytapiającym się z niej tłuszczem. Po upływie tego czasu cały tłuszcz należy zlać z naczynia, pokrywając jego spód pokrojonymi w ćwiartki ziemniakami. Na ich szczycie należy ułożyć kaczkę, piekąc ją przez kolejną godzinę.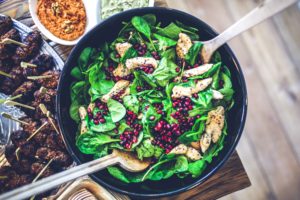 Piersi kaczki w sosie malinowym
Składniki:
2 piersi z kaczki ze skórą (pojedyncze),
odrobina soli (najlepiej gruboziarnistej) i pieprzu,
100 g świeżych malin (lub mrożonych),
1 łyżka miodu naturalnego,
1/4 szklanki wytrawnego czerwonego wina,
odrobina mieszanki przypraw piernikowych,
100 g foie gras,
50 ml 

kremówki
Sposób przygotowania:
Piersi z kaczki od strony skóry należy ponacinać w kratkę, uważając jednak, aby nie uszkodzić mięsa, doprawiając je następnie solą oraz pieprzem. Na zimnej patelni ułożyć skórą do dołu kaczkę, aby wytopić z niej tłuszcz. Po upływie około 14 minut mięso przełożyć na drugą stronę, podsmażając jeszcze przez 2 minuty. Tak przygotowane piersi należy następnie wstawić w żaroodpornym naczyniu do rozgrzanego do 200 stopni Celsjusza piekarnika, piekąc mięso przez ok. 8 minut. Na patelni, na której smażyła się kaczka, należy przygotować sos malinowy, zlewając jednak pozostały tłuszcz oraz dokładnie ją wycierając. Na patelnię należy wlać wino, zagotowując je i dodając do niego następnie maliny. Po upływie 3 minut do sosu należy dodać miód, doprawiając całość odrobiną soli i pieprzu. W małym rondelku zagotować kremówkę, ściągając ją następnie z ognia i dodając do niej pokrojone w kosteczkę foie gras. Całość należy wymieszać, a następnie bardzo dokładnie zblendować na gładki mus. Mus wyłożyć na talerz, kaczkę pokroić na mniejsze kawałki, układając następnie na musie i polewając sosem malinowym.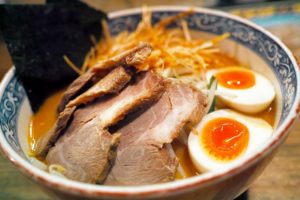 Orientalny rosół z kaczki
Składniki:
1 mała kaczka,
2 średniej wielkości marchewki,
1 pietruszka,
kawałek pora i selera,
100 g makaronu ryżowego,
1 mała cebula dymka,
25 g grzybów mun,
ok. 4 cm kawałek imbiru,
1 papryczka chili,
3 łyżki sosu sojowego ciemnego,
po 1 łyżeczce cynamonu i kuminu,
4 ziarenka pieprzu czarnego,
2 liście laurowe,
2 liście 

kaffiru

 (może być bez),
odrobina soli i pieprzu do 

smaku
Sposób przygotowania:
Kaczkę należy dokładnie umyć, nacierając następnie kuminem, cynamonem, pieprzem i solą. Kaczkę należy przełożyć do dużego garnka, zalewając ją ok. 2,5 l wody. Całość należy zagotować, zmniejszając następnie ogień i gotując przez około pół godziny pod przykryciem. Po tym czasie do gotującego się wywaru należy dodać obrane warzywa oraz przyprawy, gotując całość na wolnym ogniu przez około 90 minut. Po tym czasie zupę należy przecedzić, doprawiając odrobiną soli i pieprzu. Z kaczki należy ściągnąć mięso, dodając je następnie do zupy, podobnie zresztą, jak i pokrojone grzybki mun. W międzyczasie należy ugotować makaron ryżowy, zalewając go następnie przygotowanym wcześniej rosołem.