Maltańczyki to idealne psy do towarzystwa. Są przyjazne, wiecznie chętne do zabawy, eleganckie, a ich uroda przyciąga uwagę wielu osób. Właściciele maltańczyków powinni zdawać sobie sprawę, że wymagają one wiele uwagi i codziennej pielęgnacji. I nie chodzi tutaj tylko o szczotkowanie włosów psa, ale także o jego oczy, pazurki, czy uszy.
Szata maltańczyka
Włos maltańczyków rośnie przez całe ich życie, dzięki temu, że nie posiada podszerstka i nie wypada. Maltańczykowy włos jest gęsty, bujny i długi, przez co może jednak ulegać filcowaniu i kołtunieniu, gdy nie jest poddany odpowiedniej pielęgnacji. Codzienne zabiegi pozwolą utrzymać ład, dzięki czemu nie znajdziemy włosów maltańczyka na podłodze, czy wplątanych w nasze dywany. Pielęgnacja maltańczyka przypomina niektórym kocią wersję kota perskiego.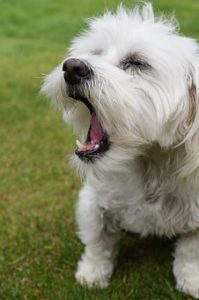 Czesanie i kąpiele
Czesanie maltańczyka powinno odbywać się każdego dnia, tym bardziej, jeżeli jego sierść jest gęsta i długa. Szczotka z metalowymi igłami wystarczy w zupełności. Niektóre szczotki zawierają zaokrąglenia na pinach, które mogą utrudniać rozczesywanie i powodować wyrywanie włosów. Warto więc zainwestować w porządną szczotkę zakończoną prostymi pinami wykonanymi z metalu. Ułatwi nam to proces rozczesywania i nie podrażni delikatnej skóry maltańczyka.
Kąpiele maltańczyka powinny odbywać się nie częściej i nie rzadziej niż raz na dwa – trzy tygodnie. Pierwsza kąpiel powinna odbyć się w momencie, kiedy jesteśmy pewni, że szczeniak zaaklimatyzował się w nowym miejscu. Dlatego zalecana jest tutaj cierpliwość i brak pośpiechu. Przed kąpielą warto porządnie rozczesać psa. Kąpiel zaczynamy od wyłożenia wanny ręcznikiem, czy matą antypoślizgową. Po delikatnym polaniu psa wodą należy przystąpić do namydlania. Namydlanie szamponem powinno być delikatne i mieć formę masażu. Zaczynamy od zadniej części psa, przechodząc powoli w stronę głowy. Podczas mycia głowy należy szczególnie uważać, aby nie moczyć oczu psa oraz jego nosa. Następnie szampon należy spłukać, a na sierść nałożyć odżywkę, która także będzie spłukana po krótkiej chwili.
Po takiej kąpieli możemy przystąpić do osuszania psa. Zawijamy maltańczyka w ręcznik i spokojnie czekamy aż wchłonie on wodę. Następnie możemy użyć suszarki, pamiętajmy jednak aby siła podmuchu i jego temperatura nie była zbyt wysoka. Suszenie powinniśmy połączyć z ponownym rozczesywanie włosów maltańczyka.
Zęby
Niestety wiele właścicieli psów zaniedbuje zęby swoich pupili. Regularne szczotkowanie uzębienia jest równie ważne, co regularna kąpiel. W każdym sklepie zoologicznym będziemy mogli nabyć specjalne pasty i szczoteczki do psich zębów. Warto również pamiętać o różnego rodzaju przekąskach, które pozytywnie wpływają na szkliwo zębów naszych pupili. Zdrowe zęby maltańczyka będą gwarancją komfortu psa podczas zabaw i posiłków.
Pazurki
Pazurki maltańczyka powinny być pielęgnowane i obcinane stosunkowo często. Jest to czynność bardzo stresująca dla psa, dlatego trzeba go przyzwyczaić do obcinacza już od pierwszych dni. Pazurki maltańczyków nie zawsze ulegają ścieraniu, dlatego ich stan powinniśmy regularnie kontrolować. Przycinanie wymaga dużo doświadczenia i wprawy, albowiem pazurki maltańczyków najczęściej są czarne i trudno jest zidentyfikować zrogowaciałą część. Pazurki powinny być przycinane zaraz za zgięciem poduszkowej części. Zawsze możemy zwrócić się o pomoc do weterynarza, jeżeli jest to czynność zbyt stresująca dla naszego pupila.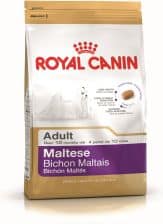 Karma dla maltańczyka
Kliknij i sprawdź ceny!
Oczy
Jednym z najczęstszych problemów występujących u maltańczyków jest łzawienie oczu. Brunatno-pomarańczowy nalot pod oczami nie należy do estetycznych, dlatego warto zwrócić szczególną uwagę na pielęgnacje oczu psa. Łzawienie jest najczęściej spowodowane:
alergią,
włosami,
bakteriami,
zatkanymi kanalikami łzowymi.
Nie uda nam się wyeliminować wszystkich przyczyn, niemniej jednak regularne oczyszczanie oczu wacikiem nasączonym solą fizjologiczną lub oczysczoną wodą. Na rynku pojawia się coraz więcej preparatów, jednak ich skuteczność dalej pozostawia wiele do życzenia.
Uszy
Uszy maltańczyka wymagają regularnej pielęgnacji. W zaniedbanych uszach często występuje stan zapalny, który bywa bardzo bolesnym i nieprzyjemnym dla psa doświadczeniem. Oznacza to, że musimy je rozczesywać i przecierać nasączonym wacikiem kosmetycznym. Można także pójść krok dalej i usunąć włosy z środka uszu. Jest to proces bezbolesny. Włosy można wyrwać za pomocą pincety lub wykorzystać własne palce. Wnętrze uszu można zakropić olejkiem aptecznym, aby ochronić maltańczyka przed pasożytami.
Pasożyty
Pasożyty to wróg każdego psa, niezależnie od rasy. Wszy, pchły, czy kleszcze to istoty, z którymi jako właściciele powinniśmy sobie poradzić. Rozwiązaniem mogą być tutaj specjalne odżywki do włosów, czy obroże anty-kleszczowe.
Podsumowując, pielęgnacja maltańczyka nie wymaga wielkich umiejętności, a jedynie chęci i motywacji. Powinna ona odbywać się regularnie i nie wolno jej zaniedbywać. Warto zwrócić uwagę na wszystkie aspekty – sierść, uszy, oczy, czy pazurki naszego pupila. Maltańczyki to psy wymagające, ale obdarzone odpowiednią dbałością i troską odpłacą się nam swoją energią i chęcią do niekończącej się zabawy.