Granat to dosyć popularny i nietypowy owoc egzotyczny, który zamiast mięsistego miąższu zawiera malutkie nasionka. Niektóre osoby niestety dosyć negatywnie podchodzą do tego owocu z uwagi na jego dosyć specyficzną strukturę, jednak z uwagi na cenne dla zdrowia witaminy i minerały, warto wprowadzić go na stałe do codziennego menu. Warto przy tym podkreślić, iż nie trzeba od razu rzucać się na ziarenka granatu, ponieważ można zamienić je na przepyszny i bardzo zdrowy sok. Jakie jednak wartości odżywcze znajdują się w granacie, jakie właściwości lecznicze wykazuje ten owoc i w jaki sposób można go wykorzystać w kuchni?
Skąd pochodzi granat?
Granat to owoc granatowca, czyli dosyć wysokiego drzewa, które od wielu wieków rośnie na terenach w okolicy Morza Śródziemnego. Owoce granatowca można obecnie bez problemu zakupić w każdym sklepie a z uwagi na dosyć niską ceną i szereg cennych dla zdrowia właściwości warto po nie sięgać tak często, jak to tylko możliwe. Osoby, które nie przepadają za pestkami, nie muszą na szczęście czuć się poszkodowane, ponieważ mogą z powodzeniem zastąpić przepysznym i bardzo zdrowym sokiem z granatów. W dawnych czasach sok ten stanowił prawdziwe remedium na wiele dolegliwości, jednak również teraz można czerpać wiele korzyści z jego picia.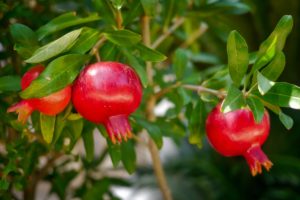 Wartości odżywcze granatu
Granat to średniokaloryczny owoc, który ma dosyć niski indeks glikemiczny, dlatego też bez obaw mogą po niego sięgać osoby zmagające się z cukrzycą. Jeśli chodzi natomiast o cenne dla zdrowia składniki odżywcze, to w granacie można znaleźć dosyć duże ilości błonnika, a także witaminy z grupy B, witaminy C, E, K, miedź, fosfor, potas, cynk, magnez oraz liczne przeciwutleniacze.
Właściwości lecznicze granatu
Granat wykazuje szereg cennych dla zdrowia właściwości leczniczych, wśród których można wymienić w szczególności:
walkę z niektórymi nowotworami a w szczególności z rakiem piersi i rakiem prostaty,
łagodzenie problemów trawiennych oraz kobiecych dolegliwości pojawiających się podczas 

PMS

,
przeciwdziałanie problemom z erekcją poprzez pobudzenie libido oraz podniesienie doznań erotycznych,
poprawę prepływu krwi, co wpływa w efekcie na obniżenie ciśnienia,
opóźnianie procesu starzenia się organizmu,
korzystny wpływ na wygląd skóry poprzez redukcję zmian trądzikowych oraz wzmocnienie ścian naczyń 

krwionośnych
Zastosowanie granatów w kuchni
Nasiona granatu można z powodzeniem wykorzystać jako dodatek do sałatek, koktajli, owsianki, galaretek oraz różnego rodzaju sosów. Sprawdzają się one również idealnie do produkcji soków oraz przeróżnych napoi alkoholowych.
Sangria
Składniki:
250 ml soku z granatu,
750 ml czerwonego wina,
350 ml wody mineralnej,
50 ml likieru pomarańczowego (nie trzeba go dodawać, ale można),
po 1 sztuce limonki, pomarańczy i zielonego jabłka,
nasiona granatu,
kilka listków 

mięty
Sposób przygotowania:
Obrane, opłukane i pokrojone w kosteczkę owoce wrzucić do dużego dzbanka, zalewając je sokiem z granatu wymieszanym z likierem pomarańczowym. Na koniec do dzbanka wlać wino, wodę niegazowaną oraz wsypać nasiona granatu, mieszając bardzo dokładnie oraz ozdabiając listkami mięty.
Owsianka z granatem i nasionami 
chia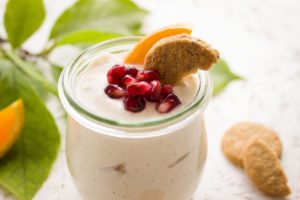 Składniki:
1/2 szklanki płatków owsianych,
1/2 nasion granatu,
1 szklanka mleka roślinnego,
2 łyżki nasion 

chia

,
1 łyżka syropu klonowego (można, ale nie trzeba go dodawać

)
Sposób przygotowania:
Płatki owsiane zalać mlekiem, dodając do nich następnie nasiona chia, mieszając oraz odstawiając na całą noc w chłodne miejsce (oczywiście pod przykryciem). Rano całość przelać do garnka, podgrzewając przez chwilę i cały czas mieszając, aby płatki nie przylepiły się do dna garnka. Tak przygotowaną owsiankę posypać nasionami granatu, polewając opcjonalnie odrobiną syropu klonowego. W sezonie letnik do owsianki można również dodać owoce sezonowe takie jak brzoskwinie, maliny, borówki oraz truskawki.
Sałatka z granatem, mango i kaczką w sosie śliwkowym
Składniki:
2 kacze udka,
mieszanka roszponki z rukolą,
1/2 owocu granatu,
1 małe mango,
szczypta soli i pieprzu
Składniki na sos:
3 łyżki śliwkowych powideł,
po 1 łyżeczce octu winnego i soku z cytryny,
odrobina tymianku, soli i pieprzu do 

smaku
Składniki na marynatę do kaczki:
2 ząbki czosnku,
olej rzepakowy,
1 liść laurowy,
1 łyżeczka tymianku,
1/2 łyżeczki 

soli
Sposób przygotowania:
Udka kacze umyć pod bieżącą wodą, wysuszyć papierowym ręcznikiem, natrzeć solą, włożyć do woreczka oraz schłodzić, wkładając na całą noc do lodówki. Kacze udka na drugi dzień bardzo dokładnie osuszyć, wkładając do garnka skórą do dołu razem z tymiankiem, przeciśniętymi przez praskę ząbkami czosnku oraz liściem laurowym. Tak przygotowaną kaczkę zalać olejem rzepakowym w takiej ilości, aby zakrył całe mięso.
Całość gotować pod przykryciem na małym gazie przez około 3 godziny lub do momentu aż mięso będzie z łatwością odchodziło od kości. Gdy udka będą już miękkie odsączyć je z nadmiaru tłuszczu, dzieląc na mniejsze części (kości wyrzucić). Do małego garnuszka wrzucić wszystkie składniki na sos śliwkowy, zagotowując je oraz gotując przez około 2 minuty. Z granatu wyłuskać ziarenka, natomiast mango obrać, umyć oraz pokroić w małą kostkę. Na talerzu wyłożyć sałatę, posypując ją odrobiną soli i pieprzu, układając na niej następnie kawałki kaczki. Tak przygotowaną sałatkę obsypać nasionami granatu oraz polać przygotowanym wcześniej sosem śliwkowym.
Panna 
cotta

 z galaretką z granatu

Składniki na galaretkę:
60 ml soku z granatu (ok. 1/4 szklanki),
2 łyżeczki ciepłej wody,
3/4 łyżeczki żelatyny,
2 łyżki cukru,
2 łyżki ziarenek granatu
Składniki na Panna Cottę:
0,5 l śmietany kremówki,
1 łyżka żelatyny,
2 łyżki ciepłej wody,
po 1/2 szklanki wiórek kokosowych oraz cukru pudru
Sposób przygotowania:
W pierwszej kolejności przygotować galaretkę, wsypując do małej filiżanki żelatynę, mieszając ją z ciepłą wodą oraz odstawiając na kilka minut na bok. Do średniej wielkości garnka wlać sok z granatu, dodając do niego następnie cukier oraz ziarenka granatu i podgrzewając całość na niewielkim ogniu, aż cukier się rozpuści. W tym momencie dodać żelatynę, mieszając całość, aż wszystkie składniki idealnie się ze sobą połączą. Tak przygotowaną galaretkę przelać najlepiej do 4 małych filiżanek, odstawiając w chłodne miejsce do zastygnięcia. W międzyczasie można przygotować Panna Cottę mieszając ponownie w filiżance żelatynę z ciepłą wodą. W garnku umieścić kremówkę, wiórki kokosowe oraz cukier puder, podgrzewając całość na małym ogniu, aż cukier całkowicie się rozpuści.
Następnie do zawartości garnka dodać namoczoną żelatynę, mieszając przez kilka minut, wystudzając następnie oraz wlewając do filiżanek z zastygniętą galaretką. Całość odstawić w chłodne miejsce na kilka godzin, aby Panna Cottazastygła. Po upływie tego czasu zawartość filiżanki przełożyć delikatnie na talerz, polewając ciepłym syropem z granatu. Taki syrop można bez problemu kupić w każdym sklepie, jednak warto go również przygotować w domowym zaciszu. W tym celu do małego garnka należy wlać 250 ml soku z granatu, wsypując 1/2 szklanki cukru i podgrzewając całość do momentu, aż cukier się całkowicie rozpuści a mieszanka zgęstnieje. Gdy syrop będzie już gotowy, należy go przestudzić, wsypując do niego 1/4 szklanki nasion granatu.