Właściwości lecznicze różnokolorowych glinek są znane od czasów starożytnych. Chociaż do dzisiaj nie przetrwało zbyt wiele informacji w jaki sposób nasi przodkowie wykorzystywali ten mineralny surowiec. Wiadomo jedynie, że glinki było wykorzystywane od najdawniejszych czasów w obrzędach religijnych. W starożytnym Egipcie, na przykład, używano glinkę do balsamowania zwłok. Zielona glinka z uwagi na swoje bakteriobójcze właściwości, jeszcze w średniowieczu dodawana była do wody pitnej chroniąc w ten sposób, jak wierzono, przed epidemią czerwonki. W okresie nowożytnym zieloną glinkę rozpowszechnili w Europie Francuzi właśnie jako surowiec kosmetyczny.
Czym jest glinka kosmetyczna?
Glinka kosmetyczna, zwana też kaolinem, pochodzi z grupy minerałów ilastych, czyli takich, których działanie polega na odpowiedniej absorpcji wszelkich zanieczyszczeń, jakie mogą pojawić się na skórze, mowa tu o sebum czy produktach powstałych w wyniku procesów metabolicznych skóry. Glinka posiadając ładunek ujemny, przyciąga do siebie cząsteczki o ładunkach dodatnich zlokalizowane w toksycznych substancjach.
Glinki kosmetyczne poza tym zawierają mnóstwo makro i mikroelementów:
krzem – przede wszystkim
magnez
wapń
potas
żelazo
fosfor
cynk
miedż
selen
Glinki kosmetyczne, bez względu na swój kolor posiadają dodatkowo właściwości
oczyszczające
antyseptyczne
wygładzają skórę
ujędrniają skórę
usuwają martwy naskórek
mineralizują skórę
absorbują zanieczyszczenia z powierzchni skóry
Skąd się biorą kolory glinek?
Kolor glinek zależy od jej składu. Jony pierwiastków zawartych w glince decydują o jej kolorze i tym samym o szczególnych właściwościach danej glinki. Dzięki temu każda z glinek różni się nie tylko swoją barwą, ale i właściwościami, tym samym każda z nich inaczej działa na skórę i spełnia inne zadania. W kosmetyce, czy też lecznictwie wyróżnia się ich kilka rodzajów.
Gdy samodzielnie dokonuje się zakupu glinki kosmetycznej należy zwrócić uwagę na ilość i jakość substancji aktywnej zawartej w glince. Te najlepsze posiadają jej do 98%. Daje to gwarancję, że zakup, dokonany ze względu na szczególne właściwości danego typu glinki przyniesie oczekiwany rezultat. Trzeba również sprawdzić, czy do wybranej glinki nie dodano różnego rodzaju dodatków, wypełniaczy, substancji zapachowych, antyzbrylaczy, emulgatorów czy też innych substancji chemicznych obecnych w większości produktów kosmetycznych. Wszystkie te dodatki rozrzedzają konkretne właściwości glinki . I jak w przypadku wszystkich kosmetyków, im więcej dodatków chemicznych w takim produkcie tym jest on tańszy, ale i mniej skuteczny.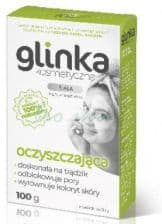 Szeroki wybór glinek kosmetycznych
Kliknij tutaj i sprawdź ceny!
Glinka zielona i inne kolory
Zielona glinka posiada swój charakterystyczny kolor dzięki jonom żelaza dwuwartościowego. Stosuje się ją do pielęgnacji cery tłustej, mieszanej oraz trądzikowej. A także używa do skóry z egzemą i łuszczycą. Nie powinny natomiast stosować jej osoby o cerze delikatnej i suchej. Zielona glinka dzięki pierwiastkowi żelaza wykazuje właściwości antyseptyczne, hamuje również namnażanie się niechcianych bakterii i eliminuje je ze skóry.
Zielona glinka dezynfekuje również ranki i przyspiesza ich gojenie. Stosowana jest w kosmetyce również ze względu na właściwości oczyszczające i kojące. Zmniejsza też pory i łagodzi stany zapalne, reguluje wydzielanie sebum i poprawia napięcie skóry. Wyraźnie wspomaga leczenie skóry z problemami, również z aktywną egzemą i łuszczycą. Zielona glinka poprzez swoje właściwości ściągające pomaga walczyć z pierwszymi zmarszczkami.
Kolorowe glinki
Nie tylko zielona glinka jest tak cennym surowcem w kosmetyce, inne rodzaje kolorowych glinek są równie często stosowane:
Glinka czerwona, podobna w działaniu do glinki zielonej. Zalecana do cery tłustej, jednak w tym przypadku również do cery wrażliwej i naczynkowej. Jest nieco łagodniejsza niż zielona glinka, pomaga w leczeniu trądzika różowatego i zapobiega rozszerzaniu i pękaniu naczynek krwionośnych. Częste używnie glinki czerwonej może delikatnie zmienić odcień cery.
Glinka żółta, posiada więcej tlenku żelaza niż poprzednie surowce, stosuje się ją do pielęgnacji cery trądzikowej, mieszanej oraz tłustej. Zalecana jest do cery dojrzałej.
Biała glinka, tzw. glinka chińska albo porcelanowa. Posiada szereg poszukiwanych właściwości: jest ściągająca, odżywiająca, regenerująca. Najkorzystniej działa na cerę suchą i delikatną, wrażliwą, zmęczoną i o pierwszych zmarszczkach. Pomaga w leczeniu drobnych ranek i poprawia odcień skóry. Biała glinka jest niezwykle łagodna, dlatego używa się ją nawet do produkcji pudru dla niemowlaków.
Glinka błękitna, czyli bentonitowa, jest mieszaniną minerałów dlatego stosuje się ją do cery z problemami i to przewlekłymi, jak: łuszczyca, egzema czy łojotok. Glinka błękitna wnikając głęboko w skórę odżywia ją, regeneruje, a także dotlenia poprzez poprawę jej mikrokrążenia. Wykorzystując jej właściwości zaleca się ją do zabiegów na obszary ciała objęte cellulitem. Glinka błękitna ceniona jest szczególnie za swoją zdolność absorpcji sebum.