Dynia jest warzywem o wysokiej zawartości składników odżywczych. Jest bogata w witaminy i minerały, ale ma niską kaloryczność.  Istnieje wiele sposobów na włączenie dyni do codziennego jadłospisu w postaci deserów, zup, sałatek, przetworów, a nawet jako substytutu masła dla wegan.
Dynia jako źródło beta karotenu i błonnika
Dynia jest jednym z najbardziej znanych źródeł beta-karotenu, który organizm przekształca w witaminę A.  Spożywanie pokarmów bogatych w beta-karoten może zmniejszyć ryzyko zachorowania na niektóre rodzaje nowotworów, zapewnić ochronę przed astmą i chorobami serca oraz opóźnić proces starzenia i zwyrodnienie organizmu. Może również pomóc w zapobieganiu cukrzycy i chorobom serca oraz być przyczyną zdrowej cery i włosów. Błonnik natomiast pomaga utrzymać zdrowie jelit. Dieta bogata w błonnik może zmniejszyć ryzyko wystąpienia hemoroidów i choroby uchyłkowej okrężnicy. Włókna błonnika natomiast mogą pomóc obniżyć całkowity poziom cholesterolu we krwi poprzez obniżenie poziomu lipoprotein.
Dynia jako magazyn witamin
Dynia jest pełna witamin. Witamina C jest dobrze znana ze wzmacniania układu odpornościowego, ale także wspomagania układu sercowo-naczyniowego. Wraz z karotenoidami znajdującymi się w dyni, witamina E zapewnia również zdrową skórę, chroniąc ją przed uszkodzeniem przez słońce. Ryboflawina znajdująca się w dyni należy do rodziny witamin z grupy B i działa jako przeciwutleniacz, zapobiegając uszkodzeniom DNA i komórek poprzez hamowanie związków wolnych rodników. Odgrywa również rolę w wspomaganiu układu nerwowego i rozkładaniu tłuszczów, węglowodanów i białek na energię. Dynia zawiera również witaminy z grupy B, takie jak niacyna, kwas pantotenowy, pirydoksyna i kwas foliowy, a także witaminę E i jak również witaminę K.
Dynia i jej bogactwo minerałów
W miąższy dyni zawarty jest także potas, wapń, magnez, fosfor i cynk. Jest również dobrym źródłem żelaza i miedzi dla zdrowych włosów. Podobnie jak wszystkie warzywa, zawartość składników mineralnych będzie się różnić w zależności od gleby, w której jest uprawiana. Produkty organiczne są często uprawiane na glebach o mniejszej intensywności upraw i glebach bardziej bogatych w minerały, co może prowadzić do większej ich zawartości w warzywach. Istnieje błędne przekonanie, że dynie są tuczące, ale wielu składników odżywczych, dynia ma niską kaloryczność, jedynie około 25 kalorii na 100 gramów. Nawet przy tak niskiej kaloryczności dynia jest niezwykle sycąca co, dzięki czemu może być świetnym posiłkiem dla każdego, kto chce schudnąć.
Dynia i jej korzyści zdrowotne
Dynie mają wiele zalet zdrowotnych, choć rzadko zajmują centralne miejsce na stole wśród jesiennych posiłków. Wymienione poniżej korzyści zdrowotne mogą zmienić nasze zdanie o tym niedocenianym warzywie.
Dynia wypełniona karotenoidami, pomaga chronić komórki przed szkodliwym działaniem wolnych rodników. Po spożyciu beta-karotenu, na przykład, organizm przekształca go w witaminę A, jednocześnie zwiększając ogólną funkcję immunologiczną. W oparciu o zawartość przeciwutleniaczy w dyniach wiele firm wykorzystuje obecnie jej właściwości do wytwarzania produktów do pielęgnacji skóry. Dynia może być stosowana miejscowo, np. w postaci maseczki może pomóc spowolnić objawy starzenia.
Dynia chroni wzrok. Jak wspomniano, dynia jest bogata w beta-karoten, a po spożyciu, którego korzystamy z witaminy A. W rzeczywistości, po spożyciu 100 gram dyni, uzyskujemy prawie dwa razy więcej zalecanego dziennego spożycia witaminy A. Ta ważna witamina pomaga w wspomaganiu optymalnego zdrowia wzroku, zmniejszając ryzyko wystąpienia zwyrodnieniowych chorób oczu
Oprócz korzystnych przeciwutleniaczy i błonnika, które przyczyniają się do pozytywnego zdrowia serca, pestki dyni posiadają niezbędne tłuszcze, fitosterole, magnez i cynk.
Dodanie do diety oleju z pestek dyni nie tylko wspomaga pracę serca, ale również normalizuje ciśnienie krwi.
To zwiększa wchłanianie magnezu. Chociaż magnez odgrywa zasadniczą rolę w zdrowiu kości i serca, jest również obecny w ponad 300 różnych procesach metabolicznych. Od wytwarzania energii po aktywację nerwów i mięśni. Spożywając tylko 100 gram pestek dyni dziennie, możemy czerpać korzyści z prawie 40 procentowego dziennego zalecanego spożycia magnezu. Biorąc pod uwagę, że jego niedobór może prowadzić do wielu chorób, od zaburzeń lękowych do osteoporozy, nasiona dyni są łatwym i skutecznym sposobem na zapewnienie sobie wystarczającej ilości magnezu.
Spożywanie pestek dyni w leczeniu dolegliwości związanych z powiększeniem prostaty i układem moczowym to stary, lecz zapomniany lek, który teraz powraca. Opierając się na wysokim stężeniu fitosteroli, uważa się, że związki te mogą zmniejszać stany zapalne prostaty. Nasiona dyni są również bogate w substancje, które uniemożliwiają przekształcenie testosteronu w DHT, hormon, który często wiąże się z powiększeniem prostaty, a także łysienie typu męskiego.
Dynia nawilża suchą skórę
Produkty do pielęgnacji skóry zawierające ekstrakty z dyni, takie jak peelingi i kremy nawilżające, mogą być stosowane na wszystkich typach skóry, aby pomóc usunąć stare powierzchowne komórki skóry i wspomagać produkcję nowych. Dynia zawiera naturalne enzymy, które pomagają w rozpuszczaniu suchych komórek skóry.  Ze względu na wysoką zawartość enzymów, produkty do pielęgnacji stóp z dyni są również bardzo skuteczne w nawilżaniu, łagodzeniu i zmiękczaniu suchej i popękanej skóry. Aby zrobić własna dyniową maseczkę możemy połączyć 2 łyżeczki oleju kokosowego, z kilkoma kroplami oleju z winogron i 2 łyżkami puree z dyni. Gotową maseczkę nakładamy na skórę na 30 minut, po czym zmywamy ciepłą wodą.
Dynia tonizuje i poprawia kondycję skóry trądzikowej
Dynia zawiera witaminy E i T, popularnie zwane torulityną, które są pomocne w walce z trądzikiem. Toniki do skóry, peelingi i maseczki przeciwtrądzikowe z dyni wspomagają skórę poprzez zwalczanie stanów zapalnych, zmniejszanie wielkości porów, kontrolowanie nadmiaru sebum  i zapobieganie pojawianiu się wyprysków, zaskórników oraz skaz. Możemy pocierać miąższem ze świeżej dyni skórę twarzy dwa razy dziennie po umyciu, aby uzyskać naturalny toner likwidujący niedoskonałości.
Dynia wzmacnia włosy i pielęgnuje skórę głowy
Miąższ z dyni świetnie nadaje się do pielęgnacji skóry głowy i przywracania włosom naturalnego blasku. Począwszy od głowy, która utrzymuje korzenie włosów, dynia odżywia ją dzięki obecności witaminy A i pomaga zachować jej zdrowie. Dynie są bogate w potas i magnez, a zatem sprzyjają porostowi i zapobiegają wypadaniu włosów. Cynk pomaga utrzymać kolagen, a tym samym odgrywa ważną rolę w prawidłowym utrzymaniu kondycji włosów. Dynia zawiera również kwas foliowy, ważną witaminę B, która stymuluje wzrost włosów poprzez poprawę krążenia krwi.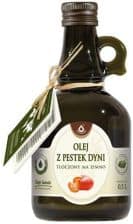 Inne produkty z dynią
Kliknij i sprawdź ceny!
Przepis na smaczne masło z dyni
Dynię należy pokroić na niewielkie kawałki, które zalewamy gorącą wodą w rondelku. Gotujemy przez 15 minut po czym odcedzamy. Do ugotowanego miąższu dodajemy śmietankę sojową lub owsianą oraz rozpuszczony olej kokosowy i bledniemy tak długo aż uzyskamy puszystą masę. Do smaku dodajemy sól. Po kilku godzinach w lodówce, kiedy masa osiągnie odpowiednią konsystencję możemy nią smarować kanapki.