Dna moczanowa to choroba, której nie da się uleczyć. Choć jest ona – kolokwialnie mówiąc – znana wręcz od początków ludzkości – to medycyna, nawet współczesna, wciąż nie poznała przyczyny dny moczanowej i – niestety – nadal nie został wynaleziony skuteczny lek.
Dna moczanowa to inaczej choroba przewlekła, która jest wywołana zaburzeniami materii. Dna moczanowa występuje u zaledwie od jednego do dwóch procent ludzi – w głównej mierze u mężczyzn w średnim, a także podeszłym wieku.
Jedną z przyczyn bólu oraz zniekształcenia stawów jest nadmiar kwasu moczowego, który pochodzi z puryn, a także rozpadu obumierających tkanek. We krwi bowiem rozpuścić może się tylko jego określona ilość, w związku z czym, kiedy kwasu jest zbyt wiele w organizmie, kryształki – moczany – odkładają się, a następnie rosną w stawach, bądź w tkance okołostawowej.
Moczany w późniejszym czasie stają się bardzo ostre, niczym brzytw i ranią tkankę, a w efekcie wywołują stan zapalny. Wyróżnić można dwa rodzaje dny moczanowej:
pierwotna dna moczanowa to zaburzenie metabolizmu, który jest dziedziczny. Organizm produkuje zbyt dużą ilość kwasu moczowego, a następnie ma problem z jego wydalaniem. Przyczyna tejże choroby wciąż nie jest znana;
wtórna dna moczanowa może pojawiać się w następstwie białaczki, przewlekłej choroby nerek, nadmiernego objadania się, bądź też głodzenia, nadużywania alkoholu, napromieniowania, przyjmowania niektórych leków o charakterze nawadniającym, bądź witamin B1 i B12. Oprócz tego, często towarzyszy zaburzeniom gospodarki lipidowej, nadciśnieniu tętniczemu, cukrzycy typu II, nadwadze, a także otyłości brzusznej. Na tenże rodzaj dny moczanowej choruje około dziesięć procent ze wszystkich przypadków.
Objawy dny moczanowej
Dna moczanowa może rozwijać się nawet przez kilkanaście lat i nie dawać żadnych objawów. Jedynie o jej obecności świadczyć może podwyższone stężenie kwasu moczowego w surowicy krwi, jednakże nie zawsze wykonuje się badania w tym kierunku, jeśli pacjent czuje się dobrze. Najczęściej pierwszy objaw to nagły i ostry ból w stawie, pojawiający się w nocy lub wcześnie rano. Narasta on zwykle falami i każdego dnia jest coraz bardziej dotkliwy.
Chore stawy mogą być także wrażliwe na dotyk, zaczerwienione i obrzęknięte.
Jak leczyć dnę moczanową?
Dna moczanowa znana również pod nazwą artretyzmu jest nieuleczalna, jednakże istnieje możliwość unikania kolejnych ataków poprzez między innymi przyjmowanie leków na obniżenie stężenia kwasu moczowego we krwi i jego wydalanie.
Co więcej, dieta uboga w puryny nie powinna być stosowana u osoby chorej. Kwas moczowy bowiem we krwi jest naturalnym produktem rozpadu puryn. Jednym ze sposobów leczenia jest dieta niskopurynowa, a także stosowanie ziół moczopędnych.
Leczenie dny moczanowej ziołami
Dnę moczanową można próbować leczyć na kilka sposobów, w tym za pomocą ziół. W związku z tym, jedną z lepszych metod są zioła moczopędne.
Zioła moczopędne
Zioła moczopędne przyspieszają przede wszystkim wydalanie kwasu moczowego. Wśród nich najlepiej sprawdzą się między innymi:
liść brzozy;
arcydzięgiel lekarski;
preparaty z pączków kwiatowych, liściowych jesionu, a także pączków topoli.
Jednocześnie należy mieć na uwadze, aby stosowanie środków moczopędnych oraz ziół tego typu należy wcześniej skonsultować z lekarzem, ponieważ nie zawsze taka kuracja jest dobrym rozwiązaniem. W przypadku, kiedy przyczyną dny moczanowej jest choroba nerek, produkty moczopędne należy odstawić.
Co więcej, jeśli dojdzie do ostrych napadów bólu spowodowanych dną moczanową, kuracja obniżająca stężenie nie będzie dobrym pomysłem, ponieważ może ona wręcz nasilić objawy.
Zioła odkwaszające
Aby zapobiec powstawaniu stanów zapalnych oraz złagodzić dolegliwości mające związek z atakiem choroby dny moczanowej, warto sięgnąć po rośliny, które posiadają działanie odkwaszające, przeciwbólowe, przeciwzapalne, oczyszczające, moczopędne, a także takie, które wspomagają układ krążenia oraz przemianę materii. Niektórzy na dnę moczanową zalecają stosowanie pewnej mieszanki, w skład której wchodzą zioła takie jak:
liść brzozy;
liść poziomki;
ziele skrzypu polnego;
liść mącznicy;
koszyczek rumianku.
Przyprawy wspomagające łagodzenie dny moczanowej
Osoby chorujące na dnę moczanową, warto również zastosować przyprawy, które będą wspomagać terapię ziołową, a także farmakologiczną. Mają one przyspieszyć oczyszczanie organizmu, jak również i wydalanie nadmiernych ilości kwasu moczowego. Wśród nich wymienia się między innymi:
lubczyk;
ziele angielskie;
gorczycę;
liść laurowy;
estragon;
kurkumę;
jałowiec.
Naturalne olejki
W terapii wspomagającej leczenie dny moczanowej ważne jest również wykorzystanie olejków eterycznych. Należy nacierać nimi bolące oraz zmienione chorobowo miejsca, bądź też używać ich do kąpieli i aromaterapii. W szczególności warto zwrócić uwagę na olejki lawendowe, cynamonowe, laurowe, eukaliptusowe oraz rozmarynowe.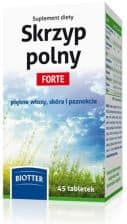 Skrzyp polny
Kliknij i sprawdź ceny!
Czas kuracji ziołowej
Fitoterapia, czyli leczenie za pomocą ziół jest niezwykle długa, a co za tym idzie – wymaga cierpliwości. Regularne stosowanie preparatów tego typu może dać efekty dopiero po upływie około czterech do sześciu tygodni.
Mimo to, leczenie ziołowe należy także łączyć z odpowiednim odżywianiem, a także kuracją oczyszczającą organizm z toksyn, w tym z nadmiaru kwasu moczowego. Ważna jest również aktywność fizyczna, regularne przyjmowanie leków oraz stosowanie się do zaleceń lekarza.
Gdzie kupować zioła?
Zarówno zioła, mieszanki ziołowe, preparaty, jak i przyprawy warto kupować przede wszystkim w sklepach zielarskich. Nie powinno się samodzielnie zbierać ziół, ponieważ niedostateczna znajomość ich może prowadzić do niebezpiecznych konsekwencji.
Reasumując, właściwie dobrane i skonsultowane z lekarzem zioła odgrywają bardzo dużą rolę w celu złagodzenia objawów choroby dny moczanowej. Mimo to, należy pamiętać, że nie będą one skuteczne bez terapii farmakologicznej, odpowiedniej diety i zbilansowanej aktywności ruchowej.