Charakterystyka cynamonu
Cynamon należy do grupy najpopularniejszych przypraw wykorzystywanych nie tylko w kuchni, ale i w kosmetologii czy medycynie. Uzyskiwany jest w wyniku wysuszenia kory cynamonowca celjońskiego. Jest do drzewo pierwotnie występujące we wschodniej i południowo-wschodniej Azji, obecnie jednak uprawiane w całej strefie subtropikalnego klimatu.
Cynamon dostępny w sklepach występuje w dwóch postaciach: sproszkowanej oraz jako zwinięte, cienkie ruloniki. Przyprawa ma kolor rdzawy i wyróżnia się mocnym, ciepłym, słodkim i charakterystycznym zapachem.
Głównymi dostawcami cynamonu są Chiny oraz Indonezja – stanowią aż 80% światowej produkcji. Produkt posiada wiele zastosowań, a większość polskich rodzin nie wyobraża sobie Świąt Bożego Narodzenia bez jego zapachu lub smaku. Pierwsze zastosowanie cynamonu odnotowano już w czasach starożytnych, kiedy to był jednym ze środków podczas procesu mumifikacji.
Właściwości lecznicze cynamonu
Cynamon działa korzystnie przede wszystkim na układ pokarmowy. Obniża poziom cukru we krwi, a zawarty w nim chrom może wpływać na zmniejszenie apetytu na słodkie przekąski. Właśnie dlatego poleca się dodawanie go do potraw diabetykom. Cynamon również zapobiega biegunkom i wspomaga trawienie. Ma działanie przeciwzapalne, obniża poziom cholesterolu, a także poprawia pamięć i zwiększa koncentrację, dzięki czemu jest zalecany osobom pracującym umysłowo. Do innych właściwości leczniczych zalicza się poprawę oddychania.Cynamon ma działanie antyseptyczne, wykazano, że wpływa na zmniejszenie ryzyka wystąpienia nowotworów.
Inną grupą chętnie korzystającą z tej przyprawy są sportowcy oraz osoby aktywne, starające się prowadzić zdrowy tryb życia. Nasila bowiem proces przyrostu tkanki mięśniowej oraz przyspiesza spalanie tłuszczu. Właśnie dlatego jest częstym składnikiem odżywek dla sportowców. Jest też bogatym źródłem żelaza, manganu i wapnia. Cynamon, jako sprzymierzeniec osób zrzucających zbędne kilogramy, wpływa korzystnie na pracę nerek, przyspiesza przemianę materii oraz oczyszcza organizm. Prowadzone są badania nad korzystnym działaniem substancji na wystąpienie choroby Parkinsona i Alzheimera.
Wśród substancji obecnych w cynamonie znajdują się również: sód, cynk, magnez, potas, fosfor, witaminy A, E, K, C, B6, niacyna, ryboflawina, tiamina i kwas foliowy. Warto wiedzieć, że działanie tej przyprawy znacznie zwiększa się w połączeniu z miodem. Dodatkowo:
wykazuje działanie dezynfekujące
zwiększa przyswajalność substancji odżywczych w przewodzie pokarmowym
poprawia ukrwienie narządów wewnętrznych
wzmaga apetyt
zmniejsza ból stawów (zwłaszcza w połączeniu z miodem)
regularnie spożywany pomaga przy mdłościach
może mieć działanie przeciwobrzękowe
Pozostałe właściwości przyprawy
Cynamon hamuje rozwój bakterii i drożdży, dlatego może być stosowany jako naturalny konserwant. Ma działanie pobudzające, więc od dawna był uznawany za silny afrodyzjak. Jego dużą zaletą wykorzystywaną w kosmetologii jest korzystny wpływ na wygląd skóry. Wygładza ją i ujędrnia, dlatego jest wykorzystywany jako jeden ze składników kremów antycellulitowych. Pomaga zwalczyć trądzik. Płukanki na bazie tej przyprawy niwelują nieświeży oddech i odświeżają go. Z cynamonu wykonuje się olejek, który również jest powszechnie znany.
Olejek cynamonowy
Jest olejkiem eterycznym wykorzystywanym do aromaterapii. Podczas masażu działa przeciwbólowo i relaksująco na mięśnie oraz wpływa na stan skóry. Polecany jest do stosowania zimą, ponieważ rozgrzewa tkanki. Olejek ten stosowany jest często przez kobiety cierpiące na bolesne menstruacje oraz karmiące piersią (wpływa bowiem na zwiększenie laktacji). Można spotkać się z jego zastosowaniem przy produkcji gum do żucia, a nawet past do zębów. Bardzo praktycznym zastosowaniem jest również wcieranie mieszanki z jego udziałem w miejsca ukąszenia komarów i innych owadów oraz stosowanie podczas walki z wszami.
Olejek cynamonowy często stanowi jedną z nut zapachowych wielu perfum.
Przeciwwskazania do spożywania cynamonu
Jest to przyprawa, zatem nikt nie spożywa jej w dużej ilości. Gdyby było inaczej, mogłaby stać się nawet trucizną. Po cynamon nie powinny sięgać:
osoby z wrzodami przewodu pokarmowego
osoby ze skłonnościami do krwawienia z przewodu pokarmowego
kobiety w ciąży, ponieważ cynamon może prowadzić do przedwczesnego porodu
alergicy, którzy wykazują wrażliwość na tego typu produkt
diabetycy bez konsultacji z lekarzem i osoby przyjmujące leki mające wpływ na poziom cukry w organizmie
Niektóre ze źródeł medycznych informują, że maksymalne dzienne spożycie cynamonu wynosi 40 gram i absolutnie nie należy przekraczać tej granicy. Podstawą do hipotezy, czy przyprawa ta rzeczywiście szkodzi ludziom, są liczne badania laboratoryjne wykonane na szczurach i psach. Cynamon zawiera kumarynę, która u gryzoni wywołała krwotoki wewnętrzne, u psów problemy wątrobowe, natomiast u obu gatunków zwierząt – śmierć. Nie ma jednak dowodów na podobne objawy u ludzi.
Nie należy zatem rezygnować ze spożycia cynamonu. O ile nie ma przeciwwskazań, odrobina dziennie z pewnością nie zaszkodzi, natomiast może korzystnie wpłynąć na zdrowie i urodę.
Zastosowanie
jako olejek do masażu
w kremach antycellulitowych i przeciwtrądzikowych
jako przyprawa do ciast i deserów
jako przyprawa do zup, sosów, ryb i mięs (zwłaszcza do baraniny)
jako dodatek do herbat, kaw i nalewek
jako środek niwelujący bóle oraz wspomagający zdrowie organizmu
w środkach odchudzających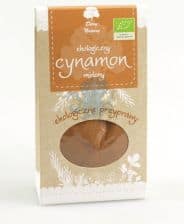 Cynamon
Kliknij i sprawdź ceny!
Wykorzystanie cynamonu w przepisach kulinarnych
Poniżej zostały umieszczone najbardziej popularne i praktyczne przepisy z wykorzystaniem cynamonu.
Odchudzający napój – cztery laski cynamonu należy umieścić w dzbanku wody i pozostawić na noc. Rankiem napój jest gotowy do spożycia. Bardziej wymagające osoby mogą dodać dobrze pokrojoną gruszkę, jabłko lub truskawki
Miodowy napój rozgrzewający – należy wymieszać sproszkowany cynamon z miodem w stosunku 1:2 z wodą. Następnie umieszczamy przyprawę w filiżance, zalewamy gorącą wodą, a kiedy ostygnie, dodajemy przygotowaną wcześniej mieszankę cynamonu z miodem
Nalewka cynamonowa – litrem spirytusu oraz dwoma szklankami wody zalewamy przygotowany wcześniej w słoju cynamon (10 gram skruszonej kory). Szczelnie zamykamy i odstawiamy na okres dwóch tygodni. Kilkukrotnie mieszamy, aby zawartość lepiej się ze sobą połączyła. Kolejnym krokiem jest dodanie do nalewki po upływie 14 dni specjalnie przyrządzonej mieszanki. W tym celu doprowadzamy do wrzenia szklankę wody, ochładzamy ją i dokładnie mieszamy ze szklanką miodu. Pozostawiamy jeszcze na dobę. Po upływie 24 godzin odcedzamy i filtrujemy płyn, rozlewamy do butelek docelowych i odstawiamy na zaciemnioną półkę na 4 miesiące. Po tym wszystkim, środek jest gotowy do spożycia