Curry większości z nas kojarzy się głównie z aromatyczną przyprawą, jednak warto również wiedzieć o tym, iż curry to również danie powstające na bazie wspomnianej mieszanki przypraw. Wspomniana przyprawa znalazła dosyć szerokie zastosowanie w kuchni, jednak sprawdza się również bardzo dobrze w medycynie naturalnej, gdyż wykazuje szereg cennych dla zdrowia właściwości. Z jakich jednak przypraw składa się słynna mieszanka curry, dlaczego warto włączyć ją do codziennego menu i w jaki sposób przygotować aromatyczne potrawy kuchni azjatyckiej określane mianem curry?
Z jakich przypraw składa się mieszanka curry?
Curry to dosyć ostra mieszanka przypraw korzennych, która nadaje każdej przygotowywanej potrawie niezwykłego aromatu. Jakie jednak przyprawy wchodzą w skład wspomnianej mieszanki? Można wśród nich wymienić kolendrę, kurkumę, kmin rzymski, kozieradkę, gałkę muszkatołową, cynamon, goździki, imbir, anyż, pieprz cayenne, pieprz czarny, kardamon, czosnek, chilli oraz gorczycę.
Wartości odżywcze curry
Curry to dosyć kaloryczna przyprawa, ponieważ w 100 g mieszanki można znaleźć ponad 300 kcal. Wśród pozostałych składników odżywczych można również znaleźć spore ilości białka, tłuszcze (głównie jednonienasycone oraz wielonienasycone kwasy tłuszczowe, jednak w mieszance obecne są również niewielkie ilości nasyconych kwasów tłuszczowych), błonnik, magnez, żelazo, fosfor, sód, potas, wapń, żelazo, cynk, selen, miedź, witaminy A, C, D, E oraz witaminy z grupy B.
Właściwości lecznicze curry
Curry wykazuje szereg cennych dla zdrowia właściwości leczniczych, dlatego też wspomnianą przyprawę warto na dobre włączyć do swojego codziennego menu. Regularne spożycie curry ochrania organizm przed rozwojem niebezpiecznych nowotworów, a także pomaga obniżyć zbyt wysokie stężenie złego cholesterolu we krwi, zapobiegając tym samym rozwojowi miażdżycy. Z uwagi na dosyć dużą zawartość żelaza curry w skuteczny sposób wspomaga walkę z chorobą niedokrwienną, czyli z anemią. Warto również wiedzieć o tym, iż curry:
pomaga obniżyć zbyt wysoki poziom glukozy we krwi (najlepiej w połączeniu z aktywnością fizyczną),
dzięki zawartości kurkumy wpływa niezwykle korzystnie na osoby zmagające się z chorobą Alzheimera, ponieważ wspomaga funkcje poznawcze,
przyspiesza regenerację kości po złamaniach, a także przyspiesza ich mineralizację,
wykazuje właściwości 

przeciwzapalne
Czy istnieją jakieś przeciwwskazania do spożycia curry?
Curry to z pewnością jednak z najciekawszych i bardzo aromatycznych przypraw, jednak z uwagi na fakt, iż jest ona dosyć silnym antykoagulantem, to nie może być niestety spożywana przez wszystkie osoby. Kto zatem nie powinien jej spożywać? W szczególności osoby zmagające się z kamicą pęcherzyka żółciowego, a także osoby stosujące leki rozrzedzające krew.
Zastosowanie curry w kuchni
Curry nadaje każdej przygotowywanej potrawie niezwykłego aromatu i zapachu, a także żółtego zabarwienia. Najlepiej komponuje się z daniami mięsnymi, ryżem, a także jako dodatek do ryb oraz niektórych sosów. Oprócz tego przyprawę można wykorzystać jako dodatek do zup, a także do przygotowywania słynnej azjatyckiej potrawy o tej samej nazwie.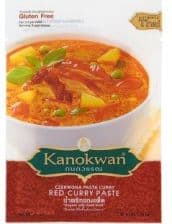 Indyjskie curry
Kliknij i sprawdź ceny!
Potrawa kuchni indyjskiej
Jak zostało wspomniane na wstępie curry to nie tylko przyprawa, ale również potrawa kuchni indyjskiej, która obecnie pod różnymi postaciami stanowi nieodłączny element codziennej diety niemal każdego mieszkańca Azji. Curry najczęściej przypomina nieco pikantne danie przygotowywane w formie gulaszu, przyprawione mieszanką różnych przypraw oraz ziół. Curry stanowi obecnie podstawowe danie mieszkańców Tajlandii, jednak w odróżnieniu od swojego indyjskiego odpowiednika ma nieco bardziej płynną konsystencję. W zależności do danego regionu przygotowywane jest jednak na wiele przeróżnych sposobów i z dodatkiem takich składników jak mleczko kokosowe, różne rodzaje past curry, makarony, ryż, owoce morza, ryby, czy też różne kombinacje mięs.
Tradycyjne indyjskie curry
Składniki na sos curry:
100 g prażonej cebuli,
200 g przecieru pomidorowego,
200 g orzeszków ziemnych,
po 50 g imbiru i czosnku,
po 5 g anyżu, kminu, kozieradki, garam masala i kolendry,
10 g kardamonu,
szczypta soli, pieprzu, kurkumy i chilli
Składniki na chicken curry:
1 kg filetu z kurczaka,
po 4 ziarenka kardamony i anyżu,
2 łyżeczki pasty czosnkowo-imbirowej,
po 1/2 łyżeczki kolendry, kurkumy, kminu, kozieradki i garam masala,
100 ml kwaśnej śmietany 18%,
100 g masła,
0,5 kg ryżu 

basmanti

,
garść świeżej kolendry
Sposób przygotowania:
Prażoną cebulkę należy utrzeć na pastę, namaczając ją wcześniej w ciepłej wodzie. Orzeszki ziemne również należy utrzeć na gładką pastę, dodając do nich odrobinę wody. Na patelni rozgrzać olej, podsmażając na nim anyż i kardamon, dodając następnie pastę czosnkowo-imbirową (należy je zmiksować z dodatkiem wody), chilli, kurkumę oraz przecier pomidorowy. Całość należy gotować przez około 10 minut na małym ogniu. Tak przygotowaną pastę należy następnie wymieszać z kolendrą, kozieradką, kminem, solą oraz garam masala. Na koniec należy dodać prażone orzeszki, podgrzewając sos przez kolejne 10 minut. Tak przygotowany sos curry można na jakiś czas odstawić na bok, przygotowując następnie chicken curry. Kurczaka należy dokładnie umyć pod bieżącą wodą, osuszyć i pokroić na małe kawałki. W międzyczasie można ugotować ryż zgodnie z informacjami znajdującymi się na opakowaniu. Na patelni rozgrzać olej, wrzucając na nią wszystkie przyprawy razem z kurczakiem i podsmażając całość przez 10 minut. Po upływie tego czasu do kurczaka należy dodać przygotowany wcześniej sos curry, zagotowując całość, dodając w następnej kolejności masło i śmietanę i ponownie zagotowując. Tak przygotowane curry należy podawać z ugotowanym ryżem, posypując całość świeżymi listkami kolendry.
Curry 
ramen
Składniki:
150 g obranych krewetek,
250 g makaronu 

ramen

,
1 l bulionu 

dashi,

po

 1 łyżce sosu sojowego i pasty miso,
2 łyżeczki czerwonej pasty curry,
50 ml mleka kokosowego,
1 łyżka 

mirinu

 (opcjonalnie),
1 arkusz prasowanych alg,
50 g zielonej fasolki szparagowej,
garść dymki,
odrobina przyprawy 

shichimi

 

togarashi
Sposób przygotowania:
W garnku zagotować wodę z dashi i z algami, zmniejszając następnie ogień i gotując wywar przez około 5 minut (po tym czasie alg należy wyciągnąć). Do bulionu należy następnie dodać pastę miso i curry, sos sojowy, mleko kokosowe i mirin, mieszając całośc, aby się dokładnie połączyła i zagotowując zawartość garnka. Po upływie kilku sekund do garnka dodać makaron i gdy całkowicie zmięknie, można dorzucić krewetki, podgrzewając całość przez około 60 sekund na niewielkim ogniu. W drugim garnku zagotować wodę, wrzucając do niego mrożoną fasolkę szparagową (pociętą), gotując przez 2 minuty i następnie odcedzając. Do małych miseczek przelać przygotowaną zupę, dodając następnie fasolkę oraz pokrojone algi, posypując całość poszatkowaną dymką oraz doprawiając shichimi togarashi.
Tajska zupa curry
Składniki:
250 g makaronu ryżowego,
1,5 l bulionu drobiowego,
1 pierś z kurczaka,
po 2 łyżeczki tajskiej pasty curry, sosu rybnego i oleju kokosowego,
po 1/2 czerwonej papryki i cebuli,
4 łyżki kukurydzy z puszki,
150 g pieczarek,
250 ml mleka kokosowego,
garść szczypiorku
Sposób przygotowania:
Makaron ryżowy włożyć do głębokiej miski, zalewając go zimną wodą oraz odstawiając na 15 minut do namoczenia. Do dużego garnka wlać olej, podsmażając na nim pastę curry i dodając do niej następnie pokrojoną na mniejsze kawałki pierś z kurczaka. Po upływie około 3 minut do garnka wrzucić posiekaną drobno cebulę i paprykę, smażąc całość przez 4 minuty i zalewając zawartość garnka bulionem. Pieczarki dokładnie opłukać pod bieżącą wodą, pokroić na cienkie plastry i dodać do zupy. Na około 5 minut przed końcem gotowania do garnka wrzucić namoczony wcześniej makaron oraz kukurydzę. Całość należy przyprawić sosem rybnym oraz mlekiem kokosowym, wylewając zupę na talerze oraz posypując ją poszatkowanym szczypiorkiem.