Barszcz Sosnowskiego to z całą pewnością jedna z najbardziej niebezpiecznych a jednocześnie zdradliwych roślin, jakie występują obecnie na terytorium Polski. Niebezpieczeństwo związane z Barszczem Sosnowskiego jest o tyle specyficzne, że roślina to rośnie niemal wszędzie a do tego jest trudna do odróżnienia od zwykłych, zupełnie niegroźnych chwastów.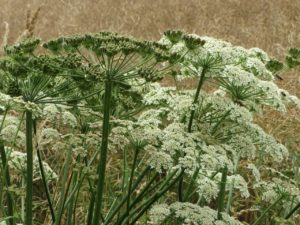 Lokalizacja barszczu sosnowskiego
Co ciekawe, Barszcz Sosnowskiego nie jest rośliną naturalnie występującą w ramach polskiej flory. Roślina to pochodzi z terytorium dawnego Związku Republik Radzieckich i, podobnie jak azbest, bywa nazywana "toksycznym spadkiem po ustroju komunistycznym". Określenie to wzięło się stąd, że to właśnie podczas trwania ustroju komunistycznego w naszym kraju Barszcz Sosnowskiego został celowo sprowadzony do Polski ze Związku Radzieckiego i wszczepiony w tutejszą florę. Bardzo szybko okazało się jednak, że pierwotny pomysł na zastosowanie Barszczu Sonsowskiego był jak najbardziej mylny. Roślina ta jednak wykazuje niezwykłą wręcz ekspansywność, z powodu czego procesu zaszczepienia Barszczu Sosnowskiego w warunkach polskiej flory nie dało się już odwrócić.
Obecnie, Barszcz Sosnowskiego występuje na ogromnej większości polskiego terytorium a co roku notuje się w Polsce kilkadziesiąt przypadków mniej lub bardziej poważnych poparzeń wynikłych z kontaktu z tą wysoce toksyczną rośliną. Dlaczego  Barszcz Sosnowskiego jest tak niebezpieczny? Jak odróżnić tę pochodzącą z dalekiego Kaukazu roślinę od zwykłych, niegroźnych faktów? I wreszcie, jak postępować w przypadku poparzenia skóry w wynku kontaktu z Barszczem Sosnowskiego? Przyjrzyjmy się tej kwestii nieco dokładniej i postarajmy się znaleźć odpowiedzi na powyższe pytania.
 Barszcz Sosnowskiego: krótki rys historyczny
Jak już wspominano,  Barszcz Sosnowskiego nie jest rośliną należącą do typowej, rdzennej polskiej flory. Został do Polski "zainportowany" w poprzednim stuleciu a przyczyną tego byly badania naukowe radzieckich naukowców, wskazujące na rzekomo wysoką użyteczność tej rośliny. Z początku uważano, że po odpowiedniej obróbce  Barszcz Sosnowskiego może stanowić znakomitą, bardzo tanią i niezwykle łatwą w uprawie paszę dla zwierząt hodowlanych, w tym przede wszystkim dla trzody chlewnej. Bardzo szybko okazało się jednak, że owe wnioski były jak najzupełniej chybione. Nawet zaawansowana obróbka termiczna, mielenie czy mieszanie Barszczu Sosnowskiego z innymi składnikami w żaden sposób nie niwelowało jego wysoce toksycznych właściwości. W rezultacie, próby skarmiania tą rośliną zwierząt hodowlanych skutkowały występowaniem u nich chorób związanych z wprowadzeniem toksyn do układu pokarmowego, a często nawet zgonem.
Prędko wycofano się więc z pomysłu stosowania Barszczu Sosnowskiego jako produktu gospodarki rolnej. W tym czasie ta niezwykla ekspansywna roślina zdążyła się jednak wydostać z obszarów kontrolowanych upraw rolnych i przeniknąć w sferę naturalnej flory. Ze względu na swoje bardzo silne tendencje do ekspansji, niewielkie wymagania odnośnie wzrostu oraz bardzo wysoką odporność na trudne warunki atmosferyczne,  Barszcz Sosnowskiego z łatwością i w stosunkowo krótkim czasie rozprzestrzenił się i objął swoim występowaniem terytorium niemal całej Polski.
 Barszcz Sosnowskiego: wygląd
Jak wspominano,  Barszcz Sosnowskiego jest rośliną stosunkowo trudną do odróżnienia od niegroźnych chwastów. Roślina ta może osiągać nawet do 4 metrów wysokości. Oczywiście, taki rozmiar osiągają jedynie dojrzałe rośliny. Warto jednak zdawać sobie sprawę, że  Barszcz Sosnowskiego jest toksyczny właściwie w każdym stadium swojego rozwoju a poparzeniem skóry kończy się również kontakt z nawet bardzo młodą rośliną.
W swojej dojrzałej postaci  Barszcz Sosnowskiego posiada wyraźnie rozwinięty kwiatostan oraz długą, smukłą łodygę. Kwiat najczęściej ma kolor biały, czasami z lekkim zabarwieniem brązowym lub beżowym. W poczatkowych stadiach rozwoju roślina ta ma postać po prostu liści o dosyć dużym rozmiarze. Najczęściej są one dość wyraźnie kropkowane, jednak zdarzają się również egzemplarze rośliny o listowiu całkowicie zielonym.
Jak więc można łatwo odróżnić rozwiniętą lub młodą postać Barszczu Sosnowskiego od innych, niegroźnych roślin? Niestety, jest to bardzo trudne. Biorąc pod uwagę ekspansywność tej rośliny oraz jej zasięg występowania najlepiej jest po prostu uważnie unikać jakiegokolwiek kontaktu ze wszystkimi roślinami, które w jakimkolwiek stopniu przypominają  Barszcz Sosnowskiego.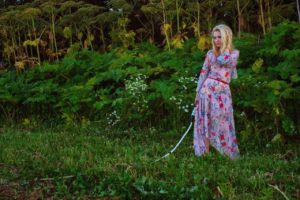 Barszcz Sosnowskiego: poparzenia
Kontakt skóry z Barszczem Sosnowskiego powoduje silne oparzenia. Częso uważa się, że oparzenia ta w zasadzie przypominają oparzenia spowodowanem na przykład kontaktem skóry z pokrzywą lub ostem, tyle że są po prostu bardziej bolesne. Niestety, nie jest to prawda.
Sok wydzielany przez  Barszcz Sosnowskiego jest substancją o bardzo silnych właściwościach toksycznych. Kontakt ze skórą, nawet przez ubranie, powoduje powstanie bardzo poważnych poparzeń, zwłaszcza jeżeli poparzona skóra jest jednocześnia wystawiona na kontakt ze światłem słonecznym. Mechanizm toksycznego działania tej rośliny jest właśnie taki z powodu występowania w jej soku substancji znanej jako furanokumaryna. W kontakście ze skórą powoduje ona nie tylko oparzenie, ale również wielokrotnie zwiększa wrażliwość tkanki skórnej na światło słoneczne. Bardzo często zdarza się, że oparzenia Barszczem Sosnowskiego przy jednoczesnej ekspozycji na światło słoneczne powodują powstanie trwałych, ciemnych plam na skórze, które utrzymują się przez wiele lat, niekiedy nawet przez całe życie. Jednocześnie fragmenty skóry poparzonej Barszczem Sosnowskiego przez lata mogą wykazywać znacząco zwiększoną wrażliwość na działanie światła słonecznego.
Toksyny
Była mowa o tym, że Barszcz Sosnowskiego jest rośliną nie tylko wysoce toksyczną, ale również niezwykle wręcz zdradliwą. Dzieje się tak dlatego, że pierwsze objawy oparzenia skóry w wyniku kontaktu z tą rośliną pojawiają się przeważnie dopiero po około 30 minutach. Jeżeli przez ten czas fragment skóry, który miał kontakt z Barszczem Sosnowskiego jest wystawiony na działania słońce, rezultatem może być pojawienie się bardzo poważnych oparzeń(oparzenia II lub nawet III stopnia).
Co bardzo ważne, kontakt skóry z Barszczem Sosnowskiego nie powoduje natychmiastowej reakcji bólowej. Jak wspominano, pierwsze objawy, w tym również ból, pojawiają się przeważnie dopiero po pewnym czasie, przez co osoby, które uległy poparzeniu bardzo często z początku nie zdają sobie sprawy z tego faktu.
Poparzenia
W przypadku poparzenia lub chociażby podejrzenia kontaktu skóry z Barszczem Sosnowskiego należy przede wszystkim natychmiast dokładnie zakryć oparzony lub potencjalnie oparzony fragment tkanki. Następnie należy jak najprędzej udać się do lekarza. W przeciwnym wypadku, po kilkunastu godzinach od oparzenia mogą pojawić się naprawdę poważne komplikacje, w tym gorączka, bolesne zaczerwienie skóry i występowanie na poparzonej skórze pęcherzy. Rezultaty poparzenia Barszczem Sosnowskiego można podzielić na 4 etapy:
1. Etap pierwszy(około 30 minut): brak zauważlnych objawów poparzenia, mimo że toksyna już oddziaływuje na naszą skórę
2. Etap drugi(po 30 minutach, czasami nieco wcześniej): pojawienie się na skórze oparzeń oraz ból
3. Etap trzeci(po kilkunastu godzinach): wyraźne zmiany na skórze, pojawienie się pęcherzy, czasami mocny ból oraz gorączka
4. Etap 4(najczęściej po około 3 dniach): trwałe zmiany w obrębie poparzonej skórze, zwiększona wrażliwość na światło słoneczne utrzymująca się nawet przez kilka lat
Barszcz Sosnowskiego: co jeszcze warto wiedzieć?
Bardzo istotnym faktem jest to, że toksyczność Barszczu Sosnowskiego nie polega tylko na kontakcie tej rośliny ze skórą. Stanowczo przeciwskazane jest na przykład samodzielne karczowanie tej rośliny a następnie spalanie jej, ponieważ dym powstały w wyniku takiego spalania może poważnie poparzyć drogi oddechowe. Barszcz Sosnowskiego jest niebezpieczny również dla zwierząt, w tym także zwierząt domowych. Jeżeli więc podczas spaceru z psem widzimy gdzieś tę roślinę, najlepiej jest przywołać naszego czworonoga i założyć mu smycz.
Podsumowanie
Barszcz Sosnowskiego, nieraz nazywany "zemstą Stalina", to obecnie bardzo istotny problem ekologiczny dla Polskiego środowiska. Wciąż nie istnieją projekty zakładające masową likwidację tej rośliny, a próby likwidowania jej na mniejsza skalę kończą się niepowodzeniem ze względu na niezwykle wysoką ekspansywność i łatwość rozprzestrzenia się Barszczu Sosnowskiego.
Na tę chwilę, nic nie wskazuje na to, aby w dającej się przewidzieć przyszlości ta sytuacja miała ulec zmianie. Z tego powodu, podczas spacerów lub po prostu przebywania w miejscach, gdzie dostrzegamy rośliny przypominające Barszcz Sonsowskiego, należy zachowywać daleko posunietą ostrożność. W przypadku podejrzenia poparzenia należy skutecznie osłonić skórę od słońca i niezwłocznie udać się na Izbę Przyjęć do najbliższego szpitala lub innej placówki medycznej.