Barszcz czerwony to przepyszna i bardzo zdrowa zupa, która gości na naszych stołach w szczególności w okresie Świąt Bożego Narodzenia, jednak coraz częściej przygotowuje się ją również w ciągu roku. Na wigilijnym stole króluje tradycyjnie przygotowywany barszcz czerwony z uszkami, natomiast w dni powszednie wiele osób decyduje się na podawanie tej zupy wraz z ziemniakami. Skąd jednak wziął się pomysł na przygotowywanie barszczu czerwonego, jakie wartości odżywcze się w nim znajdują i w jaki sposób można go przyrządzić?
Historia barszczu czerwonego
Barszcz czerwony to zupa, która może być przygotowywana zarówno ze świeżych buraków, jak i z buraczanego zakwasu, który zawiera w sobie wiele cennych dla zdrowia substancji odżywczych. Barszcz kojarzy nam się głównie z wigilią, jednak zupa podawana właśnie w tym dniu musi być całkowicie postna. Co to jednak oznacza? Nie powinno przygotowywać się jej z żadnych mięsnych dodatków a jedynie ze świeżej włoszczyzny, zakwasu buraczanego lub świeżych buraków. Skąd jednak wziął się barszcz czerwony? Zupa ta znana była już w czasach średniowiecznych, ponieważ jej spożycie wiązało się z licznymi korzyściami prozdrowotnymi. Warto jednak wiedzieć o tym, iż w dawnych czasach barszcz czerwony wyglądał nieco inaczej niż ten, który przygotowywany jest obecnie. Aby otrzymać kwaskowaty napój stanowiący podstawę barszczu, wykorzystywano wówczas w tym celu poddawany procesowi fermentacji barszcz zwyczajny. Z kolei, jeśli chodzi o dodatki, to do barszczu nie dodawano tak jak dzisiaj uszek lub ziemniaków, a raczej kawałki ryb, jajka oraz kaszę.
Wartości odżywcze barszczu czerwonego
Barszcz czerwony bez dodatków nie zawiera zbyt wielu kalorii oraz tłuszczu, jednak można w nim znaleźć nieznaczne ilości białka oraz węglowodanów. Dodając jednak do zupy uszka z kapustą i grzybami lub z mięsem należy liczyć się z tym, iż barszcz może zawierać nawet 250 kcal. Z uwagi na zawartość buraków zupa wykazuje szereg cennych dla zdrowia właściwości leczniczych w szczególności wtedy, gdy przygotowywana jest z buraczanego zakwasu. Barszcz czerwony ma dosyć intensywny kolor, który zawdzięcza betainie. Wspomniana betaina to bardzo silny przeciwutleniacz, który walcząc z wolnymi rodnikami, ochrania nasz organizm przed rozwojem niebezpiecznych nowotworów, a także przed szybkim procesem starzenia się skóry. Buraki stanowiące podstawę barszczu zawierają wiele cennych dla naszego zdrowia substancji odżywczych takich jak witaminy z grupy B, witamina C, witamina B12, kwas foliowy oraz mangan. Barszcz czerwony warto spożywać również z uwagi na zawartość żelaza, ponieważ w ten sposób można zapobiec pojawieniu się niedokrwistości zwanej również anemią. Barszcz czerwony przygotowywany na zakwasie buraczanym to świetne źródło naturalnych probiotyków, które wspomagają prawidłowe funkcjonowanie układu pokarmowego.
Właściwości lecznicze barszczu czerwonego
Barszcz czerwony to bardzo wartościowa zupa, której spożycie wpływa bardzo korzystnie na stan naszego zdrowia. Azotany obecne w burakach to związki, które wspomagają leczenie chorób układu krążenia. Dzięki nim możliwe jest obniżenie zbyt wysokiego ciśnienia krwi, zapobiegając tym samym nadciśnieniu. Niezwykle ważne jest również to, iż barszcz czerwony pomaga obniżyć poziom glukozy we krwi, a także wpływa bardzo korzystnie na funkcjonowanie naszego mózgu.
Przepis na zakwas buraczany
Składniki:
2 kg świeżych buraków,
2 litry wody,
2 łyżeczki soli,
3 małe ząbki czosnku,
skórka chleba wypieczonego na zakwasie,
1 łyżeczka cukru,
kilka ziarenek ziela angielskiego
Sposób przygotowania:
Buraki należy obrać, opłukać i pokroić w cienkie plastry lub nieco większą kostkę (wedle własnego upodobania). Duży słoik wyparzyć i umyć, układając w nim następnie pokrojone buraki. Do buraków należy następnie dodać obrany i pokrojony na mniejsze kawałki czosnek, ziele angielskie, czosnek oraz sól, zalewając całość przegotowaną letnią wodą oraz dodawając na wierzch chlebową skórkę. Słoik należy następnie przykryć ściereczką, ustawiając w ciepłym miejscu na kilka dni. Gdy zakwas będzie już gotowy, należy zlać go do butelki, przechowując następnie w lodówce.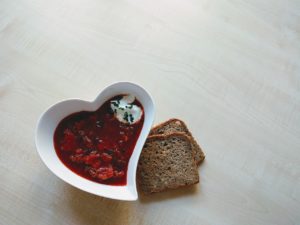 Barszcz czerwony na zakwasie
Składniki:
1 litr zakwasu buraczanego,
3 średniej wielkości marchewki,
2 małe pietruszki,
kawałek selera i pora (może być zielona część, ponieważ powstanie z niej jedynie wywar),
1 ćwiartka z kurczaka lub 5 skrzydełek,
2 liście laurowe,
1 ząbek czosnku,
kilka ziarenek ziela angielskiego,
odrobina soli i cukru do smaku,
buraki z przygotowanego wcześniej 

zakwasu
Sposób przygotowania:
Do garnka należy wrzucić opłukane pod bieżącą wodą skrzydełka lub ćwiartkę z kurczaka. Mięso należy zalać wodą, gotując wywar przez około 30 minut. W międzyczasie jak wywar będzie się gotować, należy z jego powierzchni usunąć pojawiającą się szumowinę. W następnym kroku do wywaru należy wrzucić obrane i opłukane warzywa, ziele angielskie oraz liście laurowe, gotując całość przez kolejne 30 minut. Po tym czasie wywar należy przecedzić, przelewając go z powrotem do garnka i wrzucając do niego pozostałe po procesie kwaszenia buraki, gotując je przez około 5 minut. Do tak przygotowanego wywaru należy wlać zakwas buraczany, dodając przeciśnięty przez praskę czosnek, pozostawiając zupę na palniku do momentu, aż się zagotuje.
Barszcz czerwony ze świeżych buraków
Składniki:
0,5 kg buraków,
2 małe marchewki,
1 pietruszka,
mały kawałek selera,
po 5 ziarenek ziela angielskiego i czarnego pieprzu,
3 ząbki czosnku,
2 liście laurowe,
1 ziarenko jałowca,
odrobina soli, pieprzu i majeranku do smaku,
sok z 1 cytryny
Sposób przygotowania:
Warzywa należy obrać, umyć pod bieżącą wodą oraz pokroić na mniejsze kawałki. Buraki obrać i pokroić na cztery części, dokładnie opłukać, wrzucić do garnka i zalać 2 litrami wody. Do buraków należy dodać przygotowane wcześniej pozostałe warzywa oraz przyprawy, gotując całość na niewielkim ogniu przez około 2 godziny. Po upływie wyznaczonego czasu zupę przecedzić, doprawiając barszcz odrobiną soli, pieprzu, majeranku oraz sokiem z cytryny.
Przepis na uszka z kapustą i grzybami do barszczu
Składniki:
Farsz:
0,5 kg kapusty kiszonej, 1 mała cebula, 1/2 szklanki suszonych prawdziwków, 2 łyżki oleju rzepakowego, odrobina pieprzu i soli do smaku
Ciasto:
2 szklanki mąki pszennej, 1 łyżka oliwy, 1 jajko, woda, odrobina soli
Sposób przygotowania:
Grzyby należy przepłukać i zamoczyć w wodzie, gotując na drugi dzień do miękkości. Kapustę również należy ugotować, doprawiając ją solą oraz pieprzem. Cebulę należy obrać, drobno posiekać i podsmażyć na oleju rzepakowym. Do kapusty należy dodać posiekane grzyby oraz cebulę, gotując całość na małym ogniu przez około 30 minut. Składniki na ciasto należy zagnieść, rozwałkowując je i wycinając przy pomocy szklanki krążki. Na każdym krążku należy ułożyć farsz, zawijając ciasto na kształt uszek.