Autyzm jest jedną z grupy zaburzeń neurorozwojowych, znanych jako wszechobecne zaburzenia rozwojowe (PDD). Charakteryzują się one problemami z komunikacją i interakcjami społecznymi. Pacjenci często wykazują ograniczone, powtarzalne i stereotypowe wzorce zachowania lub zainteresowania.
Symptomy autyzmu
Według naukowców, objawy autyzmu zwykle wyraźnie ujawniają się w okresie wczesnego dzieciństwa, w wieku od 24 miesięcy do 6 lat. Generalnie, zasadnicze symptomy to wyraźne opóźnienie rozwoju mowy i poznania. Mogą również występować oznaki obsesyjnego lub  aspołecznego zachowania.
Zespół Aspergera, inny PDD, może być określany jako "wysoki funkcjonujący autyzm". Jednak Zespół Aspergera zwykle charakteryzuje się zupełnie innym zachowaniem lub jego brakiem np. nie ma podstawowej komunikacji i problemów poznawczych, które cechują klasyczny autyzm.
Objawy autyzmu mogą wahać się od łagodnego do ciężkiego. Niektórzy ludzie mogą być uważani za autystycznych, ale potrafią funkcjonować w społeczeństwie bez wielu niepowodzeń. Dla innych postać choroby może mieć znaczący wpływ na ich życie.
Źródła autyzmu
Dokładna przyczyna autyzmu i innych zaburzeń ze spektrum autyzmu (ASD) jest nieznana. Najbardziej aktualna nauka pokazuje, że nie ma jednej przyczyny autyzmu. Według najbardziej cenionych i rzetelnych instytutów naukowych,  prawdopodobne jest, że zarówno genetyka, jak i środowisko odgrywają ważną rolę w powstaniu i rozwoju choroby.
Czynniki genetyczne
Genetyka może wpływać na ryzyko niektórych form autyzmu. Obecność w rodzinie, linii prostej tj. brat, siostra, matka, ojciec, osoby z autyzmem zwiększa ryzyko rozwoju choroby. Niektóre schorzenia zostały również powiązane z ASD. Należą do nich zaburzenia genetyczne, takie jak zespół łamliwego chromosomu X i stwardnienie guzowate. Wskaźniki ASD są znacznie wyższe wśród dzieci ze stwardnieniem guzowatym niż u osób, które nie chorują.
Czynniki środowiskowe
Niektórzy eksperci podejrzewają, że ekspozycja na metale ciężkie i inne toksyny w środowisku zwiększa ryzyko wystąpienia ASD. Niektóre leki na receptę, takie jak talidomid i kwas walproinowy, również zostały powiązane z ASD. Jeżeli kobieta od urodzenia bierze te leki i w przyszłości zajdzie w ciąże, ryzyko pojawienia się choroby u dziecka znaczenie wzrasta.
Obecnie, naukowcy badają również możliwe związki między ASD a niektórymi infekcjami wirusowymi lub zaburzeniami równowagi metabolicznej. Co ważne, dzieci urodzone przez starszych rodziców są również bardziej zagrożone rozwojem ASD .
Występowanie autyzmu
Zaburzenia ze spektrum autyzmu występują u osób na całym świecie, niezależnie od rasy, kultury i pochodzenia ekonomicznego. Według badaczy, autyzm zdarza się częściej u chłopców niż u dziewczynek, z pięcioma do jednej relacji między mężczyznami i kobietami. Ponadto, analitycy szacują, że jeden na 68 dzieci zostały zidentyfikowane z zaburzeniami ze spektrum autyzmu. Istnieją oznaki, że liczba przypadków ASD rośnie. Niektóre czynniki środowiskowe również mają na ten wzrost spory wpływ.  Jednak eksperci debatują, czy istnieje faktyczny wzrost liczby przypadków, czy to tylko częstsze diagnozy.
Rodzaje zaburzeń spektrum autyzmu
Klasyczny autyzm zwykle wiąże się z poważnymi problemami we wszystkich obszarach dotkniętych ASD. Ktoś z zespołem Aspergera ma problemy z interakcją behawioralną i społeczną. Objawy występujące u osób z zespołem Aspergera są zwykle mniej nasilone niż u pacjentów z klasycznym autyzmem. Nadal trwa debata, czy zespół Aspergera jest odmianą klasycznego autyzmu. Niektórzy twierdzą, że należy go klasyfikować jako osobne zaburzenie.
Wszechobecne zaburzenie rozwoju to klasyfikacja dla kogoś, kto wykazuje oznaki autyzmu, ale nie pasuje do kategorii klasycznego autyzmu lub Aspergera.
Czy leczenie jest możliwe?
Nie ma lekarstwa na ASD. Najbardziej skuteczne metody leczenia obejmują wczesne i intensywne interwencje behawioralne. Ogólnie przyjmuje się, że im wcześniej dziecko zostanie zapisane w tych programach, tym lepsze będą ich perspektywy.
Do tej pory medycyna konwencjonalna nie znalazła lekarstwa na ASD, pacjenci i ich bliscy szukają różnych alternatyw leczenia. Do tej pory odnoszoną się do:  spożywanie wysokiej dawki witamin, terapii relaksacyjnej oraz do terapii tlenem hiperbarycznym.
Obecnie nie ma dowodów na to, że ww. metody leczenia są skuteczne. Związku z czym, rodzice i rodzina, powinni dokładnie rozważyć koszty badań przed zainwestowaniem w nich jakichkolwiek pieniędzy i wysiłku.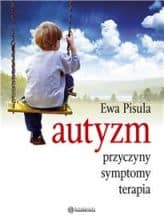 Autyzm – poradniki i książki
Kliknij tutaj i sprawdź ceny!
Problemy sensoryczne
Osoby z autyzmem mogą być bardzo wrażliwe na bodźce zmysłowe. Coś tak powszechnego jak głośne dźwięki lub jaskrawe światło może wywołać znaczny emocjonalny dyskomfort. Alternatywnie można nie reagować w ogóle na niektóre odczucia, takie jak ekstremalne upał, zimno lub ból.
Napady padaczkowe
Tego typu ataki są często spotykane wśród  osób z autyzmem. Często zaczynają się w dzieciństwie lub w wieku nastoletnim. Bez dodatkowe leczenia ich charakter może się pogorszyć.
Problemy ze zdrowiem psychicznym
Posiadanie ASD bardzo często naraża chore osoby na ryzyko pojawienia się depresji, stanów lękowych, impulsywnego zachowania czy też wahania nastrojów.
Upośledzenie umysłowe
Wiele osób z ASD ma pewien poziom upośledzenia umysłowego. Dzieci z zespołem łamliwego chromosomu X są bardziej podatne na szerszy rozwój choroby.  Ten zespół jest spowodowany defektem w części chromosomu X. To częsta przyczyna upośledzenia umysłowego, szczególnie wśród chłopców.
Guzy
Stwardnienie guzowate jest rzadkim zaburzeniem, które powoduje wzrost łagodnych guzów w narządach, w tym w mózgu. Związek między stwardnieniem guzowatym a ASD jest niejasny. Jednak wskaźniki ASD są znacznie wyższe u dzieci ze stwardnieniem guzowatym niż u osób bez tej choroby.
Inne komplikacje
Inne problemy, które mogą towarzyszyć ASD to nadmierna agresja, niezwykłe nawyki snu, nadzwyczajne nawyki żywieniowe i problemy trawienne.
Autyzm jawi się bardzo ciężkim stanem, z którym bardzo trudno samemu sobie poradzić. Charakter choroby jest także bardzo trudny dla opiekunów. Prócz zwyczajnych symptomów, mogą pojawić się dodatkowego komplikacje, które wymagają leczenia i są kolejnym wyzwaniem, zarówno dla lekarza jak i samego pacjenta.