Bita śmietana to jeden z najchętniej dodawanych dodatków do deserów. Jest lekka, pyszna i sprawia, że danie komponuje się zupełnie inaczej, niż w wersji samodzielnej. Niestety ubijanie śmietany to trudna sztuka, która może skończyć się niepowodzeniem. Wystarczy jeden błędny ruch, a naprawienie sytuacji może być bardzo trudne lub nawet niemożliwe. O czym należy pamiętać podczas ubijania śmietany? Jakich błędów nie należy popełniać?
Najczęstsze błędy podczas ubijania bitej śmietany
Zbyt ciepła śmietana
Często bita śmietana potrzebna jest natychmiast. To wtedy najczęściej wyruszamy do sklepu, a tuż po powrocie natychmiast przystępujemy do ubijania. Bita śmietana musi być mocno schłodzona! Tylko to może sprawić, że zyskamy delikatną, puszystą i zwartą konsystencję. Zastosowanie zbyt ciepłej śmietany mogłoby doprowadzić do braku efektów ubijania. Zawsze przed rozpoczęciem miksowania, warto włożyć śmietanę do lodówki nawet na całą noc. Dzięki temu unikniemy katastrofy.
Niedopasowanie szybkości obrotów
Bardzo często w obawie o zważenie się śmietany, ustawiamy szybkość miksera na minimalne obroty, aby śmietana mogła się powoli ubijać. Niestety takie postępowanie może sprawić, że śmietana będzie ubijała się bardzo długo, a rezultacie się zważy. Jak uniknąć takiej sytuacji? Rozpoczynamy miksowanie z użyciem najszybszych obrotów. Nie należy obawiać się zważenia. Śmietana na początku potrzebuje dużej dawki mocy, aby miksowała się nie tylko wierzchnia warstwa, ale równie środek. Kiedy zauważymy pierwsze ślady ubicia, warto nieco zmniejszyć obroty, jednak nigdy nie zmniejszamy ich do minimum.
Zły procent śmietany
Najprościej jest ubić śmietanę 36%. Jest ona bardziej tłusta, a proces ubijania jest nawet o połowę krótszy, niż w przypadku śmietany 30%, która ma rozwodnioną konsystencję. Nigdy nie ubijamy innej śmietany, niż 30% i 36%, gdyż taka śmietana nigdy się nie ubije! Na początku warto rozpocząć naukę ubijania od śmietany 36%, a wraz z dojściem do wprawy warto zmienić śmietanę na 30%, gdyż jest delikatniejsza, niej tucząca i smaczniejsza.
Dodawanie cukru
Nie ma znaczenia, czy cukier dodany będzie na początku, czy też na końcu procesu ubijania. Warto jednak zadbać, aby był to cukier puder. Jest on lżejszy, lepiej wpasuje się w konsystencję śmietany i nie doprowadzi do ewentualnego zważenia. Oczywiście cukier dodajemy stopniowo. Wsypanie od razu wszystkiego mogłoby zakończyć się niepowodzeniem i zmarnowaniem śmietany.
Stosowanie nieodpowiedniego naczynia
Zawsze warto pamiętać, że ubijana śmietana podniesie się około trzykrotnie. Zastosowanie zbyt małego lub zbyt niskiego naczynia doprowadzi do chlapania oraz do braku miejsca na ubitą śmietanę. Najlepiej proces wykonywać w metalowym garnku.
Brak energicznych ruchów
Ubijając śmietanę, należy pamiętać o energicznych ruchach. Zbyt powolne ruchy i obroty miksera mogłyby sprawić, że śmietana się nie ubije.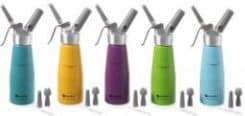 Syfony do bitej śmietany
Kliknij i sprawdź ceny!
Niestosowanie fixów
Często, zwłaszcza w trakcie upału dostrzegamy, że śmietana zaczyna się topić. Nie warto ryzykować zmarnowaniem ciasta, dlatego przydatne może okazać się zastosowanie specjalnych fixów dostępnych w większości sklepów spożywczych. Wystarczy wsypać go przed końcem ubijania. Niektórzy stosują żelatynę, jednak dla osób początkujących mogłoby stanowić to wyzwanie.
Co zrobić, gdy śmietana się zważy?
Przede wszystkim nie należy panikować. Może to przytrafić się każdemu. Po czym poznać, że doszło do zważenia? Zazwyczaj na powierzchni powstają niewielkie grudki przypominające swoim wyglądem kaszę mannę. W takim przypadku można postępować w dwojaki sposób.
Sposób 1
Sposób pierwszy polega na dodaniu do śmietany 2 łyżek mleka słodzonego skondensowanego, 2 łyżki serka homogenizowanego albo też 2 łyżki bardzo gęstej śmietany. Następnie wystarczy delikatnie wymieszać wszystko łyżką. To wszystko! Krem uratowany!
Sposób drugi
To nieco trudniejszy sposób ratowania zważonej śmietany.  Jest on również nieco trudniejszy. Polega on na tym, aby na początku podgrzać śmietanę, po to, by wróciła do swojej tradycyjnej, płynnej postaci. Do tego trzeba również dodać żelatynę, która została rozpuszczona w 1/3 szklanki wody. Taką śmietanę wkładamy do lodówki na około 2 godziny i po tym czasie z pewnością zauważymy, że całość zgęstniała i nabrała galaretowanej konsystencji. W tym momencie należy dodać około 3 łyżek serka homogenizowanego i energicznymi ruchami całość miksować mikserem. Jeżeli wszystko pójdzie zgodnie z planem, bita śmietana powinna przypominać pyszny, śmietanowy krem, które świetnie komponuje się z ciastami!
O czym należy pamiętać?
Oto lista, która pozwoli na podsumowanie wszystkich czynności, jakie należy wykonać podczas ubijania śmietany:
Należy ubijać schłodzoną wcześniej śmietanę,
należy ubijać śmietanę energicznymi ruchami,
należy ubijać śmietanę na początku na najwyższych obrotach i stopniowo je zmniejszać,
warto dodawać cukier puder ze względu na niewielką wagę i małe ryzyko zważenia się śmietany,
należy ubijać tylko śmietanę 30% lub 36%,
należy ubijać śmietanę w stosownie dużym pojemniku.