Pielęgnacja skóry jest jedną z najistotniejszych czynności dotyczącą ciała. Wybierając produkty należy sugerować się ich właściwościami. Przede wszystkim powinny dokładnie oczyszczać, tonizować, usuwać nadmiar sebum oraz nawilżać. Mało które środki zawierają te wszystkie wartości. Choć istnieją produkty, które oferują bardzo dużo korzyści. Czarne mydło to tylko jeden z tych produktów. Zawiera ono masło shea, które jest aktywnym składnikiem stosowanym przez ludzi na całym świecie.  To jedna z najlepszych opcji dla osób z suchą lub drażniącą skórą. Jednak warto zastanowić się jakie dokładnie korzyści może zaoferować czarne mydło.
Co to jest czarne mydło ?  
To mydło jest powszechnie nazywane czarnym mydłem, ale może być również określane jako afrykańskie. Tak czy inaczej oferują te same korzyści dla skóry i zdrowia.
Czarne mydło pochodzi z popiołu kory i roślin, które są ogólnodostępne w afrykańskich narodach. Powstaje poprzez suszenie kory drzewa, strąków kakaowca, babki lancetowatej i liści palmy. Najpierw są one suszone na słońcu, a następnie pieczone w żeliwnym garze. Celem takiego procesu jest utrzymywanie stałej temperatury w celu upewnienia się, że mydło ma odpowiednią barwę i zapach. Następnie dodawane są oleje i woda, dzięki czemu powstaje ciekły produkt, który należy bardzo długo mieszać – nawet kilkanaście godzin. Dopiero po dwóch tygodniach jest gotowe do użycia. Oczywiście, największe firmy kosmetyczne nie produkują w ten sposób czarnego mydła. Ich technika jest bardziej zaawansowana i rozwinięta technologicznie. Jednak łączy je utrzymanie naturalności.
To mydło nawilżające
Bardzo niewiele mydeł ma właściwości nawilżające skórę. W przypadku czarne mydła jest wręcz przeciwnie. Związku z tym, że w jego skład wchodzi masło shea, jego właściwości nawilżające są bardzo ogromne. Masło shea jest jednym z najlepszych składników do głębokiego nawilżania skóry. Wnika głęboko w pory i oferuje nawilżenie każdej pojedynczej warstwy. To bardzo korzystne dla osób o suchej i tłustej skórze. Inaczej jest w przypadku cery tłustej. Osoby z tłustą cerą nie powinny stosować czarnego mydła, ponieważ może to doprowadzić do jeszcze gorszego stanu. Natomiast sucha skóra potrzebuje nawilżenia, głównie dla zminimalizowania uszkodzeń i podrażnień.
Za pomocą czarnego mydła można leczyć również inne schorzenia skóry. Osoby z wypryskami i łuszczycą stosując czarne mydło mogą zauważyć pewne zmiany na skórze, ponieważ  dzięki nim wszystkie warstwy są głęboko odżywione masłem shea. Chociaż istnieje wiele innych produktów, które nawilżają skórę, masło shea oferuje jeszcze jedną istotną zaletę: nie zatyka porów. Nie ma potrzeby martwić się wzrostem bakterii wewnątrz porów, które prowadzi do trądziku.
To ochrona przed promieniowaniem UV
Używanie czarnego mydła nie oznacza braku potrzeby stosowania dodatkowych zabezpieczeń przed UV. Nawilżenie za pomocą czarnego mydła oferuję tylko dodatkową, ochronną warstwę. Dlatego, prócz czarnego mydła, należy nałożyć dodatkowy krem.
Dlaczego jest to ważne dla zdrowia? Promienie UV powodują uszkodzenie skóry, prowadzą  do uszkodzeń nowotworowych i przyspieszają proces starzenia. Ponadto, podczas opalania dochodzi do powierzchownego zniszczenia skóry. Jej ochrona jest bardzo istotna.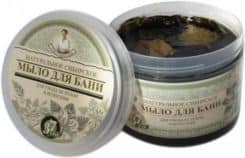 Czarne mydło
Kliknij tutaj i sprawdź ceny!
Uzdrawia skórę
Jeżeli na skórze pojawiły się już pierwsze oznaki starzenia, warto zaopatrzyć się w czarne mydło, które jest pełne przeciwutleniaczy – witaminy A i E. Składniki te pomagają zwalczyć wodne rodniki, które są źródłem powstawania wyprysków. Ponadto, skóra staje się zregenerowana i naprawiona. Zmarszczki, przebarwienia i ciemne plamy na skórze systematycznie znikają pod wpływem stosowania czarnego mydła. Istnieją również badania, że czarne mydło pomaga poprawić jakość skóry. Działa na poprawę tekstury skóry – sprawia, że jest naturalna i wygląda młodzieńczo.
Podobnie czarne mydło działa na zmarszczki. Kiedy na skórze pojawiają się drobne linie i fałdki warto zastosować produkt ujędrniający, a takim może być czarne mydło. Prócz ujędrnienia, gwarantuje produkcję kolagenu. Podobnie może pomóc wyleczyć egzemę, łuszczycę i inne schorzenia skóry. Wszystko to dzięki właściwościom nawilżającym.
Pomaga złuszczyć skórę
Wiele osób szuka leczenia, które pomoże pozbyć się martwych komórek skóry. Ich usunięcie to najlepszy sposób na wydobycie naturalnego blasku. Problem polega na tym, że istnieje wiele ostrych metod leczenia, które niekoniecznie dają upragnione efekty. Poza tym, metody te opierają się na mechanicznych zabiegach wykorzystujących toksyny i inne związki chemiczne.  Czarne mydło działa zupełnie inaczej. To produkt, który złuszcza skórę delikatnie i skutecznie. Usuwa wszystkie zanieczyszczenia, eliminuje bakterię i pozbywa się martwych komórek. Dlatego też, czarne mydło sprawdza się jako środek oczyszczający zarówno do codziennego stosowania oraz jako tonik do usuwania makijażu.
Pomaga eliminować objawy trądziku
Związku z tym, że czarne mydło jest dobrym środkiem oczyszczającym, idealnie sprawdza się jako produkt do walki z objawami trądziku. Jego stosowanie powoduje odblokowanie i oczyszczenie porów, usuwa bakterię oraz zanieczyszczenia, które mogą prowadzić do zwiększenia wyprysków trądziku w przyszłości. Z racji, iż mydło zawiera wyciąg z babki to działa antybakteryjnie. Nie tylko eliminuje nagromadzone zanieczyszczenia, ale również usuwa znajdujące się na skórze bakterię. Pomaga rozmnażaniu się bakterii. Tego typu właściwości są naturalne. Oznacza to, że do organizmu nie dostają się żadne toksyny, które mogłyby zaburzyć równowagę hormonalną. W mydle znajdują się także właściwości przeciwgrzybicze. To kolejna zaleta zmniejszająca ryzyko pojawienia się trądziku. Ostatnim plusem są korzyści przeciwzapalne. Zapalenie skóry jest problemem, które pojawia się w przypadku wyprysków trądziku i podrażnień. Człowiek pozbywając się zapalenia skóry równocześnie pozbywa się wszystkich skutków ubocznych.