Od ośmiu miesięcy rozwija się w Twojej macicy organizm,który z zarodka w pierwszym trymestrze, stał się płodem, a następnie nienarodzonym dzieckiem. W 37 tygodniu ciąży dziecko, które jest już w pełni ukształtowane, mogłoby przyjść na świat, korzystając z własnych umiejętności samodzielnego oddychania, przyswajania pokarmu, trawienia i wydalania. W pełni rozwinięte układy oraz narządy i części ciała świadczą o gotowości dziecka do przyjścia na świat.
Termin porodu, ustalany formalnie na czterdziesty tydzień ciąży, w praktyce okazuje się czasem umownym, poród może bowiem nastąpić już około trzech tygodni przed określonym przez lekarza terminem lub odrobinę później. Jako przyszła mama z pewnością odczuwasz już dyskomfort fizyczny, związany z dużym rozmiarem brzucha i obniżonym dnem macicy, sprawiającym, że brzuch staje się obniżony, utrudniając poruszanie się. Termin rozwiązania zbliża się jednak wielkimi krokami, co potrafi zdecydowanie zmniejszyć przykre aspekty ostatniego miesiąca ciąży. 37 tydzień ciąży to 35 tydzień życia dziecka, dziewiąty miesiąc, a jednocześnie trzeci trymestr ciąży.
Przyszła mama przed porodem
W 37 tygodniu ciąży nabywasz już przyzwyczajenia do mogącego nastąpić w każdej chwili rozwiązania. Wybór szpitala, w którym zamierzasz urodzić, z pewnością masz już za sobą, a wyprawka czeka, spakowana w torbie podróżnej, którą zabierzesz ze sobą w drodze na oddział położniczy. Jeżeli zawartość torby jest jeszcze w pełni nie skompletowana, 37 tydzień ciąży to najwyższa pora na dokonanie ostatnich, brakujących elementów początkowego wyposażenia maluszka.
Pamiętaj również o własnych potrzebach w szpitalu. Poza akcesoriami kosmetycznymi oraz ubraniami, odpowiednimi na czas pobytu w szpitalu i produktami, niezbędnymi w kontakcie z noworodkiem, warto zabrać ze sobą ulubioną prasę, ciekawą książkę lub pamiętnik, który będziesz mogła spokojnie uzupełnić podczas, gdy maluszek zaśnie, a goście wrócą do swoich domów. Pamiętnik oraz własnoręcznie zrobione zdjęcia z pierwszych chwil z maluszkiem staną się wyjątkową pamiątką, do której będziecie chętnie sięgać w ważnych chwilach wspólnego życia. Zanim dziecko się urodzi, wykorzystaj ostatnie, spokojne chwile bez maluszka na uzupełnienie pokładów energii, korzystając z możliwości wyspania się.
Jak się czujesz w 37 tygodniu ciąży?
Znaczne rozmiary brzucha oraz obniżone dno macicy, sprawiają, że w 37 tygodniu ciąży łatwiej Ci się oddycha, jednak pojawiają się trudności z poruszaniem się i wykonaniem podstawowych czynności, związanych ze schylaniem się, jak np. zawiązanie butów. Do końca ciąży pozostało już jednak bardzo niewiele czasu, rozwiązanie może nadejść w każdej chwili, a Ty będziesz mogła cieszyć się swoim maluszkiem, przy takim podejściu trudności stają się przecież drobnymi niedogodnościami.
Obniżona macica wpływa na ucisk pęcherza moczowego, powodując w 37 tygodniu zwiększone parcie na pęcherz. Częsta potrzeba oddania moczu nie powinna ograniczać ilości płynów, które powinny być dostarczane do organizmu w odpowiedniej ilości. Może pojawić się ból w okolicy krocza. Często, w 37 tygodniu ciąży, przyszłe mamy spotykają się ze skurczami przepowiadającymi. Pojawiający się silny ból może wystąpić kilka razy w tygodniu, a jego intensywność może spowodować pomylenie ze skurczami właściwymi. Skurcze przepowiadające, świadczące o przygotowaniu się macicy do porodu, ustają z reguły po 1,5 do 2 godzin, tym można odróżnić je od prawdziwych skurczów porodowych.
Dziecko w 37 tygodniu ciąży
Maluszek w Twoim brzuchu jest już gotowy do samodzielnego życia poza Twoim organizmem. Dziecko, w 37 tygodniu, waży około 2,8 kg, mierzy około 48 cm. Końcówka ciąży nie oznacza jednak, że dziecko przestaje rosnąć i przybierać na wadze. Maluch przybiera nadal, około 3 g dziennie. Ciało nienarodzonego jeszcze dziecka odkłada tłuszcz, tworząc na ciele fałdki. Dziecko nieznacznie obniża swoją aktywność. 37 tydzień ciąży i związane z nim rozmiary maluszka, to znak, że dziecku jest już ciasno w Twojej macicy i powoli będzie chciało przygotować się do przyjścia na świat.
Dziecko, które jest odwrócone głową w dół, jest już gotowe do porodu naturalnego, jeśli natomiast maluszek nie zdążył się odwrócić, raczej już nie będzie to możliwe z uwagi na ograniczone miejsce, a Ciebie czeka pomoc lekarska w postaci cesarskiego cięcia. Meszek płodowy, który pokrywał wcześniej ciało płodu, już zupełnie zanikł, a nadnercza produkują kortyzol, hormon, dzięki któremu jest możliwe oddychanie dziecka poza workiem owodniowym. Wszystkie układy w organizmie dziecka są już rozwinięte, a sam maluszek trenuje  chętnie ściskanie pępowiny, ćwicząc mięśnie dłoni.
Chętnie również wciąga i wypluwa wody płodowe, ucząc się mechanizmu oddychania. Czynność ssania kciuka kształtuje u dziecka umiejętność ssania pokarmu, która będzie u niego naturalna po przyjściu na świat. Układ pokarmowy jest w pełni ukształtowany, a układ nerwowy pracuje prawidłowo. Im dłużej jednak dziecko pozostanie w łonie mamy, tym więcej otrzyma od niej przeciwciał, dostarczanych w krwi, chroniących narodzone już dziecko przed szkodliwością czynników zewnętrznych, mogących negatywnie wpływać na odporność.
Co może niepokoić w 37 tygodniu ciąży?
Ograniczona swoboda ruchów dziecka może wpłynąć na zmniejszenie się częstotliwości i intensywności ruchów dziecka. Przez okres poprzednich tygodni z pewnością zdążyłaś się przyzwyczaić do trybu zachowań maluszka i wiesz, że zdarzają się okresy, kiedy dziecko jest bardziej, lub mniej aktywne. Bywa również, że dziecko śpi, wtedy nie wyczuwasz jego ruchów. 37 tydzień ciąży jest okresem, kiedy dziecko docenia i lubi spokój, jakim jest otoczone.
Wszelkie hałasy i zaburzające jego spokój bodźce są powodem rozdrażnienia maluszka. Jeśli jednak zmniejszenie ilości ruchów dziecka jest dla Ciebie niepokojące, warto zastosować samodzielną obserwację częstotliwości ruchów dziecka metodą Cardiff. Musisz przygotować tabelkę, w której odnotujesz ilość ruchów dziecka pomiędzy godziną 8.00, a 22.00. Jeżeli odczujesz 10 ruchów dziecka, nie powinnaś mieć powodów do niepokoju, jeśli jednak zauważasz jakieś niepokojące sygnały, skontaktuj się ze swoim lekarzem lub oddziałem położniczym. Pamiętaj, aby odnotować zarówno wyraźne, mocne ruchy dziecka, jak i te słabsze.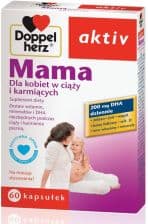 Witaminy dla kobiet w ciąży i karmiących piersią
Kliknij i sprawdź ceny!
37 tydzień ciąży – rozmowa z dzieckiem w brzuchu
Czy słyszałaś coś na temat komunikacji prenatalnej? To, że nosisz swoje dziecko od ponad ośmiu miesięcy, oznacza z całą pewnością, że oboje zdążyliście się przyzwyczaić w jakiś sposób do sytuacji ciąży i wzajemnego, bezustannego towarzystwa. Oboje znacie już swoje zwyczaje, stałe pory wykonywania określonych czynności.
Czy wiesz, kiedy dziecko jest radosne, a kiedy gniewa się, gdy bodźce, docierające do niego, wywołują zdenerwowanie? Twój maluszek również potrafi rozpoznawać Twoje nastroje oraz formy aktywności. Gdy jesteś spokojna i zadowolona, dziecko również odpowiada tym samym, dobrym usposobieniem, wykonując delikatne ruchy, lub radośnie porusza kończynami, sprawiając, ze czujesz wyraźne kopnięcia. Jeśli odczuwasz niepokój, maluszek może okazywać swój poprzez brak wyraźnych ruchów, lub przeciwnie, zaniepokojenie w postaci nieskoordynowanych, mocnych poruszeń. Twoje dziecko rozpoznaje Twój głos, lubi słuchać, gdy przemawiasz do niego spokojnym tonem. Aby nie wywoływać u maluszka stresu, unikaj hałaśliwych miejsc.
Ważne w końcówce ciąży:
odpoczywaj, śpij, relaksuj się,
37 tydzień ciąży – bądź gotowa na wyjazd do szpitala,
unikaj hałasu,
staraj się nie rezygnować z codziennej aktywności w postaci spaceru,
często mów do maluszka,
wszystkie, niepokojące Cię sygnały skonsultuj z lekarzem, nie bagatelizuj sygnałów ostrzegawczych,
stosuj zdrową dietę,
nie ograniczaj spożycia płynów,
stosuj kosmetyki, ograniczające powstanie rozstępów.
Gdy upływa 37 tydzień ciąży, masz jeszcze chwilę czasu, aby pomyśleć tylko o sobie. Zrelaksuj się, spraw sobie przyjemność w postaci odwiedzenia ciekawej wystawy lub spotkania z przyjaciółkami, po urodzeniu dziecka nie będziesz miała zbyt wiele czasu na własne przyjemności.