Objawów zapalenia zatok jest wiele, ich rodzaj zależy od tego, w których dokładnie zatokach zaczął się stan zapalny.
Najczęstsze objawy zapalenia zatok:
Utrudnione oddychanie przez nos, uczucie zatkanego nosa, przez który pacjent musi oddychać przez usta. Mowa "przez nos".
Bóle głowy i twarzy u nasady nosa zwiększające się w trakcie nachylania oraz podczas nacisku na zatoki.
Ból nosa po obu stronach, utrata powonienia
Obecna ropna wydzielina z nosa (nieżyt nosa)
Spływająca po tylnej ścianie gardła wydzielina, powodująca kaszel. Najczęściej posiada ona bardzo charakterystyczny zielony kolor.
Obrzęk tkanek miękkich w okolicy oczu
Pogorszenie węchu
Uczucie ucisku w danych rejonach
Gorączka  (38 stopni)
Przykry zapach z ust
Obrzęk powiek
Łzawienie oczu
Złe samopoczucie
Brak apetytu
Chrząkanie
Wszystkie podane wyżej objawy nie muszą występować we wszystkich przypadkach zapalenia zatok i na ich podstawie nie można jednoznacznie stwierdzić zapalenia zatok. Diagnozę można postawić, wtedy gdy występuje niedrożność ujść zatok oraz przewodów nosowych.
Najpopularniejsze objawy zapalenia zatok ze względu na rodzaj zapalenia:
Ludzki organizm ma parę zatok przynosowych. Objawy zapalenia poszczególnych zatok mogą być całkowicie inne i zależą między innymi od tego, w jakich zatokach nosowych rozwinął się stan zapalny. Stan zapalny może obejmować zarówno zatoki czołowe, klinowe, sitowe, jak i szczękowe. Występujący i rozwijający się stan zapalny może być powodem zwiększającego się obrzęku, zmniejsza się przez to drożność zatok, a pacjent odczuwa ból głowy, ucisk w chorych rejonach.
Zapalenie zatok szczękowych, zwłaszcza kiedy stan zapalny szerzy się z rejonu zębodołu. Bardzo podobne objawy występują w przypadku przewlekłego zapalenia zatok szczękowych, jednak są mniej intensywne. Infekcja umiejscowiona jest pod policzkami zatok szczękowych.
Ból zębów, szczególnie górnej szczęki oraz dużej ilości zębów.
Nieświeży zapach z ust
Gorączka
Ból zatok
Ucisk, który obejmuje zęby, twarz oraz czoło
Odczuwalny ból w trakcie ucisku policzków oraz głowy w rejonie skroni
Ból kości policzka jedno albo dwustronny. (zależy od tego czy proces zapalny zainfekował jedną zatokę czy obie)
Obolałe okolice oczu
Odczuwana jest duża ulga, kiedy pacjent leży na plecach. Ból zdecydowanie staje się intensywniejszy w momencie pochylania.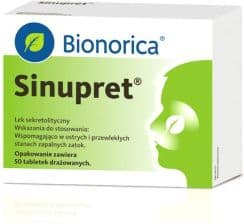 Leki na zapalenie zatok
Kliknij i sprawdź ceny!
Zapalenie zatok czołowych ( umiejscowione na wysokości czoła)
Ból głowy obejmujący czoło, który pacjenci określają jako bardzo przeraźliwy. Występuje również w momencie opukiwania czoła. Ból zwiększa swoje natężenie, jeśli pacjent zmieni pozycję ze stojącej na leżącą na plecach, albo jeśli pochyli swoją głowę. Zmniejsza się po uniesieniu głowy przez pacjenta.
Uczucie ucisku
Zapalenie zatok sitowych (leżą nad nosem oraz po bokach obu oczu)
Ból głowy, który obejmuje rejony oczu, zwłaszcza obejmujące kącik oka.
Rozsadzający ból głowy, dolegliwości nasilają się, jeśli pacjent kaszle albo leży w pozycji na plecach. Ból maleje po uniesieniu głowy.
Uczucie ucisku głowy
Zapalenie zatoki klinowej ( umiejscowione jest w samym centrum czaszki zatoki klinowej)
Ból w okolicy potylicznej, skroniowej, czołowej, oczodołowej a także kierujący się ku szczytu czaszki
Ulgę przynosi jedynie leżenie na plecach a pochylanie głowy do przodu zwiększa go, pomóc może również podniesienie głowy do góry.
W przypadku wirusowego zapalenia zatok objawy związane ze stanem zapalnym mogą występować przez siedem dni. Jeśli pacjent choruje na ostre zapalenie zatok, w większości przypadków odpowiada za nie zapalenie górnych dróg oddechowych, wywołane paciorkowcami, gronkowcami, w rzadkich przypadkach innymi wirusami czy bakteriami. Wtedy zapalenie to może utrzymywać się do maksymalnie czterech tygodni. Gdy, pacjent cierpi na podostre zapalenie zatok, stan zapalny może utrzymywać się nawet przez okres od 4 do 12 tygodni. Szybciej może trwać całkowite wyleczenie jeśli poza leczeniem farmakologicznym wspomagamy się domowymi sposobami na zatoki.
W trakcie przewlekłego zapalenia zatok, które spowodowane jest przez reakcję alergiczną, czy czasem przez ropnie zębów, a także innych infekcji, zapalenie może utrzymywać się nawet powyżej dwunastu tygodni.
Zapalenie zatok- rozpoznanie
Aby, zdiagnozować zapalenie zatok, lekarz musi przede wszystkim przeprowadzić z pacjentem wywiad oraz wykonać badanie fizykalne. Najbardziej skutecznym badaniem w celu wykrycia zapalenia zatok jest tomografia komputerowa. Powoduje ona uwidocznienie zmian takich jak utrata napowietrzenia zatok, czy płyn w zatoce albo polipy błony śluzowej. Natomiast w wynikach morfologi krwi powinna pojawić się leukocytoza. Powoli przestaje się natomiast wykonywać zdjęć rentgenowskich zatok, ponieważ tomografia przekaże lekarzowi o wiele większą liczbę przydatnych informacji. Aby, dokładnie ocenić patogen czy ewakuację ropę, przeprowadza się nakłucie zatoki. W trakcie niego pobiera się płyn, potrzebny do badania mikrobiologicznego, a także ocenia pojemność zatoki i podaje niezbędne leki. W trakcie tego zabiegi pacjent musi siedzieć, a do jego przewodu nosowego wstrzykuje się znieczulenie, po czym igłą punkcyjną przebijana jest ściana zatoki.