Bita śmietana już od dobrych parunastu lat zadomowiła się w naszej kuchni, stanowiąc idealny dodatek do deserów czy niekiedy ich główny składnik. Jej uniwersalność sprawiła, że pokochało ją tysiące osób! Co więcej, możemy przygotować ją od zera, własnoręcznie, wykorzystując wysokoprocentową śmietankę do ubijania, bądź zakupić już gotową bitą śmietanę w dozownikach gotową do użycia. Poniżej reprezentujemy dziesięć sposobów na wykorzystanie bitej śmietany w twojej kuchni. Dlaczego nie dać się rozpieścić przepysznej, białej piance? Co więcej, pokochają ją za przepyszny smak nie tylko dzieci.
Sposób pierwszy na bitą śmietanę
W upalny, letni dzień każdy szuka czegoś do ochłody. A nie ma nic lepszego, od przepysznych, zimnych lodów z bitą śmietaną! Jak zrobić bitą śmietanę? Śmietanę możemy przyrządzić sami lub kupić już w sklepie gotową do użycia. Nie musimy wydawać krocie na deser w cukierni: z pomocą sezonowych owoców, dowolnie wybranych przez nas smaków lodów i bitej śmietany możemy stworzyć niezapomniany deser, którym oczarujemy nie tylko naszych najbliższych, ale i przyjaciół. Taka propozycja sprawdzi się idealnie na rodzinnym zjeździe czy grillu, przynosząc ulgę podczas słonecznych, gorących dni. No i nie trzeba dodawać, że dzieci je pokochają od pierwszego spróbowania!
Sposób drugi na bitą śmietanę
Śmietana może stanowić dodatek bądź być deserem głównym samym w sobie! Wystarczy przygotować śmietanę, nałożyć ją do pucharków, a następnie ozdobić z wierzchu tarkowaną czekoladą i/lub owocami sezonowymi. Mogą to być zarówno plasterki jabłka, jak i wiśnie, gruszki, śliwki, maliny, jagody czy morele. Wszelkie chwyty dozwolone, a im bardziej kolorowo: tym lepiej! Do  dekoracji można również użyć owoców z przetworów.
Sposób trzeci na bitą śmietanę
Każdy z nas pamięta w sklepie chrupiące rurki z bitą śmietaną, które można było kupić na wagę. Teraz jest to o wiele prostsze, bo możemy je przygotować własnoręcznie w domu! Wystarczy kupić lub przygotować odpowiednie ciasto, a następnie wstrzykiwać do środka nadzienie z bitej śmietany.
Sposób czwarty na bitą śmietanę
Innym pomysłem na wykorzystanie bitej śmietany jest użycie jej jako nadzienia do… pączków. Ten przepis sprawdzi się bardziej na tłusty czwartek, ale nic nie stoi na przeszkodzie, aby w zwyczajny dzień sprawić sobie odrobinę dziecięcej radości i przyjemności. W tym przypadku należy najpierw wyrobić cisto i usmażyć pączki, a dopiero na sam koniec albo przekrajać je nie do końca i nakładać bitą śmietanę, albo wstrzykiwać do środka za pomocą specjalnego pistoletu. Gwarantujemy, że takie pączki bardzo szybko podbiją serca domowników i znikną w ekspresowym tempie z talerzy!
Sposób piąty na bitą śmietanę
Skoro mogą być pączki z bitą śmietaną, to czemu nie przyrządzić domowe gofry z bitą śmietaną? Bardzo ciężko znaleźć osobę, która nie lubiłaby tego dania. Gofry również można udekorować sezonowymi owocami oraz tartą czekoladą
Sposób szósty na bitą śmietanę
Śmietana jest bardzo cenionym składnikiem, jeżeli chodzi o dekorację tortów. Co więcej, nie tylko pięknie wygląda, ale również idealnie komponuje się z prawie wszystkimi smakami. Nie ma znaczenia, czy jest to tort czekoladowy, śmietankowy, truskawkowy, ananasowy, bananowy, malinowy: bita śmietana w postaci małych zefirków to coś, co śmiało można określić mianem "wisienki na torcie". Bitą śmietanę można użyć zarówno jako element dekoracyjny, jak również jedną z warstw kremowych tortu.
Sposób siódmy na bitą śmietanę
Idealnym połączeniem bitej śmietany jest umieszczenie jej w drożdżowych bułeczkach jagodowych. Od tej pory zwykła, popularna jagodzianka już nigdy nie będzie smakowała tak samo! Bita śmietana nada całości słodyczy i aksamitności, która doskonale będzie kontrastowała z kwaskiem pochodzącym od jagód.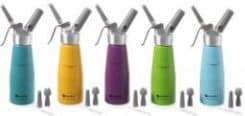 Syfon do bitej śmietany
Kliknij i sprawdź ceny!
Sposób ośmy na bitą śmietanę
Tęczowa bita śmietana we wszystkich odcieniach tęczy? To niezbędnik każdej dziecięcej imprezy! Maluchy zwyczajnie szaleją na punkcie kolorowych lodów i innych rzeczy w niecodziennych barwach. A sposób jej przygotowania jest naprawdę banalny. Wszystko, czego potrzebujesz to bita śmietana (możesz ją kupić gotową w sklepie lub własnoręcznie przygotować) i barwniki spożywcze. Po wymieszaniu otrzymamy niesamowity produkt końcowy, a jedyne, co będzie ograniczało nas w przygotowaniach, to nasz własna fantazja!
Sposób dziewiąty na bitą śmietanę
Jabłecznik z bitą śmietaną to niecodzienne, ale niesamowicie smaczne połączenie. Słodycz bitej śmietany będzie idealnie podkreślała kwaskowatość jabłkowego nadzienia, szczególnie jeśli będzie ono z takich odmian jak na przykład antonówki. Taki deser można podawać razem, czyli elegancki stożek na kawałku ciasta lub osobno, podając ciasto na talerzyku i bitą śmietanę w niewielkiej miseczce obok.
Sposób dziesiąty na bitą śmietanę
Bitą śmietanę można wykorzystać również do dekoracji budyniu. Każdy z nas kojarzy niezwykle popularny "Twój  deser". Tymczasem można zrobić identyczny w domu niewielkim nakładem kosztów i sił. A dorośli mogą spróbować go zjeść na wiele sposobów razem w sypialni. Życzymy smacznego.