Suszona żurawina co prawda nie cieszy się popularnością w polskiej kuchni, jednak w leczeniu pewnych chorób, takich jak zapalenie pęcherza, jest stosowana od lat. Pewnie niektórzy dostrzegli już jej walory smakowe, choć nie wszystkim z pewnością podoba się jej specyficzny smak. Można jednak dodawać ją do ciast i deserów, ale równie dobrze sprawdzi się w owsiance czy jako składnik mieszanki muesli. Suszone owoce żurawiny mogą z powodzeniem zastępować nam w diecie słodycze, ponadto są bogate w witaminy i minerały, a także w błonnik, który jest nam bardzo potrzebny. Jeśli żurawina została ususzona we właściwy sposób, zwielokrotniło to ilość niektórych składników odżywczych w niej zawartych. Jeśli nie mamy możliwości sięgnąć po świeży sok żurawinowy, suszona żurawina będzie doskonałym zamiennikiem.
Suszona żurawina w kuchni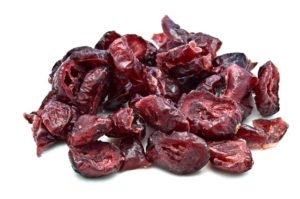 Trzeba przyznać, że jest wciąż dość niedoceniana. Owoce ma mięsiste i trochę cierpkie w smaku, a dzięki swoim właściwościom jest polecana przez lekarzy i specjalistów w zakresie żywienia. Aby czerpać jak najwięcej korzyści ze spożywania suszonej żurawiny, podczas jej kupna musimy być ostrożni i uważać na suszoną kandyzowaną żurawinę, która zawiera dużo substancji słodzących, takich jak cukry czy syrop glukozowo-fruktozowy. Nie jest raczej konieczne dosładzanie żurawiny, ponieważ można przekonać się do jej smaku, a jak wiadomo, zbyt wiele cukrów nie służy naszemu organizmowi. Lepiej jest wybrać w sklepie tę suszoną żurawinę, która jest jak najmniej przetworzona.
Suszona żurawina nadaje się doskonale do różnego rodzaju deserów. Będzie dobrze pasowała do domowego ciasta, przeróżnych ciasteczek czy galaretek, ale świetnie sprawdzi się też jako składnik owsianki, muesli czy sałatki owocowej. Już nawet wzbogacenie zwykłego jogurtu naturalnego o niepowtarzalny smak suszonej żurawiny może okazać się ciekawym pomysłem na posiłek. Żurawina jednak nie musi zawsze być spożywana z owocami. Wspaniale współgra też z warzywami, na przykład burakami. Z powodzeniem można ją dodawać do surówek warzywnych czy pieczeni mięsnych.
Żurawina zawiera dużo kwasu benzoesowego, który jest naturalnym konserwantem. Dzięki temu zachowuje długo świeżość – nawet rok po zerwaniu owoców. W lodówce powinna być przechowywana maksymalnie około sześciu tygodni, choć jeśli ją zamrozimy, to nic się nie stanie, jeśli w zamrażalniku spędzi nawet rok.
Kalorie i wartości odżywcze suszonej żurawiny w 100g
Kalorie (wartość energetyczna) – 308kcal/1290 kJ
Białko – 0,07 g
Tłuszcz ogółem – 1,37 g
Kwasy tłuszczowe nasycone – 0,103 g
Kwasy tłuszczowe jednonienasycone – 0,198 g
Kwasy tłuszczowe wielonienasycone – 0,658 g
Kwasy tłuszczowe omega-3 – 0,032 g
Kwasy tłuszczowe omega-6 – 0,626 g
Węglowodany – 82,36 g
Błonnik pokarmowy – 5,7 g
Witamina A – 0 I.U.
Witamina D – 0 I.U.
Witamina E – 1,07 mg
Witamina K – 3,8 µg
Witamina C – 0,2 mg
Witamina B1 – 0,007 mg
Witamina B2 – 0,016 mg
Witamina B3 (PP) – 0,990 mg
Witamina B6 – 0,038 mg
Kwas foliowy – 0 µg
Witamina B12 – 0 µg
Kwas pantotenowy – 0,217 mg
Wapń – 10 mg
Żelazo – 0,53 mg
Magnez – 5 mg
Fosfor – 8 mg
Potas – 40 mg
Sód – 3 mg
Cynk – 0,11 mg
Miedź – 0,08 mg
Mangan – 0,27 mg
Selen – 0,5 µg
Fluor – ~
Fitosterole – ~
Cholesterol -0 mg
Żurawina w trosce o zdrowie
Żurawina suszona wspomaga nie tylko samo leczenie chorób, ale też pomaga im zapobiegać. Dzięki zawartości bioflawonoidów rozszerza naczynia krwionośne i zapobiega powstawaniu zakrzepów. Zmniejsza to ryzyko chorób układu krążenia i miażdżycy, także poprzez wpływ na poziom cholesterolu we krwi. Żurawina okaże się również pomocna, jeśli chodzi o profilaktykę chorób żołądka. Powstrzymuje ona osadzanie się w śluzówce żołądka bakterii wywołujących wrzody. Jeśli chodzi o choroby serca, tu też żurawina okazuje się przydatna. Przede wszystkim zmniejsza ich ryzyko, ale też dzięki temu, że blokuje utlenianie się cholesterolu, nie pozwala na to, aby naczynia krwionośne się zatkały.
Żurawina dobrze wpływa też na jamę ustną. Jest pomocna zarówno w trosce o zęby, jak i dziąsła, gdyż ogranicza rozwój płytki nazębnej i paradontozy. Przeciwdziała rozwojowi bakterii w jamie ustnej. Suszona żurawina pomaga także kobietom w okresie menopauzy, aby przeszły przez nią radząc sobie z jej przykrymi objawami. Owoce żurawiny mają też właściwości, które pozwolą naszemu organizmowi pozbyć się toksyn. Dzięki temu jest to bardzo dobry składnik każdej diety. Owoce żurawiny są też polecane na odchudzanie, ponieważ mają właściwości odtruwające i regulują przemianę materii.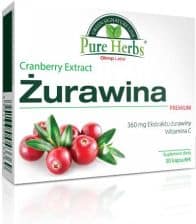 Żurawina w kapułkach i nie tylko
Kliknij TUTAJ!
Żurawina chroni drogi moczowe
Ochrona dróg moczowych to jedno z najbardziej znanych zastosowań żurawiny. Jest ona bardzo częstym składnikiem leków, które niosą ukojenie przy tego typu dolegliwościach. Dzięki swoim właściwościom zapobiega lub ogranicza przyleganie drobnoustrojów, które wydalone z moczem nie powodują infekcji dróg moczowych lub zapalenia pęcherza. Zmniejsza ilość bakterii E. coli, które wywołują stany zapalne pęcherza. Osoby, które mają problemy z nawracającymi infekcjami dróg moczowych, powinny regularnie stosować ją w swojej diecie. Poleca się ją również osobom, które mają problem ze zbyt częstym oddawaniem moczu oraz niewypróżnianiem pęcherza do końca.
Przeciwwskazania do stosowania żurawiny
Z pewnością na żurawinę powinny uważać osoby przyjmujące leki o działaniu przeciwzakrzepowym (leki, które zawierają warfarynę). Jest tak, ponieważ substancje, które są zawarte w żurawinie, powodują utrudnienie usuwania leku z organizmu i mogą przyczynić się do wystąpienia krwotoku.
Przed zakupem żurawiny powinniśmy zapoznać się z etykietką. Często jest ona dosładzana, ale można znaleźć żurawinę suszoną bez żadnych dodatków.
Podobne do żurawiny właściwości mają także inne owoce bogate w poliantocyjanidy, na przykład:
dzikie czarne jagody
śliwki
truskawki
czerwone jabłka
jeżyny
maliny
zielone winogrona
Owoce żurawiny są jednak niezastąpione, gdyż zawierają najwięcej tych silnych przeciwutleniaczy. W sieci można znaleźć dużo ciekawych rozwiązań na to, jak włączyć żurawinę do swojej diety.