Zajady to stan skórny, który powoduje, że jeden lub oba kąciki ust stają się bolesne i powodują stan zapalny. Terminem technicznym dotkniętych obszarów są spoidła wargowe . Zarzuty odnoszą się do dwóch rogów ust, w których łączą się górna i dolna warga. Zajady, a szczególnie choroba związana z tym stanem, a więc kątowe zapalenie warg to zaczerwienienie, obrzęk i ból w jednym lub obu węzłach.
Zapalenie związane z zapalenie kątów ust może  rozciągać się na wargach lub skóry twarzy lekko, ale jest przede wszystkim ograniczone do kącikach ust.
Czym są zajady?
Zajadami nazywane jest czasem kątowe zapaleniem jamy ustnej, zapaleniem  kącików ust oraz jako kątowe zapalenie warg. Mówiąc krótko, zajady to kącikowe zapalenie ust, wywołujące olbrzymi ból w kącikach ust oraz dyskomfort.
Ważne jest to, że zajady nie rozprzestrzeniają się poza kąciki ust. Jeśli dany pacjent jest zainfekowany i pozostawiony bez leczenia, infekcja może się rozprzestrzeniać, ale tylko i wyłącznie na obszarze warg.
Ze względu na wysokie ryzyko zakażenia lekarz powinien ustalić przyczynę zapalenia, a więc zajadów i dobrać do tego odpowiednie środki zaradcze.
Jakie są objawy?
Objawy zajadów obejmują:
czerwone lub fioletowe plamy na rogach ust,
obrzęk lub pękanie w kącikach ust,
ból i pieczenie w kącikach ust,
suche, spierzchnięte usta wokół kącików ust.
Co powoduje zajady?
W niektórych przypadkach nie ma wyraźnej przyczyny pojawienia się w kącikach ust zajadów.
Często jednak zapalenie kącików ust zaczyna się, gdy kąciki ust pozostają wilgotne zbyt długo. Kiedy ślina wyparowuje, zaczyna się suchość i podrażnienie. Ludzie mogą następnie polizać usta, aby złagodzić suchość i podrażnienie, tworząc więcej wilgoci. Tak to właśnie dochodzi do powstawania zajadów. Obszary, w których podrażnienie może pękać lub ulegać zmianom mogą czasem krwawić. W niektórych przypadkach sucha, popękana skóra pozwala na dostanie się niebezpiecznej infekcji.
Jedną z powszechnych infekcji jest candida lub drożdże, które mogą powodować swędzenie lub poparzenia.
Mogą również wystąpić powszechne infekcje bakteryjne, w tym paciorkowce oraz  gronkowiec. Jednakże może występować wiele innych infekcji. Na przykład osoba z rozległymi zajadami może mieć infekcję drożdżową, która ulega zakażeniu gronkowcem. Tarcie lub lizanie zainfekowanego obszaru może pogorszyć sytuację, nasilając ból.
Czynniki ryzyka pojawiania się zajadów
Większość osób z zajadami ma co najmniej jeden czynnik ryzyka i często jest to cukrzyca . Cukrzyca może osłabić układ odpornościowy, czyniąc go bardziej podatnym na infekcje drożdżakowe związane z zapaleniem kącików ust, czyli pojawieniem się zajadów. Wiele osób z cukrzycą ma problemy ze skórą, w tym z  radzeniem sobie z infekcjami. Cukrzyca może również uszkadzać dziąsła i zęby, prowadząc do utraty zębów i protez zębowych, a także zwiększając ryzyko rozwoju kącikowego zapalenia ust. Inne czynniki ryzyka kątowego zapalenia pochwy obejmują:
Nadmiar śliny wchodzącej w kontakt ze skórą: może to być spowodowane częstym lizaniem warg lub z powodu kształtu ust i jamy ustnej. Osoby, których górna warga wisi nad dolną wargą, mogą być bardziej podatni na rozwój kącikowego zapalenia ust lub częstych zajadów.
Słaby układ odpornościowy: z powodu HIV / AIDS , chemioterapii , przyjmowania leków, które szkodzą układowi immunologicznemu i niektórych chorób.
Genetyka: posiadanie stanu genetycznego, takiego jak zespół Downa.
Kwestie żywieniowe: obejmują niedokrwistość lub złą dietę, z których oba mogą sprawić, że organizm będzie bardziej podatny na niektóre infekcje.
Po drożdżach: drożdżakowa infekcja jamy ustnej.
Problemy z zębami: Noszenie protez, szczególnie jeśli są źle dopasowane.
Choroba dziąseł: To i inne problemy zdrowia jamy ustnej.
Posiadanie wirusa lub infekcji w jamie ustnej lub w jej pobliżu : Przykładem może być opryszczka.
Po bardzo suchych i spierzchniętych ustach: jeśli usta są tak suche, pękają, łatwiej jest atakować wirusy, bakterie i drożdże.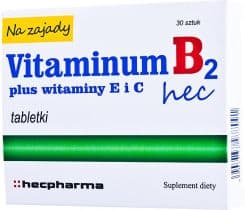 Tabletki na zajady
Kliknij i sprawdź ceny!
Leczenie
Poniżej przedstawiono kilka sposobów leczenia zajadów, a przede wszystkim objawów:
Dieta i styl życia
W przypadku osób z niekontrolowaną cukrzycą leczenie może obejmować zmiany diety i stylu życia, leczenie insuliną lub leki przeciwcukrzycowe. Suplementy witaminowe lub zmiany w diecie mogą pomóc osobom, u których rozwinęło się zapalenia kącików ust z powodów złego odżywiania.
Antybiotyki
Gdy obszar jest zainfekowany, podstawowa infekcja wymaga leczenia. Ważne jest, aby zdiagnozować przyczynę infekcji, ponieważ infekcje drożdżowe, na przykład, nie będą reagować na antybiotyki. W większości przypadków lekarz może stwierdzić, czy infekcja jest bakteryjna, czy z powodu drożdży.
Higiena
Utrzymanie obszaru w czystości i suchości może złagodzić ból i zapobiec pogorszeniu się infekcji. Balsam do ust lub środek chroniący mogą złagodzić suchość i chronić skórę przed ślinką. Lekarz może również zalecić miejscowy krem steroidowy, który można zastosować na skórę, aby pobudzić gojenie. Krem sterydowy może również pomóc w bólu i swędzeniu.
Wypełniacze i zastrzyki
Gdy problem z kształtem wargi lub ust powoduje, że zapalenie kącików ust, czyli zajady jest bardziej prawdopodobne, lub jeśli dana osoba miała już kilka infekcji związanych z zajadami, lekarz może zalecić leczenie w celu zmiany kształtu jamy ustnej. Wypełniacze kosmetyczne, które są aplikowane przez wstrzyknięcie, mogą pomóc w opadających wargach, które powodują częste pojawianie się zajadów. Konieczne jest również zapewnienie prawidłowego dopasowania protezy.
Powikłania
Nieleczone zajady mogą doprowadzić do rozwoju innych infekcji. Ponadto, zaburzenia, które powodują pojawienie się zajadów, niosą za sobą pewne powikłania. Nieleczona cukrzyca może na przykład powodować problemy z sercem.
Kiedy iść do lekarza?
Klasyczne zajady są bardzo łatwe do leczenia, ale nie zawsze można sobie z nimi poradzić w warunkach domowych. Osoby zauważające czerwone lub fioletowe plamy na krawędziach warg lub odczuwające ból warg, pieczenie lub suchość powinny zgłosić się do swojego lekarza. Wczesne leczenie przez lekarza może zapobiec pogorszeniu lub rozprzestrzenianiu się infekcji.
Dalsze perspektywy
Zajady nie są stanem niebezpiecznym związku z czym jest wysoce uleczalny.  Objawy zwykle ustępują po kilku dniach od rozpoczęcia leczenia.
U niektórych osób może pojawić się kącikowe zapalenie przegrody, a dalsze infekcje są prawdopodobne, gdy ryzyko wystąpienia kolejnych infekcji jest wyższe. Oznacza to, że osoby z cukrzycą, nietypową anatomią warg lub innymi czynnikami ryzyka powinny podjąć działania zapobiegające przyszłej infekcji. Niektóre strategie zapobiegania pojawianiu się i rozwoju zajadów polegają na:
Utrzymywaniu warg w stanie suchości,
leczenie podstawowego stanu,
stosowanie balsamu do ust,
praktykowanie dobrej higieny jamy ustnej.
Informacje w pigułce
Kątowe zapalenie ust to inaczej zajady, nie jest chorobą, ale objawem czegoś innego.
Nadmiar wilgoci na ustach lub w jamie ustnej może prowadzić do stanu zwanego zajadami.
Każdy w każdym wieku może rozwinąć zapalenie kącików ust.
Leczenie wymaga szybkiego zajęcia się podstawową przyczyną.