W rozumieniu potocznym pod nazwą witamina K rozumie się wyłącznie jedną witaminę. W praktyce okazuje się jednak, że na witaminę K tak naprawdę składają się dwie naturalne witaminy, mianowicie witamina K1 i witamina K2, natomiast syntetyczna witamina K to witamina K3.
Witamina K1 jest dostarczana do organizmu wraz z dietą z produktami, które są w nią bogate. Witamina K2 w niewielkich ilościach jest wytwarzana przez bakterie obecne w układzie pokarmowym człowieka, a dokładnie w jelitach.
Witamina K odgrywa bardzo ważną rolę w wielu procesach zachodzących w organizmie człowieka. Jej niedobory są bardzo szkodliwe dla prawidłowego funkcjonowania organizmu i mogą nieść ze sobą bardzo poważne konsekwencje.
Witamina K – rola w organizmie oraz wpływ na zdrowie
Witamina K należy do witamin, które są rozpuszczalne w tłuszczach, nie w wodzie. Tłuszcz jest więc niezbędny, aby doszło do prawidłowego wchłonięcia witaminy K przez organizm człowieka.
Witamina K w organizmie przede wszystkim zapewnia prawidłowy proces krzepnięcia krwi. Zapobiega więc w dużej mierze krwawieniom oraz krwotokom (również tym wewnętrznym, które są bardzo groźne, ze względu na utrudnioną diagnostykę). Witamina K odpowiada również za zmniejszenie obfitych krwawień miesiączkowych.
Witamina K bierze udział w wytwarzaniu protrombin, czyli białka osocza krwi, które bierze udział w procesach zapobiegających zbyt dużej ilości utraty krwi w czasie zranienia i krwawień.
Witamina K zapewnia również prawidłowe funkcjonowanie układu kostnego.
Witamina K dla noworodka
Witamina K odgrywa bardzo ważną rolę w pierwszych dniach życia po urodzeniu się. Niemowlęta są szczególnie bowiem narażone na niedobory witaminy K ze względu na poród i przechodzenie witamin przez łożysko w czasie całego okresu ciąży. Niedobory witaminy K występują również u noworodków i niemowląt karmionych piersią, ponieważ mleko matki nie zawiera zbyt dużej ilości tej witaminy. Ponadto niemowlęta nie potrafią jeszcze samodzielnie produkować witaminy K w swoim organizmie.
Wszystko to sprawia, że od kilku lat wszystkim noworodkom podaje się domięśniowo jednorazową dawkę witaminy K, która ma uzupełnić niedobory witaminy. Dodatkowo wśród niemowląt karmionych piersią zaleca się suplementację tej witaminy już od 8 doby po urodzeniu – dzieci karmione mlekiem sztucznym nie wymagają takiej profilaktyki, ze względu na fakt, że mleko modyfikowane zawiera już wszystkie niezbędne do prawidłowego rozwoju witaminy oraz mikroelementy.
Zalecane spożycie witaminy K
Dzienne spożycie witaminy K, które jest zalecane przez lekarzy jest różne dla różnych grup osób:
dla niemowląt jest to 5 – 10 mikrogramów dziennie,
dla dzieci w wieku od 1-3 lat – 15 mcg dziennie (wraz z wiekiem zapotrzebowanie organizmu na tę witaminę ulega zwiększeniu, a więc dla dzieci w wieku 10-12 lat jest to mniej więcej 40 mcg dziennie, a dla jeszcze starszych 50 mcg dziennie),
mężczyźni – 65 mcg dziennie,
kobiety – 55 mcg dziennie.
Objawy niedoboru witaminy K
Człowiek pokrywa swoje dzienne zapotrzebowanie na witaminę K z dwóch źródeł – czerpiąc ją z pożywienia i z produktów obecnych w diecie oraz jako efekt naturalnej syntezy bakteryjnej, która zachodzi w jelitach. Lekarze szacują, że około 60% dziennego zapotrzebowania na witaminę K powinno pochodzić z diety.
Niedobory witaminy K zdarzają się stosunkowo rzadko u zdrowego człowieka – przede wszystkim ze względu na fakt, że witamina K jest szeroko dostępna w produktach, które dla większości osób często występują w diecie i jest stosunkowo łatwo przyswajalna. Główną przyczyną, która może w konsekwencji prowadzić do niedoboru witaminy K jest kuracja antybiotykowa (antybiotyki niszczą bakterie jelitowe, które zajmują się produkcją witaminy K w organizmie człowieka), restrykcyjne diety odchudzające (ze względu na ograniczenie ilości oraz jakości spożywanych produktów) oraz rzadkie jedzenie warzyw i produktów bogatych w witaminę K.
Wśród głównych objawów niedoboru witaminy K w organizmie zalicza się między innymi:
sińce po delikatnym uderzeniu lub pojawiające się samoistnie,
samoistne krwawienia z nosa,
obfite miesiączkowanie u kobiet,
niska krzepliwość krwi,
wydłużony czas gojenia się wszelkich ran,
biegunki i problemy ze strony układu pokarmowego.
Konsekwencje niedoboru witaminy K
Długotrwały niedobór witaminy K może prowadzić do poważnej awitaminozy, która może w konsekwencji powodować niedokrwistość oraz uszkodzenie wątroby i żółtaczkę. Długotrwały niedobór witaminy K zaburza również proces wchłaniania tłuszczów w organizmie oraz ogólnie pokarmów. W ciężkich przypadkach taka sytuacja może prowadzić między innymi do zapalenia jelit
U niemowląt u których obserwuje się długotrwały niedobór witaminy K może dojść w konsekwencji do uszkodzenia struktury nerwowej i poważne zaburzenia na tym tle.
Witaminę K stosunkowo trudno jest przedawkować bazując na diecie oraz zdrowym odżywianiu się. Nadmiar witaminy K zdarza się najczęściej u osób suplementujących tę witaminę, którzy regularnie przyjmują zbyt duże lub zbyt częste dawki tej witaminy.
Nadmiar witaminy K w organizmie człowieka może powodować poty i uczucie gorąca. Inne objawy przedawkowania witaminy K są indywidualne dla każdej osoby – zdarzają się między innymi problemy ze strony układu pokarmowego.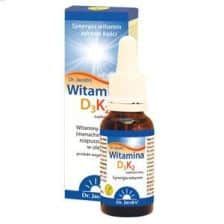 Witamina K
Kliknij i sprawdź ceny!
Produkty zawierające witaminy K
Witamina K występuje głównie w produktach pochodzenia roślinnego. Rośliny, które nie wytwarzają chlorofilu, pozbawione są witaminy K. Większość owoców oraz produkty zbożowe, podobnie jak mięso oraz mleko są ubogim źródłem witaminy K.
Produkty, które zawierają dużą ilość witaminy K to przede wszystkim:
lucerna,
brokuły,
rzepa,
awokado,
brzoskwinie,
truskawki,
pomidory,
kalafior,
kapusta,
brukselka,
szparagi,
groszek,
soja.
Dietetycy są zdania, że najwięcej witaminy K znajduje się we wszystkich liściastych oraz ciemnozielonych warzywach. Dodatkowo witaminę K można znaleźć w serach, jajkach oraz w wątróbce.
Kiedy warto jest sięgać po suplementację witaminy K?
Na rynku istnieje wiele różnego typu preparatów, które mają na celu suplementacje witaminy K. Są one bardzo popularne i przydatne w wielu sytuacjach, na przykład związanych z niedoborem witaminy K lub brakiem możliwości dostarczenia do organizmu produktów bogatych w tę substancję.
Suplementacja witaminy K jest wskazana w kilku sytuacjach, między innymi:
podczas sytuacji stresowych,

w okresie jesienno-zimowego i wiosennego przesilenia,

przy aktywnym trybie życia,

przy ubogiej pod względem różnorodności diecie,

w okresach po chorobie czy przeziębieniu,

po dużej ilości alkoholu,

przy regularnym wypijaniu sporej ilości kawy oraz mocnej herbaty.
Warto jednak pamiętać, że jak każde inne witaminy, przyjmowanie witaminy K warto jest skonsultować z lekarzem lub co najmniej z farmaceutą.
Witamina K w przemyśle kosmetycznym
Witamina K wpływa bardzo korzystnie na kondycję skóry – pomaga zachować jej piękny oraz młody wygląd, dlatego też bardzo chętnie jest wykorzystywana w przemyśle kosmetycznym jako składnik wielu produktów.
Kosmetyki z witaminą K dedykowane są przede wszystkim wszystkim osobom, które borykają się z cerą naczynkową i zaczerwieniem związanym z pękaniem drobnych naczynek, a także dla osób borykających się z problemem jakim jest trądzik różowaty.
Witamina K w kosmetykach reguluje krzepliwość krwi, dzięki temu ogranicza powstawanie siniaków czy naczynek. Witamina K dzięki swoim właściwościom zwiększa szczelność ścian naczyń krwionośnych oraz ogranicza krwawienia, nawet te mikroskopijne, które mogą być efektem pęknięcia drobnych naczynek. Dodatkowo witamina K łagodzi wszelkie zaczerwienienia oraz wspomaga walkę z cieniami pod oczami. Wszystko to sprawia, że kosmetyki z witamina A świetnie sprawdzają się przy regeneracji skóry oaz naskórka. Dlatego też są często wykorzystywane w medycynie estetycznej – przed oraz po zabiegach, ze względu na fakt, że z jednej strony ograniczają krwawienia oraz zasinienie skóry, a z drugiej strony wspomagają regenerację oraz proces gojenia się obszarów skóry poddanych zabiegom.