Do produkcji hormonów i ich wzrostu pobudza tarczycę tyreotropina – TSH. To rodzaj hormonu produkowany przez przysadkę mózgową. Jego wydzielanie jest hamowane na zasadzie ujemnej pętli sprzężenia zwrotnego przez hormony tarczycy. Dlatego przy nadmiarze hormonów tarczycy stężenie TSH maleje, a przy niedoborze – wzrasta.
Co to jest TSH?
Test hormonu tyreotropowego (TSH) mierzy ilość tego hormonu we krwi. TSH jest produkowany przez przysadkę mózgową, która znajduje się u podstawy mózgu. Odpowiada za regulację ilości hormonów uwalnianych przez tarczycy.
Tarczyca to mały gruczoł w kształcie motyla umieszczony w przedniej części szyi. Jest to ważny gruczoł, który wytwarza trzy podstawowe hormony:
trijodotyroninę -T3,
tyroksynę – T4,
kalcytoninę.
Tarczyca kontroluje wiele różnych funkcji organizmu, w tym metabolizm i wzrost, poprzez uwalnianie tych trzech hormonów.
Tarczyca człowieka będzie wytwarzać więcej hormonu tyreotropiny, jeżeli przysadka mózgowa będzie nadmiernie pobudzona.  Kooperacja tarczycy i przysadki mózgowej jest bardzo ważna, ponieważ wspólnie stymulują poziomy hormonów. W przypadku, gdy system współpracy obu gruczołów zostanie zakłócony, tarczyca może wytwarzać zbyt wiele albo zbyt mało hormonów. Często wykonuje się test TSH w celu określenia podstawowej przyczyny nieprawidłowego poziomu hormonów tarczycy. Służy również do badania przesiewowego niedoczynności lub nadczynności tarczycy. Mierząc poziom TSH we krwi, lekarz może ustalić, w jaki sposób działa tarczycy.
Po co test TSH?
Test TSH przeprowadzany jest w celu zdiagnozowania lub wykluczenia nieprawidłowej pracy tarczycy. Zazwyczaj, jego wykonanie zleca się w przypadku pojawienia się niepokojących objawów. Zasadniczo, wyróżnia się dwa typy schorzeń związanych z tarczycą. Pierwszą z nich jest niedoczynność tarczycy, a drugą nadczynność tarczycy. Każda z nich charakteryzuje się innymi symptomami i konsekwencjami, w przypadku braku podjęcia leczenia.
Niedoczynność tarczycy
Niedoczynność tarczycy jest stanem, w którym tarczyca wytwarza zbyt dużą ilość hormonów, co powoduje spowolnienie metabolizmu. Objawy niedoczynności tarczycy obejmują:
przewlekłe zmęczenie,
osłabienie organizmu,
trudności z koncentracją,
wysuszenie skóry – zwłaszcza na łokciach, kolanach,
Obrzęki,
Wzrost masy ciała – niekoniecznie tkanki tłuszczowej, zazwyczaj wzrasta poziom wody w organizmie,
Zaparcia,
Niektóre objawy depresji,
Pogorszenie sprawności intelektualnej.
Niedoczynność tarczycy wiąże się także z rozwojem innych schorzeń związanych z tarczycą, można do nich zaliczyć m.in.:
Chorobę Hashimoto, która jest stanem autoimmunologicznym powodującym atakowanie przez organizm własnych komórek tarczycy. W rezultacie tarczyca nie jest w stanie wyprodukować wystarczającej ilości hormonów. Stan ten nie zawsze powoduje objawy, więc może postępować przez kilka lat, zanim spowoduje zauważalne uszkodzenia.
Zapalenie tarczycy, które często powodowane jest infekcją wirusową lub zaburzeniem autoimmunologicznym, takim jak choroba Hashimoto. Ten stan zakłóca produkcję hormonów tarczycy i ostatecznie prowadzi do niedoczynności tarczycy.
Poporodowe zapalenie tarczycy jest przejściową formą zapalenia tarczycy, która może rozwinąć się u niektórych kobiet po urodzeniu dziecka.
Tarczyca jest gruczołem, który wykorzystuje jod do produkcji hormonów. Niedobór jodu może prowadzić do niedoczynności tarczycy. Niedobór jodu występuje zazwyczaj w krajach, w których bardzo rzadko stosuje się sól jodowaną – przez to, choroby z tarczycą są bardzo powszechne w Europie.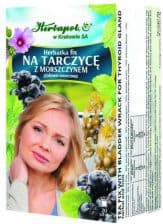 Zioła wspomagające pracę tarczycy
Kliknij i sprawdź ceny!
Nadczynność tarczycy
Nadczynność tarczycy jest stanem, w którym tarczycy wytwarza zbyt mało hormonów, co powoduje przyspieszenie metabolizmu i tym samym spadek masy ciała. Objawy nadczynności tarczycy obejmują zwiększony apetyt, niepokój i trudności w zasypianiu. Oto niektóre z najczęstszych schorzeń związanych z nadczynnością tego gruczołu:
Choroba Graves – Basedowa, jako częste zaburzenie, które powoduje, że tarczyca staje się większa i wytwarza nadmierną ilość hormonów. Stan ma wiele takich samych objawów jak nadczynność tarczycy i często przyczynia się do szybszego rozwoju nadczynności tarczycy.
Zapalenie tarczycy ostatecznie prowadzi do niedoczynności tarczycy, ale w krótkim okresie może również powodować nadczynność tarczycy. Może się to zdarzyć, gdy stan zapalny powoduje, że tarczyca wytwarza zbyt dużo hormonów i uwalnia je wszystkie naraz.
Guzki tarczycysą łagodnymi grudkami, które czasami tworzą się na tarczycy. Kiedy te grudki zaczynają się zwiększać, mogą stać się zbyt aktywne, a tarczyca może zacząć wytwarzać zbyt wiele hormonów.
Zbyt dużo jodu w organizmie może spowodować nadczynność tarczycy. Zwykle występuje to w wyniku ciągłego stosowania leków zawierających jod. Leki te obejmują syropy na kaszel, a także amiodaron , który stosuje się w leczeniu arytmii serca.
W jaki sposób wykonywany jest test TSH?
Test TSH polega na pobraniu próbki krwi. Krew jest zwykle pobierana z żyły znajdującej się wewnątrz wewnętrznego łokcia. Przed badaniem należy nie spożywać żadnych pokarmów i wstrzymać się od picia wody. Cała procedura trwa niespełna minutę, a wyniki badań dostępne jeszcze w tym samym dniu.
Co oznaczają wyniki badania hormonalnego tarczycy?
Analiza wyników badania poziomu TSH należy do kompetencji lekarza endokrynologa, ponieważ prócz widniejących parametrów, bierze on pod uwagę inne czynniki jak wiek pacjenta, płeć oraz przebyte choroby.
W przypadku osoby, która jest całkowicie zdrowa i ukończyła 14 rok życia stężenie TSH powinno mieścić się w przedziale 0,27 a 4,2 mj/l. Inaczej jest w przypadku kobiety w ciąży lub planującej powiększenie rodziny. Wtedy też wartość TSH nie powinna przekraczać 2,5j/l, a każdorazowy wzrost powinien być leczony w celu stabilizacji. Zakłada się, że norma dla kobiet w I trymestrze ciąży to 2,3 mIU/l, w II 3,1 mIU/l a w III trymestrze nie powinno przekraczać 3,5 mIU/l.
Kompletnie inaczej definiuje się wyniki TSH u osób starszych. Przekroczenie granicy 4,2 nie jest czymś niepokojącym. Dopiero, gdy parametry wzrosną do poziomu 6-8, można zacząć się martwić. Jednak, jak już zostało wspomniane, wszystko zależy od indywidualnych predyspozycji pacjenta.