Testy ciążowe służą do wczesnego wykrywania ciąży. Reagują one na podwyższone stężenie wytwarzanego podczas ciąży przez organizm kobiety hormonu ciążowego, czyli hCG (gonadotropina kosmówkowa). Hormon ten przez cały okres ciąży obecny jest w moczu oraz w krwi kobiety ciężarnej. Testy ciążowe mają różną czułość na obecność hCG, dlatego też szczególnie w pierwszym etapie ciąże ich wyniki mogą się nieco od siebie różnić i tym samym być obarczone ryzykiem błędu.
Gonadotropina kosmówkowa zaczyna być wydzielana przez organizm kobiety bardzo wcześnie, bo już po 8 dniach od momentu zapłodnienia. Jest wytwarzana przez łożysko. Poziom hormonu wzrasta bardzo szybko przez pierwsze 2-3 miesiące ciąży, następnie jego poziom nieznacznie się normuje, a przyrost nie jest już tak duży.
Kiedy należy zrobić test ciążowy?
Test wykonuje się w momencie, kiedy istnieje prawdopodobieństwo zajścia w ciążę – na przykład na wskutek niezabezpieczonego stosunku seksualnego, kiedy pęknie prezerwatywa bądź kobieta pominie hormonalną pigułkę antykoncepcyjną. Test ciążowy najlepiej jest zrobić najwcześniej w pierwszym dniu terminu spodziewanej miesiączki. Idealnym terminem jest jednak moment, kiedy od daty okresu minie co najmniej kilka dni. W momencie kiedy wynik okaże się negatywny, a okres nie nadchodzi warto jest po kilku dniach wykonać kolejny test – być może test ciążowy wskazał błędnie negatywny wynik.
Należy pamiętać,że wybierając test ciążowy, jeśli zależy nam na jego dużej czułości, warto jest wybrać takie testy, które są wyczulone na minimalną ilość gonadotropiny kosmówkowej. Zazwyczaj taka informacja umieszczona jest na opakowaniu testu ciążowego. Test ciążowy, ze względu na fakt, że rano po przebudzeniu stężenie hormonu ciążowego jest najwyższe, warto jest wykonać rano, z pierwszego strumienia moczu.
Kiedy należy wybrać się do ginekologa?
Po tym, kiedy test wskaże wynik pozytywny, należy niezwłocznie udać się do lekarza, celem potwierdzenia ciąży oraz kontroli jej przebiegu. Zgłoszenie się do ginekologa oraz poddanie się rutynowym, ciążowym badaniom zwiększa prawdopodobieństwo prawidłowego rozwoju ciąży, dobrania odpowiednich witamin, wyeliminowania ryzyka konfliktu serologicznego czy wad wrodzonych płodu.
Do ginekologa, celem konsultacji warto się wybrać również w sytuacji, kiedy istniała możliwość zajścia w ciążę, a mimo tego, że testy ukazują negatywny wynik, spodziewana miesiączka nie pojawia się. Taka sytuacja może świadczyć o wahaniach hormonalnych bądź innych problemach zdrowotnych.
Rodzaje domowych testów ciążowych
W aptekach, punktach medycznych oraz niektórych sklepach czy stacjach benzynowych można bez większego problemu zakupić test ciążowy. Na rynku dostępnych jest kilka rodzajów testów ciążowych. Wszystkie one badają stężenie gonadotropiny kosmówkowej z moczu kobiety, dlatego też do ich wykonania niezbędna jest wizyta w toalecie. W zależności od rodzaju testu ciążowego nieco różni się od siebie sposób ich użycia, dlatego przed wykonaniem badania należy dokładnie przeczytać instrukcję, co pomoże uniknąć błędów oraz ewentualnego złego pomiaru.
Na rynku dostępne są:
płytkowe testy ciążowe,
paskowe testy ciążowe,
testy ciążowe strumieniowe (tak zwane typu flamaster),
cyfrowe testy ciążowe.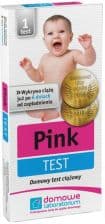 Test ciążowy płytkowy
Kliknij i sprawdź ceny!
Test płytkowy
Testy ciążowe płytkowe należą do najbardziej popularnych i najczęściej to właśnie je można spotkać podczas zakupu. Mają nie postać prostokątnego kawałka plastiku w którym widnieją dwa okienka. Mniejsze okienko to miejsce, gdzie nanosi się próbkę moczu, natomiast większe jest okienkiem diagnostycznym w którym odczytuje się wynik. Próbkę moczu należy zebrać do czystego i suchego pojemnika, a następnie pobrać niewielką ilość dołączoną do opakowania pipetą. Istnieje też możliwość złapania kropel moczu ze strumienia, również za pomocą pipety, jest to jednak zdecydowanie trudniejsza opcja. Następnie określoną w ulotce liczbę kropel nanosi się do mniejszego okienka  i odczekuje kilka minut na wynik. Zwyczajowo dwie czerwone kreski oznaczają wynik pozytywny świadczący o ciąży, natomiast jedna kreska wynik negatywny. Na ulotce są dokładnie rozpisane poszczególne warianty z uwzględnieniem tego, że z różnych przyczyn wynik może być niediagnostyczny (na wskutek na przykład zbyt małej ilości moczu).
Do wykonania testu ciążowego paskowego niezbędne jest posiadanie odpowiedniego, jałowego naczynia do którego zbierzemy próbkę moczu. Jeśli opakowanie takie nie jest dołączone bezpośrednio do testu, należy się w nie zaopatrzyć (najlepiej w standardowy pojemnik na mocz, który jest dostępny w każdej aptece). Następnie należy zanurzyć odpowiednią część paska do odpowiedniej wysokości w próbce moczu. Po odłożeniu paska na płaską powierzchnię, już po kilkunastu bądź kilkudziesięciu sekundach można odczytać wynik.
Test strumieniowy
Test ciążowy strumieniowy typu flamaster składa się z uchwytu, dwóch pól odczytu wyniku oraz flamastrowatej końcówki do której zbiera się próbkę moczu. Wystarczy przyłożyć końcówkę pod strumień moczu na kilka sekund i po chwili odczytać w polu diagnostycznym odpowiedni wynik.
Nieco droższym i bardziej zaawansowanym testem ciążowym, który jest dostępny na polskim rynku jest cyfrowy test ciążowy. Próbkę moczu zbiera się podobnie jak w poprzednich testach, inny jest zaś sposób odczytu wyniku. Zamiast kresek do interpretacji na cyfrowym wyświetlaczu pojawia się komunikat w formie plusa bądź minusa albo komunikatu w języku polskim bądź angielskim. Cyfrowy test ciążowy jest jednak sporo droższy od standardowych, popularnych testów, co jest niewątpliwie jego wadą.
 Laboratoryjne testy ciążowe
Oprócz domowych testów ciążowych, które wykrywają stężenie hormonu ciążowego z krwi, istnieją również testy ciążowe wykonywane w laboratorium. Materiałem do badań jest pobranie niewielkiej ilości moczu bądź krwi – analiza próbek dokonywana jest przez laboratoria w sposób ilościowy oraz jakościowy. Laboratoryjne testy ciążowe z krwi bądź moczu są w pełni wiarygodne, w momencie kiedy są wykonane co najmniej po 10 dniach od terminu spodziewanej miesiączki. Zazwyczaj ten rodzaj testów wykonuje się w celu potwierdzenia ciąży, a także do monitorowania stężenie hormonu w przebiegu ciąży zagrożonej.
Wyniki testów laboratoryjnych są z reguły bardziej dokładne niż wyniki testów ciążowych, które przeprowadza się w warunkach domowych. Dodatkowo testy laboratoryjne z krwi bądź moczu pozwalają nie tylko stwierdzić czy dana kobieta jest w ciąży, ale również określić stężenie hormonu gonadotropiny kosmówkowej i dzięki temu określenie, który jest to mniej więcej tydzień ciąży. Dzięki znajomości ilości hormonu ciążowego jest możliwe także określenie prawdopodobieństwa czy ciąża rozwija się prawidłowo, ponieważ każdy okres ciąży charakteryzuje się odmienną ilością hormonu. Czułość testów laboratoryjnych ciążowych jest wyrażona w jednostkach IU/l bądź mIU/ml, co określa ilość hormonu na jeden mililitr. W większości punktów diagnostycznych przyjmuje się, że wynik wskazuje na ciążę w momencie, kiedy stężenie gonadotropiny kosmówkowej przekracza 5 mlU/ml.