Począwszy od momentu, gdy kobieta zobaczy na teście ciążowym dwie kreski, jej życie zostaje zdominowane przez dwie istotne daty – datę ostatniej miesiączki, jak również datę porodu. O tą pierwszą będzie pytał ginekolog na każdej wizycie, a o tą drugą wszyscy pozostali. Jak więc prawidłowo obliczyć datę planowanego porodu ?
1. Ile trwa ciąża?
Ludzka ciąża trwa zwykle 280 pełnych dni, zaczynając liczenie od pierwszego dnia ostatniej miesiączki. Jakby nie wyliczać jest to 40 tygodni, czyli innaczej mówiąc 10 miesięcy księżycowych ( księżycowy miesiąc liczy 28 dni ). O tym dlaczego ludzka ciąża trwa nie dłużej i nie krócej, a także dlaczego nasze dzieci rodzą się właśnie wtedy, opisane zostanie w poniższym artykule na temat terminu porodu.
Lekarz, który prowadzi ciążę, czy położna zwykle wykorzystują kolorowe kółko z kartonu, które utworzono na podstawie reguły Naegelego ( metoda ta została wymyślona przez położnika niemieckiego pochodzenia żyjącego w XIX wieku – Franza Karla Naegelego ). Biorąc pod uwagę datę pierwszego dnia miesiączki, wskazuje ono z dużym prawdopodobieństwem termin porodu, jak również tydzień ciąży, w którym właśnie znajduje się kobieta. Według opracowanego wzoru, aby móc obliczyć termin porodu należy do pierwszego dnia miesiączki dodać 7 dni, następnie odjąć 3 miesiące i dodać do tego 1 rok.
Metoda ta oparta jest na założeniu, że każda ciąża trwa dokładnie 280 dni ( 9 miesięcy ), cały cykl 28 dni, a do zapłodnienia dochodzi dokładnie w 14 dniu cyklu menstruacyjnego. Co ciekawe dzięki niej można wyliczyć ciążę od pierwszego dnia miesiączki, a więc wiek ciąży jest zawsze większy o dwa tygodnie od ciąży liczonej od dnia zapłodnienia – każdy lekarz wykorzystuje w obilczeniach właśnie taką metodę.
Jak można łatwo zauważyć, metoda Naegelego nie jest wcale taka doskonała, bowiem nie uwzględnia faktu nieregularnego okresu u części kobiet, a więc dłuższego, albo wręcz przeciwnie krótszego cyklu od książkowych 28 dni cyklu. Ty samym moment wystąpienia samej owulacji może być zupełnie różny u każdej kobiety. Samo zapłodnienie nie zawsze ma także miejsce w dniu owulacji. Dlatego też przy wyliczaniu terminu porodu ginekolog bierze zwykle pod uwagę również wyniki USG, które wykonano w pierwszym trymestrze ciąży, gdzie termin ten wylicza się na podstawie konkretnych cech rozwojowych płodu.
Jak wyliczyć termin porodu samemu ?
Wyliczenie terminu porodu dla ginekologa to nic trudnego. Jak jednak obliczyć go samemu nie mając pod ręką tego magicznego kartonowego kółka, kiedy wiemy że wizyta jest odległa, a test wskazał dwie kreski ? Wtedy z pomocą mogą przyjść bezpłatne kalkulatory ciążowe dostępne nieodpłatnie w internecie. Najlepiej wybierać te najłatwiejsze w obsłudze i takie, które będą pokazywać dokładnie najważniejsze rzeczy bez zbędnych dodatków, czyli przewidywaną datę, kiedy to po raz pierwszy kobieta będzie mogła przytulić swojego maluszka. Wystarczy podanie pierwszego dnia ostatniej miesiączki i kalkulator sam sobie poradzi dalej i poda nam dokładną datę porodu.
Musimy jednak mieć na uwadze, że tylko pięć procent kobiet rodzi swoje dzieci w wyznaczonym wcześniej terminie. Jednocześnie terminowym porodem można określić taki, w którym dziecko przychodzi na świat pomiędzy 38, a 42 tygodniem ciąży ( począwszy od 37 tygodnia ciąża uznawana jest przez lekarzy za donoszoną). Sama długość ciąży uzależniona jest naprawdę od wielu czynników takich jak wiek, długość cyklu, rasa, styl życia matki. Ponadto tenże termin jest całkowicie indywidualną sprawą dla każdej przyszłej matki. Przykładowo kobiety, które urodziły swoje pierwsze dziecko przed spodziewanym terminem porodu, kolejne będą także rodzić wcześniej.
70% kobiet rodzi w przeciagu 10 dni od spodziewanej daty porodu ( włącznie z tą, którą ustala się na podstawie badania USG ). Dość niedawno, bowiem w 2013 roku w Stanach Zjednoczonych zostały opublikowane badania, w których naukowo po raz pierwszy wykazano, że fizjologiczne różnice dotyczące długości trwania ludzkiej ciąży mogą wynosić nawet 5 tygodni, a średni czas trwania ciąży począwszy od momentu jajeczkowania do samego porodu wynosi 268 dni ( jest to dokładnie 38 tygodni i 2 dni ). Wyniki są tym bardziej ciekawe, że naukowcy przy użyciu właściwych metod wykluczyli zaistnienie możliwych potencjalnych błędów, które standardowo pojawiają się podczas ustalania terminu porodu.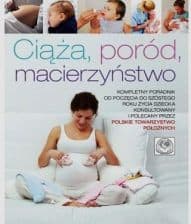 Przygotuj się na poród i macierzyństwo
Kliknij i sprawdź ceny!
Co wpływa na termin porodu ?
Na różnice fizjologiczne czasu trwania ciąży, jak i możliwości dokładniejszego określenia terminu porodu u kobiety według naukowców wpływ mają zjawiska ( późny wzrost wydzielania progesteronu, czas od zapłodnienia do implantacji zarodka itp. ), które występują podczas bardzo wczesnych etapów ciąży, nawet na kilka tygodni przed tym jak o tym fakcie dowie się sama kobieta będąca w ciąży.
Podczas badań wykazano również inne czynniki, które mogą mieć wpływ na czas trwania ciąży u każdej kobiety, np. starsze kobiety rodziły dużo później od tych młodszych ( każdy rok życia wydłuża ciążę średnio o 1 dzień ), kobiety które ważyły więcej podczas swoich narodzin rodziły znacznie później ( każde 100 gramów więcej wagi urodzeniowej matki przekładało się na trwającą dłużej ciążę, średnio o 1 dzień dłużej ). Ponadto jeżeli wcześniejsze ciążę trwały znacznie dłużej, to ciąża biorąca udział w badaniu będzie również trwała dłużej. Poprzednia ciąża dłuższa o tydzień znacznie korelowała z wydłużeniem czasu ciąży poddanej badaniu średnio o 2,5 dnia.
Z badań tych nie powstały do tej pory żadne rekomendacje, niemniej jednak niewątpliwie ta naturalnie określona ,, norma " odnośnie terminu porodu może okazać się jeszcze znacznie bardziej wydłużona w czasie, aniżeli dotychczas uważano. Jest to kolejny argument za tym , aby obdarzyć naturę zaufaniem, jak również naszą fizjologiczną, genetyczną i przede wszystkim kobiecą gotowość do porodu, która na pewno wystąpi, u jednych pań nieco szybciej, a u drugich trochę później. Lepiej nie igrać z czasem i nie ,, zaklinać " rzeczywistości. Zdecydowanie w dniu spodziewanego porodu nie musimy koniecznie zgłaszać się do szpitala.
Jak rozpoznać oznaki zbliżającego się porodu?
Ciąża, która przebiega prawidłowo powinna doprowadzić do szczęśliwego rozwiązania w 40 tygodniu jej trwania. Niemniej jednak dopuszcza się 14-dniowe odstępstwa od wyznaczonego przez lekarza terminu. Dlatego też przyszłe mamy w połowie ostatniego miesiąca ciąży zaczynają się robić coraz bardziej niecierpliwie i oczekiwać pierwszych oznak akcji porodowej, a można do nich zaliczyć :
Obniżenie brzucha – kilka dni, albo nawet kilka tygodni przed planowanym porodem występuje wyraźnie widoczne obniżenie brzucha do dołu. Dzieje się tak z powodu tego, że dziecko schodzi do kanału rodnego, a dno macicy matki znacznie się obniża,
skurcze przedpowiadające – ich intensywność to sprawa indywidualna każdej matki, u jednych mogą być praktycznie bezbolesne, a u innych mogą być bardzo nieprzyjemne i długotrwałe. W przeciwieństwie do skurczów porodowych, zanikają one po zabiegach rozluźniających, takich jak krótki spacer, ciepła kąpiel, czy przyjęcie innej pozycji ciała,
czop śluzowy i jego odejście – szyjka macicy podczas ciąży jest zamknięta za pomocą śluzowego czopa, który chroni dziecko niczym korek przed możliwymi infekcjami z zewnątrz. Pod wpływem rozwierania i skracania się szyjki macicy można zaobserwować znacznie większą ilość wydzieliny z pochwy, czasem wraz z krwią, aż w końcu sam czop o galaretowatej konsystencji,
ból w dole brzucha – pod wpływem wciskania się główki dziecka coraz głębiej do kanału rodnego, matka czuje ucisk w dole brzucha, jak również ból, który przypomina menstruacyjny, niemniej o większej intensywności i bardzo często promieniujący na uda, pachwiny i w okolice krzyża.
Niestety nie istnieje jeden obowiązujący schemat objawów zbliżającego się porodu, bowiem jest to sprawa indywidualna, dlatego niezwykle istotne jest obserwowanie reakcji, które zachodzą w organizmie.