Tatarak, a właściwie tatarak zwyczajny to roślina zaliczana do gatunku ziół. Jej łacińska nazwa to Acorus calamus L., chociaż w mowie potocznej funkcjonuje jako kalmus albo ajer. Do Europy przywieźli go Tatarzy, którzy stosowali go praktycznie na wszystko, zwłaszcza w czasie wojennych bitew. To głównie przez nich nazywa się go tutaj tatarem. Od tamtego momentu, również w Europie używa się go jako środka leczniczego.
Wygląd
Tatarak jest jedną z roślin tatarakowatych i jest polimorficznym rodzajem byliny. Rosnąć, powstają grube kłącza, rozgałęzione, a z nich z kolei trójkanciaste łodygi. Liście mają barwę jaskrawo zieloną, są długie, często nawet na 100 centymetrów, oraz ostre. Sama kwiatostanowa kolba, w kształcie cylindrycznego stożka ma 5-10 centymetrów. Na samym początku ma kolor zielony lecz pod wpływem czasu zmienia go na żółty/brunatny. W klimacie panującym w Polsce, roślina nie wydaje nasion. Jej rozmnażanie polega na rozroście i późniejszej fragmentacji kłączy. W tataraku, surowiec leczniczy stanowi kłącze, a resztę czyli kwiaty i liście są rzadziej wykorzystywane. Do tego zioło to jest całkowicie mrozoodporne i powszechnie występujące w niektórych częściach kraju. Niepoprawnym jest zaś mówienie, że jest to roślina pospolita.
Tatarak łatwo jest rozróżnić od innych roślin dzięki jego kwiatom i rodzajem wystawania nasady z ziemi. W tym wypadku z poziomego kłącza, jednolicie przechodzi się w pionową roślinę. Na dodatek kalmus wydaje intensywny zapach, za który odpowiedzialna jest praktycznie każda jego część. Owocami tataraku są czerwone jagody, chociaż w Polsce roślina nie owocuje.
Występowanie
Tatarak pierwotnie występował w Azji Wschodniej, Południowej, a także Ameryce. Po wyprawach wojennych Tatarów przywędrowała w końcu do Europy. W Polsce rośnie praktycznie na terenie całego kraju, chociaż błędem jest mówienia iż to roślina pospolita. Wersję zwyczajną tataraku najłatwiej jest znaleźć w podmokłych/bagiennych miejscach. Najczęściej rośnie przy brzegach wód stojących (jezior), albo bardzo wolno płynących rzek. Spotyka się ją też jako ozdobę w przydomowych oczach wodnych. Tatarak zawsze występuje w grupach. Jego zbiór odbywa się jesienią albo wiosną.
Konserwacja
Tatarak, a właściwie jego kłącza wycina się przy wykorzystaniu narzędzi specjalnego rodzaju. Gdy roślina zostanie wyjęta z wody trzeba zmyć z niej muł, a potem jej korzenie i nadziemne części odciąć. Nie wolno jednak zbierać wszystkich roślin występujących na miejscu zbioru. W innym wypadku ich ponowne rozmnożenie się tam, nie będzie w ogóle możliwe. Jeśli jakaś część kłącza nie może zostać wysuszona, trzeba ją na nowo zakopać. Samą roślinę tnie się na równe części mające około 15-20 centymetrów każda. Proces suszenia odbywa się w temperaturze 40 stopni Celsjusza. To czy tatarak został wysuszony w poprawny sposób jest możliwe do sprawdzenia poprzez otrzymany w tym procesie kolor. Jeśli wszystko zostało wykonane prawidłowo, barwa jest brunatna – jasna albo zielona, a jej środek biały. Aromat jest bardzo intensywny, a ususzona roślina dość łamliwa.
Skład tataraku
Do około 5,5% jednego kłącza tataraku stanowi olejek eterycznych. Apteki wymagają minimalnej wartości 2,5%. W samym olejku znajdują się różnorodne składniki typu azaron, mircen, kariofilen, kamfen i inne. Ponadto w tataraku można znaleźć sole mineralne, skrobię (całkiem dużo), węglowodany, kwasy organiczne, czy też śluz.
Zastosowanie
Tatarak, a właściwie jego kłącza da się stosować na dwa sposoby – wewnętrznie i zewnętrznie.
Wewnętrznie
Roślina charakteryzuje się gorzkim smakiem oraz silnym aromatem. Zażywanie wyciągów z kłącza tataraku działa:
rozkurczowo, łagodząco i rozgrzewająco – szczególnie pomocne w czasie menstruacji, biegunki/zaparcia czy skurczy żołądka.
przeciwzapalnie, przeciwbólowo,
poprawia odporność,
przeciwbakteryjnie, przeciwgrzybicznie i przeciwdrgawkowo,
wykrztuśnie i moczopędnie,
uspokajająco – działa lepiej niż przy spożywaniu melisy. Pomaga pozbyć się nerwowości, lęków, a w niektórych przypadkach także bezsenności.
zwiększa apetyt i obniża poziom ciśnienia krwi,
zwiększa wydzielanie soków trawiennych,
pozytywnie działa na przyswajanie składników odżywczych,
przeciwdziała rozwojowi pasożytów w układzie pokarmowych – jednakże, jeśli przyjmuje się go w dużych dawkach.
Zewnętrznie
Stosowanie zewnętrzne kłącza tataraku działa w zależności od miejsca, na które zostanie ono nałożone.
Skóra głowy – bakteriobójczo, ściągająco przeciwzapalnie. Wypadanie włosów zmniejszy się, a one same staną się błyszczące i elastyczne. Przy płukankach, zmniejszy on problem powstającego lub powracającego łupieżu.
Jama ustna, w tym dziąsła, oraz gardło – działa wspomagająco w ich leczeniu.
Kuchnia – stosowana jako przyprawa do dań w wersji uprzednio wysuszonego i zmielonego kłącza albo w stanie surowym.
Alkohol – olejek tatarakowy używany jest do produkcji likierów i wódek.
Perfumy i kosmetyki– utrwala zapachy.
Dodatek – liście tataraku służą jako aromatyczne podkładki przy pieczeniu chleba. Młode pędy, które ucięto przy samych kłączach, po ich usmażeniu są wykorzystywane przy ozdabianiu ciast i deserów.
Przepisy
Tatarak można używać na wiele możliwości, ale jak te "możliwości" mają wyglądać zależy już od samych użytkowników. To w co przemieni się tę roślinę, jest kwestią samego gospodarza oraz znajomości przepisów.
Konfitury
Potrzebne będzie 1/4 kilograma korzenia tataraku (koniecznie świeżego). Do tego 1/2 kilograma cukru oraz 1 litr wody. Cukier i wodę łączy się ze sobą, gotując z nich syrop. Gdy stanie się gorący, powoli dodaje się drobno posiekany korzeń. Wywar gotuje się przez 2-3 godziny każdego dnia, aż to upływu trzech dni. Po ugotowaniu, całość przekłada się do słoików i chowa do chłodnego pomieszczenia. Preparat należy przyjmować w stosunku 1 łyżka dwa razy dziennie przez 2-3 miesiące.
Nalewka
Potrzebne jest 0,5 litra spirytusu oraz 10 gram korzenia tataraku (świeżego!). Roślinę kroi się, a następnie zalewa spirytusem. Po połączeniu ich, wszystko odstawia się na 3 tygodnie. Nalewkę przyjmuje się w stosunku 30 kropel 2 razy dziennie przy czym podawać można je z wodą lub cukrem. W celu uzyskania najlepszej skuteczności, kurację dobrze jest zacząć jesienią i zakończyć po 3 miesiącach. W czasie zażywania kropel trzeba definitywnie wyrzucić wieprzowinę z codziennej diety, oraz ograniczyć spożywanie soli.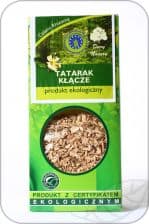 Tatarak
Kliknij i sprawdź ceny!
Kąpiel wzmacniająca
50 gram kłączy tataraku łączy się z 25 gramami przywrotnika/liści pokrzywy oraz kwiatami lipy. Wszystko zalewa się 2-3 litrami wody (ciepłej) i pozostawia pod przykryciem do wrzenia. Następnie odstawia się na 10 minut i przecedza. Płyn wlewa się do wanny, a resztę ziół umieszcza w materiałowym woreczku i wsadza do środka. Dodaje się wodę o temp. 36-38 stopni Celsjusza.
Cukierki
Składniki takie same jak przy konfiturach. Korzeń, po posiekaniu go na drobne cząstki zalewa się wodą, tak by został on pokryty. Taką substancje gotuje się, aż roślina stanie się miękka, odcedza i wykłada do wyschnięcia. Do syropu z wody i cukru podaje się korzeń i smaży. Gdy pojawi się krzepnięcie, zdejmuje się go z ognia i miesza aż nie wyschnie. Substancje wyjmuje się, a po jej zakrzepnięciu, kroi na cukierki.
Zioła na potencję
Kłącze tataraku miesza się z kwiatami nagietka i ziela pięciornika, po 50 gram każdy oraz z liśćmi pokrzywy, melisy oraz ziela ruty, po 25 gram każdy. Do dwóch szklanek ciepłej wody dodaje się 1,5 łyżki mieszanki ziołowej. Po 30 minutach, całość podgrzewa się na małym ogniu, aż zaczyna wrzeć. Jednakże nie można doprowadzić do sytuacji gdy mikstura będzie się gotować. Odstawić na 10 minut i odcedzić. Pić 2-3 razy w ciągu doby między posiłkami w ilości 2/3 szklanki. Zaleca się równoczesne przyjmowanie witaminy E.