Medycyna naturalna od dawna cieszy się dobrą sławą. W dobie wszechobecnych lekarstw syntetycznych, ludzie coraz częściej decydują się na w pełni naturalne środki zapobiegawcze. Ciekawą rośliną z wieloma właściwościami leczniczymi której warto się przyjrzeć, jest niewątpliwie tarnina.
O roślinie
Tarnina pochodzi z Europy, Azji Zachodniej oraz Afryki Północnej. Archeolodzy szacują, że znana była już w epoce kamienia. Do celów leczniczych stosowali ją chociażby Grecy czy też Rzymianie. W dawnej Francji, powszechny stał się zwyczaj dotyczący tej rośliny. Zjedzenie pierwszych trzech owoców ze świeżo zakwitłego krzewu, miało zagwarantować danej osobie zdrowie przez cały rok.
Tarnina jako owoc to zresztą w ogóle źródło bardzo wielu przesądów oraz wierzeń. W Anglii przyniesienie jej gałązek miało zwiastować pecha całemu domostwu. Niektórzy uważają, że roślina ta chroniła przed wiedźmami czy też wampirami…Warto jednak zostawić przesądy innym i zająć się tym, co ważne. Właściwościami tej pożytecznej, wciąż nie do końca znanej rośliny.
Skład oraz zastosowanie
Szczególną wagę mają owoce tarniny. Zawierają one tzw. flawonoidy. Są to przeciwutleniacze a także źródło witaminy C, wapnia, potasu, magnezu czy też beta karotenu. To właśnie ten składnik nadaje roślinie charakterystyczną, ciemną barwę.
Tarkę (to inna nazwa dla tej rośliny), stosuje się głównie przy chorobach układu moczowego, żołądka czy też jako płukankę w dolegliwościach jamy ustnej. Naukowcy twierdzą, że wiele jej zastosowań, nie zostało odkrytych do dnia dzisiejszego.
Problemy żołądkowe
Działanie owoców tarniny w pewnym stopniu przypomina inne ciemne owoce leśne – czarne jagody. Stosowana jest ona bardzo często jako lek przeciwbiegunkowy. Kluczowy wpływ na skuteczność ma tutaj występowanie w roślinie garbników. Składniki te po zetknięciu z błoną śluzową jelit, tworzą nieprzepuszczalną błonę. W efekcie, tworzy się bariera ochronna w organizmie przed szkodliwymi substancjami wywołującymi biegunkę. Owoce znajdą szczególne zastosowanie w leczeniu wrażliwych jelit, czyli na przykład u osób starszych czy też dzieci.
Choroby układu moczowego
Kwiaty tarki znajdą swoje zastosowanie we wszelkiego typu dolegliwościach układu moczowego. Ich spożywanie zalecane jest przy leczeniu kamicy moczowej, stanów zapalnych nerek czy też pęcherza moczowego.
Roślina zapewnia działanie moczopędne, dlatego też z jej właściwości skorzystać mogą również cierpiący na skąpomocz. To także świetny środek oczyszczający oraz detoksykujący przy prowadzonej diecie. Wybierany jest zatem coraz częściej jako pomoc przy dokonywanym ,,detoksie" organizmu.
Płukanka do ust
Choroby gardła, dziąseł czy też śluzówki jamy ustnej należą do bardzo nieprzyjemnych. Tarninę (a konkretniej korę) stosuje się w formie płukanki do ust. Przestudzony odwar wykonany z tego elementu rośliny, przyniesie ulgę wszystkim cierpiącym na rozmaite dolegliwości jamy ustnej. O tych właściwościach rośliny, wiedzieli już starożytni Rzymianie, którzy od wieków stosowali ją w tym właśnie celu.
Inne ciekawe właściwości
Według wierzeń ludowych, tarnina była bogatym składnikiem odżywczym dla cukrzyków. Co ciekawe, w tym wypadku pierwsi lekarze mieli rację i tarka sprawdzała się faktycznie. Owoc ten nie zawiera szkodliwej sacharozy, zatem może okazać się zbawienny dla cierpiących na tę dolegliwość.
Tarka to także bogate źródło witaminy C. Wzmacnia zatem odporność oraz może się okazać skuteczną pomocą przy zwalczaniu szkorbutu czy też innych dolegliwości związanych z niedoborem witamin.
Niektórzy zwracają uwagę na jej działanie przy chorobach z wysoką gorączką. Obniża bowiem skutecznie temperaturę oraz wzmaga pocenie się organizmu. Odwar z kory stosuje się również przy stanach zapalnych skóry – między innymi przeciwdziałając różyczce.
Tarnina a miażdżyca
Tarnina to bogate źródło związków flawonowych. Obniżają one ciśnienie krwi a także regulują stężenia ,,złego" oraz ,,dobrego" cholesterolu. Regularne spożywanie owoców zapobiega tworzeniu się miażdżycy a także występowaniu powikłań po niej. Zmniejsza się zatem ryzyko choroby niedokrwiennej serca, udaru mózgu czy też zawału serca.
Pomimo ogromnej posiadanej wiedzy, wciąż bada się pełnię właściwości owoców. Naukowcy stale dochodzą do nowych, ciekawych wniosków dotyczących działań leczniczych tej rośliny.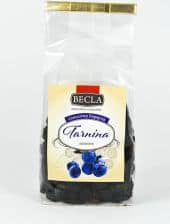 Szeroki wybór produktów z tarniną
Kliknij TUTAJ!
Zbieranie tarniny, ogólne uwagi
Wysoki, ciernisty krzew można spotkać na skrajach lasów lub też przy drogach. Kwiaty zbiera się od kwietnia do maja, następnie zaś suszy (przyjmą one wtedy barwę kremową).
Zbiory ciemnogranatowych owoców przypadają na okres jesienny (październik oraz listopad). Są one kwaśne i w żadnym wypadku nie nadają się do spożycia ,,na surowo". Owoce cierpkość tracą po pierwszych przymrozkach lub też uprzednim przemrożeniu ich w zamrażalniku. To popularny składnik nalewek, dżemów, kompotów czy też marmolad. Wiele przepisów tyczących się tarniny, można znaleźć w książkach oraz na portalach tematycznych.
Na sam koniec ogólna przestroga. Pestki tarniny zawierają kwas pruski (cyjanowodór), którego spożycie w dużych ilościach jest trujące dla organizmu. Pod żadnym pozorem zatem, nie wolno rozgryzać ani gnieść pestek owoców. Dla uspokojenia, samo połknięcie pestki bez rozgryzania nie jest szkodliwe. Lepiej jednak w tym wypadku nie kusić losu.
Podsumowanie
Tarnina z pewnością należy do roślin posiadających bogatą historię. Stosowana od wieków, cieszy się popularnością do dnia dzisiejszego. Chociaż dla wielu roślina ta nie będzie podstawowym elementem diety – przetwory przyrządzane z tarki należą do smacznych oraz zdrowych.
Swoje zastosowanie znajdą przy wszelkiego rodzaju dolegliwościach żołądkowych czy też układu moczowego. Zbawienny wpływ tarniny docenią również cierpiący na wysoką gorączkę.
Przede wszystkim jednak, spożywanie tych owoców to znakomite źródło witamin, minerałów oraz przeciwutleniaczy. Warto o tym pamiętać. Działanie zapobiegawcze w skuteczny sposób zmniejszy ilość naszych problemów zdrowotnych. A jak powszechnie wiadomo – w zdrowym ciele, zdrowy duch!