Sosy to nieodłączny element każdej kuchni, ponieważ dzięki nim każda potrawa nabiera zupełnie innego charakteru. Jednym z najpopularniejszych oraz najbardziej uniwersalnych sosów jest obecnie sos beszamelowy, który z powodzeniem może być dodawany do przeróżnych potraw. Tradycyjny sos beszamelowy powstaje z masła, mleka, mąki oraz odrobiny gałki muszkatołowej, jednak wielu kucharzy nieco urozmaica go, dodając do niego również inne dodatki. W jaki jednak sposób należy przygotowywać sos beszamelowy, skąd wziął się pomysł na jego przyrządzanie, czy zawiera on w sobie jakieś wartości odżywcze i do jakich potraw można go dodawać?
Historia sosu beszamelowego
Sos beszamelowy nazywany również beszamelem został odkryty kilka wieków temu we Francji przez dworskiego urzędnika, który nazywał się Loius de Bechamel, od którego nazwiska powstała jego nazwa. Dosyć ciekawy jest w tym przypadku fakt, iż Bechamelnad obecnie znanym nam sosem pracował kilkanaście lat, co biorąc pod uwagę jego bardzo prosty skład, (oraz to, iż powstaje on w zaledwie kilkadziesiąt sekund) może wydawać się dosyć dziwne. Niezwykłość tego sosu tkwi w jego prostocie, jednak najistotniejsze jest to, iż beszamel może stanowić świetny dodatek do wielu potraw. Sos beszamelowy kojarzony jest głównie z lasagne, ponieważ stanowi nieodłączny element tego dania, jednak można go również dodawać do innych zapiekanek oraz wielu innych dań, wedle własnego upodobania.
Właściwości i wartości odżywcze beszamelu
Sos beszamelowy nie należy niestety do niskokalorycznych dodatków głównie za sprawą masła, dlatego też osoby, które chciałyby zgubić nadmiar kilogramów, nie powinny po niego sięgać. Obfituje on bowiem w bardzo duże ilości tłuszczu (głównie w nasycone kwasy tłuszczowe, jednak można w nim również znaleźć nieznaczne ilości nienasyconych kwasów tłuszczowych). Z uwagi na zawartość mleka w beszamelu można znaleźć nieznaczne ilości wapnia, a także sou. Oprócz tego w beszamelu znajdują się dosyć duże ilości cholesterolu, a także śladowe ilości witamin (A, C, B12, D) oraz minerałów (żelazo, magnez, potas). Pomimo tego, iż beszamel ma dosyć przyjemny smak, to jednak w trosce o swoje zdrowie nie należy tego sosu spożywać zbyt często, ponieważ duże ilości tłuszczu, a także cholesterol mogą doprowadzić do rozwoju nadwagi lub miażdżycy. Oczywiście ryzyko rozwoju tych chorób pojawi się tylko wtedy, gdy sos beszamelowy będzie gościł na talerzu co kilka dni i to w dosyć dużych ilościach.
Przepis na sos beszamelowy
Składniki:
40 g mąki pszennej,
25 g masła,
0,5 l ciepłego mleka,
1/3 łyżeczki gałki muszkatołowej (mielonej),
szczypta soli i pieprzu do smaku
Sposób przygotowania:
W małym garnku należy roztopić masło, dodając do niego następnie mąkę oraz energicznie mieszając do momentu, aż powstanie gładka masa. W następnym kroku do garnka należy bardzo powoli wlewać mleko, przez cały czas mieszając zawartość garnka, tak, aby nie powstały żadne grudki. Sos należy pozostawić na palniku do chwili, aż się zagotuje, doprawiając go następnie gałką muszkatołową oraz odrobiną soli i pieprzu.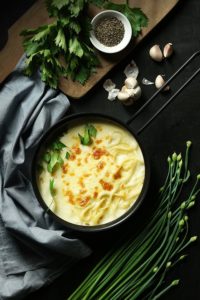 Kilka ważnych wskazówek podczas przygotowywania beszamelu
Sos beszamelowy nie powinien być ani za rzadki (gdyż będzie spływał z potrawy), ani za gęsty, jednak najistotniejsze jest to, aby całkowicie był pozbawiony grudek, co oznacza, iż podczas dolewania do masy mleka należy zawartość garnka przez cały czas mieszać. Co jednak można zrobić w sytuacji, gdy w sosie pojawią się grudki? W takim przypadku sos należy przetrzeć bardzo dokładnie przez sitko bez konieczności jego wyrzucania. Beszamel po przygotowaniu powinien być od razu wykorzystany, ponieważ z uwagi na zawartość mleka na jego powierzchni może pojawić się niesmaczny kożuch. Aby jednak tego uniknąć, wystarczy położyć na powierzchni sosu kawałek masła, ponieważ rozpuszczając się, zapobiegnie ono powstawaniu kożucha. Nieodłącznym elementem sosu beszamelowego jest oczywiście gałka muszkatołowa, która ma dosyć specyficzny smak, dlatego też nie należy przesadzać z jej ilością, gdyż sos stanie się po prostu mdły.
Zastosowanie sosu beszamelowego
Sos beszamelowy znalazł dosyć szerokie zastosowanie w kuchni, ponieważ może on stanowić bazę do przygotowywania innych sosów lub też może być wykorzystany jako dodatek do różnych potraw. Beszamel stanowi oczywiście nieodłączny element lasagne, jednak można go również z powodzeniem dodawać do zapiekanek, mousaki, gotowanych warzyw, dań rybnych (mintaja, halibuta, dorsza, soli) oraz dań mięsnych (wołowiny, jagnięciny, indyka oraz piersi z kurczaka). Bardzo ciekawym wykorzystaniem sosu beszamelowego może być również wykorzystanie go podczas pieczenia sufletów (nie tylko tych słonych, ale również słodkich). Jednym z ciekawszych pomysłów może być przygotowanie serowego sufleta. W jaki jednak sposób można go przygotować? Wystarczy jedynie dodać do beszamelu starty żółty ser, a także niewielką ilość sera pleśniowego, francuskiej musztardy oraz żółtko jajka. Następnie z białka należy ubić pianę, dodając ją do przygotowanej wcześniej masy. Całą mieszankę należy przełożyć do małych kokilek, zapiekając suflety w piekarniku.
Zapiekanka z mięsem mielonym, ziemniakami i beszamelem
Składniki:
1 kg ziemniaków (należy wybrać taki gatunek, który się nie rozpada),
0,5 mielonego mięsa wieprzowego,
2 dosyć duże cebule,
50 g startego żółtego sera,
kilka łyżek oleju rzepakowego,
odrobina soli i pieprzu do 

smaku
Sos beszamelowy:
1 łyżka masła,
3 szklanki mleka,
1 łyżka mąki pszennej,
100 g żółtego sera (startego),
szczypta soli, pieprzu i gałki muszkatołowej
Sposób przygotowania:
Ziemniaki należy obrać, umyć i pokroić na plastry, które powinny mieć około 0,5 cm. Cebulę obrać i pokroić w dosyć cienkie piórka. Ziemniaki należy ugotować na parze lub w osolonej wodzie tak, aby były dosyć twarde (ok. 4 minuty we wrzącej wodzie). Cebulę należy podsmażyć na rozgrzanym oleju do momentu, aż się zeszkli. W tym momencie należy dodać do niej mielone mięso, doprawiając całość odrobiną soli i pieprzu. W małym garnuszku należy przygotować sos beszamelowy, rozpuszczając w nim masło oraz dodając do niego mąkę. Całość należy bardzo energicznie mieszać przez chwilę, ściągając garnek z palnika oraz wlewając do niego bardzo powoli mleko. Gdy wszystkie składniki połączą się idealnie ze sobą, garnek należy z powrotem postawić na kuchence, doprowadzając go do wrzenia oraz doprawiając solą, pieprzem oraz gałką muszkatołową. Do tak przygotowanego sosu należy na koniec wrzucić starty ser, odkładając go na chwilę na bok. Żaroodporne naczynie należy wysmarować olejem, wkładając do niego warstwę ziemniaków, mięsa, ponownie ziemniaków oraz sosu beszamelowego. Danie należy następnie posypać startym serem, piekąc je przez około 30 minut w piekarniku nastawionym na temperaturę 180 stopni Celsjusza.