Shih tzu to jedna z ras psów. Charakteryzują się dość małą budową więc pasuje bardziej do celów towarzyskich niż obronnych. Cieszy się on popularność na całym świecie, w tym w Polsce.
Historia
Tak właściwie nie wiadomo skąd wzięła się ta rasa. Według jednego źródła, ich początek się 2000 lat wstecz, gdzie za miejsce egzystowania wybrały sobie dolinę. Co ciekawsze, była ona oddzielona od reszty świata na skutek dużego trzęsienia ziemi. W Tybecie trzymało się je, aby umilały czas ludziom. Do tego żyły one w klasztorach gdzie działały odstraszająco na złe duchy oraz wprawiały w ruch młynki modlitewne. Legenda podaje, że shih tzu stanowił symbol i towarzyszył samemu Buddzie w przemierzaniu świata. Gdy pojawiało się niebezpieczeństwo, pies zmieniał się w groźnego i dużego lwa.
Bardziej prawdopodobna wersja uznaje za początek rasy shih tzu Chiny w XVII wieku. Gdy w 1644 roku wstąpił na tron nowy cesarz, dostał on w darze parę klasztornych psów, które następnie skrzyżowano z pekińczykami. Gdy minęły lata, a tron objęła cesarzowa Tzu Hsi w sposób fachowy rozpoczęto hodowlę shih tzu. Psy miały nawet własnych służących. To tym czasom zawdzięcza się obecny wygląd tej rasy. W 1934 r. w stolicy Chin powołano pierwszy Związek Hodowców Psów, a nawet zorganizowano wystawy. Oficjalny wzorzec rasy ustalono w 1938 roku. Niestety gdy rozpoczęła się II wojna światowa większość tych psów skończyło tragicznie.
Shih tzu były cenne dla Chin. Nawet jeśli ktoś dostawał je w prezencie, nie wolno mu było wywieźć ich poza teren cesarstwa. Do Europy trafiły dopiero w latach 30 XX wieku. W Polsce pierwszy pies tej rasy pojawił się dopiero w roku 1981 i była to Pierinas Izolda – suczka.
Charakter
Shih tzu to rasa zrównoważona z umiarkowanym temperamentem. Do tego jest pogodny i zaraża tym ludzi wokół siebie. Spanie jest jedną z jego ulubionych czynności. W momencie pozostawienia go samego, będzie się jej poddawał zamiast zachowywać się destrukcyjnie. Jednakże kocha on przebywać z ludźmi. Jest względem nich wierny i oddany, ale wbrew pozorom nie da sobą rządzić. Lubi gdy się go przytula i głaska, ale tylko gdy sam tego chce. Łagodnego i skorego do zabawy psa trzeba chronić przed innymi, zwłaszcza małymi dziećmi. Shih tzu nie są konfliktowe. Łatwo zaadaptują się w nowym towarzystwie, zwierząt i ludzi, oraz otoczeniu. Na szczęście nie jest zbytnio hałaśliwy.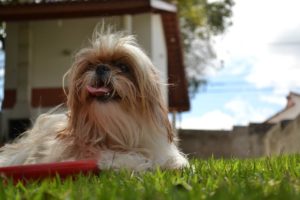 Wygląd
Głowa – jest mała i okrągła z dużą ilością sierści, która dość mocno opada nad oczami. Długie i gęste futro znajduje się także na bokobrodach i samej brodzie. Pysk jest krótki, płaski i szeroki. Włosy rosną na nim w stronę góry. Wargi przylegają do siebie.
Nos – zazwyczaj ma parę cm długości. Najlepiej jeśli umiejscowione są na tym samym poziomie lub trochę poniżej dolnej powieki. Kolor ciemnej wątróbki lub czarny. Dziurki w nosie szeroko otwarte.
Oczy – okrągłe i duże. Położone w dużej odległości względem siebie. Zazwyczaj ciemne, ale w niektórych wypadkach mogą być jaśniejsze. Posiada dwurzędowe rzęsy. Oczodoły są płytko osadzone (czasami aż za bardzo).
Uszy – są duże i zwisają. Posiadają dużo sierści przez co może się wydawać, że ich nie ma. Umiejscowione poniżej czubka głowy.
Tułów – jest dłuższy niż szerszy, szyja proporcjonalna względem ciała. Grzbiet prosty, a sama klatka piersiowa szeroka.
Ogon – wysoko umieszczony z dużą ilością futra. Noszony dumnie przez psy.
Nogi – krótki i umięśnione. Kości są mocne. Same łapy z mocnymi opuszkami i zaokrąglone. Dają wrażenie bycia dużymi. Obficie owłosione na całej długości.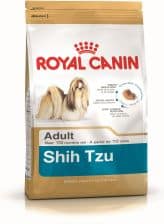 Karma dla shih tzu
Kliknij i sprawdź ceny!
Zdrowie
Shih tzu żyje przeciętnie 12-16 lat, ale zdarzają się wyjątki od reguły. Dojrzałość osiągana jest przez nich w wieku 2-3 lat. Zazwyczaj są odporne na wszelkie choroby i mają dobre zdrowie. Można nawet się przez to pokusić o określenie ich mianem długowiecznych. Jeśli na coś chorują, jest to zwykle zwężenie się łzowych kanalików oraz różnego rodzaju skórne alergie. W celu zabezpieczenia oczu, sierść należy wiązać na czubku głowy w kucyk. Dzięki temu nie będą one drażnić i przeszkadzać w prawidłowym widzeniu. Oprócz tego ma predyspozycje do zwichnięć rzepek w kolanach i wypadania dysku. Szczególną uwagę trzeba przykładać do pielęgnacji zębów i regularnie usuwać kamień. Słabą stroną tej rasy są również warunki atmosferyczne. Krótki pysk naraża je na cieplne udary. Można im zapobiegać poprzez dużą ilość wody do picia, koniecznie chłodnej, i zacienione miejsca. Adekwatnie, dobrze reagują na niskie temperatury. Trzeba tylko uważać by ich sierść nie została za bardzo skrócona. W końcu musi mieć je co grzać.
Żywienie
Shih tzu łatwo stają się otyłe więc kontrola jedzenia to podstawa. Prawidłowa waga tych zwierząt to 4,5-8 kg.. Najlepsze są dla nich suche karmy. Samą wodę lepiej podawać za pomocą takie poidełka jakie używa się u gryzoni. Karma dla szczeniąt powinna być uprzednio namoczona, tak aż napęcznieje. Podaje się ją 3-4 razy w ciągu dnia. Jeśli podczas jedzenia pies pobrudzi pysk i sierść zaleca się ich w miarę natychmiastowe wyczyszczenie.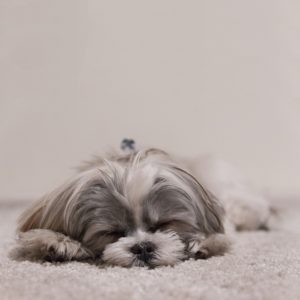 Pielęgnacja
Wymiana sierści ze szczenięcej na dorosłą ma miejsce w mniej więcej 8 miesiącu ich życia. Tylko wtedy w całym życiu ma prawo do linienia. Długie włosy powinno się regularnie czesać, najlepiej codziennie skupiając się na ich całej długości. W innym przypadku łatwo o kołtuny. Przed rozczesywaniem dobrze je czymś spryskać, np. odżywką z dużą ilością wody. Szczotki pudlówki mogą szybko zniszczyć strukturę sierści. Sam kucyk na głowie powinien być na nowo wiązany każdego dnia. Oczy, aby nie złapały infekcji przemywa się wacikiem nasączonym w przegotowanej wodzie. W celu zadbania o zęby szczotkuje się je szczoteczką z odrobiną specjalnej pasty dla psów. Wystarczy parę razy w tygodniu. Chcąc zapewnić zwierzakowi wygodę i higienę wycina się włosy spod ogona, miejsc intymnych i między opuszkami, a same pazury skrócić. Kąpiele zaleca się raz na tydzień, ale używając szamponów dla psów. Byle nie były to te dla ludzi bo może skończyć się to podrażnieniem skóry. Przy spacerach w deszczowe lub śnieżne dni lepiej jest założyć ubranko z długimi nogawkami. Jeśli sierść psa namoknie trzeba ją dokładnie wysuszyć.
Wychowanie
Psy rasy shih tzu powinny być wychowywane adekwatnie do swego charakteru. Od najmłodszych lat trzeba nauczyć go reguł zachowania i reagowania na komendy. Samo szkolenie opiera się w głównej mierze na zapewnieniu mu poczucia bezpieczeństwa w domu. Musi od polubić otaczające go osoby i przedmioty. Bardzo łatwo jest go przestraszyć, co utrudni dalsze wychowanie. Na wszelkie spacery trzeba zakładać mu szelki lub obrożę (zaokrągloną). Sama smycz powinna być długa. Pies nie zawsze jest posłuszny. Bawiąc się z nim można używać nawet kocich zabawek. Dobrze sprawdzą się też wszelkie piłki czy maskotki wydające dźwięk. Trzeba jednak zwrócić uwagę, żeby były one duże, inaczej może skończyć się to ich połknięciem, a nawet zadławieniem. Przyzwyczajenie shih tzu do klatki transportowej przyda się na ewentualne przeszłe podróże.
Kto powinien zdecydować się na shih tzu?
Najlepiej poczują się z nim osoby starsze i rodziny z dziećmi ze stałym miejscem zamieszkania. Ludzie nie muszą być przy nim bardzo ruchliwy, ale za to oszczędzony czas trzeba będzie przeznaczyć na pielęgnację zwierzęcia.