Sexting to bez wątpienia jedno z najciekawszych zjawisk w obszarze współczesnej seksualności. Można powiedzieć, że jest to forma aktywności seksualnej ściśle związana z nowoczesnymi technologiami. W swoim pierwotnym znaczeniu sexting oznaczał po prostu wysyłanie wiadomości tekstowych(SMS-ów) o mniej lub bardziej erotycznym zabarwieniu.
Współczesna forma romansu czy globalny problem?
Z czasem jednak, a dokładniej mówiąc z rozwojem technologii internetowej oraz pojawianiem się coraz to nowych form komunikacji znaczeniu terminu sexting zaczęło się poszerzać. Obecnie uważa się więc, że sexting to termin obejmujący nie tylko wysyłanie erotycznych wiadomości, ale również nagich zdjęć, filmów, oraz wszelkich innych treści mających na celu wywołać stymulację u drugiej osoby.
Warto przy tym zaznaczyć, że aktualnie sexting jest uważany za dość poważny problem społeczny i to pomimo tego, że z początku było to zjawisko o charakterze jak najbardziej neutralnym, stanowiące po prostu kolejną odmianę aktywności seksualnej. Czym więc dokładnie jest sexting? Dlaczego właściwie to zjawisko tak często bywa obecnie opisywywane w kategoriach zagrożęnia społecznego? I czy należy ulegać nastrojowi paniki i jednoznacznie potępiać sexting, czy też może jest to rozwiązanie, które posiada również swoje dobre strony? Przyjrzyjmy się temu problemowi nieco bliżej i postarajmy się udzielić odpowiedzi na powyższe pytania.
Sexting: historia zjawiska i co oznacza ten termin
Termin sexting został stworzony na początku XXI pierwszego stulecia. Jak wspominano, z początku termin ten oznaczał tylko i wyłącznie wysyłanie do siebie przez dwie osoby wiadomości tekstowych o zabarwieniu erotycznym. Mogły to być zarówno wspominane już wiadomości typu SMS, jak i też e-maile. Z czasem jednak zakres znaczeniowy terminu sexting zaczął ulegać znaczącemu rozszerzeniu, co było skutkiem pojawiania się coraz to kolejnych, nowych form komunikacji, jakie umożliwia współczsny internet. Sam termin sexting pochodzi oczywiście z języka angielskiego i stanowi złożenie dwóch wyrazów: sex oraz texting.
Współcześnie sexting może przybierać bardzo różne formy, co jest związane przede wszystkim z coraz szerszym wachlarzem opcji i możliwości oferowanych użytkownikom przez dzisiejsze technologie internetowe. Badania statystyczne dowodzą jednak, że do sextingu używa się przede wszystkim dużych portali społecznościowych, takich jak na przykład facebook czy też snapchat.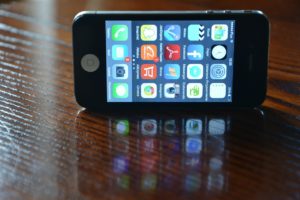 Sexting: czym jest?
Z powyższej definicji terminu sexting bynajmniej nie wynika, aby zjawisko to samo w sobie mogło być uznawane za coś niebezpiecznego lub godnego potępienia. Problem pojawia się jednak w momencie, kiedy zjawisko to zaczyna obejmować osoby młode, które korzystają z sextingu w sposób nieprzemyślany i bardzo często ze szkodą dla samych siebie.
Należy bowiem wyraźnie odgraniczyć dwie różne formy, w jakich najczęsciej występuje sexting. Pierwsza z nich to po prostu wysyłanie sobie erotycznych wiadomości, zdjęć czy też filmów przez dwie osoby będące parą, na przykład w celu wzajemnej stymulacji, podniesienia temperatury erotycznej czy też szeroko rozumianego urozmaicenia życia seksualnego. W tej formie sexting nie jest niczym zlym ani niebezpiecznym, chociaż ktoś mógby wskazać, że wysyłając komukolwiek nasze nagie zdjęcia ryzykujemy, że zostanie to w przyszłości przez tą osobą ujawnione. Jest więc oczywiście kwestia naszego zaufania do drugiej osoby, wiary w jej wartość etyczną i tak dalej.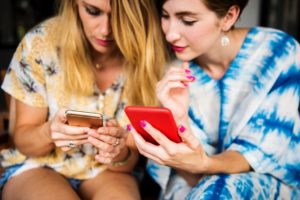 Sexting wśród młodzieży
Druga i niestety chyba najbardziej obecnie powszechna forma, w jakiej występuje zjawisko znane jako sexting to wysyłanie swoich nagich zdjęć a często również filmów erotycznych ze swoim udziałem osobom przypadkowym, znanym niedostatecznie lub niedawno poznanym na przykład w internecie. Badania pokazują, że zjawisko to dotyczy nawet do 10 procent polskich nastolatków, w tym w szczególności dziewcząt, które są uznawane za podstawową "grupę ryzyka" w tym przypadku.
Niestety, w kulturze dzisiejszych młodych ludzi wysyłanie sobie różnego rodzaju materialów erotycznych ze swoim udziałem jest uznawane za coś jak najbardziej naturalnego. Nastoletnie dziewczyny bardzo często więc sądzą, że wysłanie chłopakowi swojego nagiego zdjęcia po udanej randce to po prostu standardowy element rozwoju realcji pomiędzy dwiema osobami. Jak dobrze wiadomo, często zdarza się potem, że takie zdjęcie lub film ląduje w internecie a osoba, która jest na nim widoczna staje się obiektem drwin i szykan ze swoich równieśników. Zdarza się również, że dziewczęta są szantażowane przez osoby posiadające ich nagie zdjęcia lub filmy. W takim wypadku często młoda dziewczyna po prostu nie wie co robić i po prostu godzi się na przykład uprawiać seks ze swoim prześladowcom w zamian za obietnicę nieujawnienia swoich nagich zdjęć.
Sexting: jak chronić przed nim młodzież?
W tym miejscu można zapytać, czy istnieją jakieś skuteczne metody pozwalające na ochronę młodych ludzi przed zagrożeniami, z jakimi wiąże się szeroko rozumiany sexting?
Niestety, wiele wskazuje, że coś takiego nie jest możliwe: nawet tak zwane "blokady rodzicielskie" założone na komputerze lub telefonie w niczym nie pomogą, ponieważ jak wspominano do sextingu używa się zwykłych portali społecznościowych.  Jedyne, co można zrobić, to starać się obserwować własne dziecko i w miarę możliwości rozmawiać z nim o jego problemach.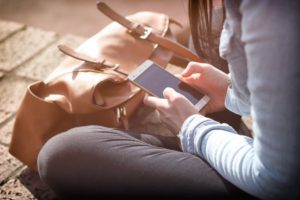 Sexting: czy zawsze jest zagrożeniem
Powyższy fragment niniejszego tekstu został poświęcony opisowi sextingu jako możliwego zagrożenia, zwłaszcza dla młodych ludzi. Czy jednak oznacza to, że wysyłanie drugiej osobie nagich zdjęć lub materiałów video ze swoim udziałem z defnicji jest czymś złym? Oczywiście, że nie. Sexting może być również znakomitym sposobem na podniesienie temperatury erotycznej w swoim związku, urozmaicenie życia seksualnego oraz wspólne przekraczanie kolejnych granic. Jest to oczywiście również wyraz zaufania do drugiej osoby.
Sexting może jednak występować oczywiście nie tylko w dojrzałych relacjach dwojga dobrze znających się nawzajem osób, ale również jako ciekawy, wyjątkowo pikantny element flirtu z osobą nowo poznaną. W takim wypadku należy jednak stosować się do kilku najważniejszych zasad, które uchronią nas przed przykrą niespodzianką w przyszłości.
Jakie to zasady:
1. Na zdjęciach/materiałach video nie może być widoczna nasza twarz
2. Wysyłając komuś swoje nagie zdjęcia/filmy video nie należy uzywać konta z naszym prawdziwym imieniem i nazwiskiem ani zdjęciem
3. Przed wysłaniem zdjęcia lub filmu należy dokładnie je obejrzeć: tłem powinna być goła ściana, bez żadnych charakterystycznych przedmiotów, które mogą pozwolić rozpoznać nas lub nasze mieszkanie
4. Jeżeli mamy na ciele charakterystyczne znamiona lub tautaże, nie należy ich eksponować
Oczywiście, stosowanie się do powższych zasad w żaden sposób nie niweluje ryzyka tego, że nasze nagie zdjęcia lub inne materiały wysłane niedawno poznanej osobie nie trafią do internetu. Jeżeli jednak tak się stanie, będzie to erotyka bezosobowa i chociaż nasze ciało będzie wystawione na publiczny widok, to jednak nikt nie powiąże go z naszą osobą.
Podsumowanie
Biorąc pod uwagę wszystko, co powiedziano powyżej, można stwierdzić, że sexting bez wątpienia jest jednym z poważniejszych współczesnych zagrożeń społecznych, zwłaszcza w przypadku osób młodych. Nie oznacza to jednak, że sexting nie może być ciekawą i intrygującą zabawą dla osób dorosłych, oczywiście jedynie przy rozsądnym korzystaniu z tej możliwości.